Big Ten
NCAA Wrestling Team Results Through The Years
NCAA Wrestling Team Results Through The Years
A look back at the historical results from some of the top team performers at the 2023 NCA D1 Wrestling Championships.
Mar 26, 2023
by Andrew Spey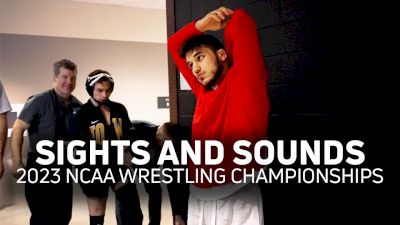 It was a banner year for many college programs. It was a season to forget for others, but the purpose of this blog is not to dwell on shortcomings. Nay, we will instead highlight the seasons to remember, in what was an NCAA Championship replete with memorable performances.
More NCAA Championship Coverage: By the Numbers
Chief among the performances that will be etched into plaques and recorded in, um, record books, for future generations to marvel was lodged by the Cornell Big Red. Mike Grey, in just his second season as head coach at Cornell (although it was his 17th season in total in Ithaca), led the Big Red to a third-place finish and a team trophy, the first for the program since 2012.
To see how this year compared to Cornellian years past (and for other teams, which we'll get to shortly), we can add up the approximate team points earned at NCAAs via advancement and All-American placement (give or take a point or two due to assumptions in the advancement points) and then compare it to totals from previous years. So essentially looking at NCAA points scores throughout the years, minus bonus points.
Some quick reference points: anywhere in the vicinity of 100 points will put you in contention for a title, while team trophies (top 4) can be had by teams scoring in and around the 50-60 point range (remember these totals are sans bonus points).
By that measure, Cornell's history from 2001 to now looks like this.
That gap towards the end is the 2020 and 2021 NCAA Tournaments. The former didn't happen and the latter occurred but without the participation of any Ivy League schools, which includes Cornell.
But as you can see, the past two and a half decades have seen incredible consistency from Cornell, which became a powerhouse during the Rob Koll era (1993-2020) and continues to be one in the burgeoning Mike Grey era. Besides 2023 and 2012, Cornell also earned team trophies in 2005, 2010 and 2011.
While we're doing trophy teams, let's look at the current dynastic rule of the Nittany Lions, who just recently secured their 10th title in 12 tournaments (and 13 years).
Doesn't get much more dynastic than that. Scarily for the rest of the nation, this may have been Penn State's best team yet.
The only times during the Cael Sanderson Era when the Nittany Lions failed to win a team title were in 2010, Cael's first season, in 2015, when they placed 6th, and in 2021, when Penn State finished as runner-up.
Next up is Iowa, the top challenger to Penn State over the past decade-plus.
A near dynasty from the Hawkeyes. The Tom Brands era (2007-2023) has been a model of consistency, never finishing below fourth as a team and winning titles in 2008, 2009, 2010 and 2021. The team was also ranked #1 going into the canceled 2020 tournament, but we've omitted results from that tournament, primarily because they don't exist.
Ohio State has also been a consistent winner, especially during the Tom Ryan era (2007-2023)
The Buckeyes have been a trophy team at six of the last eight NCAA Tournaments. Ohio State also won a championship in 2015 for the first time in program history.
What about a chart of PSU, Iowa & tOSU, but only from 2008 until now, as those are the only three teams to win NCAA titles over that 16-year span? Well, I'd like to see it, even if you don't, so here it is.
You can see the bonus points were the difference in 2009, where Iowa barely scraped past Ohio State. You can also see the dip in 2016 by Penn State which opened the door for the Buckeyes to claim the title. Then in 2018 you see the dogfight between two incredible Nittany Lion and Buckeye squads. And then in 2021, things went just right for Iowa to scoot by Penn State.
Now let's do Arizona State and Missouri simultaneously so this blog doesn't get too long.
The Zeke Jones era in Tempe started in 2015 and really started bearing fruit in 2021, when the Sun Devils won a trophy placing fourth. They repeat the accomplishment in 2022 and take 7th in 2023.
Brian Smith meanwhile has been at the helm of the Tigers since the 1998-99 season. Mizzou had their breakout season under Smith in 2007, placing third. They also earned a trophy in 2015 and have finished in the top 10 every year since.
Let's Oklahoma State and Minnesota next, the only other teams to win national titles since 2001.
Minnesota won titles in 2001, 2002 & 2007 under the legendary coach J Robinson. They finished as runner-up in 2003, 2006 & 2014, also under the tutelage of JRob. Current Gopher head coach Brandon Eggum was given the reigns in the midst of the 2016-17 season and has upheld the culture of winning in Minneapolis.
The Cowboys have been guided by hall of famer John Smith since 1991. Oklahoma State has had a mini-dynasty (by college wrestling standards) from 2003 to 2006, when the Cowboys won four titles in a row. Smith came ever so close to adding program title number 35 when they finished four points behind Penn State in 2016. Oklahoma State was also runner-up in 2013.
More recently Oklahoma State finished with a trophy in third place in 2021. Smith also won a title with the Cowboys in 1994, but we're not going back that far with the data for this blog.
Let's move things southerly with two ACC teams that have been engaged in an epic rivalry for the last decade or so: Virginia Tech and NC State.
Virginia Tech started their recent boom during the Kevin Dresser era, who was head coach from the 2006-7 season to 2017. That legacy has continued without pause by current head coach Tony Robie. The high water mater for the Hokies over the last couple of decades was 2016, when they placed fourth.
NC State meanwhile quickly caught up to their conference rivals when Pat Popolizio took over the program before the 2012-13 season. The Wolfpack have been consistent winners ever since, placing as high as fourth at NCAAs in 2018.
Both programs have elevated the entire ACC conference, which is now from the top down easily one of the most competitive in the country.
How about two more rivals that are on the upswing? North Dakota State and South Dakota State both had record-setting seasons for their respective programs in 2023.
I started counting years in 2007 because neither school had qualifiers before that. Both used to be DII so I think 2007 was the first year they were eligible to compete at the D1 Championships, but I could be mistaken and I am too lazy to look up the exact details. Happy to add a note here if someone has the info on that!
Anyway, you can see the Bison of NDSU had some success in the 2012-2016 era, then really turned it on recently, with their first two All-Americans since 2015. Roger Kish has been the head coach of the Thundering Herd since the 2011-12 season, and thus has overseen both the previous and current peaks of the program.
The Jackrabbits peaked during the Chris Bono era (2013-18) when Seth Gross finished as runner-up and champ in 2017 and 2018 respectively. current head coach Damion Hahn has SDSU heading right back to the previous peak, with two All-Americans including a finalist (Tanner Sloan) in 2023. Most of their points scorers will return to the lineup, so this upcoming season could be an all-time great year for the Jackrabbits.
And finally, not because they have much to do with each other but because they are two excellent programs that I was curious about, here is a graph with Nebraska and Lehigh.
Lehigh had great success under former coach Greg Strobel (1996-2009), winning team trophies in 2003 and 2004. That success has continued under current head coach Pat Santoro, who took over for Strobel for the 2009-10 season.
Nebraska has been under the watchful eye of Mark Manning since 2001 (and thus, for the entirety of this graph). Manning's Huskers won a pair of trophies, finishing fourth in both 2008 and 2009. In 2022 Nebraksa finished just off the team podium in fifth. Just a couple of weeks ago in Tulsa, the Huskers took 8th as a team.
That's all the wrestling team NCAA-points-over-time graphing I have in me for now. But let me know if there are some other teams I didn't cover that you'd like to see!