2022-23 Michigan Wrestling
Wolverine Insider: Amine Ends Challenging Season as a 3-Time All-American
Wolverine Insider: Amine Ends Challenging Season as a 3-Time All-American
Cam Amine started the season late before suffering two MCL injuries, but still placed fourth in the NCAA Championships thanks to a series of gutsy victories
Mar 27, 2023
by Mark Spezia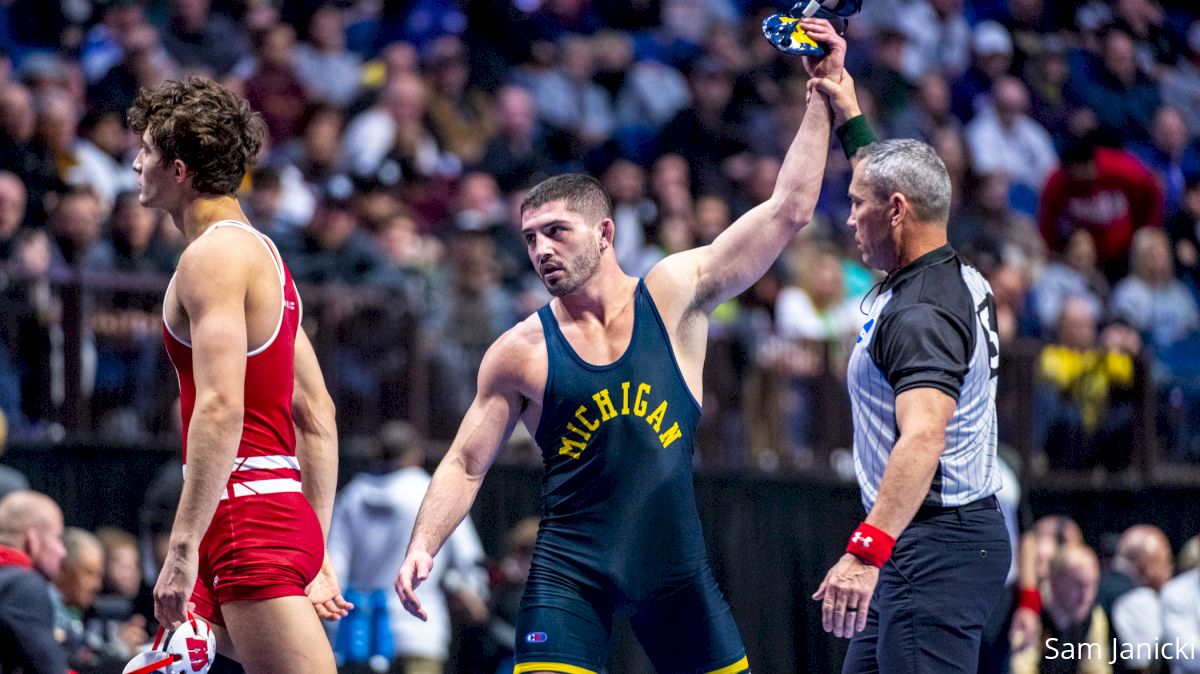 Unlock this article, live events, and more with a subscription!
Get Started
Already a subscriber? Log In
There were nights this season when, as the clocked ticked toward 9 p.m., an urge to perfect wrestling moves came over Cam Amine.
For that, however, Michigan's 165-pounder, who was seeking to become a three-time All-American, needed a partner.
Who in the world was going to answer Amine's text, drop everything they were doing at that hour and hit the mat with him?
He knew 2016 Dan Hodge Trophy winner and three-time NCAA champion Alex Dieringer would.
The former Oklahoma State standout, #19 in the current 79-kilogram international freestyle rankings, has been in Ann Arbor since joining the elite Cliff Keen Athletic Club in 2020. In January, he joined Michigan coach Sean Bormet's staff as recruiting and video coordinator.
"Alex played a really big role in helping me stay confident and focused while keeping my mind clear during the adversity I faced this season," Amine said. "I could feel free to just send him a text, even at 8:30 or 9 p.m., saying I wanted to work on something and he was there. Handfighting with him really helped me, especially."
Dieringer was just one part of a super-sized support network, comprised of coaches, teammates, Michigan athletic staffers, a renowned sports psychologist and his family full of wrestlers, that guided, encouraged and mentored Amine through a season of ups and downs and stops and starts.
Despite starting the season late while recovering from surgery to repair a torn ulnar collateral ligament in his elbow, being forced from the lineup after tearing his right medial collateral ligament and suffering a less severe tear in his left MCL during the Big Ten Championships, Amine returned to the NCAA podium for a third time.
Entering the tournament seeded 11th, he equaled his fourth-place finish of a year ago after dropping a tight, 3-2, decision to two-time All-American Quincy Monday (Princeton) in the third-place match.
Along the way, Amine gutted out three one-point decisions, including avenging a Big Ten semifinal loss to Iowa's Patrick Kennedy, edging Big Ten champion and two-time All-American Dean Hamiti (Wisconsin) and outlasting 2021 NCAA champion and three-time All-American Shane Griffith (Stanford) in overtime.
Amine was the second-lowest seed to finish in the top four behind Penn State's #12 Shayne Van Ness, who took third at 149 pounds.
"Overall, after having some time to reflect on it, I'd say coming in fourth in the nation is certainly not a bad thing, especially after all the bumps and bruises I went through this season," he said. "But I had higher expectations going into the tournament and will use falling short of them as a driving force to stay focused on doing whatever it takes to improve and become a national champion next time."
After opening with a pin of South Dakota State's Tanner Cook, Amine faced Kennedy, who had taken a 3-2 decision when they met two weeks earlier. This time, it was Amine winning, 3-2.
With the match knotted at 1-1, Kennedy shot low on Amine roughly 30 seconds into the final period, but fell short and was left on his hands and knees. Amine promptly grabbed Kennedy by the shoulder and turned him for what turned out be the winning takedown.
"I know Kennedy is a good competitor, but I also know I should not have lost that match against him," Amine said. "He likes to handfight really hard, so I worked on combating that and wrestling a more technical style this time. I certainly came into the match with a chip on my shoulder, knew what I had to do and stayed in the right position to get the takedown when I needed it."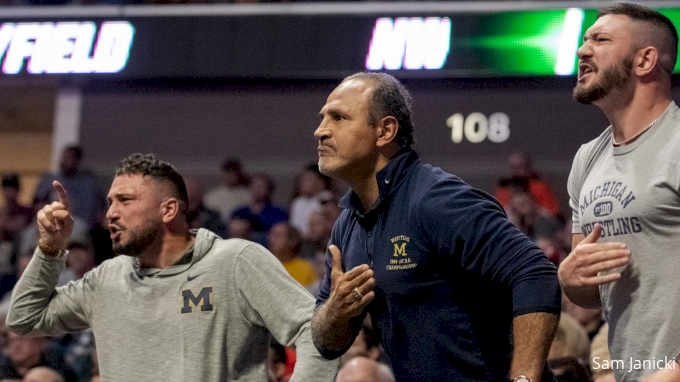 Amine improved to 3-0 against Hamiti, also with a 3-2 decision. The match was deadlocked, 1-1, with about 30 seconds left when Amine began a single-leg takedown in the middle of the mat before finishing it partially outside the circle.
After a third career loss to eventual champion Keegan O'Toole (Missouri) in the semifinals (6-0), Amine faced Griffith for the first time and came away with a 2-1 win following two tiebreakers. He rode out Griffith in the first before escaping with 10 seconds remaining in the second.
Following each of Amine's wins, one section of the crowd seemed to be cheering more loudly than the others. It included his father Sam, brother Jordan, uncle Mike and cousins Myles and Malik, all of whom wrestled for the Wolverines.
Myles, who took bronze at the Tokyo Olympics, was a five-time All-American and Mike an NCAA runner-up. Sam and Malik were NCAA qualifiers.
"Every time I won, to look up in the stands and see the whole family -- mom (Tonya), dad, my brother, uncle, cousins -- were the best moments for me," Cam said. "After everything they have done for me and sacrificed for me, it was very special to have that army of supporters there. Walking out and seeing them before each match really helped me stay calm and focused too."
Amine needed all the support he could muster while enduring a series of unfortunate events and periods of uncertainty, beginning about two months after his sophomore season ended.
His offseason preparation was proceeding as planned until he suffered the elbow injury in late May while practicing moves with Logan Massa, a three-time All-American and five-time NCAA qualifier for the Wolverines from 2017-22.
"My elbow was rolled over and my UCL was taken right off the bone," Amine recalls. "I found out that meant surgery and a six-month recovery."
Amine made his season debut at the Dec. 11 Cleveland State open with mixed results. He decisioned NCAA qualifier Maxx Mayfield of Northwestern but dropped a 6-4 decision to Bryce Hepner of Ohio State.
Amine, a three-time Michigan state champion, won his next four matches before a 6-5 loss to high school rival and NCAA qualifier Alex Facundo of Penn State.
He rebounded by pinning 2022 All-American Carson Kharchla of Ohio State a week later on Jan. 27, but felt something was amiss with his knee following the match.
"I started to feel something about halfway through the match against Carson," Amine said.
Sure enough, he had suffered a Grade 2 tear of his right MCL. Fortunately, Amine's season was not over, but he missed about two weeks of practice.
"I just resolved to use that break to stay motivated, make sure I did everything possible to heal and do what I could to maintain fitness," Amine said. "I spent time with our mental health coach, Jarrod Spencer, who really helped me and our whole team throughout the season."
Spencer, a nationally-known sports psychologist, is the author of Mind of the Athlete: Clearer Mind, Better Performance and The Sky Is NOT The Limit: Discovering the True North for Your Life's Path.
Amine returned to the lineup Feb. 19 for a season-ending dual against Central Michigan before opening the Big Ten Championships with a win over NCAA qualifier Caleb Fish of Michigan State followed by the loss to Kennedy.
Amine then decisioned NCAA qualifier Bubba Wilson of Nebraska to reach the third-place match, but wound up forfeiting it to Kharchla because, much to his disbelief, he began feeling knee pain again.
This time, it was the left knee, but Amine decided to see how it felt the next day before revealing anything to coaches or the team trainer. Unfortunately, he had trouble sleeping and could hardly move in the morning.
"I came to practice and everybody is like 'What's wrong, why are you limping?'" he recalled. "I saw the trainer and found out, yep, another tear. I became so frustrated and emotional. Now, I had to deal with another thing, so close to the NCAA Championships?"
Luckily, this MCL injury was not as bad as the previous one.
"I was like there is nothing I can do know, but prepare as well as I can for NCAAs," Amine said. "Coach Bormet helped put me in the right mindset that it was not going to stop me from wrestling and going after my goals."
Upon returning from Tulsa, Amine summed up how he felt about his NCAA Championships run in an Instagram post.
"Falling short of a dream never gets easier but that's the sport of wrestling," he wrote. "Only thing we can do is learn from it and keep chasing our dreams. Back to work!!"
His supporters wasted no time chiming in.
Teammate and NCAA heavyweight champion Mason Parris responded by telling Amine to "stay hungry" while former teammate, Tokyo Olympian and three-time All-American Stevan Micic wrote: "Keep working my brother you're time is coming."
Amine plans to spend the offseason getting both knees fully evaluated, training with Dieringer, Myles Amine and others, and participating in select competitions.
He will also be working with renowned Ann Arbor fitness trainer Amir Rad to improve strength and speed, and scheduling more sessions with Spencer.
He will likely have to go through O'Toole, who was won their three meetings by a combined 15-2 score, to win an NCAA championship. Kennedy and Hamiti are also among those returning.
"I left the NCAA Championships with a feeling of unfinished business," he said. "O'Toole is obviously the one to beat and I'll work on getting better physically, mentally and emotionally. Alex and Myles plan to push me further in training than I have ever been before to become a national champion in 2024."
Will Parris Cap Career With Hodge?
A final chapter remains to be written in the storied career of Mason Parris.
Will he become Michigan's first Dan Hodge Trophy winner?
After capturing Michigan's first heavyweight national championship since 1986, the three-time All-American was officially nominated for the Hodge and his clearly among the frontrunners.
As expected, Parris took over the #1 spot in the post-NCAA Championships Hodge rankings with a 4.39 dominance score. North Carolina's Austin O'Connor (4.22) is next followed by Penn State's Carter Starocci (4.12).
Parris was simply dominant this season and dropped the hammer on his five NCAA Championships opponents, outscoring them 49-6, despite facing two three-time All-Americans (Penn State's Greg Kerkvliet and Iowa's Tony Cassioppi) and one two-time All-American (Northwestern's Lucas Davison).
The performance vaulted Parris from #15 to #10 in the latest pound-for-pound rankings as he concluded the season 33-0 with 21 bonus-point wins, including 11 pins.
In all, he went 10-0 against 2023 All-Americans and 20-0 against NCAA qualifiers while averaging 9.7 points a match. He also averaged just over three takedowns per match and ended the season with the nation's third-longest winning streak (34 matches).
Parris, who plans to remain in Ann Arbor while wrestling for the Cliff Keen club, finished tied for third on Michigan's all-time pins list with 45. The five-time NCAA qualifier's final career record of 124-18 left him 15th on the program's career wins list and eighth in winning percentage (.873).
Parris was 33-13 against All-Americans during his career.