2023 NCAA Championships Watch Party
Why Mason Parris Should Win The 2023 Hodge Trophy
Why Mason Parris Should Win The 2023 Hodge Trophy
Why Mason Parris should win the 2023 Dan Hodge award.
Mar 23, 2023
by Tyler Meisinger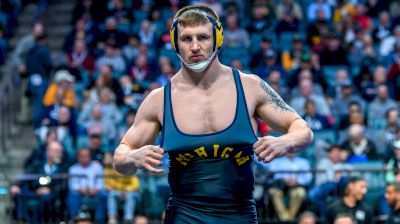 Unlock this video, live events, and more with a subscription!
Get Started
Already a subscriber? Log In
With the conclusion of the 2023 NCAA championships, the Hodge Trophy race is officially on! While there are plenty of well credentialed athletes, one has emerged as the clear favorite under the current criteria.
2. Dominance/Bonus - While he doesn't have the highest bonus % (very close) he had the most pins and MOST importantly he won by bonus against 9 NCAA qualifiers, the most of any candidate.

Bonus can get misleading because not all schedules are equal.

— Christian Pyles (@CPyles8) March 22, 2023
3. Quality of competition there's another clear edge for Mason.
Mason beat:
#2 3x
#3 by 7 pts
#4 2x, once by tech
#5 2x, once by major
#8 2x

Giving Mason 10 AA wins, the most of any candidate this year.

— Christian Pyles (@CPyles8) March 22, 2023
Mason Parris is 33-0, has a 64% bonus rate (including 11 pins), is 10-0 against 2023 All-Americans, and has 9 bonus wins over 2023 NCAA qualifiers (the most of any other Hodge finalist). CP makes a more detailed case for Mason in the video above, but if you're sick of hearing his voice (I know I am), then you can check out our current Hodge rankings in the link below!
2023 Hodge Trophy Rankings
Here are our post-NCAA Championship Hodge Trophy Rankings.