2023 NCAA Championships Watch Party
Who Returns The Most Team Points For The 2023-24 Wrestling Season?
Who Returns The Most Team Points For The 2023-24 Wrestling Season?
A breakdown of the returning team points for every team at the 2023 NCAA Wrestling Championships.
Mar 22, 2023
by Jon Kozak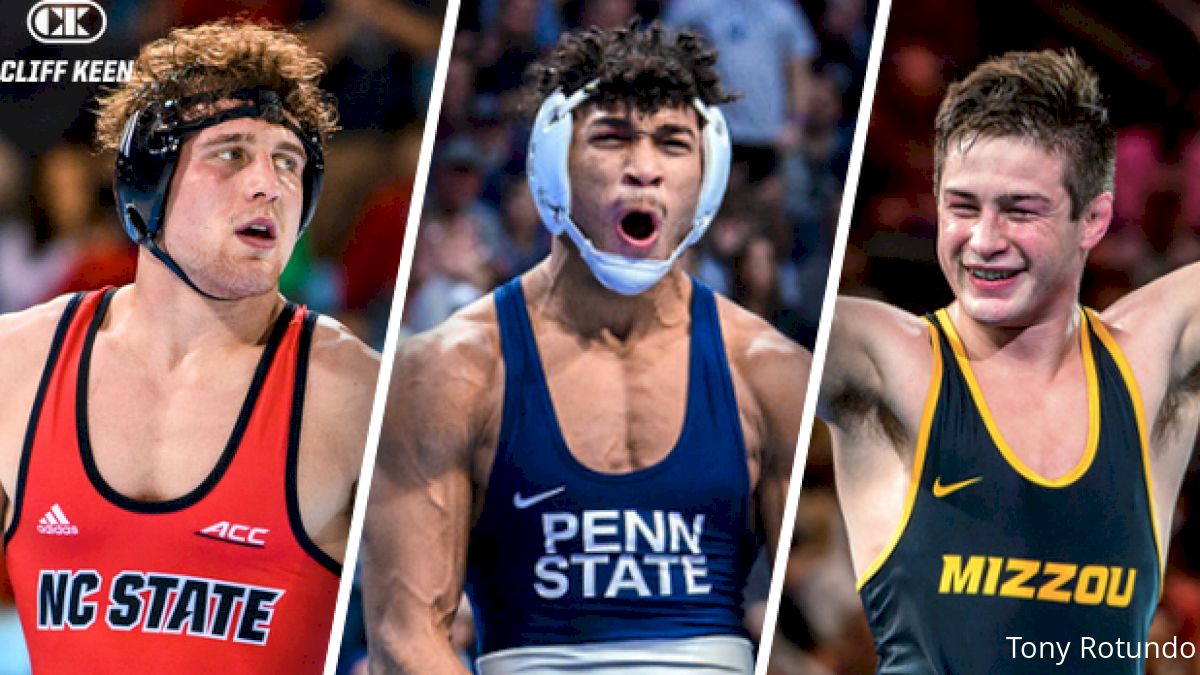 The 2023 NCAA Tournament just concluded and it was incredible! So, what will the 2024 Tournament look like? We can't forecast everything yet but we can look at how many team points every team in the country is returning. The below article has a breakdown of a "way-too-early" look at the landscape of next year's team race by examining returning points and rosters for the top 10 teams.
Team Rank By Returning Points From 2023 NCAAs
The table below shows the ranking of every team based on points scored at the 2023 NCAA Championships from athletes who are eligible to return in the 2023-24 season. We also included columns that show the points scored by each team at the 2023 Tournament along with the points earned that each team will "lose" from wrestlers graduating.
Top 10 Returning Points By Weight
1. Penn State
It's not like Penn State needs a lot of help in the points area but they'll have to fill lineup spots at 133 and 197 with Roman Bravo-Young and Max Dean graduating. They could shuffle their lineup with top-recruit Josh Barr coming in at either 174 or 184 and bump Aaron Brooks to 197. At 125 the Nittany Lions are looking to get their first full year out of blue-chip recruit Robert Howard. Howard was notably a round-of-16 finisher in 2021 (a shortened season) but has dealt with injuries the last 2 years. However the lineup shakes out, Penn State looks poised to win its third straight title in 2024.
Carter Starocci's win over Mikey Labriola in the 2023 NCAA Finals: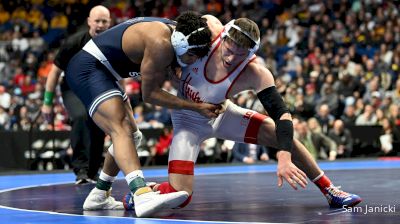 Unlock this video, live events, and more with a subscription!
Get Started
Already a subscriber? Log In
2. Missouri
Missouri returns a national champion and 5 total All-Americans to their lineup in 2023-24. Zeke Seltzer and Josh Edmond will likely come in at 133 and 141 pounds respectively for the Tigers and should be solid starters with the potential to make a run at the NCAA tournament. Freshmen Cam Steed could step in at 157 - he wrestled one tournament there before bumping up to 165 for the 2022-23 season. Steed showed great potential at the Southern Scuffle when he placed 4th with a competitive loss to All-American Michael Caliendo.
Keegan O'Toole's win over David Carr in the 2023 NCAA Finals: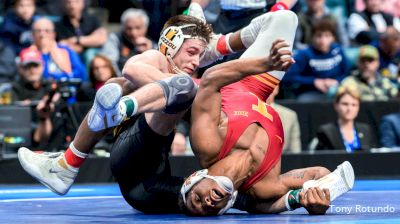 Unlock this video, live events, and more with a subscription!
Get Started
Already a subscriber? Log In
3. Cornell
National Champion Yianni Diakomihalis is the only starter graduating for the Big Red after a third-place performance in Tulsa. While that's 22 points they need to replace, Cornell will likely plug in top recruit Meyer Shapiro at either 149 or 157. Shapiro was a U17 world champion in 2021 and, according to Yianni, Meyer is "going to be in the mix for a title next year."
Beyond Meyer Shapiro coming into the lineup, Lewis Fernandes and Jonathan Loew will likely return at heavyweight and 184 respectively for Cornell. Before going down with injuries, both Loew and Fernandes were All-American threats (Loew placed 8th in 2021) and could score significant points at the NCAA tournament.
Coach Mike Grey after Cornell places third at the 2023 NCAA Tournament: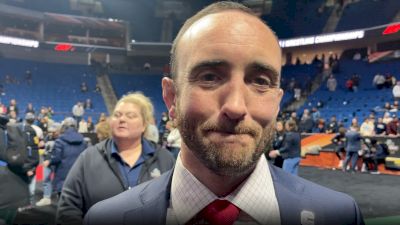 T4. NC State
The Wolfpack have the potential to return their entire starting lineup next season. On top of that, 125-pounder Jakob Camacho will return and look to earn the starting spot back from Jarrett Trombley. Camacho is a 3-time NCAA Qualifier with inishes in the round of 12 (in 2021) and the round of 16 (in 2022). With all of the talent returning next season, we should expect the Wolfpack to climb up the rankings.
T4. Iowa
It's pretty remarkable that Iowa is losing points from Spencer Lee, Max Murin, and Jacob Warner and still has tied for the 4th points returning next season. A bulk of those points are coming from All-Americans Real Woods, Nelson Brands, and Tony Cassioppi but there are other bright spots for Hawkeye fans to look forward to in 2024. Drake Ayala (125) and Cody Chittum (149 or 157) will inject some youth into the lineup and should challenge for All-American honors. The Hawkeyes also just received a verbal commitment from Anthony Ferrari, who was the #14 overall recruit out of the class of 2022.
6. Virginia Tech
The Hokies can return 9 of 10 starters next year, only graduating All-American Hunter Bolen at 184 pounds. That means Virginia Tech could man a roster with 5 total All-Americans next season and contenders throughout their lineup. There could be a roster battle at 184 between Sam Fisher and TJ Stewart. Both Fisher and Stewart had quality years during their redshirt, however, Stewart wrestled up at 197. At this point, Fisher looks to be the front-runner to take over at 184 at notably recorded wins over a host of national qualifiers and All-American Gavin Kane.
7. Ohio State
The Buckeyes graduate starters at 125, 174, 184, and 285 but have two incredible recruiting classes they could draw from to fill those voids. Vinny Kilkeary (125) and Rocco Welsh (174) are two-top rated recruits coming into their true-freshman year next season that could be plugged into the starting lineup right away. Meanwhile, Nic Bouzakis (133), Seth Shumate (184/197), Luke Geog (184/197), and Nick Feldman (285) are all coming off their redshirt with big expectations for their careers.
8. South Dakota State
Don't look now but the Jack Rabbits are returning 9 of their 10 starters and the eighth most points of any team in the NCAA! All-Americans Clay Carlson (5th place) and Tanner Sloan (2nd place) will lead SDSU next season with more potential points coming from Tanner Jordan, Cael Swensen, Tanner Cook, and Cade DeVos.
Coach Damion Hahn on South Dakota State's progress: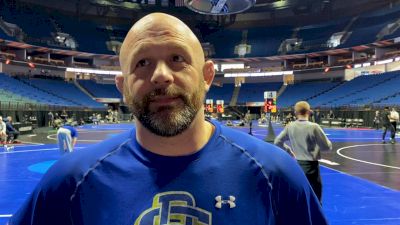 9. Michigan
The Wolverines have finished 2nd and 6th at consecutive NCAA Tournaments but will need to rebuild significantly if they want to challenge for a podium spot next year. The Wolverines lose starters at 125, 184, and 285 equalling a total of 27.5 of their 58.5. Michigan will have to get major production out of their 2022 and 2023 recruiting classes and will need to have first-time starters step up to match this year's performance.
10. Iowa State
Iowa State didn't have the tournament they hoped for and still returning the 10th most amount of points of any team in the country. All-American contenders Paniro Johnson and Yonger Bastida failed to All-American honors but had been ranked in the top 5 throughout the year. On top of that, Zach Redding and Casey Swiderski both fell one match shy of All-American honors after losing in the round of 12. The Cyclones are losing Marcus Coleman and Sam Schuyler but Iowa State could jump up the podium if they perform to the best of their abilities in 2024.
Want to see every national qualifier's remaining eligibility? We've got all that information in THIS ARTICLE for you.