2023 NCAA Championships Watch Party
Matt Ramos Authors 'Unreal' Upset In NCAA Wrestling Semifinals
Matt Ramos Authors 'Unreal' Upset In NCAA Wrestling Semifinals
A last-minute head-pinch changed college wrestling history Friday night and led Matt Ramos to a semifinal win against three-time NCAA champion Spencer Lee.
Mar 18, 2023
by Andy Hamilton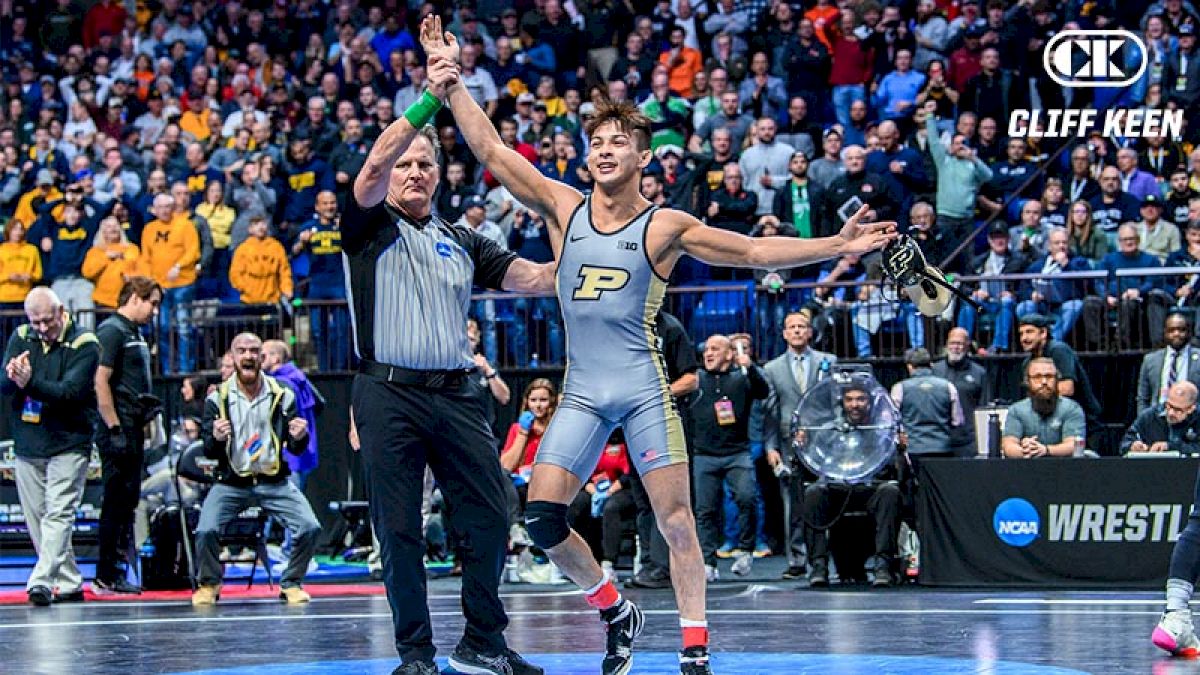 Matt Ramos had been enamored by elements of Spencer Lee's arsenal since he was a middle school wrestler in Illinois.
He studied Lee's top-position excellence and tried incorporating aspects into his own game. He watched closely across the Big Ten as Lee accomplished historic feats at Iowa.
"Growing up, my whole life I've seen Spencer Lee and I've watched his matches and that bar-half, I'm like, 'I'm going to learn that,'" Ramos said. "In high school and middle school, I was like, 'That's what I want to learn.'
"Next thing you know, I'm like, 'I have a shot this year to wrestle one of the GOATs in the sport of wrestling.' When I get to wrestle him, it's unreal and I'm excited that I get to wrestle one of the best wrestlers on the planet. To be able to beat him, too, it's unreal."
Unreal.
It's a word the Purdue 125-pounder kept saying over and over Friday night — but everything that transpired Friday night at the NCAA Wrestling Championships in Tulsa was indeed real.
Matt Ramos Makes NCAA Wrestling History
Ramos stunned Lee with a last-minute head-pinch that changed college wrestling history. Trailing 7-4 with 40 seconds to go in the NCAA semifinals, Ramos took the three-time NCAA champion to his back for what would've been the go-ahead points before he scored a fall with one tick left on the clock.
Lee entered Friday night with a 58-match winning streak that began in 2019 — and 51 of those matches netted bonus points for the Hawkeyes, including a January pin against Ramos.
In that match, Ramos took Lee down early and tossed him to his back to build an 8-1 first-period lead that quickly evaporated before the Iowa senior won by fall.
"Three-time national champion, there's a lot of nerves going on, especially the first time wrestling him," Ramos said. "It didn't go my way, but (I was) making sure to learn from it, watching film with my coaches to learn and grow from it. There's a new game plan for each match to adapt and grow as an athlete, but from that first match, being able to keep the pace rolling on him the whole time was huge."
Lee was aiming to become the fifth four-time national champion in Division I history and the first Iowa wrestler to accomplish the feat. He was on course to perhaps become the second three-time Hodge Trophy winner.
"The cliche, the easy thing to say is he's got to move on," Iowa coach Tom Brands said. "It's hard. This is really hard, but you've still got to move on. As easy as it is to say, that's really the next step in all of this. And it seems cruel to say that because the magnitude of it is high."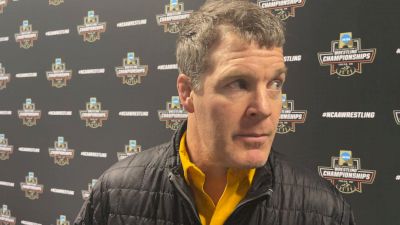 What Purdue Wrestling Coach Tony Ersland Said To Matt Ramos
It seemed as if Lee would keep all of his sky-high aspirations intact when he battled back from an early four-point deficit, taking a 7-4 lead with 50 seconds to go when a video review went his way and flipped an edge takedown in his favor.
But during the break in the action, Purdue coach Tony Ersland reiterated one message to Ramos.
"We're still right where we want to be because we know we can get points in bunches, and we've done it against him," Ersland said. "We knew if we kept the pace and the motion going we'd be in a good place at the end."
In the other corner, Iowa coaches signaled for Lee to keep Ramos down, but the Boilermaker escaped seconds after the restart and immediately went on the attack.
"I'm not going to sit here and analyze something that, to me, is tragic right now," Brands said. "I know that he is best when he's wrestling. I know that he is best when he's flowing and moving and he's got very wicked quickness, and I don't know if he was in that mode."
On the other side, one of college wrestling's most dangerous point scorers was pressed into a go-for-broke situation.
"It was either get out and get two, three takedowns (or try something big)," Ramos said. "I have some freestyle background and I know some dangerous positions on my feet and I trust my ability and sometimes you've just got to let it fly and not really think. I went for that front head-pinch and I felt it pop through and I knew it was going to be good in the end."
Spencer Lee Upset Highlight Of Memorable Day At 2023 NCAA Wrestling Championships
It was a culminating moment to a monumental day for Purdue wrestling, which went nearly a decade without an All-American before punching two through to the podium on Friday.
While Ramos was at the dais for his post-match news conference, teammate Parker Filius scored a fall of his own, decking Iowa State's Casey Swiderski to become an All-American at 141.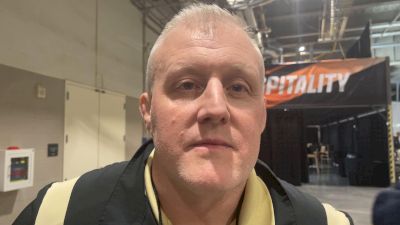 Matt Ramos Is Purdue Wrestling's First All-American In 8 Seasons
The Boilermakers had never had an All-American in Ersland's first eight seasons in West Lafayette, losing all eight of their blood round matches, some in heart-splitting fashion.
Luke Welch was 10 seconds away in 2018 before Ronnie Bresser escaped and then scored an overtime takedown to win 8-6. Dylan Lydy dropped a 3-3 tiebreaker against Mikey Labriola in 2019.
In the cruelest twist, Purdue had four wrestlers seeded in the top six in 2020 before COVID wiped out the NCAA Championships.
"That was the one that really stings me," Ersland said. "Those guys were all sitting between 4 and 6 that year and wrestling great. That was the one that really hits me hard in the heart, especially because Lydy and Brunner didn't get opportunities. They didn't get years extended. That one really hurt, so this is probably as much for those kind of guys as anybody."