2023 NCAA Championships Watch Party
A Historic Night For Underdogs At The 2023 NCAA Wrestling Championships
A Historic Night For Underdogs At The 2023 NCAA Wrestling Championships
Three wrestlers seeded 25th or lower reached Friday's NCAA quarterfinals, matching the total from the previous three years combined.
Mar 17, 2023
by Andy Hamilton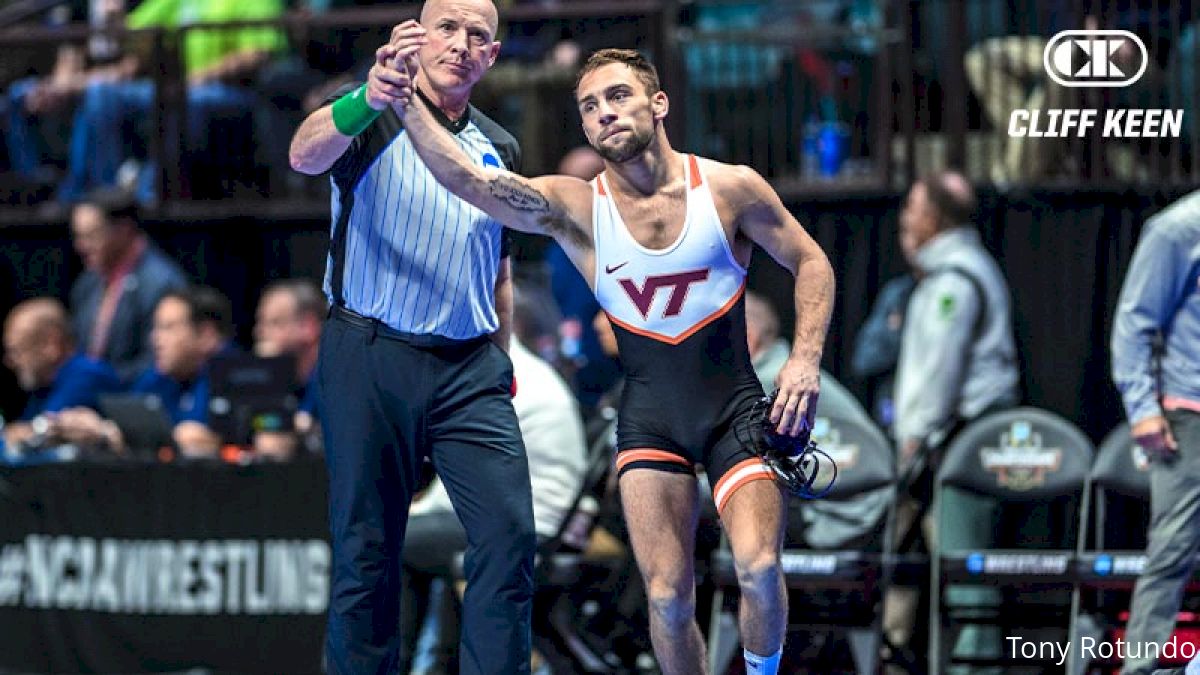 The NCAA made a significant change to its national tournament in 2019 when it expanded its seeding process, attaching a number to every wrestler in its 33-man brackets for the first time.
In the first three years of the full seeding format, there were three wrestlers who reached the quarterfinals as a #25 seed or lower — #25 Brian Courtney at 133 in 2022, #26 Jake Woodley at 197 in 2021 and #28 Sam Stoll at 285 in 2019.
That list doubled during a turbulent Thursday at the NCAA Wrestling Championships in Tulsa.
Virginia Tech's 27th-seeded freshman Eddie Ventresca and West Virginia's #28th-seeded Killian Cardinale advanced to the quarterfinals in a tattered 125-pound bracket and Michigan State #29 seed Caleb Fish navigated through the star-studded 165-pound class.
Ventresca scored a takedown with 49 seconds remaining and rode Minnesota's #11 seed Patrick McKee the rest of the way to win a 3-2 decision. For Ventresca, the victory came on the heels of his opening-round overtime upset of reigning Big 12 champion Stevo Poulin, the #6 seed from Northern Colorado.
Cardinale followed up an opening-round 3-2 win against #5 seed Caleb Smith of Appalachian State, continuing his championship-side run through the bracket with an 8-3 win against Wyoming freshman Jore Volk. Cardinale registered takedowns in each period against the U20 World champion.
Cardinale will get Purdue's fourth-seeded Matt Ramos in the quarters. Ramos dodged a second-round upset by scoring a takedown in the closing seconds to beat North Carolina State's Jarrett Trombley 6-5 in a tiebreaker.
Fish pulled off the day's biggest upset when he toppled Cornell's #4 seed Julian Ramirez 8-4 in the opening round. He backed that up by downing Pittsburgh's Holden Heller 7-2 Thursday night. Heller opened the scoring with a takedown midway through the first period before Fish rallied back with a second-period rideout that included a two-point near-fall and sealed the bout with a late takedown.
Fish is the outlier in a quarterfinal bracket loaded with All-Americans. His next assignment comes Friday morning against returning NCAA finalist Quincy Monday of Princeton. The other three quarters at 165 feature six returning podium finishers.