2023 NCAA Championships Watch Party
2023 NCAA Wrestling Championships Team Scores; Team Race breakdown
2023 NCAA Wrestling Championships Team Scores; Team Race breakdown
A round-by-round update for the team race at the 2023 Division 1 NCAA Wrestling Championships.
Mar 17, 2023
by Jon Kozak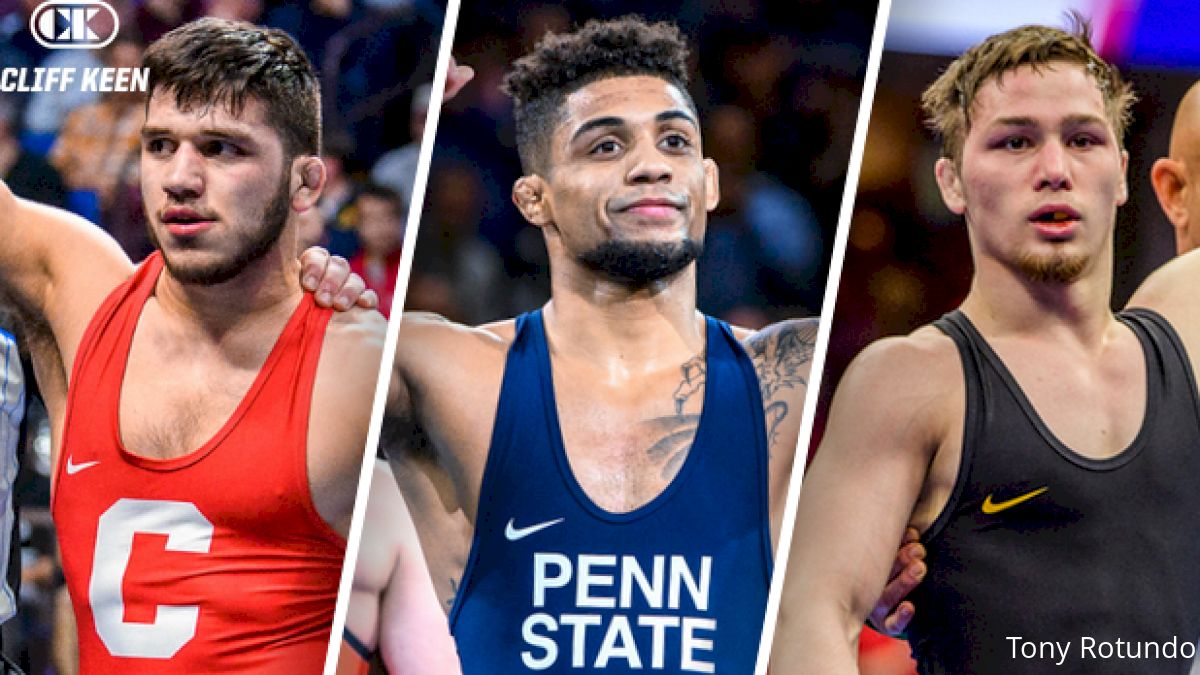 Check out the below article for the current team scores and a breakdown of the team race at the 2023 NCAA Wrestling Championships.
Final Top 10
Penn State Wins Title With 7 In Top 3, Eight AA's
The Penn State Nittany Lions are leaving Tulsa, Oklahoma with their 10th national title in 14 years. In total, Penn State had 2 national champions, 3 runner-ups, 2 third-place finishers, and 1 seventh-place finisher. The 8 All-Americans on the weekend tied for the most for any Penn State team with the 2018 lineup and the 7 finishers in the top 3 is the most wrestlers Cael Sanderson has ever had finish in the top 3. Add those stats to their dominant, 55-point win over second-place Iowa and it was truly a historic performance for Penn State.
Coach Cael Sanderson after Penn State's team title: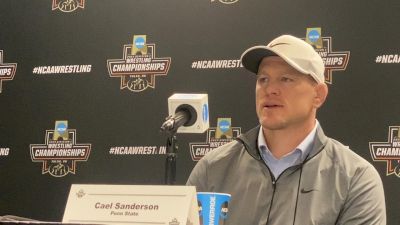 Yianni And Vito Propel Cornell To Third
Heading into the finals, Penn State and Iowa were already locked into first and second, leaving third place up for grabs between Ohio State and Cornell. The night ended at 149 pounds with a showdown match between Yianni Diakomihalis and Sammy Sasso. Diakomihalis came away as only the 5th ever four-time national champion while also clinching the third-place finish for the Big Red. Though it came down to Yianni, Vito Arujau scored amazing upsets in both his semi-final and final bouts where he beat 3X NCAA runnner-up Daton Fix and 2X NCAA champion Roman Bravo-Young to win his first NCAA title. Those team points, along with All-American honors from Chris Foca and Jacob Cardenas, vaulted Cornell to third.
More Content from 2023 NCAAs:
SEE OLDER TEAM RACE UPDATES BELOW
---
Top 10 After Session 5 - Saturday Afternoon
Penn State Clinches Team Title
After the Saturday morning session, it is now mathematically impossible for Iowa to catch Penn State in the team race. This title marks the second consecutive team title for the Nittany Lions and the tenth title for Penn State since Cael Sanderson took over in the 2009-2010 season. Along with clinching the team title on Saturday morning, Beau Bartlett and Shayne Van Ness wrestled back for third place while Max Dean closed his career out with a 7th place finish. With 5 wrestlers still to compete in the finals, Penn State is sure to widen its margin of victory on Saturday night.
The Battle For Third Is On
With first and second being wrapped up, Ohio State and Cornell are guaranteed a trophy finish but third place is still up for grabs. Ohio State holds a 2-point lead over Cornell, however, Ohio State only has 1 wrestler in the finals (Sammy Sasso) while Cornell has two going for first (Vito Arujau and Yianni Diakomihalis). Ultimately, the teams' finish will come down to who wins the 149-pound bout between Diakomihalis and Sasso. There are 4 points on the line for a finals win and that match will clinch third place for either team.
---
Top 10 After Session 4 - Friday Night
8 All-Americans For Penn State - 5 In The Finals
In classic Penn State fashion, 5 Nittany Lions made the finals on Friday night - Roman Bravo-Young, Levi Haines, Carter Starocci, Aaron Brooks, and Greg Kerkvliet - only Beau Bartlett and Shayne Van Ness lost in the semis. Each win in the semi-finals earned Penn State 7 points. On top of the finalists' wins, Max Dean punched through in the blood round to earn his fourth career All-American honors. In total, Penn State earned 38.5 points on Friday night to extend their lead over second-place Iowa. At this point, Iowa can still "mathematically win" but it's only a matter of time before Penn State locks up its tenth team title under Cael Sanderson.
The Trophy Race Heats Up
Penn State and Iowa feel like a firm 1-2 finish at this point but there are 5 other teams fighting for 2 trophies. Wrestlers in the finals can earn an extra 4 team points for taking first. Wrestlers currently in the consi-semis can earn 4.5 more team points if they take 3rd place while wrestlers sitting in the 7th/8th place match can only earn 1 team point for advancing their placement. Of course, bonus points scored in the remaining matches are the same - 1 point for a major, 1.5 for a tech, 2 for a pin.
Check out a breakdown of the remaining All-Americans for the teams in the top 6:
---
Top 10 After Session 3 - Friday Morning
Penn State Puts 7 In The Semis!
Penn State had a historic quarter-final round Friday morning putting all 7 of their quarter-finalists into the semi-finals. Roman Bravo-Young, Beau Bartlett, Shayne Van-Ness, Levi Haines, Carter Starocci, Aaron Brooks, and Greg Kerkvliet were the 7 Nittany Lion wrestlers who reached the semis. Not only does a semi-final birth guarantee them a top 6 placement, but each semi-finalist also earned Penn State 7 team points. On top of the semi-finalists, Max Dean is still alive for All-American honors and will wrestle Jaxon Smith in the round of 12 on Friday night.
The Battle For A Team Trophy Is TIGHT!
Iowa might be in second place but there are still 7-8 other teams with a realistic shot to reach the top four and bring home a team trophy. There are significant points available in the next round with 7 points on the line for a win in the semis and 3.5 points up for grabs with a win in the round of 12. With so many teams still in the hunt for a trophy, the Friday night round be crucial for every team in the top ten.
Check out the chart below to see a breakdown of the point potential for each team on Friday night:
---
Top 10 After Session 2 - Thursday Night
Penn State With 7 In Quarters - Iowa Trails With 5
Penn State put 7 of their 9 wrestlers into the quarter-finals and holds a 4.5-point lead over Iowa who only has 4 wrestlers in the quarter-finals. Though Alex Facundo went 0-2 and Max Dean lost to Silas Allred, the Nittany Lions built their lead with 11 bonus points from their winning wrestlers. Those bonus points alone would be enough to match to the entirety of the current 15th-place team.
Of the teams after Penn State in the top 10, Missouri has the most in the quarter-finals with 6 wrestlers competing on Friday morning for a spot in the semis. After that, the Tigers have 3 wrestlers still alive in the consolation bracket. Next, both Nebraska and Virginia have 5 wrestlers in the quarters. Nebraska only has 2 alive in the consolation bracket while Virginia Tech has 3 wrestlers fighting on the back-side still alive for All-American honors.
Iowa's head coach Tom Brands recaps Day 1 for the Hawkeyes: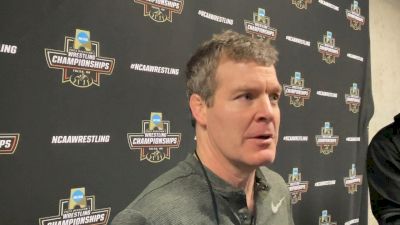 ---
Top 10 After Session 1 - Thursday Morning
Bonus Points The Difference For Penn State In Session 1
Penn State had 8 of their 9 wrestlers win matches in the first round on Thursday. NC State, Iowa, and Missouri also had 8 wrestlers win however Penn State took their lead by securing bonus points from 5 wrestlers with pins at 3 weights. Each win in the championship rounds is worth 1 point with a major decision earning an extra point, a tech-fall earning 1.5, and a pin earning 2. If the teams trailing the Nittany Lions hope to keep pace, they'll have to step up their bonus point production.