2023 NAIA Women`s National Championships
NAIA Women's Recap: Southern Oregon Reigns; Prussin, Aduago, Guilford Shine
NAIA Women's Recap: Southern Oregon Reigns; Prussin, Aduago, Guilford Shine
Southern Oregon won the title at the first sanctioned NAIA women's tournament and stars Peyton Prussin, Adaugo Nwachukwu and Dymond Guilford shined.
Mar 14, 2023
by Derek Levendusky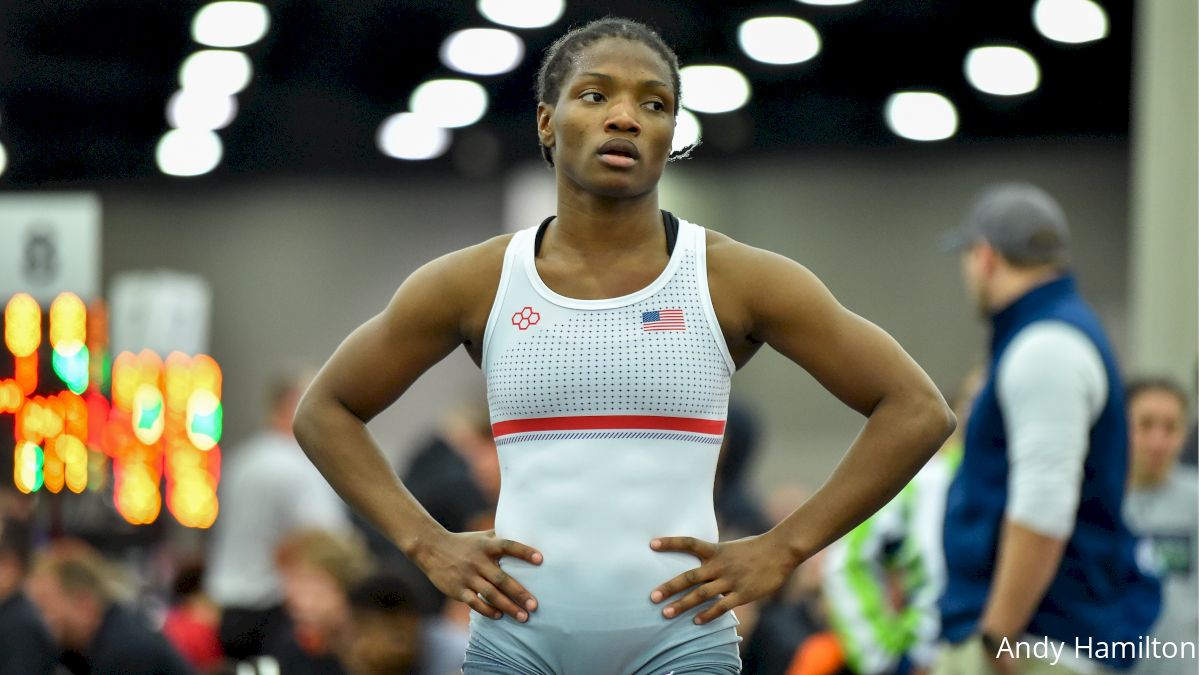 It was a historic weekend in Jamestown at the Harold Newman Arena as Southern Oregon secured its first NAIA National Championship and the first for any team in the sanctioned era. It was SOU's second national title this season, having won the NWCA National Duals in January.
SOU scored 160 points, followed by Life University (139.5), Grand View (123.5), Menlo (123), and the University of Providence (102). The Raiders won with three national champions and one finalist. Carolina Moreno (123) won her second straight national title, while Emily Se (136) won and #10 seed Grace Kristoff (191) won their first. Joye Levendusky took second at 170 to Dymond Guilford.
Southern Oregon coach Gabby Weyhrich was named tournament Coach of the Year award.
"I've been here before," said Weyhrich, speaking of her days at McKendree as an assistant, where she was a part of three national championships, "but this just feels different. It feels different as a head coach with a new group of girls that are hungry, who want to win, who haven't done it before."
Life University had one individual champion in 109-pound Peyton Prussin, who became a three-time national champion, while two freshman breakouts, Sarah Savidge (130) and Latifah McBryde (155), both took second.
Here's a weight-by-weight recap, along with a glance back at the preview to see how I did with predictions and dark horses:
101 Pounds
The finals was a matchup of teammates as top-seeded Ira Navarro, a senior, faced off with #2 Erin Hikiji, a freshman. It looked like a match between familiar training partners, as it turned into a positional chess match, with Navarro winning 2-1 and claiming her first national title. Southern Oregon's Esthela Trevino took third after falling to Hikiji in the semi.
Preview prediction: "Top-seeded Ira Navarro, who has been consistent all season at this weight and proven she can win the close ones, is the choice here."
Result: Navarro did, in fact, win a close one, not only in the final but also in the semi, a 4-3 win over Dosado.
Preview dark horse: "Iowa Wesleyan junior #10 seed Alaina Sunlin…could steal a podium spot."
Result: She didn't. Sunlin was eliminated by eventual All-American Devyn Gomez in the first round of consolations.
109 Pounds
It was a rematch of last year's finals with #1 Peyton Prussin taking on #2 Mia Palumbo. Once again, Prussin had to come from behind when Palumbo scored first, but this time Prussin locked up a cradle for the fall. The win makes her a three-time NAIA champion.
Texas Wesleyan's Jasmine Howard, who nearly upset Prussin in the semis, took third with a technical superiority over SOU's Natalie Reyna-Rodriguez in the third-place match. Reyna-Rodriguez finished her college career as a three-time All-American.
Preview prediction: "Prussin has looked as sharp this year as she ever has. She's the pick here."
Result: It wasn't easy. Prussin was challenged from the quarterfinals on, but she entered an elite category as a three-time national champ.
Preview dark horse: "#11 seed Kory Phillips from Life is compelling…she could steal an All-American spot for sure and as a senior, might have some extra incentive."
Result: She took a spot by finishing eighth.
116 Pounds
It was Central Methodist's #2 seed Caitlyn Thorne in the finals against Texas Wesleyan's #4 seed Camille Fournier. It was Thorne 2.0 who re-emerged in Central Methodist's lineup this year after going 2-2 and not placing last year at the National Collegiate Women's Wrestling Championships as a member of the McKendree program.
Thorne is now a national champion, defeating a worthy opponent in Fournier, 10-0. Fournier upset top-seeded Ashley Gooman in the semis by fall as the clock expired. Gooman took third, dominating her final two matches with technical superiorities.
Preview prediction: "Camille Fournier pulls several upsets and wins her first national title."
Result: Almost got that right. It was the first finals appearance for the junior.
Preview dark horse: "It feels like Central Methodist's #8 seed Hannah Hall is seeded too low, but only because she lost some close ones this year and is certainly capable of more."
Result: Hall, fighting through some injuries, still outperformed her seed and landed in seventh place.
123 Pounds
"No one is beating Catto this weekend," a Southern Oregon coach told me.
"Catto" is what the team calls two-time national champion Carolina Moreno. The Raider sophomore scored four straight techs en route to the finals, where she won, 6-2, over returning third-place finisher Alana Vivas from Menlo.
Grand View freshman Maya Davis, the 10 seed, overcame an early loss to take third. Larissa Kaz (Hastings) became the first All-American for the third-year program.
Preview prediction: "Moreno. She's very tough to score on and always ready for the big moment."
Result: Moreno finished 26-2 on the season after winning the title this weekend.
Preview dark horse: "Life's #11 seed Olivia Mottley, the MSC champ, seems to be peaking at the right time. [She]…could definitely steal a podium spot and make a deep run."
Result: Mottley went 2-2 and went out in the blood round. Almost got there!
130 Pounds
Returning national champion Lexie Basham of Texas Wesleyan had her hands full against Life freshman sensation Sarah Savidge. They traded scoring attacks with Savidge taking a 3-2 lead early in the second, but, in the end, Basham prevailed 6-3 to become a two-time national champion. Doane's Cristelle Rodriguez, who won a Cadet World silver in 2019, took third, winning 6-2 in the third-place match over Providence's Waipuilani Estrella-Beauchamp, the 2021 national champ.
Preview prediction: "Though there are certainly some land mines to avoid in this field for Basham, look for her to become a two-time national champion this weekend." Result: Basham has a way of getting it done in close matches.
Preview dark horse: "Menlo's #10 seed Louisa Schwab has been wrestling well and could grab an All-American spot in this group." Result: Schwab had a solid tournament and broke through to the podium, taking seventh. She upset the #7 seed Angela Vitiritti on Day 1, who was a national finalist in 2021.
136 Pounds
Adaugo Nwachukwu was a fan favorite all weekend, scoring massive moves in almost every match and wowing the crowd, including the final, where the returning champ hit two four-pointers and a five-point suplex.
In both her semi and the final, Nwachukwu got scored on first, which seemed to flip a switch. In the semi, after Brewton Parker's Leidaly Rivera hit a beautiful lateral drop on Nwachukwu, the Iowa Wesleyan star scored 12 unanswered points.
In the final, Mea Mohler scored the first two, and then Nwachukwu scored 15 straight, and in glorious fashion. With the finals victory, the sophomore powerhouse becomes a two-time NAIA champion.
Rivera came back to take third, earning the spot with a win over Southern Oregon freshman Bella Amaro. Life junior Riley Dalrymple became an All-American for the first time, placing eighth.
Preview prediction: "Adaugo."
Result: Yes, Adaugo. She finished the season 30-0.
Preview dark horse: "Friends University's #10 seeded Gianna Moreno."
Result: Swing and a miss for me, though Moreno lost a close one in the consolations in an elimination match — a 4-2 near miss against Midland's Ashlee Palimo'o.
143 Pounds
Southern Oregon's Emily Se defeated Grand View #1 seed Alexis Gomez in the 143-pound finals. This was a rematch of a 9-6 win for Gomez at the NWCA National Duals in January, but this time it was Se, 3-2.
For such a low-scoring match, this one was full of action from beginning to end. Se took the late lead with a high crotch that Gomez nearly kicked out of, literally holding onto the toe at one point, before securing the leg and scoring what would be the match-deciding takedown with 1:13 left. Gomez turned it on in the final minute with a flurry of shots and under hooks that gained a step-out point, but it wasn't enough as Se won the nailbiter.
The Southern Oregon gallery cheered as the victory put an exclamation point on the team title for the Raiders. Life's Jamilah McBryde took third with a win over Campbellsville's Emma Walker.
Preview prediction: "SOU's Emily Se ends her college career on top."
Result: Se's career went third in NCAA, fourth in NCAA, third in NAIA, first in NAIA.
Preview dark horse: "Sophomore #7 seed Kaydince Turner."
Result: Turner went 2-2 and went out in the blood round to eventual All-American Josette Partney from Missouri Baptist.
155 Pounds
If you haven't seen it already, the end of this match has gone viral, as it may have been the most exciting finish to a finals match in NAIA women's history.
With #1 seed Latifah McBryde holding an 8-6 lead, Baker's Kaylynn Albrecht hit a four-point headlock as time expired for the title. The Life corner challenged that time expired, but the call on the mat was upheld, and Albrecht was the winner, 11-8.
The Running Eagle freshman was the heavy favorite going in, as she was not only undefeated but had only been scored on a few times during the season. In fact, she pinned Albrecht in January at National Duals, but this time it was Albrecht who chain-wrestled to multiple scores that kept the match close enough for the dramatic conclusion.
Brewton Parker's India Page took third with a win over Central Methodist's Caitlyn Davis. Page improved on her seventh-place finish as a freshman last season. Central Methodist earned its first NAIA All-American, and they ended up with five total.
Preview prediction: "McBryde. 100 percent."
Result: Albrecht had something to say about that.
Preview dark horse: "#12 seed Bailey Dennis."
Result: Dennis did not have her best day, going two and out.
170 Pounds
Dymond Guilford (Cumberlands) joined the ranks of the four-timers, winning her fourth college national title (one WCWA and three NAIA) with a victory over Southern Oregon's Joye Levendusky. It was a tight match, with Levendusky stifling Guilford's leg attacks and earning a 1-1 lead with matching shot clock points. Guilford changed her approach, going with double under hooks, and throwing Levendusky for the fall.
It was Guilford's second title as a member of the Cumberlands program, her first two coming as a member of Missouri Baptist, where she won both a WCWA title and a title at the first NAIA Invite in 2019.
Guilford became the seventh woman to become a four-time national champion, joining Emily Webster, Victoria Anthony, Helen Maroulis, Kayla Miracle, Emily Shilson, and Sydnee Kimber. Levendusky accomplished a rare feat, too — finishing her career as a five-time All-American and three-time national finalist. Guilford also became a five-time All-American with her title this year, having taken fourth at WCWAs in 2018 as a freshman.
Grand View's Abby McIntyre, after falling to Levendusky 2-1 in the semi, took third with a win over Liliana Vergara of Campbellsville in the consolation finals.
Preview prediction: "At some point in this bracket, a freshman will pull an upset and outperform her seed. There are some good ones — #6 Lawson, #9 El-Masri, and #10 Giebe."
Result: Freshman #6 Lawson outperformed her seed and placed 5th.
Preview dark horse: "#12 seed Olivia Robinson."
Result: Robinson finished eighth.
191 Pounds
Southern Oregon's #10 seed Grace Kristoff was the Cinderella story of the tournament, pulling upsets over #7 Palmieri, #2 Jesse Kirby, #3 Heidelberg-Tillotson, and Central Methodist's #5 Jaycee Foeller in the finals.
After sneaking by Heidelberg in the semi, 2-1, the final was close until Kristoff took over in the second period, securing the fall and title at 5:59. Kristoff and Foeller were on the same team last year, and both were members of the national championship McKendree program.
In the offseason, Kristoff followed McKendree assistant Gabby Weyhrich to Southern Oregon, and Foeller followed Sam Schmitz to Central Methodist. Foeller, a sophomore, is now a two-time national finalist, falling in the NCWWC finals last year to Sydnee Kimber.
Top-seeded Kelani Corbett, upset by Foeller in the semis, took third with a 4-1 win over Heidelberg in the consolation finals. This was the deepest 191-pound class in either division since the NCAA and NAIA started their own national championships. National champ Kristoff finished her college career a three-time All-American and 2023 national champion.
Preview prediction: "Tavia Heidelberg-Tillotson."
Result: Heidelberg lost 2-1 to Kristoff in the semis and landed in fourth.
Preview dark horse: "#10 seed Grace Kristoff all day…She took third in 2021 and fourth in 2022 at the National Collegiate Women's Wrestling Championships. For someone with her resume in the NCAA, she's had a bizarre ranking all season, outside the top eight. She'll go on a deep run and steal a podium spot for sure."
Result: Kristoff said she used her low ranking as motivation this season, wrestling "with a chip on her shoulder." I'd say a national title settles the issue.
Predictions: 7/10
Dark horses: 5/10
All matches can be replayed on FloWrestling.