2023 NCAA Championships Watch Party
Husker Insider: Nebraska's Path To A Team Trophy
Husker Insider: Nebraska's Path To A Team Trophy
Nebraska is chasing its first NCAA team trophy since 2009 and the Huskers have high-level competitors capable of hauling home some hardware.
Mar 13, 2023
by Dylan Guenther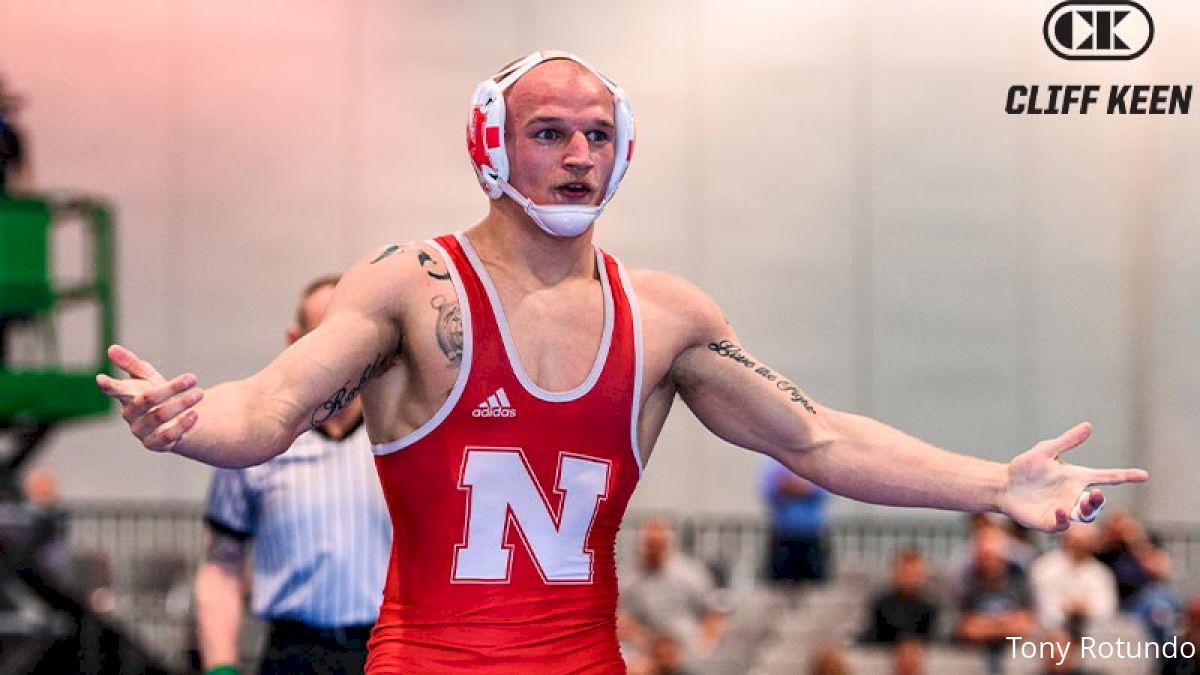 Unlock this article, live events, and more with a subscription!
Get Started
Already a subscriber? Log In
Fourth-ranked Nebraska bringing a lineup full of contenders to the 2023 NCAA Wrestling Championships this year, giving the Huskers a good chance of earning their first team trophy since 2009 when they finished fourth. With seven qualifiers, Nebraska has four wrestlers seeded fourth or better.
If you look at how each team is projected to finish according to their seeds, Nebraska comes in fourth behind Penn State (97 points), Iowa (74.5) and Cornell (68.5). The Huskers are projected to earn 62.5 points if their wrestlers all wrestle to their seeds (not including bonus points).
During the last decade, the magic number to earn a fourth-place finish and a team trophy at NCAAs is 80 team points. Let's look at Nebraska's path to that number.
125 pounds – #3 seed Liam Cronin
Cronin is 20-4 this season and is having the best year of his career. He's proven this season that he's certainly the third-best wrestler at the weight. The only problem is that ahead of him is #1 seed Spencer Lee and #2 seed Patrick Glory.
As the #3 seed, Cronin should be a pretty solid bet to make it to the semifinal round on the bottom side where he would likely face the undefeated Glory. If Lee, a three-time NCAA champ, and Glory, a 2022 NCAA finalist, stay on a collision course and meet up in the finals, Cronin would get bounced to the backside.
Cronin has the capability of making the finals and has proven to have a high floor as well. Look for a top-five finish here.
141 pounds – #4 seed Brock Hardy
As a redshirt freshman, Hardy is 27-5 this year. With 15 ranked wins on the year, Hardy also has had two close matches against #1 seed Real Woods, losing 6-4 in the season while falling 2-1 in the Big Ten final.
Looking at the bracket, Hardy will be the heavy favorite in his first two matches before he could meet #5 seed Ryan Jack in the quarterfinal round. Hardy and Jack have split matches this year with Hardy winning the last meeting at CKLV.
If he moves on to the semis, Hardy could face Woods for the third time this year. With such close matches this year, Hardy shouldn't be overlooked in this potential semi. With an upset win over Woods, Hardy could face #2 seed Andrew Alirez in the final. Alirez has looked great this year and might be the favorite to win it all, but Hardy's funky style could pose a problem as these two have never wrestled.
Hardy has a very high ceiling in this tournament. Don't be shocked if he won it all. Look for another top-five finish here.
157 pounds – #3 seed Peyton Robb
As a junior, Robb has been superb this year. He's 25-1 with his lone loss coming to Penn State's second-seeded Levi Haines in the Big Ten final, a 3-1 loss in sudden victory. Robb has 16 wins this season over ranked opponents.
Robb looks like a strong bet to make it to the semifinal round, where he could face the winner between Haines and seventh-seeded Bryce Andonian of Virginia Tech. It's certainly possible that Robb can get a win against either. He hasn't faced Andonian in his career and has just the one overtime loss to Haines, so it wouldn't surprise anyone if Robb made it to the finals, where top-seeded Austin O'Connor of North Carolina could be waiting on the other side.
Robb has met O'Connor once in his career, downing the Tar Heel 5-2 in an early-season dual last season. Robb is certainly capable of winning the bracket. He's been far more consistent this season than he was last year when he got hot at the NCAA Championships and finished fourth.
165 pounds – #25 seed Bubba Wilson
Naturally, as the #25 seed, Wilson will have a tough draw at nationals. Wilson is 15-13 on the year but has been peaking lately as he finished the dual season with a four-match win streak before outperforming his seed to earn a sixth-place finish at Big Tens.
Wilson will take on 8-seed Matthew Olguin of Oregon State in the first round. The Pac-12 champion, Olguin will be a tough match for the Husker sophomore. With an upset win, Wilson could then face #9 seed Shane Griffith of Stanford, a 2021 NCAA champion and 2022 runner-up.
Wilson's ceiling appears to be as a fringe All-American candidate but he'll have to pull off a few upsets along the way in an incredibly deep 165-pound bracket.
174 pounds – #2 seed Mikey Labriola
Labriola carried an undefeated record into the Big Ten final against top-seeded Carter Starocci, but the Husker senior suffered a 6-1 decision loss, dropping him to 25-1 on the year.
Another Husker that figures to have a strong shot to get to the semis, Labriola could face off against #3 seed Mekhi Lewis in the semifinal round. An NCAA champion in 2019 at 165 pounds, Lewis was an NCAA finalist a year ago at 174. Labriola wrestled Lewis this season in the CKLV final and came away with a 3-1 win in sudden victory.
A win in the semis could set Labriola up for a rematch with Starocci in the finals. The two-time NCAA champ from Penn State is 3-0 against Labriola now after a 6-1 win in the Big Ten finals. Labriola will have his work cut out for him if he wants to end his career with a championship.
Labriola's tournament ceiling would be him grabbing a win over Starocci in the final and he figures to be a likely top-four finisher.
184 pounds – #13 seed Lenny Pinto
Lenny Pinto (23-9) is almost impossible to predict here. It wouldn't be a total surprise if he made it all the way to the semifinals, but it also wouldn't be shocked if he goes 2-2 and falls short of the podium. He's a classic high-ceiling, low-floor kind of guy. One thing you know you're getting with Pinto though is fireworks. He's must-watch every time he toes the line.
If Pinto wins his opening matchup against Virginia's 20th-seeded Neil Antrassian, Pinto will likely see #4 seed Trey Munoz of Oregon State in the second round. Munoz is 24-1 on the year, but that one loss was a 5-4 decision against Pinto at CKLV. This is where Pinto's All-America chances tournament may be decided. If he beats Munoz, he'll have a possible shot at knocking off #5 seed Marcus Coleman in the quarters.
It's hard to project who Pinto might hit in the consolations, but he has the big-move potential to beat just about anybody and find his way onto the podium.
197 pounds – #8 seed Silas Allred
It's certainly rare to see a Big Ten champion seeded as low as the #8 seed. Silas Allred stunned NCAA champion Max Dean 6-3 in the Big Ten final, taking him down three times to none while improving to 26-5 on the year.
At NCAAs, Allred may just have the toughest path of anyone on his team. Allred will likely see Dean again in the second round. With a win there, Allred would move on to the quarterfinals and a possible meeting with #1 seed Nino Bonaccorsi.
There's so much depth in this bracket that it's difficult to project who Allred could run into on the front side of the bracket, let alone the consolations. It'll be a tough road for Allred, no doubt, but the Husker freshman seems to have about as good of a chance as anyone else here.
After capturing conference gold, the ceiling for Allred in his redshirt freshman season is an NCAA title, but there's a wide range of possible outcomes for the top contenders at 197.
The Path To 80
To get to that magic number of 80 points — the figure it typically takes to haul home a team trophy — Nebraska will likely need a couple finalists out of Cronin, Hardy, Robb, Labriola and Allred. Those who don't make it to the finals will need to be high-level All-Americans.
Then the Huskers would really benefit from points out of Wilson and possibly an All-American finish out of Pinto.
Using fairly modest projections without bonus points, here's one of the many paths for Nebraska to get within striking distance of 80:
Cronin — third place (13.5 points)
Hardy — third place (13.5)
Robb — second place (16)
Wilson — Round of 24 (.5 points)
Labriola — second place (16 points)
Pinto — seventh place (6.5 points)
Allred — fifth place (10 points)
That scenario adds up to 76 points.
Additionally, Nebraska has some bonus potential on this team. Hardy leads the squad with 16 bonus-point wins (six pins, three techs and seven majors), while Allred leads the Husker contingency with seven pins to go with a tech fall and five majors. Pinto has been another major contributor with 15 bonus-point wins (six pins, one tech and eight majors).
Not to be outdone by the three redshirt freshmen, Robb has 13 bonus-point wins on the year (two pins, six techs, five majors) while Labriola has 11 (four techs, seven majors). Cronin has seven wins via bonus (two pins, one tech, four majors)
In all, it doesn't seem that Nebraska has to vastly outperform its seeds to earn a team trophy.