2023 NCAA Championships Watch Party
Hokie Insider: VT Heading To Tulsa With Full Lineup Firepower
Hokie Insider: VT Heading To Tulsa With Full Lineup Firepower
Virginia Tech is one of four programs that qualified for the NCAA Championships at 10 weight classes, and the Hokies have hopes of doing damage in Tulsa.
Mar 13, 2023
by Jim Carlson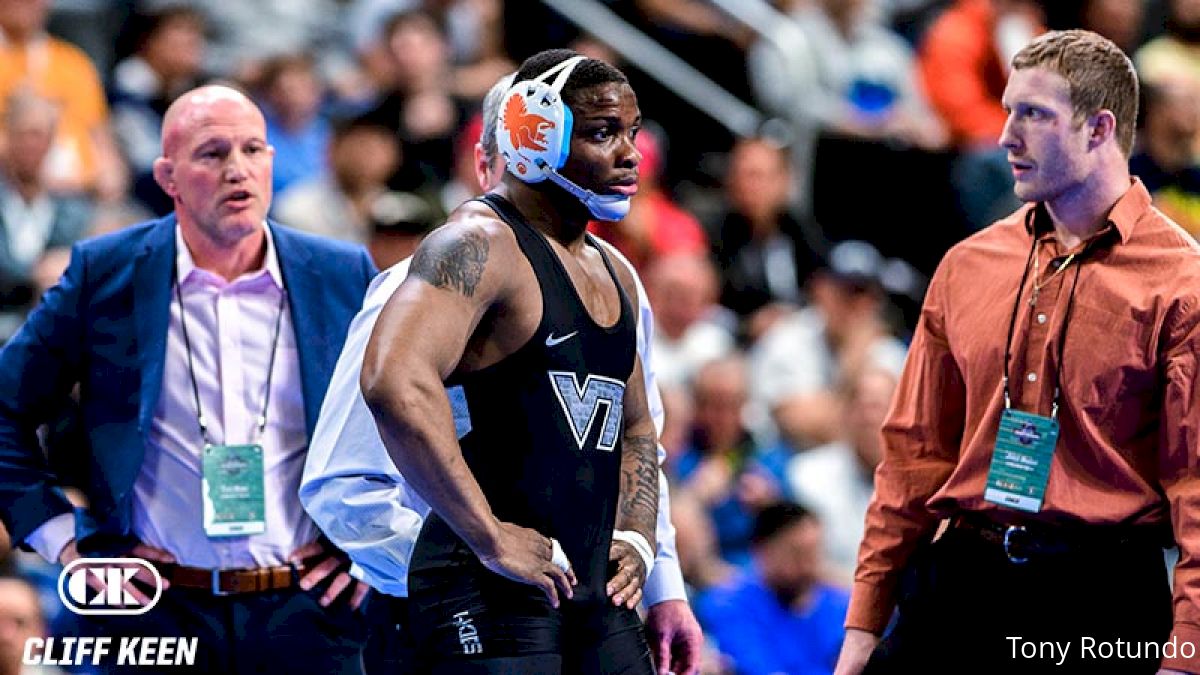 If what Virginia Tech coach Tony Robie said at the beginning of the season plays out at the end of it in Tulsa, the Hokies will have taken another giant step.
"Our goal is for every single one of our guys to reach their potential and I think if we can continue to recruit at the level we're recruiting at and we get everybody to reach their potential, that's really all you can ask for," Robie said in November. "If you put yourself in the mix enough and in that conversation, which we really haven't done, you have a chance of things going your way."
More than four months later, Robie is taking a full 10-man complement to the NCAAs. He'll have four wrestlers who have medaled, one first-year guy destined to do the same and a handful of others hungry for the experience.
While the Hokies left the ACC Championships in Raleigh with the second-most team points, they'll join Iowa, Missouri and Oklahoma State as the only teams with 10 in Tulsa.
Mehki Lewis (174) will be seeking his third appearance in the finals, Sam Latona (133), Bryce Andonian (157) and Hunter Bolen (184) will aim for a higher spot on the podium than their previous NCAA appearances and Caleb Henson (149) wants to leave a big first impression as a freshman.
Henson, 21-3, an ACC champ and the #4 NCAA seed, has enjoyed his success thus far.
"It's just putting my trust in my coaches and having a great group of guys behind me," he told Flowrestling after the ACC finals. "It's just really the people I'm around that push me and elevate me to this level."
Joining those five are Eddie Ventresca (16-7) at 125, Tom Crook (16-9) at 141, Connor Brady (14-9) at 165, Andy Smith (15-7) at 197 and Hunter Catka (19-6) at 285.
Here is a look at what's in store for the Hokies when the three-day tournament gets underway on March 16:
125 pounds: Ventresca, in the 27th slot, is paired with #6 seed Stevo Poulin (28-5) of Northern Colorado. If he can win the opener, Minnesota's Patrick McKee (12-7) could be waiting, and #14 seed Noah Surtin (16-5) of Missouri and #3 seed Liam Cronin (20-4) of Nebraska are in that bracket as well. His bracket on the backside is more than navigable.
133 pounds: Latona, the #6 seed, was upset in the ACCs by fifth-seeded Kai Orine of N.C. State, opens with Taylor LaMont of Wisconsin. A quarterfinal bout with third-seeded Vito Arujau, who Latona defeated this year, would be must-see TV. Penn State's two-time NCAA champ Roman Bravo-Young (16-0) and Oklahoma State's two-time runner-up to Bravo-Young, Daton Fix (26-0), are the #1 and #2 seeds.
141 pounds: The first foe for freshman Tom Crook (16-9) is Northwestern's Frankie Tal Shahar (12-7), the sixth-place finisher in the Big Ten. A win would most likely pair him against #2 seed Andrew Alirez (23-0) of Northern Colorado.
149 pounds: Henson (21-3) has a lot of top-flight wins and is thus the fourth seed to go with his #4 national ranking. Henson will face Alec Hagan (20-14) of Ohio and a win could set up a bout with #13 seed Shayne Van Ness (19-6) of Penn State. If Henson were to advance in the bracket, he would face Cornell's Yianni Diakomihalis in the semifinals. Diakomihalis is vying for his fourth NCAA title and if Iowa's Spencer Lee does the same at 125, they would become only the fifth and sixth wrestlers ever to win four titles. Henson said his ACC title would be in the rearview mirror as he prepared for Tulsa.
"I'll focus on what's in front of me; I'll get back on the mat and dial it in and go dominate in Tulsa. Get the mind right, get the mindset and get ready to get on top of that podium," Henson said.
157 pounds: Andonian (8-2) missed some time with injury problems and the All-America's seed tumbled to #7; he'll face Ohio's Peyten Kellar (23-7) in the first round and be on a track on which he could meet second-seeded freshman Levi Haines (20-1) of Penn State. UNC's Austin O'Connor (18-0) is the #1 seed and defeated Andonian 6-5 in the ACC final.
165 pounds: Brady (14-9), the sophomore who qualified last season and went 1-2, opens against Carson Kharchla (13-4) of Ohio State. He lost a 3-1 decision to Kharchla in the dual meet. Keegan O'Toole (15-2) of Missouri also is in Brady's lower bracket.
174 pounds: Lewis (18-1) won the NCAAs in 2019, defaulted out in 2021 and finished second in 2022. A #3 seed this season, Lewis opens against Jackson Turley (10-12) of Rutgers and would need to win twice more to set up a 2-3 clash between him and Nebraska's Mikey Labriola (25-1), who has lost only to top-seeded Carter Starocci (19-0) of Penn State.
184 pounds: Bolen (19-5) is the #7 seed and will look to regain A-A status. He opens the tournament with a first-round match against David Key (21-9) of Navy. Looming in Bolen's bracket are #10 seed Travis Wittlake (19-5) of Oklahoma State and second-seeded Trent Hidlay (20-1) of N.C. State.
197 pounds: Smith, at 15-7, is in the 21st spot in the bracket and drew Illinois #12 seed Zac Braunagel (21-7). Above Smith in the bracket are 5 seed Michael Beard (19-3) of Lehigh, 9 seed and defending champion Max Dean (20-3) of Penn State and former finalist and top-seeded Nino Bonaccorsi (16-0) of Pitt.
285 pounds: Catka (19-6) drew #11 seed Trent Hillger (16-8) of Wisconsin from his 22nd slot. A win there sets up a possible bout with sixth-seeded Yaraslau Slavikouski (27-4) of Harvard. The top four seeds at heavyweight combine for a record of 90-6.