2023 NCAA Championships Watch Party
Wolverine Insider: Michigan's Path To An NCAA Trophy
Wolverine Insider: Michigan's Path To An NCAA Trophy
Michigan lost plenty of firepower from last year's NCAA runner-up team, but making the top four again is within the realm of possibility
Mar 14, 2023
by Mark Spezia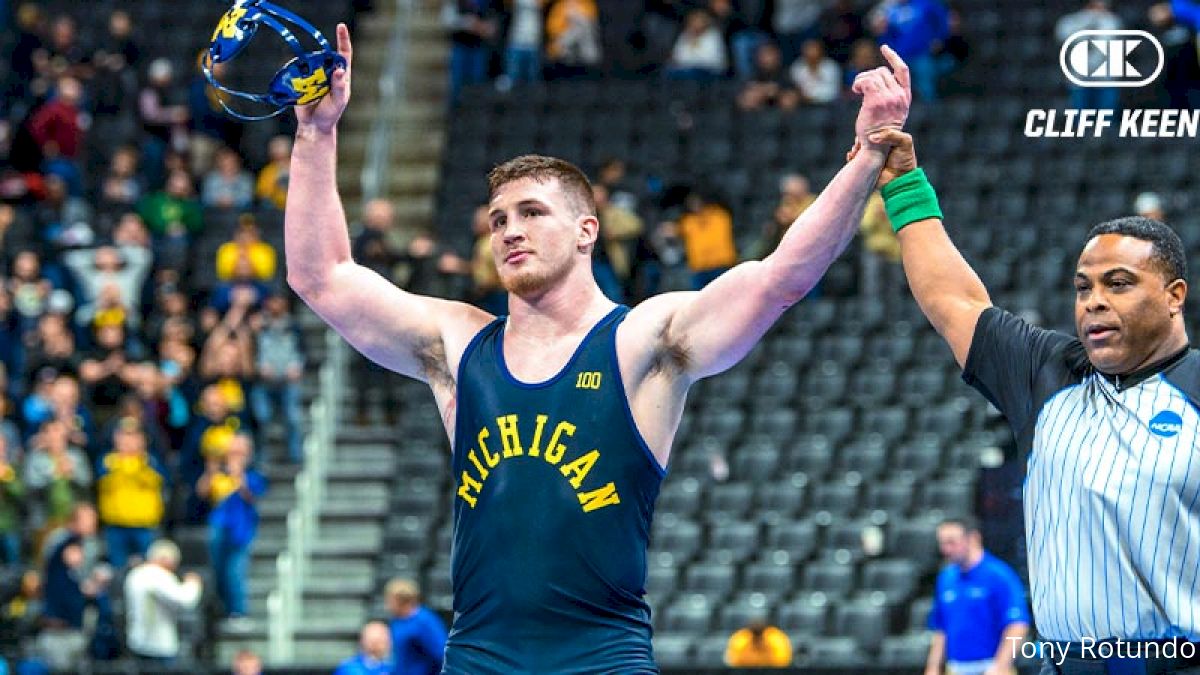 Unlock this article, live events, and more with a subscription!
Get Started
Already a subscriber? Log In
Roughly 40 minutes from Michigan's campus at Detroit's Little Caesars Arena, the Wolverines capped a historic 2021-22 season with a runner-up finish at the NCAA Wrestling Championships, their best showing since also taking second in 1974.
The Wolverines tied a program record with six All-Americans, including NCAA champion Nick Suriano (125 pounds) and totaled 95 points. However, wrestlers who accounted for 60 of those points have moved on.
It goes without saying that losing so much firepower will make bringing home a second straight team trophy a challenge for the eight qualifiers Michigan is sending to this year's NCAA Championships in Tulsa.
Still, it's certainly possible with six Wolverines seeded among the top 12 in their weight classes, including three returning All-Americans. Michigan has not finished in the top four at consecutive NCAA Championships since placing third in 1973 before its runner-up showing the following season.
It has taken an average of 80.25 points to reach the top four at the past 10 championships, although Arizona State needed only 66.5 points to place fourth a year ago.
Here is Michigan's most likely path to the 80-point threshold:
Parris Wins 285-pound Championship
Senior heavyweight Mason Parris has established himself as the favorite in one of the deepest weights in the tournament with a 28-0 record, including 15-0 against NCAA qualifiers. Parris, ranked #1 in his weight class and #15 pound-for-pound, boasts 18 bonus-point wins and is third in the latest Hodge Trophy standings.
He is making his fifth NCAA Championships appearance, including placing fifth a year ago, while battling a neck injury all season, and second in 2021.
Suriano racked up 24 team points in winning his national title last season and Parris, with his penchant for bonus points, is clearly capable of matching that even against such stiff competition.
Parris has beaten #2 Greg Kerkvliet (Penn State), #4 Tony Cassioppi (Iowa), #2 Wyatt Hendrickson (Air Force), #9 Lucas Davison (Northwestern) and #16 Tate Orndorff (Ohio State) at least once in his career.
Overall, Parris has gone 30-13 against All-Americans during his career.
He will open against either Travis Stefanik (Princeton) or Garrett Joles (Minnesota), who Parris pinned in 2020. After that, will be Orndorff or Taye Ghadiali (Campbell). Parris beat Orndorff three times, including 6-4 this season, and beat Ghadiali, 8-5, during a November dual.
Next will likely be #9 seed Davison or #8 Sam Schuyler (Iowa State). Parris has also beaten Davison three times.
Awaiting Parris in the semifinals will probably be either Cassioppi or #5 Cohlton Schultz (Arizona State), who edged Parris, 6-5, during last year's NCAA Championships, their only meeting.
He will likely have to get past Kerkvliet, a two-time All-American, or Hendrickson for a national championship.
Parris owns a pair of two-point decisions over Kerkvliet this season, including 5-3 in sudden victory at the Big Ten Tournament. He outscored Kerkvliet by a combined 5-1 margin in the third period and overtime of those matches.
Parris handed Hendrickson his only loss of the season with a 12-5 decision at the Cliff Keen Invitational.
Amine, Lewan, Finesilver and Ragusin Reach Podium
Amine is seeking a third All-American finish and Lewan his second while Ragusin reached the round of 12 last season and Finesilver, a transfer from Duke, the round of 16.
All will very likely need to at least reach the podium and record some bonus-point victories along the way for the Wolverines to make the top four.
Amine, fourth last season and seventh in 2021, is seeded 11th at 165 pounds, probably this year's deepest NCAA Championships weight.
He has been in and out of the lineup this season, but has gone 12-3 with four bonus-point wins and is 6-2 against NCAA qualifiers. Amine has beaten #3 Dean Hamiti (Wisconsin) and #10 Carson Kharchla (Ohio State) this season.
Amine begins with his first meeting against #22 Tanner Cook (South Dakota State). After that, Amine's road becomes much more difficult as #6 Patrick Kennedy (Iowa) likely looms next. They met for the first time at the Big Ten Championships with Kennedy taking a 3-2 decision.
Should Amine find his way past Kennedy, Hamiti, an All-American, will probably be waiting. Amine took their only two meetings, including 5-3 this season. Amine would then likely have to score one of the tournament's biggest upsets -- against #2 Keegan O'Toole (Missouri), a two-time All-American and defending champion, to reach the final. Amine dropped decisions to O'Toole in 2021 and 2022.
Lewan, making his fourth NCAA appearance, placed fifth a year ago. He is seeded ninth with a 21-6 record, including 12-6 against NCAA qualifiers.
Lewan has three bonus-point wins and has beaten #6 Bryce Andonian (Virginia Tech), #9 Chase Saldate (Michigan State) and #10 Kaden Gfeller (Oklahoma State) this season.
Lewan did not receive the friendliest of draws. He begins against #24 Tommy Askey (Appalachian State) before likely running into #8 Ed Scott (North Carolina State). Scott won their only meeting by injury default at this season's Cliff Keen.
Surviving Scott would likely mean Lewan's first-ever meeting with top-ranked Austin O'Connor (North Carolina), a three-time All-American and 2021 NCAA champion.
Lewan has a mixed bag of results against potential consolation bracket foes this season, beating #13 Trevor Chumbley (Northwestern), #18 Derek Gilcher (Indiana), #19 Garrett Model (Wisconsin) and #28 Paddy Gallagher (Ohio State), but falling to #12 Kendall Coleman (Purdue) and #14 Cobe Siebrecht (Iowa).
Finesilver, seeded eighth, is making his fourth NCAA appearance and first with the Wolverines. He has proven a fine addition to the lineup with a 23-6 record, 11-6 against NCAA qualifiers, and 10 bonus-point wins.
Finesilver owns wins over #11 Gavin Kane (North Carolina) and #10 Travis Wittlake (Oklahoma State), a 2021 All-American. He also beat #5 Marcus Coleman (Iowa State), a two-time All-American, twice in 2019.
Finesilver begins with his first meeting against Drexel's Brian Bonino before probably taking on #9 Isaiah Salazar (Minnesota) for the first time. Passing that test will likely earn Finesilver his first-ever date with top-seeded Parker Keckeisen (Northern Iowa), a two-time All-American.
Finesilver looks good for the consolation bracket with wins over #4 seed Trey Munoz (Oregon State), #15 Layne Malczewski (Michigan State), #13 Lenny Pinto (Nebraska), #18 Brian Soldano (Rutgers) and #12 Abe Assad (Iowa).
Ragusin is competing in the NCAA Championships for the third time. He's seeded 12th at 133. The sophomore is 17-8 this season, 9-7 against NCAA qualifiers, with nine bonus-point wins.
Ragusin's biggest win this season was a decision over All-American Sam Latona (Virginia Tech), who is seeded sixth.
Ragusin opens the tournament with a first meeting against Navy's Brendan Ferretti before the competition stiffens.
Next will likely be #5 seed Kai Orine (NC State). Ragusin and Orine have not wrestled, but should Ragusin prevail, a date with two-time All-American Michael McGee, the #4 seed from Arizona State, could await. Ragusin is 0-3 against McGee.
Ragusin appears in decent shape for the consolation bracket. In addition to Latona, he has knocked off #13 Chris Cannon (Northwestern), a two-time All-American, #14 Jesse Mendez (Ohio State) and #16 Joe Heilman (Rutgers).
Medley, Mattin, Lamer Contribute
Michigan will likely need at least five points combined from Jack Medley, Cole Mattin and Chance Lamer, all wrestling in the NCAA Championships for the first time, to reach 80.
Medley (125), seeded 16th at 125, appears to have the best chance to make some noise. He also qualified for the cancelled 2020 NCAA Championships.
The senior is 21-11 this season, including 11 bonus-point wins. He went 6-8 against NCAA qualifiers, but has some signature career wins, including over Michael DeAugustino (Northwestern), Eric Barnett (Wisconsin) and Brandon Kaylor (Oregon State).
Medley begins with a first-ever meeting against #17 Ethan Berginc (Army) before taking on three-time NCAA champion Spencer Lee.
As far as potential consolation opponents, Medley has won one of three meetings this season against Dean Peterson (Rutgers) and has beaten Reece Witcraft (Oklahoma State), along with DeAugstino, Barnett and Kaylor.
Mattin (141) hopes to recapture his early-season form. He has gone only 5-8 since bolting to a 9-0 start. Honorable mention in the latest rankings, Mattin is 14-8 with six bonus-point wins and a 5-7 mark against NCAA qualifiers.
He knocked off #10 Lachlan McNeil (North Carolina) and #9 Mosha Schwartz (Oklahoma) during that hot start.
Seeded #23, Mattin begins against McNeil, who he beat, 9-3, in November. Next would likely be a first-ever meeting against #7 Vince Cornella (Cornell). Should he pull that upset, Mattin would then probably face top-ranked Andrew Alirez (Northern Colorado).
Lamer (149) is seeded #23. He is 12-7 this season and 4-6 against NCAA qualifiers, with seven bonus-point wins.