2023 OHSAA State Wrestling Championship - ARCHIVE ONLY
OHSAA Ohio High School Wrestling State Championships Results, Brackets 2023
OHSAA Ohio High School Wrestling State Championships Results, Brackets 2023
The OHSAA Wrestling Championships are in full swing. Here are championship results and brackets with links to all archived matches.
Mar 13, 2023
by David Bray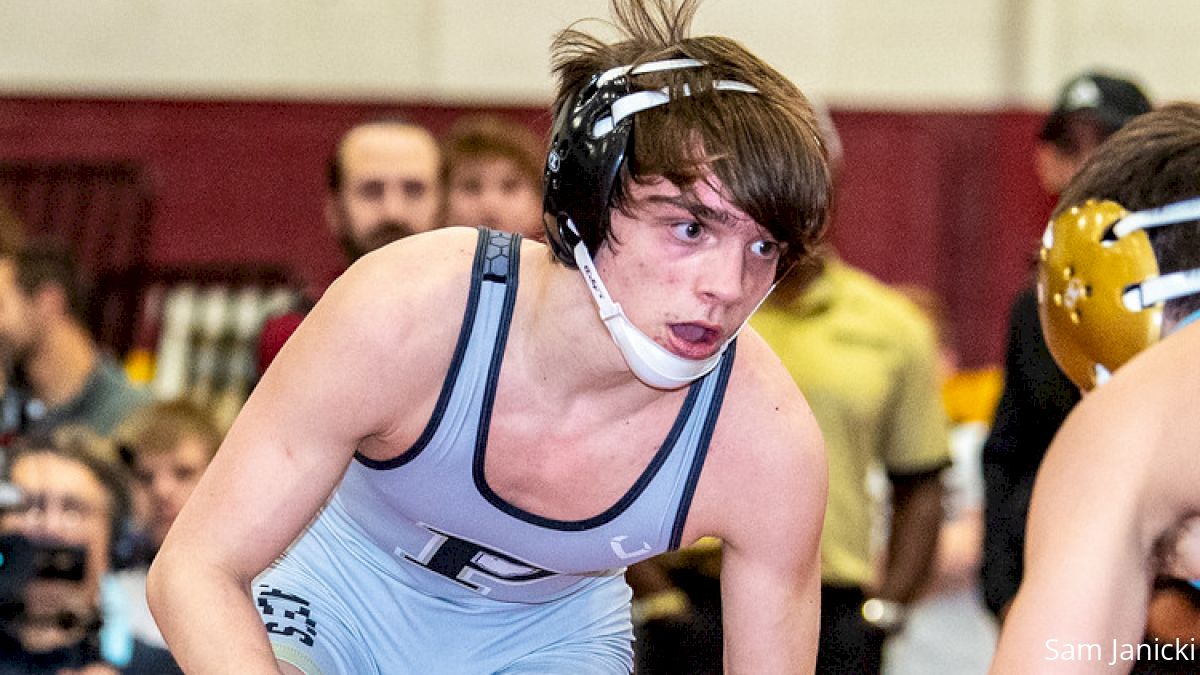 Keep up with the Ohio High School State Wrestling Championships by refreshing this article. We'll keep championship results updated regularly.
Full brackets with links to archived matches are available on Trackwrestling here.
Final Top 10 Team Scores
D1
1 St. Edward 195.5
2 Perrysburg 152.5
3 Brecksville 121.0
4 Mass. Perry 107.0
5 Wadsworth 95.0
6 Dub. Coffman 71.0
7 Olen. Liberty 66.0
8 Springboro 58.0
9 LaSalle 56.0
10 Nordonia 49.0
D2
1 Graham Local 157.0
2 Col. DeSales 120.5
3 Buckeye 83.5
4 Watterson 81.5
5 Wauseon 68.0
6 Hartley 65.5
7 Akron Svsm 60.5
8 Indian Creek 58.0
9 New Lexington 56.0
10 Louisville 46.0
D3
1 Legacy Christian 115.5
2 Mil. Edison 82.0
3 Barnesville 76.0
4 Archbold 71.0
5 Liberty Center 57.0
6 Delta 49.0
7 Gar. Garfield 47.5
8 Troy Christian 47.0
9 Monroeville 45.0
10 Ayersville 40.0
Girls
1 Harrison(G) 97.0
2 Olen. Orange(G) 69.0
3 Warren(G) 65.0
4 Marysville(G) 61.0
5 Greeneview(G) 49.0
5 Lebanon(G) 49.0
7 Minerva(G) 44.0
8 Del. Hayes(G) 42.0
8 Wch Washington(G) 42.0
10 Findlay(G) 41.0
10 United(G) 41.0
1st Place Matches
D3-106
Adam Mattin (Delta) 13-0 won by fall over Parker Pikor (Lake Cath.) 44-7 (Fall 1:14)
D3-113
Abe Hermes (Mil. Edison) 29-1 won by decision over Eli Campbell (Legacy Christian) 36-4 (Dec 2-1)
D3-120
Max Hermes (Mil. Edison) 52-3 won by decision over Cooper Shore (Miami East) 49-1 (Dec 6-1)
D3-126
Dillon Campbell (Legacy Christian) 46-2 won by fall over Brock Durbin (Mapleton) 41-2 (Fall 2:32)
D3-132
Brock Christian (Perry) 48-9 won in tie breaker - 1 over Landen Duncan (Chalker) 36-8 (TB-1 2-1)
D3-138
Ashton Homan (Monroeville) 43-5 won by decision over Ashtan Hendricks (Greeneview) 48-5 (Dec 4-2)
D3-144
Brodie Dominique (Archbold) 62-4 won by decision over Boede Campbell (Legacy Christian) 26-6 (Dec 7-2)
D3-150
Reese Stephen (Barnesville) 52-2 won by decision over Joshua Greenwood (Beachwood) 43-9 (Dec 3-2)
D3-157
Tristin Greene (Keystone) 47-2 won by major decision over Brayden Doran (Preble Shawnee) 39-5 (MD 13-3)
D3-165
Hunter Andel (Gar. Garfield) 48-3 won by decision over Cody Coontz (Rootstown) 48-5 (Dec 3-0)
D3-175
Xander Myers (Liberty Center) 48-4 won by decision over Hayden Dickman (Archbold) 50-9 (Dec 6-3)
D3-190
Keegan Sell (Gar. Garfield) 45-5 won by decision over Wyat Ripke (Archbold) 62-4 (Dec 6-4)
D3-215
Tyler Shellenbarger (Mogadore) 45-3 won in sudden victory - 1 over Lucas Thomas (Harrison Central) 48-4 (SV-1 7-5)
D3-285
Eli Criblez (Allen East) 49-1 won by decision over Dallas McCracken (United) 48-8 (Dec 3-2)
D2-106
Javaan Yarbrough (Copley) 38-2 won by fall over Ethan Burkhart (New Lexington) 44-1 (Fall 4:27)
D2-113
Colyn Limbert (Buckeye) 45-1 won by major decision over Mason Taylor (West Holmes) 43-4 (MD 9-1)
D2-120
Joe Curry (Watterson) 34-2 won by decision over Noah Moreland (Butler) 55-4 (Dec 4-2)
D2-126
Bryce Skinner (Akron Svsm) 30-6 won by fall over Aiden King (Hartley) 22-1 (Fall 2:52)
D2-132
Brogan Tucker (Graham Local) 37-5 won by decision over Donovan Paes (Streetsboro) 41-5 (Dec 7-5)
D2-138
David McClelland (Col. DeSales) 44-6 won by decision over Hayden Hughes (Graham Local) 39-9 (Dec 5-0)
D2-144
Mitchell Younger (Watterson) 29-2 won by decision over Lance Overmyer (Clyde) 56-2 (Dec 11-6)
D2-150
Dominic Hoffarth (Louisville) 37-4 won by decision over Eli Jacks (Graham Local) 40-7 (Dec 6-1)
D2-157
Kaden King (Buckeye) 44-4 won by decision over Dominic Paterra (Indian Creek) 46-5 (Dec 6-4)
D2-165
Gunner Cramblett (Graham Local) 46-5 won by decision over Oliver Byerly (Jonathan Alder) 41-5 (Dec 5-4)
D2-175
Dylan Newsome (Hartley) 43-3 won by decision over Lincon Shulaw (Col. DeSales) 38-7 (Dec 6-3)
D2-190
Kyle Snider (Cvca) 44-6 won by decision over Max Ray (Columbian) 41-5 (Dec 3-1)
D2-215
Max Shulaw (Col. DeSales) 51-0 won by fall over Elijah Llewellyn (Indian Creek) 37-6 (Fall 3:41)
D2-285
Trentt Fulgham (Circleville) 44-7 won in tie breaker - 1 over Zane Pletcher (New Lexington) 38-4 (TB-1 2-1)
D1-106
Ethan Timar (St. Edward) 43-4 won by decision over Rylan Seacrist (Brecksville) 40-7 (Dec 5-3)
D1-113
Karson Brown (St. Edward) 42-6 won by decision over Kaiyon McKinney (Elyria) 34-6 (Dec 6-1)
D1-120
Marcus Blaze (Perrysburg) 52-1 won by tech fall over Micah Medina (Oregon Clay) 23-5 (TF-1.5 5:10 (21-6))
D1-126
Ryan Avalos (Perrysburg) 40-2 won by decision over Phoenix Contos (Waite) 44-4 (Dec 7-2)
D1-132
Jaxon Joy (Wadsworth) 51-4 won by decision over Kade Brown (St. Edward) 34-7 (Dec 5-0)
D1-138
Omar Ayoub (Dub. Coffman) 52-2 won by decision over Ryan Bennett (St. Edward) 40-7 (Dec 9-6)
D1-144
Brock Herman (Brecksville) 46-1 won by major decision over Jeremy Ginter (Whitmer) 29-3 (MD 14-4)
D1-150
Eugene Harney (Sycamore) 40-5 won by decision over Bradley Eaton (St. Edward) 26-10 (Dec 5-4)
D1-157
Ethan Birden (Dub. Coffman) 48-2 won by decision over Chris Earnest (Wadsworth) 49-5 (Dec 3-1)
D1-165
Joey Blaze (Perrysburg) 44-0 won by decision over Carson Thomas (LaSalle) 42-9 (Dec 9-3)
D1-175
Myles Takats (Perrysburg) 51-2 won in sudden victory - 1 over Jarrel Miller (St. Edward) 31-7 (SV-1 3-1)
D1-190
Camden McDanel (Teays Valley) 42-2 won by decision over Wyatt Ferguson (Oak Hills) 45-2 (Dec 3-2)
D1-215
Dylan Russo (Olen. Liberty) 44-3 won by decision over Max Vanadia (Brecksville) 43-6 (Dec 7-0)
D1-285
Aidan Fockler (Mass. Perry) 40-1 won in the ultimate tie breaker over Aaron Ries (Wadsworth) 44-7 (UTB 3-2)
W100
Makennah Craft (Jackson(G)) 33-0 won by fall over Averi Wiley (Piqua(G)) 18-2 (Fall 3:20)
W105
Chloe Dearwester (Harrison(G)) 38-0 won by fall over Nikera Johnson (Sandusky(G)) 34-4 (Fall 0:59)
W110
Hayley Snyder (Warren(G)) 30-3 won by decision over Gabi Gartin (Chippewa(G)) 24-2 (Dec 7-1)
W115
Kira Cole (Miami East(G)) 39-0 won by fall over Molly Wells (Del. Hayes(G)) 31-11 (Fall 2:30)
W120
Cali Leng (Marysville(G)) 38-1 won by decision over Lacie Knick (Northmont(G)) 35-2 (Dec 8-7)
W125
Raegan Briggs (Harrison(G)) 35-2 won by decision over Anna Madi (Brecksville(G)) 27-3 (Dec 10-3)
W130
Cassia Zammit (Miamisburg(G)) 16-0 won in sudden victory - 1 over Cadence Wallace (Port Clinton(G)) 42-3 (SV-1 8-6)
W135
Jaydyn McKinney (Ak. Manchester(G)) 19-0 won by fall over Rejan Alhashash (Avon Lake(G)) 39-5 (Fall 1:06)
W140
Eve Matt (Greeneview(G)) 38-2 won by fall over Sophia Rohrs (Lebanon(G)) 40-4 (Fall 2:44)
W145
Jesse Foebar (Clermont Ne(g)) 31-9 won by fall over Lexi Fornshell (Lebanon(G)) 38-8 (Fall 3:47)
W155
Kylee Tait (Warren(G)) 31-2 won by decision over Savannah Holderby (Reynoldsburg(G)) 28-2 (Dec 10-6)
W170
Elizabeth Madison (Loveland(G)) 42-0 won by fall over Rebekah Oladokun (Col. DeSales(G)) 31-4 (Fall 1:42)
W190
Savannah Isaac (Whitmer(G)) 28-0 won by fall over Laney Oliver (Findlay(G)) 17-2 (Fall 2:30)
W235
Alaina Jackson (Minerva(G)) 26-0 won by fall over Brooklyn Wade (Wch Washington(G)) 19-5 (Fall 1:25)
3rd, 5th, & 7th Place Matches
D3-106
3rd Place Match - Scott Fuller (Genoa Area) 53-4 won by major decision over Braedyn Tammarine (Liberty Center) 40-16 (MD 11-0)
D3-113
3rd Place Match - Logan Dean (Bethel-Tate) 44-3 won by fall over Cole Schulke (Columbia) 48-4 (Fall 4:26)
D3-120
3rd Place Match - Trevor Wilcox (Otsego) 40-6 won by decision over Joey Romano (Lake Cath.) 47-7 (Dec 9-4)
D3-126
3rd Place Match - Casper Caizzo (St. Paul) 36-3 won in sudden victory - 1 over Jason Shaffer (Troy Christian) 44-11 (SV-1 5-3)
D3-132
3rd Place Match - Dakota King (Barnesville) 48-6 won by decision over Hunter Vogus (Monroeville) 45-9 (Dec 2-0)
D3-138
3rd Place Match - Brayden Brown (Legacy Christian) 37-7 won by major decision over Owen Miller (Oak Harbor) 45-10 (MD 9-1)
D3-144
3rd Place Match - Hayden Kuhn (Ash. Crestview) 42-4 won in tie breaker - 1 over Daxton Chase (Pleasant) 50-5 (TB-1 2-1)
D3-150
3rd Place Match - Kohen Horvath (Mil. Edison) 46-5 won by major decision over Tyson Seesholtz (South Range) 51-5 (MD 15-4)
D3-157
3rd Place Match - Ethan Cooper (Legacy Christian) 40-8 won by fall over Tyson Clear (Malvern) 48-7 (Fall 0:54)
D3-165
3rd Place Match - Hayden Buhro (Oak Harbor) 48-9 won by decision over Braxton Quaintance (Lakota) 40-11 (Dec 3-2)
D3-175
3rd Place Match - Connor Havill (Troy Christian) 38-6 won by decision over Owen Berner (Ayersville) 50-12 (Dec 5-3)
D3-190
3rd Place Match - Abe DeLano (Ayersville) 53-5 won by decision over Ronnie Thomas (Mechanicsburg) 47-5 (Dec 6-4)
D3-215
3rd Place Match - Uzonna Nzekwe (Beachwood) 48-4 won by decision over Christopher Colucci (South Range) 43-3 (Dec 3-2)
D3-285
3rd Place Match - Daren Christine (Conneaut) 47-4 won by decision over Owen Box (Liberty Center) 39-4 (Dec 3-2)
D2-106
3rd Place Match - Neal Krysty (Watterson) 35-3 won by decision over Blake Bartos (Buckeye) 46-5 (Dec 4-3)
D2-113
3rd Place Match - Cannan Smith (Chillicothe) 51-3 won in sudden victory - 1 over Tate Hisey (St. Marys Memorial) 43-2 (SV-1 6-4)
D2-120
3rd Place Match - Colt Ryan (Graham Local) 35-13 won by decision over Larry Moreno (Wauseon) 42-9 (Dec 5-2)
D2-126
3rd Place Match - Collin Twigg (Wauseon) 38-4 won by major decision over Adam Heckman (Howland) 45-6 (MD 11-2)
D2-132
3rd Place Match - Dylan Rhoads (Louisville) 38-9 won by decision over James Lindsay (Watterson) 29-5 (Dec 6-0)
D2-138
3rd Place Match - Cooper Rathburn (Hartley) 32-7 won by decision over Coltyn Reedy (Sheridan) 43-6 (Dec 4-3)
D2-144
3rd Place Match - Bryce Kohler (Graham Local) 39-9 won by fall over Nathan Kulbe (Batavia) 49-5 (Fall 2:20)
D2-150
3rd Place Match - P.J. Murphy (Reading) 43-3 won by decision over C.J. Spencer (Indian Creek) 45-6 (Dec 3-1)
D2-157
3rd Place Match - Luke James (Graham Local) 39-8 won by tech fall over Owen Eagan (Col. DeSales) 31-8 (TF-1.5 4:38 (19-4))
D2-165
3rd Place Match - Zaidan Kessler (Wauseon) 42-8 won by decision over Luke Schlosser (Clear Fork) 49-8 (Dec 5-4)
D2-175
3rd Place Match - Eddie Neitenbach (Buckeye) 44-4 won by decision over Leo Hess (Mansfield Senior) 40-7 (Dec 8-1)
D2-190
3rd Place Match - Kaiden Haines (Minerva) 42-4 won by decision over Austin Kovar (Wauseon) 41-16 (Dec 9-3)
D2-215
3rd Place Match - Aidan Mozden (Alliance) 35-4 won in the ultimate tie breaker over Mekhi Bradley (Mansfield Senior) 37-6 (UTB 2-1)
D2-285
3rd Place Match - Elisha Baldridge (West Holmes) 45-2 won by major decision over Wyatt Shaw (Claymont) 43-12 (MD 10-0)
D1-106
3rd Place Match - Emeric McBurney (Mass. Perry) 38-9 won in tie breaker - 1 over Huggy Williams (Olen. Liberty) 32-8 (TB-1 2-1)
D1-113
3rd Place Match - Mason Rohr (Mass. Perry) 38-8 won by decision over Garrison Weisner (Oregon Clay) 45-8 (Dec 7-2)
D1-120
3rd Place Match - Aiden Allen (LaSalle) 42-9 won by major decision over Jack DeBoe (Mentor) 51-7 (MD 13-3)
D1-126
3rd Place Match - Austin McBurney (Mass. Perry) 39-10 won by decision over Joseph Baumann (Dub. Coffman) 31-8 (Dec 5-3)
D1-132
3rd Place Match - Nick Blackburn (Mentor) 53-5 won by decision over Vinnie D`Alessandro (Mayfield) 44-6 (Dec 3-1)
D1-138
3rd Place Match - Dy?Vaire VanDyke (Walsh Jesuit) 42-3 won by decision over Antonio Shelley (Mentor) 47-10 (Dec 8-4)
D1-144
3rd Place Match - Ty Wilson (Dub. Scioto) 50-4 won in sudden victory - 1 over Israel Petite (Nordonia) 47-6 (SV-1 2-1)
D1-150
3rd Place Match - Wynton Denkins (Perrysburg) 52-3 won in sudden victory - 1 over Conner Kleinberg (Springboro) 53-5 (SV-1 4-2)
D1-157
3rd Place Match - Andrew Supers (Medina) 51-4 won by decision over Gino Perrine (Nordonia) 50-10 (Dec 1-0)
D1-165
3rd Place Match - Tyrel Miller (St. Edward) 36-9 won by fall over Brandon Batson (GlenOak) 42-5 (Fall 4:51)
D1-175
3rd Place Match - Luke Vanadia (Brecksville) 39-8 won by decision over Jeremy Olszko (Nordonia) 44-6 (Dec 9-2)
D1-190
3rd Place Match - Myles Johnson (Springboro) 52-4 won by decision over Coen Grimm (Wadsworth) 40-14 (Dec 5-2)
D1-215
3rd Place Match - Alex Taylor (Mount Vernon) 42-8 won by decision over Brentan Simmerman (Little Miami) 50-5 (Dec 5-2)
D1-285
3rd Place Match - Roosevelt Andrews (Barberton) 45-3 won by fall over Lucas Stuerenberg (Moeller) 44-15 (Fall 1:08)
W100
3rd Place Match - Leah Willen (Harrison(G)) 41-7 won by decision over Justine Perez (Dub. Scioto(G)) 21-3 (Dec 1-0)
W105
3rd Place Match - Scotlyn Adams (West Union(G)) 37-9 won by fall over Cecelia Cece Reitter (Col. Academy(G)) 25-6 (Fall 3:52)
W110
3rd Place Match - Molly Luebke (Brookville(G)) 23-3 won by fall over Makaya Crisenbery (Montpelier(G)) 32-8 (Fall 1:23)
W115
3rd Place Match - Addison Rudolph (Central Crossing(G)) 34-8 won by decision over Morgan Leonhardt (Gibsonburg(G)) 32-7 (Dec 6-4)
W120
3rd Place Match - Lyndyn Gibbs (Wch Washington(G)) 43-4 won by decision over Cori Young (Olentangy(G)) 41-5 (Dec 3-0)
W125
3rd Place Match - Josie Davis (Sidney(G)) 20-1 won by fall over Auston Brown (United(G)) 43-5 (Fall 0:34)
W130
3rd Place Match - Melania Szawranskyj (Wester. North(G)) 33-3 won by decision over Kelcey Dew (Del. Hayes(G)) 30-8 (Dec 8-4)
W135
3rd Place Match - Alexus Shaneyfelt (Liberty Center(G)) 32-3 won by decision over Alicia Coleman (Olen. Orange(G)) 39-5 (Dec 6-2)
W140
3rd Place Match - Olive Karam (War. Champion(G)) 36-4 won by fall over Sophia Taylor (Centerville(G)) 23-9 (Fall 2:08)
W145
3rd Place Match - Caroline Klawon (Eaton(G)) 20-5 won by decision over Aubrey Reese (Marysville(G)) 29-7 (Dec 2-1)
W155
3rd Place Match - Makyah Newlun (East Liverpool(G)) 23-1 won by major decision over Isabella Adams (Chippewa(G)) 34-6 (MD 8-0)
W170
3rd Place Match - Lily Grayem (Watterson(G)) 29-6 won by fall over Kate Simmons (Findlay(G)) 36-7 (Fall 2:13)
W190
3rd Place Match - Zayna Muntaser (Lakewood(G)) 26-3 won by fall over Emily Lorenzon (Firestone(G)) 19-9 (Fall 2:38)
W235
3rd Place Match - Dakota McCracken (United(G)) 35-5 won by fall over Kate Fenton (Lak. West(G)) 20-8 (Fall 0:14)
D3-106
5th Place Match - Kyle Schroer (Troy Christian) 37-8 won by fall over Kaden Lawson (Tuslaw) 42-11 (Fall 4:31)
D3-113
5th Place Match - Tristen Rossiter (Shenandoah) 44-5 won by decision over C.J. Graham (Fairland) 53-9 (Dec 8-6)
D3-120
5th Place Match - Nathan Attisano (Legacy Christian) 38-12 won by decision over Cowin Becker (Northmor) 45-7 (Dec 9-3)
D3-126
5th Place Match - Nathan Parks (Seneca East) 47-8 won in the ultimate tie breaker over Robby Bennett (Sher. Fairview) 43-10 (UTB 8-7)
D3-132
5th Place Match - Chase Vanderhorst (Covington) 42-5 won by decision over Wyatt Hinton (Norwood) 44-4 (Dec 3-2)
D3-138
5th Place Match - Skyler King (Barnesville) 51-7 won by major decision over Amari Bowers (Conneaut) 41-5 (MD 11-0)
D3-144
5th Place Match - Marcus Medina (Mil. Edison) 43-9 won by fall over Maxwell Cooper (Tuslaw) 40-12 (Fall 3:14)
D3-150
5th Place Match - Luke Dolan (Brookville) 54-5 won by decision over Jace Margraf (Mohawk) 48-8 (Dec 3-1)
D3-157
5th Place Match - Ayden King (Barnesville) 49-10 won by decision over Kasen Wellman (Ayersville) 50-8 (Dec 6-4)
D3-165
5th Place Match - Dalton Wolfrum (Tinora) 52-6 won in sudden victory - 1 over Gage Bolt (Westfall) 39-5 (SV-1 3-1)
D3-175
5th Place Match - Cannon Endicott (Elmwood) 42-5 won by decision over Kane Epperly (Versailles) 50-7 (Dec 4-0)
D3-190
5th Place Match - Connor Sintobin (Delta) 32-15 won by decision over Alexander Finsley (Martins Ferry) 50-14 (Dec 2-1)
D3-215
5th Place Match - Zane Hitchcock (Mechanicsburg) 51-7 won in sudden victory - 1 over Gavin Gillig (Liberty-Benton) 41-7 (SV-1 7-5)
D3-285
5th Place Match - Landen Thomas (Harrison Central) 40-5 won by fall over Griffin Halenar (Newark Cath.) 39-8 (Fall 3:49)
D2-106
5th Place Match - Aiden Ohl (Ontario) 46-3 won by decision over Landon Jenkins (Carrollton) 43-9 (Dec 2-0)
D2-113
5th Place Match - Alex Gonzales (Napoleon) 51-8 won by decision over Caden Mellott (Wapakoneta) 44-10 (Dec 7-6)
D2-120
5th Place Match - Gradey Harding (Galion) 41-9 won by injury default over Jimmy Lalezas (Taylor) 37-8 (Inj. 0:00)
D2-126
5th Place Match - Xavier Pierce (Jonathan Alder) 40-14 won by decision over Tyler Scharrer (Canfield) 30-7 (Dec 6-4)
D2-132
5th Place Match - Brody Saccoccia (Steubenville) 22-4 won by injury default over Brogan Fielding (Jefferson Area) 46-5 (Inj. 0:00)
D2-138
5th Place Match - Josh Carman (Carrollton) 49-6 won by decision over Thane McCoy (Wilmington) 45-8 (Dec 7-2)
D2-144
5th Place Match - Aidan Rush (Col. DeSales) 39-12 won by decision over Andrew Huck (Bid. River Valley) 48-8 (Dec 7-1)
D2-150
5th Place Match - Zack Lopez (Col. DeSales) 34-8 won by decision over Savier Faulks (Steubenville) 44-12 (Dec 4-1)
D2-157
5th Place Match - Anthony Lahoski (Woodridge) 51-8 won by medical forfeit over Will Stanley (Clyde) 27-6 (M. For.)
D2-165
5th Place Match - Andrew Barford (Col. DeSales) 39-10 won by injury default over Devin Shaw-Mason (Padua Franciscan) 43-12 (Inj. 1:28)
D2-175
5th Place Match - Dickie Engel (Reading) 39-8 won by decision over Landon Cook (Columbian) 34-10 (Dec 13-8)
D2-190
5th Place Match - Hunter Hutcheson (Mad. Comprehensive) 39-7 won by major decision over Bryce Wheatley (Chardon Ndcl) 47-8 (MD 16-8)
D2-215
5th Place Match - Bryson Getz (Akron Svsm) 30-9 won by decision over Jimmy Bechter (Carroll) 43-5 (Dec 4-2)
D2-285
5th Place Match - Jeffery Blair (Cham. Julienne) 41-3 won by decision over Dom Kroninger (Jonathan Alder) 37-13 (Dec 8-2)
D1-106
5th Place Match - Ayden Dodd (Perrysburg) 41-10 won in sudden victory - 1 over Brock Blankenhorn (Mount Vernon) 36-8 (SV-1 9-5)
D1-113
5th Place Match - Johnny Green (Aurora) 39-8 won by major decision over Jaxson Rosselli (Olen. Liberty) 42-6 (MD 12-3)
D1-120
5th Place Match - Adam Butler (St. Edward) 39-11 won by decision over Sal Palmisano (Mayfield) 45-9 (Dec 3-0)
D1-126
5th Place Match - Robert Davis (Stow-Munroe Falls) 40-7 won by injury default over Joseph Sanderfer (St. Edward) 29-12 (Inj. 0:00)
D1-132
5th Place Match - Kaden Jett (Brecksville) 35-10 won by tech fall over Slade Waller (Grove City) 51-9 (TF-1.5 3:25 (16-1))
D1-138
5th Place Match - Charles Curtis (Mass. Perry) 40-14 won by tech fall over Mannix Wasco (No. Royalton) 41-8 (TF-1.5 4:56 (15-0))
D1-144
5th Place Match - Lucan O`Brien (St. Edward) 32-13 won by decision over A.J. Parish (Perrysburg) 28-9 (Dec 4-3)
D1-150
5th Place Match - Christian Giltz (Mass. Perry) 26-10 won by medical forfeit over Jake Keirn (Wadsworth) 41-14 (M. For.)
D1-157
5th Place Match - Evan Rizzo (Brecksville) 34-15 won by decision over Logan Smalley (Reynoldsburg) 41-4 (Dec 10-6)
D1-165
5th Place Match - Caleb Ridgley (Nordonia) 38-9 won by decision over Isaiah Schlegel (Whitmer) 34-15 (Dec 8-2)
D1-175
5th Place Match - Blaine Chrisman (Medina) 45-7 won by fall over Matt Kowalski (Springboro) 48-11 (Fall 2:08)
D1-190
5th Place Match - Jonny Slaper (St. Edward) 31-6 won by decision over Brady Quillin (Olen. Liberty) 44-11 (Dec 6-3)
D1-215
5th Place Match - Teddy Gregory (Stow-Munroe Falls) 41-5 won by fall over Will Adkins (Moeller) 40-13 (Fall 1:00)
D1-285
5th Place Match - Mustafa Woodi (Shaker Hts.) 38-6 won by decision over Abel Ngoh (Miamisburg) 49-7 (Dec 1-0)
W100
5th Place Match - Riley Banyas (Elyria(G)) 36-3 won by fall over Bri Graves (Oak Hills(G)) 32-5 (Fall 2:35)
W105
5th Place Match - Lauren Ficker (Vermilion(G)) 32-8 won by fall over Ava Miller (Teays Valley(G)) 39-5 (Fall 4:59)
W110
5th Place Match - Madelyn Begert (Cf Northwest(G)) 29-6 won by fall over Lexi Beadle (Boardman(G)) 35-5 (Fall 4:14)
W115
5th Place Match - Lydia Gould (Keystone(G)) 34-9 won by decision over Lexi Grant (Oak Hills(G)) 42-4 (Dec 7-4)
W120
5th Place Match - Ava Ater (Jonathan Alder(G)) 32-9 won by decision over Kai Gaetjens (Mogadore(G)) 26-15 (Dec 4-3)
W125
5th Place Match - Sienna Sanborn (Hamilton Township(G)) 42-6 won by decision over Leena Blanton (West Union(G)) 35-14 (Dec 8-2)
W130
5th Place Match - Emma Hanrahan (Tippecanoe(G)) 31-11 won by fall over Jada Shafer (Minerva(G)) 39-14 (Fall 2:38)
W135
5th Place Match - Lila Mencer (Cal. River Valley(G)) 35-9 won by major decision over Rylee Gust (Springboro(G)) 10-3 (MD 10-2)
W140
5th Place Match - Ariana Finn (Batavia(G)) 34-10 won by fall over Autumn Szucs (Parma(G)) 30-16 (Fall 3:55)
W145
5th Place Match - Mia Gaetjens (Mogadore(G)) 29-7 won by decision over Ariana Espinosa-Snowden (Fostoria(G)) 16-6 (Dec 10-3)
W155
5th Place Match - Lydia Heinrich (Olen. Orange(G)) 34-11 won by decision over Madison Jeffers (Tri-County North(G)) 7-3 (Dec 11-5)
W170
5th Place Match - Kascidy Garren (Olen. Orange(G)) 37-5 won by decision over Nya Miller (Ridgedale(G)) 24-7 (Dec 3-0)
W190
5th Place Match - Talia Mitchell (Olen. Orange(G)) 37-6 won by decision over Xsaria Puente (Fremont Ross(G)) 24-20 (Dec 6-3)
W235
5th Place Match - Karlie Harlow (Greeneview(G)) 34-3 won by fall over Jessica Edwards (Harrison(G)) 28-10 (Fall 1:46)
D3-106
7th Place Match - Johnathan Huntsman (Barnesville) 47-8 won by decision over Stephen Patterson (Waynedale) 43-12 (Dec 3-2)
D3-113
7th Place Match - Antony Hoty (Westfall) 45-7 won by fall over Tyler Barnes (Delta) 33-11 (Fall 3:51)
D3-120
7th Place Match - Trent Sigler (W.s. Northwestern) 41-4 won by decision over Trace Williams (North Union) 44-7 (Dec 9-3)
D3-126
7th Place Match - Evan Hanefeld (Delta) 29-14 won by fall over Zane Pickerrell (Zane Trace) 45-7 (Fall 2:29)
D3-132
7th Place Match - Brian Luft (Newark Cath.) 22-5 won by decision over Evan Wilcox (Valley View) 39-8 (Dec 4-2)
D3-138
7th Place Match - Michael Fister (John. Northridge) 43-11 won by decision over Jackson Bartels (Liberty Center) 23-14 (Dec 8-2)
D3-144
7th Place Match - Clayton Smith (Utica) 47-5 won by decision over T.J. Wilson (Tuscar. Valley) 43-11 (Dec 4-0)
D3-150
7th Place Match - Jacob Lyons (Tuslaw) 46-6 won by fall over Montana Pierce (McComb) 43-8 (Fall 4:05)
D3-157
7th Place Match - Brencyn Evans (Monroeville) 42-10 won by fall over Caylan LeMaster (Centerburg) 48-11 (Fall 0:55)
D3-165
7th Place Match - Ryan Brubaker (Perry) 36-15 won by decision over Brendan Sheehan (Newark Cath.) 46-5 (Dec 5-1)
D3-175
7th Place Match - Riley Stevenson (Preble Shawnee) 41-8 won by decision over Austin Sellers (Day. Christian) 48-11 (Dec 5-0)
D3-190
7th Place Match - Colton Sparks (Plymouth) 49-4 won by fall over Caleb Gregory (Loudonville) 38-14 (Fall 2:51)
D3-215
7th Place Match - Bronson Stacy (Brookville) 50-6 won by decision over Caleb Cunningham (Ash. Crestview) 21-9 (Dec 3-0)
D3-285
7th Place Match - Dustin Winner (Miami East) 41-9 won by decision over Cohen Hickman (Greeneview) 36-8 (Dec 6-1)
D2-106
7th Place Match - Zavian LaFountain (Wauseon) 34-14 won by decision over Jake Landis (Graham Local) 27-16 (Dec 2-0)
D2-113
7th Place Match - Travis Bucklew (Vinton County) 41-7 won by decision over Anthony Rocco (Bay) 43-6 (Dec 4-2)
D2-120
7th Place Match - Robert Buchheit (Beaver Local) 41-6 won by injury default over Jacob Ohl (Ontario) 41-7 (Inj. 0:00)
D2-126
7th Place Match - Kolten Barker (Louisville) 36-11 won by decision over Leroy Steagall (Indian Valley) 40-10 (Dec 7-2)
D2-132
7th Place Match - Parker Lee (Butler) 50-9 won by decision over Mason Ducat (Defiance) 49-7 (Dec 7-0)
D2-138
7th Place Match - Braden Dunlap (Akron Svsm) 24-20 won by decision over Cael Gilmore (Mar. Highland) 47-9 (Dec 5-3)
D2-144
7th Place Match - Rylan Hurley (Akron Svsm) 32-15 won by decision over Quake Beatty (Indian Valley) 38-12 (Dec 5-0)
D2-150
7th Place Match - Tristan Craddock (Cloverleaf) 47-5 won by decision over Ripley Szanati (Buckeye Valley) 30-6 (Dec 7-1)
D2-157
7th Place Match - Remmington Myers (Indian Valley) 47-9 won by decision over Calvin Gwinn (Akron Svsm) 28-11 (Dec 9-2)
D2-165
7th Place Match - Hunter Rose (New Lexington) 51-8 won by fall over Steven Duffy (Woodridge) 45-8 (Fall 2:33)
D2-175
7th Place Match - Aden Strahler (Warren) 44-8 won by decision over Hunter Dietrich (Minerva) 38-11 (Dec 4-0)
D2-190
7th Place Match - Jace Knous (Wapakoneta) 46-11 won by tech fall over Logan Niceswanger (Morgan) 40-12 (TF-1.5 4:27 (17-1))
D2-215
7th Place Match - Cruz Mobley (River View) 47-8 won by fall over Marquis Lucas (Linden McKinley) 12-5 (Fall 2:40)
D2-285
7th Place Match - Billy Foster (New Richmond) 46-8 won by fall over Zain Bell (Bryan) 36-13 (Fall 0:39)
D1-106
7th Place Match - Alijah Mohanna (LaSalle) 30-14 won by decision over Luke Green (Aurora) 34-10 (Dec 2-0)
D1-113
7th Place Match - Brett Stanley (Brecksville) 33-13 won by decision over Konner Lambers (Elder) 49-9 (Dec 4-1)
D1-120
7th Place Match - Jaiden Sarabia (Whitmer) 41-9 won by decision over Jack Dinwiddie (Wadsworth) 38-17 (Dec 5-1)
D1-126
7th Place Match - Jibreel Smith (Newark) 48-6 won by fall over Jayden Cochran (Miamisburg) 39-4 (Fall 2:06)
D1-132
7th Place Match - Holden Huhn (LaSalle) 37-8 won by fall over Bakari Scott (Fremont Ross) 34-15 (Fall 1:50)
D1-138
7th Place Match - Wyatt Brock (Harrison) 47-4 won by decision over Micah Cottrell (Princeton) 49-7 (Dec 6-4)
D1-144
7th Place Match - Grayson Woodcock (Dub. Coffman) 40-10 won by fall over Marshall Geckler (Mass. Perry) 28-13 (Fall 4:49)
D1-150
7th Place Match - Flint Guerra (Lebanon) 36-7 won by injury default over David Zambounis (Brecksville) 28-18 (Inj. 0:00)
D1-157
7th Place Match - Jake Wood (Perrysburg) 40-7 won by tech fall over Broc Fitzpatrick (Olen. Liberty) 30-13 (TF-1.5 4:03 (15-0))
D1-165
7th Place Match - Carson Mize (Marysville) 42-12 won by decision over Jack Hoffman (Springboro) 42-16 (Dec 7-2)
D1-175
7th Place Match - Kyle Sandborn (No. Royalton) 42-12 won by decision over Ferman Mirzaev (Fairmont) 47-8 (Dec 4-2)
D1-190
7th Place Match - Gage Yackee (Tol. St. John`s Jesuit) 37-4 won by decision over Lukas Stiles (Med Highland) 46-9 (Dec 2-1)
D1-215
7th Place Match - Cole Dickerson (Lancaster) 47-4 won in sudden victory - 1 over Aidan Weimer (Springboro) 47-14 (SV-1 3-1)
D1-285
7th Place Match - Joey Thurston (Teays Valley) 37-9 won by major decision over Austin Dye (Midview) 35-8 (MD 10-1)
W100
7th Place Match - Summer Batts (Reynoldsburg(G)) 30-12 won by fall over Lilly Zwiefel (Gibsonburg(G)) 31-11 (Fall 2:12)
W105
7th Place Match - Kenzie Miracle (Celina(G)) 36-10 won by decision over Ava Steffel (Tinora(G)) 27-10 (Dec 4-3)
W110
7th Place Match - Charley Jones (New Richmond(G)) 31-4 won by fall over Noel Reinhart (Rossford(G)) 24-13 (Fall 1:14)
W115
7th Place Match - Emma Rinehart (Mount Vernon(G)) 34-10 won by fall over Kelsey Lasch (Coll Western Reserve(G)) 21-10 (Fall 2:53)
W120
7th Place Match - Adison Justice (Licking Valley(G)) 27-5 won by decision over Jacee Altaffer (Montpelier(G)) 32-13 (Dec 12-7)
W125
7th Place Match - Malia Burkhardt (Marysville(G)) 41-14 won by major decision over Andi Addis (Lebanon(G)) 28-19 (MD 14-3)
W130
7th Place Match - Nevaeh Rockhold (Warren(G)) 28-11 won by fall over Abigail Mozden (Alliance(G)) 38-10 (Fall 2:46)
W135
7th Place Match - Kelsey King (Lak. West(G)) 31-3 won by fall over Savvy Jacobsen (Little Miami(G)) 20-8 (Fall 1:38)
W140
7th Place Match - Madeline Meyers (Start(G)) 24-14 won by fall over Ajiahna Triplett (Cle. Cent. Cath.(G)) 24-4 (Fall 2:59)
W145
7th Place Match - Jordan Palmer (Hoover(G)) 28-11 won by fall over Surraiya Mahmud (Olen. Orange(G)) 33-6 (Fall 2:50)
W155
7th Place Match - Cailyn Demagall (Columbia(G)) 29-10 won by fall over Jayda Patrick (Alliance(G)) 34-12 (Fall 2:42)
W170
7th Place Match - Audrey Garcia (Ross(G)) 24-10 won by decision over Cameron Sherman (Cardington-Lincoln(G)) 11-9 (Dec 13-6)
W190
7th Place Match - Jordan Mills (Gah. Lincoln(G)) 31-11 won by fall over Chelsea Gipson (Cle. Heights(G)) 7-4 (Fall 1:56)
W235
7th Place Match - Deionna Borders (Berea-Midpark(G)) 37-6 won by decision over Serena Lewis (Port Clinton(G)) 17-11 (Dec 4-3)
Semifinal Results
D3-106
Adam Mattin (Delta) 12-0 won by fall over Kyle Schroer (Troy Christian) 36-7 (Fall 2:00)
Parker Pikor (Lake Cath.) 44-6 won by decision over Braedyn Tammarine (Liberty Center) 39-15 (Dec 6-0)
D3-113
Eli Campbell (Legacy Christian) 36-3 won by fall over Tristen Rossiter (Shenandoah) 43-4 (Fall 2:58)
Abe Hermes (Mil. Edison) 28-1 won in sudden victory - 1 over Cole Schulke (Columbia) 47-3 (SV-1 3-1)
D3-120
Max Hermes (Mil. Edison) 51-3 won by major decision over Nathan Attisano (Legacy Christian) 37-11 (MD 8-0)
Cooper Shore (Miami East) 49-0 won by decision over Trevor Wilcox (Otsego) 38-6 (Dec 12-5)
D3-126
Brock Durbin (Mapleton) 41-1 won by decision over Casper Caizzo (St. Paul) 34-3 (Dec 2-0)
Dillon Campbell (Legacy Christian) 45-2 won by major decision over Nathan Parks (Seneca East) 46-7 (MD 9-1)
D3-132
Landen Duncan (Chalker) 36-7 won by decision over Dakota King (Barnesville) 46-6 (Dec 3-1)
Brock Christian (Perry) 47-9 won by decision over Hunter Vogus (Monroeville) 44-8 (Dec 3-2)
D3-138
Ashton Homan (Monroeville) 42-5 won in tie breaker - 1 over Brayden Brown (Legacy Christian) 35-7 (TB-1 3-2)
Ashtan Hendricks (Greeneview) 48-4 won by decision over Amari Bowers (Conneaut) 41-3 (Dec 7-5)
D3-144
Boede Campbell (Legacy Christian) 26-5 won by decision over Hayden Kuhn (Ash. Crestview) 40-4 (Dec 3-2)
Brodie Dominique (Archbold) 61-4 won by fall over Daxton Chase (Pleasant) 49-4 (Fall 4:18)
D3-150
Reese Stephen (Barnesville) 51-2 won in tie breaker - 1 over Kohen Horvath (Mil. Edison) 44-5 (TB-1 5-4)
Joshua Greenwood (Beachwood) 43-8 won by decision over Jace Margraf (Mohawk) 48-6 (Dec 5-1)
D3-157
Tristin Greene (Keystone) 46-2 won by decision over Ethan Cooper (Legacy Christian) 38-8 (Dec 5-1)
Brayden Doran (Preble Shawnee) 39-4 won by decision over Ayden King (Barnesville) 48-9 (Dec 5-3)
D3-165
Hunter Andel (Gar. Garfield) 47-3 won by decision over Braxton Quaintance (Lakota) 39-10 (Dec 5-1)
Cody Coontz (Rootstown) 48-4 won by fall over Hayden Buhro (Oak Harbor) 46-9 (Fall 5:53)
D3-175
Hayden Dickman (Archbold) 50-8 won by fall over Connor Havill (Troy Christian) 36-6 (Fall 4:38)
Xander Myers (Liberty Center) 47-4 won by decision over Kane Epperly (Versailles) 50-5 (Dec 3-2)
D3-190
Keegan Sell (Gar. Garfield) 44-5 won by decision over Abe DeLano (Ayersville) 51-5 (Dec 4-1)
Wyat Ripke (Archbold) 62-3 won by decision over Ronnie Thomas (Mechanicsburg) 46-4 (Dec 6-3)
D3-215
Lucas Thomas (Harrison Central) 48-3 won by fall over Christopher Colucci (South Range) 42-2 (Fall 6:31)
Tyler Shellenbarger (Mogadore) 44-3 won by decision over Uzonna Nzekwe (Beachwood) 46-4 (Dec 8-4)
D3-285
Dallas McCracken (United) 48-7 won by fall over Landen Thomas (Harrison Central) 39-4 (Fall 6:00)
Eli Criblez (Allen East) 48-1 won by decision over Griffin Halenar (Newark Cath.) 39-6 (Dec 7-1)
D2-106
Javaan Yarbrough (Copley) 37-2 won by decision over Aiden Ohl (Ontario) 45-2 (Dec 4-0)
Ethan Burkhart (New Lexington) 44-0 won by decision over Blake Bartos (Buckeye) 45-4 (Dec 5-2)
D2-113
Mason Taylor (West Holmes) 43-3 won by major decision over Alex Gonzales (Napoleon) 50-7 (MD 9-0)
Colyn Limbert (Buckeye) 44-1 won by decision over Tate Hisey (St. Marys Memorial) 42-1 (Dec 6-0)
D2-120
Noah Moreland (Butler) 55-3 won by fall over Gradey Harding (Galion) 40-8 (Fall 3:59)
Joe Curry (Watterson) 33-2 won by decision over Colt Ryan (Graham Local) 33-13 (Dec 8-4)
D2-126
Aiden King (Hartley) 22-0 won by fall over Collin Twigg (Wauseon) 36-4 (Fall 2:33)
Bryce Skinner (Akron Svsm) 29-6 won by major decision over Tyler Scharrer (Canfield) 30-5 (MD 12-3)
D2-132
Brogan Tucker (Graham Local) 36-5 won by decision over Dylan Rhoads (Louisville) 36-9 (Dec 4-3)
Donovan Paes (Streetsboro) 41-4 won by decision over Brogan Fielding (Jefferson Area) 46-3 (Dec 9-3)
D2-138
David McClelland (Col. DeSales) 43-6 won by decision over Josh Carman (Carrollton) 48-5 (Dec 7-5)
Hayden Hughes (Graham Local) 39-8 won by decision over Thane McCoy (Wilmington) 45-6 (Dec 10-8)
D2-144
Mitchell Younger (Watterson) 28-2 won by tech fall over Aidan Rush (Col. DeSales) 38-11 (TF-1.5 3:43 (18-3))
Lance Overmyer (Clyde) 56-1 won by major decision over Nathan Kulbe (Batavia) 48-4 (MD 8-0)
D2-150
Dominic Hoffarth (Louisville) 36-4 won by decision over C.J. Spencer (Indian Creek) 44-5 (Dec 12-8)
Eli Jacks (Graham Local) 40-6 won in the ultimate tie breaker over Zack Lopez (Col. DeSales) 33-7 (UTB 5-4)
D2-157
Kaden King (Buckeye) 43-4 won by decision over Luke James (Graham Local) 37-8 (Dec 6-5)
Dominic Paterra (Indian Creek) 46-4 won by major decision over Owen Eagan (Col. DeSales) 30-7 (MD 9-0)
D2-165
Gunner Cramblett (Graham Local) 45-5 won by major decision over Luke Schlosser (Clear Fork) 48-7 (MD 13-4)
Oliver Byerly (Jonathan Alder) 41-4 won by decision over Andrew Barford (Col. DeSales) 38-9 (Dec 7-0)
D2-175
Lincon Shulaw (Col. DeSales) 38-6 won by major decision over Dickie Engel (Reading) 38-7 (MD 11-2)
Dylan Newsome (Hartley) 42-3 won by decision over Eddie Neitenbach (Buckeye) 42-4 (Dec 8-4)
D2-190
Max Ray (Columbian) 41-4 won by decision over Kaiden Haines (Minerva) 40-4 (Dec 8-3)
Kyle Snider (Cvca) 43-6 won by major decision over Austin Kovar (Wauseon) 40-15 (MD 12-1)
D2-215
Elijah Llewellyn (Indian Creek) 37-5 won by decision over Mekhi Bradley (Mansfield Senior) 36-5 (Dec 4-3)
Max Shulaw (Col. DeSales) 50-0 won by fall over Bryson Getz (Akron Svsm) 29-8 (Fall 1:03)
D2-285
Zane Pletcher (New Lexington) 38-3 won by decision over Wyatt Shaw (Claymont) 42-11 (Dec 9-7)
Trentt Fulgham (Circleville) 43-7 won by decision over Elisha Baldridge (West Holmes) 43-2 (Dec 2-1)
D1-106
Ethan Timar (St. Edward) 42-4 won by fall over Huggy Williams (Olen. Liberty) 31-7 (Fall 5:00)
Rylan Seacrist (Brecksville) 40-6 won by major decision over Ayden Dodd (Perrysburg) 40-9 (MD 15-5)
D1-113
Kaiyon McKinney (Elyria) 34-5 won by decision over Johnny Green (Aurora) 38-7 (Dec 2-0)
Karson Brown (St. Edward) 41-6 won by major decision over Mason Rohr (Mass. Perry) 36-8 (MD 12-4)
D1-120
Marcus Blaze (Perrysburg) 51-1 won by major decision over Adam Butler (St. Edward) 38-10 (MD 18-7)
Micah Medina (Oregon Clay) 23-4 won by fall over Jack DeBoe (Mentor) 50-6 (Fall 4:48)
D1-126
Phoenix Contos (Waite) 44-3 won by decision over Austin McBurney (Mass. Perry) 37-10 (Dec 1-0)
Ryan Avalos (Perrysburg) 39-2 won by fall over Joseph Baumann (Dub. Coffman) 30-7 (Fall 3:57)
D1-132
Kade Brown (St. Edward) 34-6 won by decision over Vinnie D`Alessandro (Mayfield) 43-5 (Dec 11-7)
Jaxon Joy (Wadsworth) 50-4 won by decision over Nick Blackburn (Mentor) 51-5 (Dec 7-0)
D1-138
Omar Ayoub (Dub. Coffman) 51-2 won by major decision over Mannix Wasco (No. Royalton) 41-6 (MD 12-4)
Ryan Bennett (St. Edward) 40-6 won by fall over Dy?Vaire VanDyke (Walsh Jesuit) 40-3 (Fall 5:35)
D1-144
Brock Herman (Brecksville) 45-1 won in sudden victory - 1 over Ty Wilson (Dub. Scioto) 48-4 (SV-1 4-2)
Jeremy Ginter (Whitmer) 29-2 won by decision over Israel Petite (Nordonia) 46-5 (Dec 4-3)
D1-150
Eugene Harney (Sycamore) 39-5 won by fall over Christian Giltz (Mass. Perry) 25-9 (Fall 3:42)
Bradley Eaton (St. Edward) 26-9 won by decision over Jake Keirn (Wadsworth) 41-12 (Dec 4-2)
D1-157
Chris Earnest (Wadsworth) 49-4 won by major decision over Gino Perrine (Nordonia) 49-9 (MD 11-2)
Ethan Birden (Dub. Coffman) 47-2 won by decision over Andrew Supers (Medina) 49-4 (Dec 9-2)
D1-165
Carson Thomas (LaSalle) 42-8 won by fall over Brandon Batson (GlenOak) 41-4 (Fall 5:13)
Joey Blaze (Perrysburg) 43-0 won by tech fall over Isaiah Schlegel (Whitmer) 34-13 (TF-1.5 5:02 (23-7))
D1-175
Jarrel Miller (St. Edward) 31-6 won by decision over Luke Vanadia (Brecksville) 37-8 (Dec 3-1)
Myles Takats (Perrysburg) 50-2 won by major decision over Jeremy Olszko (Nordonia) 43-5 (MD 10-1)
D1-190
Camden McDanel (Teays Valley) 41-2 won by major decision over Myles Johnson (Springboro) 50-4 (MD 18-6)
Wyatt Ferguson (Oak Hills) 45-1 won by decision over Jonny Slaper (St. Edward) 30-5 (Dec 4-3)
D1-215
Dylan Russo (Olen. Liberty) 43-3 won by decision over Will Adkins (Moeller) 40-11 (Dec 9-2)
Max Vanadia (Brecksville) 43-5 won by decision over Teddy Gregory (Stow-Munroe Falls) 40-4 (Dec 5-1)
D1-285
Aidan Fockler (Mass. Perry) 39-1 won by fall over Lucas Stuerenberg (Moeller) 43-14 (Fall 2:59)
Aaron Ries (Wadsworth) 44-6 won by decision over Roosevelt Andrews (Barberton) 43-3 (Dec 6-4)
W100
Averi Wiley (Piqua(G)) 18-1 won by fall over Riley Banyas (Elyria(G)) 35-2 (Fall 4:42)
Makennah Craft (Jackson(G)) 32-0 won by fall over Bri Graves (Oak Hills(G)) 32-3 (Fall 1:40)
W105
Nikera Johnson (Sandusky(G)) 34-3 won by decision over Ava Miller (Teays Valley(G)) 39-3 (Dec 7-3)
Chloe Dearwester (Harrison(G)) 37-0 won by fall over Cecelia Cece Reitter (Col. Academy(G)) 24-5 (Fall 1:34)
W110
Hayley Snyder (Warren(G)) 29-3 won by fall over Makaya Crisenbery (Montpelier(G)) 31-7 (Fall 0:46)
Gabi Gartin (Chippewa(G)) 24-1 won by fall over Molly Luebke (Brookville(G)) 21-3 (Fall 3:29)
W115
Molly Wells (Del. Hayes(G)) 31-10 won by fall over Morgan Leonhardt (Gibsonburg(G)) 31-6 (Fall 4:58)
Kira Cole (Miami East(G)) 38-0 won by fall over Addison Rudolph (Central Crossing(G)) 32-8 (Fall 3:56)
W120
Lacie Knick (Northmont(G)) 35-1 won by fall over Cori Young (Olentangy(G)) 40-4 (Fall 3:37)
Cali Leng (Marysville(G)) 37-1 won by decision over Lyndyn Gibbs (Wch Washington(G)) 41-4 (Dec 11-6)
W125
Raegan Briggs (Harrison(G)) 34-2 won by fall over Auston Brown (United(G)) 42-4 (Fall 2:54)
Anna Madi (Brecksville(G)) 27-2 won by injury default over Josie Davis (Sidney(G)) 18-1 (Inj. 5:06)
W130
Cassia Zammit (Miamisburg(G)) 15-0 won by fall over Kelcey Dew (Del. Hayes(G)) 29-7 (Fall 3:01)
Cadence Wallace (Port Clinton(G)) 42-2 won by decision over Melania Szawranskyj (Wester. North(G)) 31-3 (Dec 3-0)
W135
Jaydyn McKinney (Ak. Manchester(G)) 18-0 won by fall over Alexus Shaneyfelt (Liberty Center(G)) 30-3 (Fall 3:09)
Rejan Alhashash (Avon Lake(G)) 39-4 won by fall over Rylee Gust (Springboro(G)) 10-1 (Fall 3:04)
W140
Sophia Rohrs (Lebanon(G)) 40-3 won in SV-1 by fall over Sophia Taylor (Centerville(G)) 22-8 (SV-1 (Fall) 6:41)
Eve Matt (Greeneview(G)) 37-2 won by fall over Ariana Finn (Batavia(G)) 33-9 (Fall 3:18)
W145
Jesse Foebar (Clermont Ne(g)) 30-9 won by fall over Ariana Espinosa-Snowden (Fostoria(G)) 16-4 (Fall 0:31)
Lexi Fornshell (Lebanon(G)) 38-7 won by decision over Aubrey Reese (Marysville(G)) 28-6 (Dec 5-1)
W155
Savannah Holderby (Reynoldsburg(G)) 28-1 won by decision over Isabella Adams (Chippewa(G)) 33-5 (Dec 9-2)
Kylee Tait (Warren(G)) 30-2 won by fall over Makyah Newlun (East Liverpool(G)) 21-1 (Fall 3:48)
W170
Rebekah Oladokun (Col. DeSales(G)) 31-3 won by decision over Kate Simmons (Findlay(G)) 35-6 (Dec 2-1)
Elizabeth Madison (Loveland(G)) 41-0 won by fall over Lily Grayem (Watterson(G)) 27-6 (Fall 2:53)
W190
Savannah Isaac (Whitmer(G)) 27-0 won by fall over Zayna Muntaser (Lakewood(G)) 24-3 (Fall 0:39)
Laney Oliver (Findlay(G)) 17-1 won by fall over Emily Lorenzon (Firestone(G)) 18-8 (Fall 1:18)
W235
Alaina Jackson (Minerva(G)) 25-0 won by fall over Jessica Edwards (Harrison(G)) 28-8 (Fall 2:52)
Brooklyn Wade (Wch Washington(G)) 19-4 won by fall over Karlie Harlow (Greeneview(G)) 33-2 (Fall 5:05)
Quarterfinal Results
D3-106
Adam Mattin (Delta) 11-0 won by fall over Stephen Patterson (Waynedale) 43-10 (Fall 3:14)
Kyle Schroer (Troy Christian) 36-6 won by fall over Kaden Lawson (Tuslaw) 41-9 (Fall 3:08)
Braedyn Tammarine (Liberty Center) 39-14 won by decision over Johnathan Huntsman (Barnesville) 46-7 (Dec 5-3)
Parker Pikor (Lake Cath.) 43-6 won by decision over Scott Fuller (Genoa Area) 50-4 (Dec 7-4)
D3-113
Eli Campbell (Legacy Christian) 35-3 won in sudden victory - 1 over Tyler Barnes (Delta) 33-9 (SV-1 6-4)
Tristen Rossiter (Shenandoah) 43-3 won by fall over Colin Hering (Berkshire) 34-9 (Fall 3:04)
Cole Schulke (Columbia) 47-2 won by decision over Antony Hoty (Westfall) 44-6 (Dec 8-4)
Abe Hermes (Mil. Edison) 27-1 won by major decision over Logan Dean (Bethel-Tate) 40-3 (MD 14-4)
D3-120
Nathan Attisano (Legacy Christian) 37-10 won by major decision over Cowin Becker (Northmor) 43-5 (MD 11-1)
Max Hermes (Mil. Edison) 50-3 won by fall over Trent Sigler (W.s. Northwestern) 39-3 (Fall 2:43)
Trevor Wilcox (Otsego) 38-5 won by decision over Joey Romano (Lake Cath.) 45-6 (Dec 6-5)
Cooper Shore (Miami East) 48-0 won by tech fall over Trace Williams (North Union) 43-5 (TF-1.5 3:32 (21-6))
D3-126
Brock Durbin (Mapleton) 40-1 won by decision over Jason Shaffer (Troy Christian) 41-10 (Dec 3-2)
Casper Caizzo (St. Paul) 34-2 won by fall over Zane Pickerrell (Zane Trace) 44-5 (Fall 1:22)
Dillon Campbell (Legacy Christian) 44-2 won by fall over Robby Bennett (Sher. Fairview) 42-8 (Fall 1:02)
Nathan Parks (Seneca East) 46-6 won by decision over Drake Kanyuch (Shenandoah) 41-7 (Dec 6-0)
D3-132
Landen Duncan (Chalker) 35-7 won by decision over Wyatt Hinton (Norwood) 43-2 (Dec 9-8)
Dakota King (Barnesville) 46-5 won by major decision over Caden Schmeltzer (Waynedale) 34-3 (MD 20-9)
Hunter Vogus (Monroeville) 44-7 won by decision over Brian Luft (Newark Cath.) 20-4 (Dec 6-1)
Brock Christian (Perry) 46-9 won by decision over Chase Vanderhorst (Covington) 39-4 (Dec 5-2)
D3-138
Ashton Homan (Monroeville) 41-5 won by decision over Michael Fister (John. Northridge) 41-10 (Dec 5-1)
Brayden Brown (Legacy Christian) 35-6 won by major decision over Carson Campbell (Northmor) 42-7 (MD 19-7)
Ashtan Hendricks (Greeneview) 47-4 won by decision over Skyler King (Barnesville) 48-6 (Dec 13-10)
Amari Bowers (Conneaut) 41-2 won by decision over Jackson Bartels (Liberty Center) 22-12 (Dec 7-4)
D3-144
Boede Campbell (Legacy Christian) 25-5 won by decision over Marcus Medina (Mil. Edison) 40-8 (Dec 3-2)
Hayden Kuhn (Ash. Crestview) 40-3 won by decision over Braeden Stallworth (Col. Crestview) 43-3 (Dec 13-6)
Brodie Dominique (Archbold) 60-4 won by major decision over Maxwell Cooper (Tuslaw) 38-10 (MD 18-6)
Daxton Chase (Pleasant) 49-3 won by fall over Payton Platfoot (Versailles) 48-5 (Fall 1:03)
D3-150
Kohen Horvath (Mil. Edison) 44-4 won by decision over Tyson Seesholtz (South Range) 48-4 (Dec 5-0)
Reese Stephen (Barnesville) 50-2 won by decision over Jacob Lyons (Tuslaw) 44-5 (Dec 8-4)
Joshua Greenwood (Beachwood) 42-8 won by major decision over Konnor Samson (West Muskingum) 43-9 (MD 18-6)
Jace Margraf (Mohawk) 48-5 won by decision over Luke Dolan (Brookville) 51-4 (Dec 6-5)
D3-157
Tristin Greene (Keystone) 45-2 won by tech fall over Caylan LeMaster (Centerburg) 47-9 (TF-1.5 4:00 (17-1))
Ethan Cooper (Legacy Christian) 38-7 won by major decision over Tyson Clear (Malvern) 45-6 (MD 20-9)
Brayden Doran (Preble Shawnee) 38-4 won by decision over Kasen Wellman (Ayersville) 48-6 (Dec 7-2)
Ayden King (Barnesville) 48-8 won by fall over Kade Wireman (Allen East) 47-5 (Fall 0:53)
D3-165
Braxton Quaintance (Lakota) 39-9 won by decision over Ryan Brubaker (Perry) 34-14 (Dec 6-4)
Hunter Andel (Gar. Garfield) 46-3 won by decision over Dalton Wolfrum (Tinora) 49-5 (Dec 8-2)
Hayden Buhro (Oak Harbor) 46-8 won by decision over Gage Bolt (Westfall) 37-3 (Dec 3-2)
Cody Coontz (Rootstown) 47-4 won by decision over Rod Owens (Alter) 25-6 (Dec 11-5)
D3-175
Hayden Dickman (Archbold) 49-8 won by decision over Collin Good (W.s. Northwestern) 41-8 (Dec 5-1)
Connor Havill (Troy Christian) 36-5 won by decision over Brandon Bruce-Bey (Cle. Cent. Cath.) 36-13 (Dec 3-1)
Kane Epperly (Versailles) 50-4 won by fall over Wyatt Morris (Sal. Southern) 32-7 (Fall 3:51)
Xander Myers (Liberty Center) 46-4 won by decision over Bryce Wickline (Westfall) 25-6 (Dec 2-0)
D3-190
Keegan Sell (Gar. Garfield) 43-5 won by major decision over Owen Pummel (Indian Lake) 40-7 (MD 11-0)
Abe DeLano (Ayersville) 51-4 won by major decision over Blake Elliott (East Knox) 14-4 (MD 10-1)
Wyat Ripke (Archbold) 61-3 won by decision over Lee Burkett (Troy Christian) 35-8 (Dec 5-4)
Ronnie Thomas (Mechanicsburg) 46-3 won by major decision over Lane McKenzie (Rootstown) 41-9 (MD 13-4)
D3-215
Lucas Thomas (Harrison Central) 47-3 won by decision over Caleb Cunningham (Ash. Crestview) 20-7 (Dec 6-4)
Christopher Colucci (South Range) 42-1 won by major decision over Dylan Aeschliman (Archbold) 31-6 (MD 14-2)
Tyler Shellenbarger (Mogadore) 43-3 won by decision over Will Fox (Coldwater) 40-5 (Dec 7-3)
Uzonna Nzekwe (Beachwood) 46-3 won by major decision over Gavin Gillig (Liberty-Benton) 39-5 (MD 16-6)
D3-285
Dallas McCracken (United) 47-7 won by decision over Dustin Winner (Miami East) 39-8 (Dec 3-1)
Landen Thomas (Harrison Central) 39-3 won by fall over Daren Christine (Conneaut) 43-4 (Fall 4:37)
Griffin Halenar (Newark Cath.) 39-5 won by fall over Seth Stanley (Margaretta) 42-8 (Fall 3:57)
Eli Criblez (Allen East) 47-1 won in the ultimate tie breaker over Owen Box (Liberty Center) 36-3 (UTB 3-2)
D2-106
Aiden Ohl (Ontario) 45-1 won by decision over Lyric Dickerson (Miami Trace) 49-8 (Dec 6-0)
Javaan Yarbrough (Copley) 36-2 won by major decision over Landon Jenkins (Carrollton) 41-7 (MD 13-3)
Ethan Burkhart (New Lexington) 43-0 won by major decision over Konner Blaney (Mar. Highland) 39-14 (MD 13-2)
Blake Bartos (Buckeye) 45-3 won by decision over Neal Krysty (Watterson) 31-3 (Dec 4-3)
D2-113
Mason Taylor (West Holmes) 42-3 won by major decision over Caden Mellott (Wapakoneta) 42-8 (MD 10-0)
Alex Gonzales (Napoleon) 50-6 won by decision over Kail Snair (Carrollton) 42-8 (Dec 3-2)
Colyn Limbert (Buckeye) 43-1 won by major decision over Kaleb Morris (Graham Local) 13-5 (MD 16-6)
Tate Hisey (St. Marys Memorial) 42-0 won by decision over Cannan Smith (Chillicothe) 47-3 (Dec 6-2)
D2-120
Noah Moreland (Butler) 54-3 won by fall over Robert Buchheit (Beaver Local) 39-5 (Fall 3:36)
Gradey Harding (Galion) 40-7 won by decision over Jimmy Lalezas (Taylor) 35-6 (Dec 5-3)
Joe Curry (Watterson) 32-2 won by decision over Jacob Ohl (Ontario) 40-5 (Dec 7-3)
Colt Ryan (Graham Local) 33-12 won by decision over Larry Moreno (Wauseon) 39-8 (Dec 7-2)
D2-126
Aiden King (Hartley) 21-0 won by fall over Adam Heckman (Howland) 42-5 (Fall 1:06)
Collin Twigg (Wauseon) 36-3 won in tie breaker - 1 over Kolten Barker (Louisville) 34-10 (TB-1 5-3)
Bryce Skinner (Akron Svsm) 28-6 won by fall over Xavier Pierce (Jonathan Alder) 37-13 (Fall 4:52)
Tyler Scharrer (Canfield) 30-4 won by fall over Tate Bein (Batavia) 49-5 (Fall 3:40)
D2-132
Dylan Rhoads (Louisville) 36-8 won by decision over Zaden Torres (Wauseon) 36-18 (Dec 7-0)
Brogan Tucker (Graham Local) 35-5 won by fall over Caleb Wetzel (Mar. Highland) 46-7 (Fall 2:48)
Brogan Fielding (Jefferson Area) 46-2 won by major decision over Mason Ducat (Defiance) 48-5 (MD 12-0)
Donovan Paes (Streetsboro) 40-4 won by decision over Brody Saccoccia (Steubenville) 19-3 (Dec 4-2)
D2-138
David McClelland (Col. DeSales) 42-6 won by decision over Cooper Rathburn (Hartley) 28-7 (Dec 6-0)
Josh Carman (Carrollton) 48-4 won by decision over C.J. Fisher (Clyde) 44-12 (Dec 8-5)
Thane McCoy (Wilmington) 45-5 won by decision over Braden Dunlap (Akron Svsm) 22-19 (Dec 5-3)
Hayden Hughes (Graham Local) 38-8 won by major decision over Mason Turnbaugh (Ontario) 41-5 (MD 11-3)
D2-144
Mitchell Younger (Watterson) 27-2 won by tech fall over Bo Hertenstein (St. Marys Memorial) 23-11 (TF-1.5 2:23 (17-2))
Aidan Rush (Col. DeSales) 38-10 won by decision over Andrew Huck (Bid. River Valley) 46-6 (Dec 8-5)
Nathan Kulbe (Batavia) 48-3 won by decision over Rylan Hurley (Akron Svsm) 30-14 (Dec 3-2)
Lance Overmyer (Clyde) 55-1 won by decision over Bryce Kohler (Graham Local) 35-9 (Dec 9-4)
D2-150
Dominic Hoffarth (Louisville) 35-4 won by decision over P.J. Murphy (Reading) 39-3 (Dec 6-2)
C.J. Spencer (Indian Creek) 44-4 won by fall over Jack Hoskins (Butler) 37-11 (Fall 1:08)
Zack Lopez (Col. DeSales) 33-6 won by decision over Tristan Craddock (Cloverleaf) 45-4 (Dec 4-3)
Eli Jacks (Graham Local) 39-6 won by fall over Savier Faulks (Steubenville) 42-10 (Fall 2:48)
D2-157
Luke James (Graham Local) 37-7 won by tech fall over Justin Stump (Bid. River Valley) 46-11 (TF-1.5 5:13 (18-3))
Kaden King (Buckeye) 42-4 won by major decision over Remmington Myers (Indian Valley) 45-8 (MD 13-2)
Owen Eagan (Col. DeSales) 30-6 won by major decision over Calvin Gwinn (Akron Svsm) 27-9 (MD 13-3)
Dominic Paterra (Indian Creek) 45-4 won by fall over Anthony Lahoski (Woodridge) 48-7 (Fall 5:06)
D2-165
Luke Schlosser (Clear Fork) 48-6 won by fall over Hunter Rose (New Lexington) 49-7 (Fall 5:39)
Gunner Cramblett (Graham Local) 44-5 won by decision over Zaidan Kessler (Wauseon) 38-8 (Dec 7-2)
Andrew Barford (Col. DeSales) 38-8 won by fall over Mack Parsley (WCH Washington ) 35-14 (Fall 3:43)
Oliver Byerly (Jonathan Alder) 40-4 won by major decision over Steven Duffy (Woodridge) 44-6 (MD 16-2)
D2-175
Lincon Shulaw (Col. DeSales) 37-6 won by decision over Anthony Kroninger (Jonathan Alder) 41-10 (Dec 9-4)
Dickie Engel (Reading) 38-6 won by fall over Gabe Morgan (Beaver Local) 37-8 (Fall 3:39)
Dylan Newsome (Hartley) 41-3 won by major decision over Leo Hess (Mansfield Senior) 37-6 (MD 9-0)
Eddie Neitenbach (Buckeye) 42-3 won by tech fall over Aden Strahler (Warren) 42-7 (TF-1.5 3:34 (19-3))
D2-190
Kaiden Haines (Minerva) 40-3 won by fall over Collin Willet (Bloom-Carroll) 40-9 (Fall 4:39)
Max Ray (Columbian) 40-4 won by decision over Trent Thomas (Bedford) 49-3 (Dec 18-13)
Kyle Snider (Cvca) 42-6 won by decision over Hunter Hutcheson (Mad. Comprehensive) 36-6 (Dec 10-3)
Austin Kovar (Wauseon) 40-14 won by injury default over Drew Lincicome (Philo) 50-2 (Inj. 2:57)
D2-215
Mekhi Bradley (Mansfield Senior) 36-4 won in sudden victory - 1 over Aidan Mozden (Alliance) 31-4 (SV-1 5-3)
Elijah Llewellyn (Indian Creek) 36-5 won by fall over Marquis Lucas (Linden McKinley) 11-3 (Fall 4:40)
Bryson Getz (Akron Svsm) 29-7 won by fall over Jimmy Bechter (Carroll) 41-3 (Fall 2:50)
Max Shulaw (Col. DeSales) 49-0 won by fall over Cruz Mobley (River View) 45-7 (Fall 3:01)
D2-285
Wyatt Shaw (Claymont) 42-10 won by fall over Isaac Asiedu (Hartley) 21-9 (Fall 1:50)
Zane Pletcher (New Lexington) 37-3 won by major decision over Eric Hicks (Clear Fork) 36-19 (MD 10-1)
Elisha Baldridge (West Holmes) 43-1 won by fall over Alex Griffith (Galion) 40-9 (Fall 3:09)
Trentt Fulgham (Circleville) 42-7 won by fall over Dominick Burch (Bowling Green) 44-6 (Fall 3:21)
D1-106
Ethan Timar (St. Edward) 41-4 won by decision over Emeric McBurney (Mass. Perry) 34-9 (Dec 6-1)
Huggy Williams (Olen. Liberty) 31-6 won by major decision over Luke Green (Aurora) 33-8 (MD 11-3)
Ayden Dodd (Perrysburg) 40-8 won by decision over Blake Frantz (Wadsworth) 29-21 (Dec 6-2)
Rylan Seacrist (Brecksville) 39-6 won by fall over Brock Blankenhorn (Mount Vernon) 34-6 (Fall 2:20)
D1-113
Kaiyon McKinney (Elyria) 33-5 won by tech fall over Brett Stanley (Brecksville) 31-12 (TF-1.5 3:34 (17-2))
Johnny Green (Aurora) 38-6 won by fall over Jaxson Rosselli (Olen. Liberty) 40-4 (Fall 1:17)
Mason Rohr (Mass. Perry) 36-7 won by decision over Garrison Weisner (Oregon Clay) 42-7 (Dec 7-1)
Karson Brown (St. Edward) 40-6 won by fall over Konner Lambers (Elder) 48-7 (Fall 4:52)
D1-120
Adam Butler (St. Edward) 38-9 won by decision over Jack Dinwiddie (Wadsworth) 37-15 (Dec 3-1)
Marcus Blaze (Perrysburg) 50-1 won by fall over Sal Palmisano (Mayfield) 43-7 (Fall 3:39)
Jack DeBoe (Mentor) 50-5 won by major decision over Jaiden Sarabia (Whitmer) 39-8 (MD 16-8)
Micah Medina (Oregon Clay) 22-4 won by decision over Liston Seibert (Mass. Perry) 41-4 (Dec 4-2)
D1-126
Austin McBurney (Mass. Perry) 37-9 won in sudden victory - 1 over Joseph Sanderfer (St. Edward) 27-10 (SV-1 2-0)
Phoenix Contos (Waite) 43-3 won by decision over Jayden Cochran (Miamisburg) 38-2 (Dec 8-3)
Ryan Avalos (Perrysburg) 38-2 won by fall over Robert Davis (Stow-Munroe Falls) 37-6 (Fall 1:37)
Joseph Baumann (Dub. Coffman) 30-6 won by fall over Jonathan Campbell (Walsh Jesuit) 33-11 (Fall 5:25)
D1-132
Vinnie D`Alessandro (Mayfield) 43-4 won by decision over Holden Huhn (LaSalle) 35-7 (Dec 5-0)
Kade Brown (St. Edward) 33-6 won in sudden victory - 1 over Kaden Jett (Brecksville) 32-9 (SV-1 3-1)
Nick Blackburn (Mentor) 51-4 won by fall over Bakari Scott (Fremont Ross) 33-13 (Fall 3:38)
Jaxon Joy (Wadsworth) 49-4 won by fall over Jack McCall (Lebanon) 32-7 (Fall 3:42)
D1-138
Omar Ayoub (Dub. Coffman) 50-2 won by decision over Chase Pluhar (Brecksville) 36-10 (Dec 7-2)
Mannix Wasco (No. Royalton) 41-5 won by fall over Wyatt Brock (Harrison) 45-3 (Fall 5:41)
Dy?Vaire VanDyke (Walsh Jesuit) 40-2 won by decision over Londen Murphy (Moeller) 25-7 (Dec 5-3)
Ryan Bennett (St. Edward) 39-6 won by decision over Micah Cottrell (Princeton) 48-5 (Dec 6-2)
D1-144
Brock Herman (Brecksville) 44-1 won by fall over Ethan Mitchell (Findlay) 35-9 (Fall 2:34)
Ty Wilson (Dub. Scioto) 48-3 won by tech fall over Lucan O`Brien (St. Edward) 29-12 (TF-1.5 5:52 (16-1))
Jeremy Ginter (Whitmer) 28-2 won by major decision over Marshall Geckler (Mass. Perry) 27-11 (MD 19-7)
Israel Petite (Nordonia) 46-4 won by decision over A.J. Parish (Perrysburg) 26-7 (Dec 5-3)
D1-150
Eugene Harney (Sycamore) 38-5 won by decision over Wynton Denkins (Perrysburg) 48-3 (Dec 4-2)
Christian Giltz (Mass. Perry) 25-8 won by fall over Flint Guerra (Lebanon) 34-6 (Fall 3:03)
Jake Keirn (Wadsworth) 41-11 won by decision over Conner Kleinberg (Springboro) 50-4 (Dec 4-2)
Bradley Eaton (St. Edward) 25-9 won by decision over Tyler Deericks (Olen. Liberty) 35-9 (Dec 6-2)
D1-157
Chris Earnest (Wadsworth) 48-4 won by fall over Broc Fitzpatrick (Olen. Liberty) 29-11 (Fall 1:20)
Gino Perrine (Nordonia) 49-8 won by decision over Logan Smalley (Reynoldsburg) 39-2 (Dec 7-6)
Andrew Supers (Medina) 49-3 won by decision over Maclain Morency (Anderson) 27-1 (Dec 4-3)
Ethan Birden (Dub. Coffman) 46-2 won by fall over Evan Rizzo (Brecksville) 31-14 (Fall 3:10)
D1-165
Carson Thomas (LaSalle) 41-8 won by fall over Tyrel Miller (St. Edward) 32-9 (Fall 3:11)
Brandon Batson (GlenOak) 41-3 won by fall over Jack Marconi (Avon Lake) 48-7 (Fall 0:33)
Isaiah Schlegel (Whitmer) 34-12 won by decision over Jack Hoffman (Springboro) 41-14 (Dec 5-2)
Joey Blaze (Perrysburg) 42-0 won by fall over Caleb Ridgley (Nordonia) 35-8 (Fall 1:31)
D1-175
Luke Vanadia (Brecksville) 37-7 won by decision over Andrew Liber (Tol. St. Francis) 44-5 (Dec 7-2)
Jarrel Miller (St. Edward) 30-6 won by tech fall over Matt Kowalski (Springboro) 46-9 (TF-1.5 3:42 (16-0))
Myles Takats (Perrysburg) 49-2 won by fall over Blaine Chrisman (Medina) 42-6 (Fall 3:41)
Jeremy Olszko (Nordonia) 43-4 won by fall over Kyle Sandborn (No. Royalton) 40-11 (Fall 3:43)
D1-190
Camden McDanel (Teays Valley) 40-2 won by major decision over Gunnar Pool (Centerville) 38-9 (MD 13-1)
Myles Johnson (Springboro) 50-3 won by decision over Coen Grimm (Wadsworth) 37-13 (Dec 5-2)
Jonny Slaper (St. Edward) 30-4 won by decision over JT Hill (Stow-Munroe Falls) 37-8 (Dec 7-4)
Wyatt Ferguson (Oak Hills) 44-1 won by fall over Brady Quillin (Olen. Liberty) 42-9 (Fall 5:44)
D1-215
Will Adkins (Moeller) 40-10 won in sudden victory - 1 over Mark Stankorb (Austintown-Fitch) 24-9 (SV-1 2-1)
Dylan Russo (Olen. Liberty) 42-3 won by decision over Antonio Bottiggi (Paine. Riverside) 42-5 (Dec 9-2)
Max Vanadia (Brecksville) 42-5 won by decision over Brentan Simmerman (Little Miami) 47-4 (Dec 5-3)
Teddy Gregory (Stow-Munroe Falls) 40-3 won in the ultimate tie breaker over Aidan Weimer (Springboro) 46-12 (UTB 3-2)
D1-285
Lucas Stuerenberg (Moeller) 43-13 won in sudden victory - 1 over Joey Thurston (Teays Valley) 35-8 (SV-1 3-1)
Aidan Fockler (Mass. Perry) 38-1 won by fall over Mustafa Woodi (Shaker Hts.) 35-5 (Fall 2:59)
Aaron Ries (Wadsworth) 43-6 won in tie breaker - 1 over Abel Ngoh (Miamisburg) 47-5 (TB-1 3-2)
Roosevelt Andrews (Barberton) 43-2 won by fall over Nathan Gregory (St. Edward) 27-4 (Fall 2:22)
W100
Averi Wiley (Piqua(G)) 17-1 won by decision over Leah Willen (Harrison(G)) 37-7 (Dec 7-2)
Riley Banyas (Elyria(G)) 35-1 won by fall over Vita Savage (Taylor(G)) 24-11 (Fall 1:26)
Bri Graves (Oak Hills(G)) 32-2 won by fall over Lilly Zwiefel (Gibsonburg(G)) 30-9 (Fall 0:41)
Makennah Craft (Jackson(G)) 31-0 won by fall over Bella Graziani (Tinora(G)) 27-6 (Fall 2:28)
W105
Ava Miller (Teays Valley(G)) 39-2 won by decision over Ava Steffel (Tinora(G)) 26-8 (Dec 10-4)
Nikera Johnson (Sandusky(G)) 33-3 won by fall over Joy Steinmetz (West Clermont(G)) 27-7 (Fall 2:30)
Cecelia Cece Reitter (Col. Academy(G)) 24-4 won by decision over Kenzie Miracle (Celina(G)) 34-9 (Dec 8-1)
Chloe Dearwester (Harrison(G)) 36-0 won by fall over Bridget Hilliard (Minerva(G)) 34-5 (Fall 0:32)
W110
Hayley Snyder (Warren(G)) 28-3 won by major decision over Lexi Beadle (Boardman(G)) 33-3 (MD 15-4)
Makaya Crisenbery (Montpelier(G)) 31-6 won by decision over Charley Jones (New Richmond(G)) 29-3 (Dec 6-5)
Gabi Gartin (Chippewa(G)) 23-1 won by fall over Kasey Wells (Del. Hayes(G)) 26-8 (Fall 4:28)
Molly Luebke (Brookville(G)) 21-2 won by fall over Noel Reinhart (Rossford(G)) 23-11 (Fall 3:06)
W115
Morgan Leonhardt (Gibsonburg(G)) 31-5 won by major decision over Lexi Grant (Oak Hills(G)) 40-2 (MD 9-0)
Molly Wells (Del. Hayes(G)) 30-10 won by fall over Emma Rinehart (Mount Vernon(G)) 32-9 (Fall 1:22)
Kira Cole (Miami East(G)) 37-0 won by fall over Mia Hotchkiss (Harrison(G)) 14-6 (Fall 1:45)
Addison Rudolph (Central Crossing(G)) 32-7 won by major decision over Lydia Gould (Keystone(G)) 31-8 (MD 14-2)
W120
Cori Young (Olentangy(G)) 40-3 won by decision over Ava Ater (Jonathan Alder(G)) 29-8 (Dec 5-0)
Lacie Knick (Northmont(G)) 34-1 won by tech fall over Merrick Gibson (Rittman(G)) 18-5 (TF-1.5 2:32 (17-1))
Lyndyn Gibbs (Wch Washington(G)) 41-3 won by decision over Catherine Kerr (Luth. West(G)) 42-5 (Dec 4-2)
Cali Leng (Marysville(G)) 36-1 won by fall over Lauryn Davis (Hillsdale(G)) 17-5 (Fall 3:56)
W125
Raegan Briggs (Harrison(G)) 33-2 won by fall over Layla Patterson (Avon Lake(G)) 22-9 (Fall 1:22)
Auston Brown (United(G)) 42-3 won by fall over Sienna Sanborn (Hamilton Township(G)) 39-5 (Fall 0:34)
Josie Davis (Sidney(G)) 18-0 won by fall over Leena Blanton (West Union(G)) 33-12 (Fall 5:11)
Anna Madi (Brecksville(G)) 26-2 won by fall over Andi Addis (Lebanon(G)) 27-17 (Fall 1:49)
W130
Cassia Zammit (Miamisburg(G)) 14-0 won by decision over Emma Hanrahan (Tippecanoe(G)) 28-10 (Dec 5-3)
Kelcey Dew (Del. Hayes(G)) 29-6 won by decision over Abigail Mozden (Alliance(G)) 37-8 (Dec 9-4)
Cadence Wallace (Port Clinton(G)) 41-2 won by fall over Sophia Antonio (No. Royalton(G)) 17-5 (Fall 2:32)
Melania Szawranskyj (Wester. North(G)) 31-2 won by fall over Emily Flynn (Hubbard(G)) 32-7 (Fall 2:48)
W135
Jaydyn McKinney (Ak. Manchester(G)) 17-0 won by fall over Gwen Matt (Greeneview(G)) 30-5 (Fall 0:23)
Alexus Shaneyfelt (Liberty Center(G)) 30-2 won by decision over Alicia Coleman (Olen. Orange(G)) 36-4 (Dec 4-0)
Rylee Gust (Springboro(G)) 10-0 won by decision over Abby Green (Waverly(G)) 35-11 (Dec 9-6)
Rejan Alhashash (Avon Lake(G)) 38-4 won by major decision over Lila Mencer (Cal. River Valley(G)) 32-8 (MD 9-0)
W140
Sophia Taylor (Centerville(G)) 22-7 won by fall over Addi Lyon (Marysville(G)) 30-13 (Fall 4:48)
Sophia Rohrs (Lebanon(G)) 39-3 won by decision over Alahna Levasseur (Jonathan Alder(G)) 27-6 (Dec 2-1)
Ariana Finn (Batavia(G)) 33-8 won by decision over Razilee Wisseh (Canal Winchester(G)) 28-10 (Dec 4-3)
Eve Matt (Greeneview(G)) 36-2 won by fall over Abigail Miller (Western Brown(G)) 32-6 (Fall 2:38)
W145
Ariana Espinosa-Snowden (Fostoria(G)) 16-3 won by fall over Surraiya Mahmud (Olen. Orange(G)) 32-4 (Fall 2:00)
Jesse Foebar (Clermont Ne(g)) 29-9 won by decision over Mia Gaetjens (Mogadore(G)) 26-6 (Dec 3-2)
Lexi Fornshell (Lebanon(G)) 37-7 won by decision over Jordan Palmer (Hoover(G)) 26-10 (Dec 5-1)
Aubrey Reese (Marysville(G)) 28-5 won in sudden victory - 1 over Lauren Carver (Southeast(G)) 6-2 (SV-1 6-4)
W155
Savannah Holderby (Reynoldsburg(G)) 27-1 won by fall over Madison Jeffers (Tri-County North(G)) 5-1 (Fall 1:33)
Isabella Adams (Chippewa(G)) 33-4 won by fall over Mya Reeves (Port Clinton(G)) 18-8 (Fall 1:44)
Kylee Tait (Warren(G)) 29-2 won by fall over Natasha Knight (Hillsboro(G)) 28-12 (Fall 1:37)
Makyah Newlun (East Liverpool(G)) 21-0 won by fall over Katie Hammersmith (Marysville(G)) 29-15 (Fall 4:30)
W170
Rebekah Oladokun (Col. DeSales(G)) 30-3 won by fall over Molly Hudler (Harrison(G)) 25-13 (Fall 1:07)
Kate Simmons (Findlay(G)) 35-5 won by decision over Audrey Garcia (Ross(G)) 22-9 (Dec 5-2)
Lily Grayem (Watterson(G)) 27-5 won by fall over Chloe Vining (Bethel-Tate(G)) 32-11 (Fall 3:31)
Elizabeth Madison (Loveland(G)) 40-0 won by fall over Kascidy Garren (Olen. Orange(G)) 34-4 (Fall 2:48)
W190
Savannah Isaac (Whitmer(G)) 26-0 won by tech fall over Jordan Mills (Gah. Lincoln(G)) 29-10 (TF-1.5 1:56 (20-4))
Zayna Muntaser (Lakewood(G)) 24-2 won by fall over Emma Bolton (Mar. Highland(G)) 18-10 (Fall 4:23)
Emily Lorenzon (Firestone(G)) 18-7 won by fall over Talia Mitchell (Olen. Orange(G)) 34-5 (Fall 1:28)
Laney Oliver (Findlay(G)) 16-1 won by fall over Kiara Martin (Batavia(G)) 19-6 (Fall 1:56)
W235
Alaina Jackson (Minerva(G)) 24-0 won by fall over Evie Parmelee (Liberty-Benton(G)) 12-12 (Fall 0:50)
Jessica Edwards (Harrison(G)) 28-7 won by fall over Kristine Hockenberry (Evergreen(G)) 10-4 (Fall 1:43)
Karlie Harlow (Greeneview(G)) 33-1 won by fall over Kate Fenton (Lak. West(G)) 17-7 (Fall 1:53)
Brooklyn Wade (Wch Washington(G)) 18-4 won by fall over Jennifer Huaracha-Arellanos (Olen. Orange(G)) 26-7 (Fall 2:33)
Round of 16 Results
D3-106
Adam Mattin (Delta) 10-0 won by fall over Trey Huber (Versailles) 35-15 (Fall 3:04)
Stephen Patterson (Waynedale) 42-9 won by fall over Gavin Bolock (Union Local) 33-14 (Fall 1:27)
Kaden Lawson (Tuslaw) 40-8 won by decision over Henry Booth (Newcomerstown) 33-12 (Dec 11-9)
Kyle Schroer (Troy Christian) 35-6 won by fall over Mason Miller (Archbold) 46-16 (Fall 2:19)
Johnathan Huntsman (Barnesville) 45-6 won by fall over Quintin Burns (Liberty) 40-11 (Fall 5:25)
Braedyn Tammarine (Liberty Center) 38-14 won by major decision over Hayden Jones (Brookville) 38-8 (MD 13-3)
Scott Fuller (Genoa Area) 49-3 won by tech fall over Ethan Cantrell (West Union) 46-4 (TF-1.5 2:45 (15-0))
Parker Pikor (Lake Cath.) 42-6 won by fall over Nolan Fraley (Mechanicsburg) 32-14 (Fall 1:22)
D3-113
Eli Campbell (Legacy Christian) 34-3 won by fall over Tanner Allen (Alexander) 35-11 (Fall 5:04)
Tyler Barnes (Delta) 32-8 won by decision over Ben Pierce (Chippewa) 35-6 (Dec 9-3)
Colin Hering (Berkshire) 34-8 won by decision over Joshua Cornell (Port Clinton) 28-11 (Dec 6-5)
Tristen Rossiter (Shenandoah) 42-3 won by fall over Sulaiman Muhammed (Day. Northridge) 36-7 (Fall 1:39)
Cole Schulke (Columbia) 46-2 won by decision over Bodee Miller (Oak Harbor) 37-15 (Dec 8-1)
Antony Hoty (Westfall) 43-5 won by decision over C.J. Graham (Fairland) 50-7 (Dec 12-8)
Logan Dean (Bethel-Tate) 40-2 won by tech fall over Branden Boggs (Sandy Valley) 15-2 (TF-1.5 5:19 (19-4))
Abe Hermes (Mil. Edison) 26-1 won by major decision over Will McEwuen (Rootstown) 34-12 (MD 14-1)
D3-120
Cowin Becker (Northmor) 43-4 won by major decision over Drew Matthews (Liberty Center) 32-17 (MD 11-0)
Nathan Attisano (Legacy Christian) 36-10 won by major decision over Riley Rowan (Perry) 16-3 (MD 14-4)
Trent Sigler (W.s. Northwestern) 39-2 won by fall over Michael Hagan (Covington) 42-8 (Fall 1:09)
Max Hermes (Mil. Edison) 49-3 won by fall over Dylan Ward (Martins Ferry) 48-6 (Fall 2:35)
Joey Romano (Lake Cath.) 44-5 won by fall over Nolan Earles (Preble Shawnee) 32-10 (Fall 1:24)
Trevor Wilcox (Otsego) 37-5 won by major decision over Evan Natale (Sandy Valley) 20-6 (MD 13-0)
Trace Williams (North Union) 43-4 won by fall over Mikey Soto (Genoa Area) 34-11 (Fall 5:27)
Cooper Shore (Miami East) 47-0 won by tech fall over Joe Dennis (Black River) 35-12 (TF-1.5 4:14 (19-3))
D3-126
Brock Durbin (Mapleton) 39-1 won by decision over Evan Hanefeld (Delta) 26-13 (Dec 9-2)
Jason Shaffer (Troy Christian) 41-9 won by major decision over Christopher Marshall (Centerburg) 39-9 (MD 12-1)
Zane Pickerrell (Zane Trace) 44-4 won by major decision over Payton Mayfield (Milton-Union) 33-8 (MD 12-2)
Casper Caizzo (St. Paul) 33-2 won by decision over Evan Kusmits (Ak. Manchester) 30-8 (Dec 2-1)
Dillon Campbell (Legacy Christian) 43-2 won by fall over Hines Ford (Barnesville) 37-12 (Fall 1:29)
Robby Bennett (Sher. Fairview) 41-7 won by major decision over Owen McDevitt (Jackson-Milton) 39-7 (MD 20-6)
Nathan Parks (Seneca East) 45-6 won by fall over J.P. Wrobel (Crestwood) 43-4 (Fall 6:18)
Drake Kanyuch (Shenandoah) 41-5 won by decision over Matthew Wheeler (Mid. Madison) 30-14 (Dec 6-2)
D3-132
Wyatt Hinton (Norwood) 42-1 won by decision over Treven Angus (John. Northridge) 35-14 (Dec 8-3)
Landen Duncan (Chalker) 34-7 won by decision over Anden Ankney (Tinora) 43-9 (Dec 5-0)
Caden Schmeltzer (Waynedale) 34-2 won by decision over Gabe Chapa (Archbold) 51-10 (Dec 6-3)
Dakota King (Barnesville) 45-5 won by fall over Edward Kessen (Del. St. John`s) 36-10 (Fall 2:50)
Hunter Vogus (Monroeville) 43-7 won by major decision over Nick Malek (Rootstown) 40-14 (MD 11-0)
Brian Luft (Newark Cath.) 20-3 won by decision over Evan Wilcox (Valley View) 37-6 (Dec 6-2)
Chase Vanderhorst (Covington) 39-3 won by decision over Jesse Maple (Ridgewood) 41-5 (Dec 6-2)
Brock Christian (Perry) 45-9 won by major decision over Landon Lintermoot (Delta) 23-7 (MD 15-5)
D3-138
Ashton Homan (Monroeville) 40-5 won by decision over Caleb Ryman (Covington) 41-13 (Dec 6-0)
Michael Fister (John. Northridge) 41-9 won by fall over Johnny Heiden (Berkshire) 37-11 (Fall 0:57)
Carson Campbell (Northmor) 42-6 won by major decision over Leon Harrison (Cle. Cent. Cath.) 40-11 (MD 13-3)
Brayden Brown (Legacy Christian) 34-6 won by tech fall over Grant Dowell (Bucyrus) 50-6 (TF-1.5 3:11 (23-8))
Skyler King (Barnesville) 48-5 won by major decision over Joey McGuire (Rittman) 40-9 (MD 12-0)
Ashtan Hendricks (Greeneview) 46-4 won by fall over Owen Miller (Oak Harbor) 41-9 (Fall 2:59)
Jackson Bartels (Liberty Center) 22-11 won by decision over Mark Ellis (Waynesville) 17-6 (Dec 5-1)
Amari Bowers (Conneaut) 40-2 won by fall over Austin Powell (Fort Frye) 41-12 (Fall 0:46)
D3-144
Boede Campbell (Legacy Christian) 24-5 won by decision over Kaden Russell (Dalton) 35-12 (Dec 6-2)
Marcus Medina (Mil. Edison) 40-7 won by decision over Clayton Smith (Utica) 44-4 (Dec 5-3)
Hayden Kuhn (Ash. Crestview) 39-3 won by decision over Bodie Martin (Amanda-Clearcreek) 35-7 (Dec 8-1)
Braeden Stallworth (Col. Crestview) 43-2 won by major decision over Clayton McClain (Ada) 40-11 (MD 11-0)
Brodie Dominique (Archbold) 59-4 won by fall over T.J. Wilson (Tuscar. Valley) 41-9 (Fall 1:43)
Maxwell Cooper (Tuslaw) 38-9 won by fall over Colby Johnson (Clermont Ne) 45-7 (Fall 5:15)
Payton Platfoot (Versailles) 48-4 won by decision over Dylan Wise (Rootstown) 41-14 (Dec 6-1)
Daxton Chase (Pleasant) 48-3 won by decision over Landen Roeder (Monroeville) 36-14 (Dec 8-2)
D3-150
Kohen Horvath (Mil. Edison) 43-4 won by fall over Kaiden Luikart (Elgin) 48-9 (Fall 3:05)
Tyson Seesholtz (South Range) 48-3 won by decision over Kyle Langdon (Deer Park) 32-9 (Dec 4-2)
Jacob Lyons (Tuslaw) 44-4 won by fall over Zeran Brady (Valley View) 38-9 (Fall 4:23)
Reese Stephen (Barnesville) 49-2 won by fall over Montana Pierce (McComb) 41-6 (Fall 3:07)
Joshua Greenwood (Beachwood) 41-8 won by decision over Levi Collins (Waynesville) 36-12 (Dec 6-1)
Konnor Samson (West Muskingum) 43-8 won by major decision over Will Bischoff (Seneca East) 38-13 (MD 8-0)
Jace Margraf (Mohawk) 47-5 won by major decision over Peyton Beavers (Amanda-Clearcreek) 39-6 (MD 8-0)
Luke Dolan (Brookville) 51-3 won by major decision over Josh Brown (Berkshire) 25-3 (MD 13-3)
D3-157
Tristin Greene (Keystone) 44-2 won by tech fall over Nathan Barker (Milton-Union) 40-7 (TF-1.5 5:58 (15-0))
Caylan LeMaster (Centerburg) 47-8 won by decision over Brencyn Evans (Monroeville) 39-9 (Dec 6-4)
Tyson Clear (Malvern) 45-5 won by decision over Aiden Helmke (Tinora) 29-11 (Dec 7-5)
Ethan Cooper (Legacy Christian) 37-7 won by major decision over Justin Fox (Waterloo) 42-4 (MD 16-7)
Kasen Wellman (Ayersville) 48-5 won by fall over Mavrick Smith (Huntington) 44-4 (Fall 5:20)
Brayden Doran (Preble Shawnee) 37-4 won by decision over Tristan McKibben (Rootstown) 44-7 (Dec 6-3)
Kade Wireman (Allen East) 47-4 won by decision over Jacob Starkey (South Range) 41-6 (Dec 6-2)
Ayden King (Barnesville) 47-8 won by major decision over Eli Reinhart (Antwerp) 40-9 (MD 10-2)
D3-165
Ryan Brubaker (Perry) 34-13 won by fall over Brendan Sheehan (Newark Cath.) 44-3 (Fall 0:31)
Braxton Quaintance (Lakota) 38-9 won by decision over Michael Osborne (Versailles) 46-7 (Dec 5-0)
Dalton Wolfrum (Tinora) 49-4 won by tech fall over Trenton Gatchell (Allen East) 48-8 (TF-1.5 3:33 (19-4))
Hunter Andel (Gar. Garfield) 45-3 won by tech fall over Karson Milhoan (Barnesville) 38-15 (TF-1.5 2:26 (16-0))
Hayden Buhro (Oak Harbor) 45-8 won by decision over Sam Moore (Wayne Trace) 33-8 (Dec 9-5)
Gage Bolt (Westfall) 37-2 won by fall over Gabe Bissenbach (Sal. Southern) 31-7 (Fall 1:53)
Cody Coontz (Rootstown) 46-4 won by fall over Ethan Waggoner (Rich. Edison) 40-10 (Fall 1:06)
Rod Owens (Alter) 25-5 won by fall over Kael Margraf (Mohawk) 45-11 (Fall 3:36)
D3-175
Collin Good (W.s. Northwestern) 41-7 won by decision over Nels VanGundy (Elgin) 44-12 (Dec 13-7)
Hayden Dickman (Archbold) 48-8 won by decision over Riley Stevenson (Preble Shawnee) 38-7 (Dec 7-0)
Connor Havill (Troy Christian) 35-5 won by decision over Cannon Endicott (Elmwood) 38-4 (Dec 7-3)
Brandon Bruce-Bey (Cle. Cent. Cath.) 36-12 won by decision over George Hulsey (Martins Ferry) 43-12 (Dec 3-1)
Kane Epperly (Versailles) 49-4 won by fall over Owen Berner (Ayersville) 46-11 (Fall 5:34)
Wyatt Morris (Sal. Southern) 32-6 won by decision over Xavier Watson (Malvern) 38-9 (Dec 7-5)
Bryce Wickline (Westfall) 25-5 won by decision over Louka Babic (Kirtland) 35-5 (Dec 8-6)
Xander Myers (Liberty Center) 45-4 won by decision over Austin Sellers (Day. Christian) 46-9 (Dec 3-0)
D3-190
Keegan Sell (Gar. Garfield) 42-5 won by major decision over Connor Sintobin (Delta) 28-14 (MD 9-1)
Owen Pummel (Indian Lake) 40-6 won by decision over Marshal Sayre (Caldwell) 42-6 (Dec 5-3)
Blake Elliott (East Knox) 14-3 won by decision over Drake Bennett (Miami East) 31-12 (Dec 9-6)
Abe DeLano (Ayersville) 50-4 won by fall over Caleb Gregory (Loudonville) 36-12 (Fall 3:14)
Lee Burkett (Troy Christian) 35-7 won by decision over Alexander Finsley (Martins Ferry) 47-12 (Dec 5-4)
Wyat Ripke (Archbold) 60-3 won by decision over Hayden Garrow (Columbia) 44-6 (Dec 8-3)
Lane McKenzie (Rootstown) 41-8 won by fall over Colton Sparks (Plymouth) 46-3 (Fall 6:20)
Ronnie Thomas (Mechanicsburg) 45-3 won by fall over Maddox Jurek (Spencerville) 42-7 (Fall 0:31)
D3-215
Lucas Thomas (Harrison Central) 46-3 won by decision over Charlie Wells (Black River) 34-10 (Dec 10-6)
Caleb Cunningham (Ash. Crestview) 20-6 won by decision over A.J. Schafer (Columbus Grove) 28-4 (Dec 4-1)
Dylan Aeschliman (Archbold) 31-5 won by major decision over Bronson Stacy (Brookville) 47-5 (MD 13-2)
Christopher Colucci (South Range) 41-1 won by decision over Zach Babiczuk (Malvern) 41-10 (Dec 8-3)
Will Fox (Coldwater) 40-4 won by decision over Ethan Crawford (Genoa Area) 39-12 (Dec 5-3)
Tyler Shellenbarger (Mogadore) 42-3 won by decision over Zane Hitchcock (Mechanicsburg) 47-6 (Dec 4-3)
Uzonna Nzekwe (Beachwood) 45-3 won by fall over Julien Griffith (Pleasant) 23-5 (Fall 1:47)
Gavin Gillig (Liberty-Benton) 39-4 won by decision over Logan Johnson (Spencerville) 40-9 (Dec 2-1)
D3-285
Dallas McCracken (United) 46-7 won by decision over Javen Gaines (Tinora) 36-8 (Dec 2-1)
Dustin Winner (Miami East) 39-7 won by decision over Marshal Bier (Han. River) 43-4 (Dec 1-0)
Landen Thomas (Harrison Central) 38-3 won by decision over Cohen Hickman (Greeneview) 34-6 (Dec 6-5)
Daren Christine (Conneaut) 43-3 won by major decision over Brock Bushong (Carey) 34-7 (MD 16-8)
Griffin Halenar (Newark Cath.) 38-5 won by fall over Noah Rutherford (Carlisle) 31-10 (Fall 1:33)
Seth Stanley (Margaretta) 42-7 won by decision over Kip Stewart (Columbiana) 34-10 (Dec 7-1)
Owen Box (Liberty Center) 36-2 won by fall over Cooper McKean (Black River) 35-15 (Fall 0:34)
Eli Criblez (Allen East) 46-1 won by fall over Hunter Probasco (Westfall) 37-10 (Fall 1:44)
D2-106
Aiden Ohl (Ontario) 44-1 won by decision over Dom Prosperi (Canton South) 44-6 (Dec 4-1)
Lyric Dickerson (Miami Trace) 49-7 won by decision over Marius Garcia (Bexley) 36-6 (Dec 8-2)
Landon Jenkins (Carrollton) 41-6 won by decision over Jake Landis (Graham Local) 25-14 (Dec 5-2)
Javaan Yarbrough (Copley) 35-2 won by fall over Aiden Mcmahan (Licking Valley) 36-14 (Fall 2:40)
Ethan Burkhart (New Lexington) 42-0 won by fall over Cody Lisle (Clinton-Massie) 25-9 (Fall 1:49)
Konner Blaney (Mar. Highland) 39-13 won by decision over Owen Nelson (Cvca) 27-13 (Dec 10-4)
Blake Bartos (Buckeye) 44-3 won by decision over Zavian LaFountain (Wauseon) 31-13 (Dec 6-1)
Neal Krysty (Watterson) 31-2 won by tech fall over Layton Vennon (Unioto) 38-7 (TF-1.5 2:55 (16-0))
D2-113
Mason Taylor (West Holmes) 41-3 won by fall over Peyton Costa (Granville) 32-7 (Fall 3:25)
Caden Mellott (Wapakoneta) 42-7 won by major decision over Rocco Czarnecki (Cvca) 25-10 (MD 13-3)
Alex Gonzales (Napoleon) 49-6 won by decision over Anthony Rocco (Bay) 41-4 (Dec 4-2)
Kail Snair (Carrollton) 42-7 won by decision over Jadon Gyan (Butler) 44-10 (Dec 6-3)
Colyn Limbert (Buckeye) 42-1 won by fall over Sawyer Smith (Perkins) 47-10 (Fall 2:43)
Kaleb Morris (Graham Local) 13-4 won by decision over Travis Bucklew (Vinton County) 38-6 (Dec 12-5)
Cannan Smith (Chillicothe) 47-2 won by tech fall over Mythias Stuckey (Wilmington) 29-8 (TF-1.5 4:00 (16-1))
Tate Hisey (St. Marys Memorial) 41-0 won by fall over Aiden Bean (Marlington) 40-16 (Fall 1:15)
D2-120
Robert Buchheit (Beaver Local) 39-4 won by decision over Wyatt Nemitz (Perkins) 40-3 (Dec 1-0)
Noah Moreland (Butler) 53-3 won by fall over Jamie Harrison (Madison) 32-8 (Fall 2:46)
Jimmy Lalezas (Taylor) 35-5 won by decision over Braden Hahlen (Cvca) 38-14 (Dec 1-0)
Gradey Harding (Galion) 39-7 won by major decision over Grady Toye (West Holmes) 29-20 (MD 17-5)
Joe Curry (Watterson) 31-2 won by fall over Giovanni Duniec (Padua Franciscan) 44-10 (Fall 4:24)
Jacob Ohl (Ontario) 40-4 won by major decision over James Worthington (Fairfield Union) 34-7 (MD 19-6)
Larry Moreno (Wauseon) 39-7 won by decision over Connor Norris (Minerva) 34-9 (Dec 6-4)
Colt Ryan (Graham Local) 32-12 won by decision over Anthony Perez (Streetsboro) 34-2 (Dec 10-5)
D2-126
Aiden King (Hartley) 20-0 won by fall over Tommy Gast (Maumee) 40-15 (Fall 3:10)
Adam Heckman (Howland) 42-4 won by decision over Leroy Steagall (Indian Valley) 38-8 (Dec 10-8)
Kolten Barker (Louisville) 34-9 won by major decision over Andrew Strader (Minerva) 36-8 (MD 11-0)
Collin Twigg (Wauseon) 35-3 won by fall over Cade O`Banion (Tecumseh) 39-13 (Fall 3:19)
Bryce Skinner (Akron Svsm) 27-6 won by tech fall over Gavin Hoover (Logan Elm) 44-8 (TF-1.5 5:11 (17-2))
Xavier Pierce (Jonathan Alder) 37-12 won by decision over Peyton Hoskins (Clear Fork) 46-8 (Dec 7-2)
Tate Bein (Batavia) 49-4 won by fall over Mike Thomas (Mad. Comprehensive) 35-10 (Fall 1:12)
Tyler Scharrer (Canfield) 29-4 won by decision over Levi Pidgeon (Carrollton) 38-11 (Dec 9-5)
D2-132
Dylan Rhoads (Louisville) 35-8 won by fall over Tucker Campbell (Franklin) 32-9 (Fall 2:38)
Zaden Torres (Wauseon) 36-17 won by fall over Elijah Parrish (Claymont) 16-5 (Fall 2:30)
Caleb Wetzel (Mar. Highland) 46-6 won in sudden victory - 1 over Hunter McCluggage (West Holmes) 29-22 (SV-1 7-5)
Brogan Tucker (Graham Local) 34-5 won by tech fall over Danny Beckett (Buckeye) 30-17 (TF-1.5 2:35 (19-3))
Mason Ducat (Defiance) 48-4 won by tech fall over Jacob Johnson (Circleville) 14-7 (TF-1.5 6:00 (20-4))
Brogan Fielding (Jefferson Area) 45-2 won by decision over James Lindsay (Watterson) 25-4 (Dec 5-2)
Donovan Paes (Streetsboro) 39-4 won by decision over Parker Lee (Butler) 47-8 (Dec 5-1)
Brody Saccoccia (Steubenville) 19-2 won by decision over Caleb Clary (Upper Sandusky) 36-7 (Dec 3-1)
D2-138
David McClelland (Col. DeSales) 41-6 won by fall over Kevin Williams (Firelands) 31-10 (Fall 2:39)
Cooper Rathburn (Hartley) 28-6 won in sudden victory - 1 over Coltyn Reedy (Sheridan) 39-5 (SV-1 5-1)
Josh Carman (Carrollton) 47-4 won by major decision over Gage Murphy (Reading) 36-8 (MD 11-0)
C.J. Fisher (Clyde) 44-11 won by decision over Jesse Badiu (Buckeye) 37-12 (Dec 6-0)
Thane McCoy (Wilmington) 44-5 won by decision over Louden Dixon (West Holmes) 38-13 (Dec 5-1)
Braden Dunlap (Akron Svsm) 22-18 won by fall over Cael Gilmore (Mar. Highland) 45-7 (Fall 2:33)
Mason Turnbaugh (Ontario) 41-4 won by decision over Jacob Dolan (Benedictine) 34-9 (Dec 8-3)
Hayden Hughes (Graham Local) 37-8 won by tech fall over Cal Beadling (Steubenville) 28-7 (TF-1.5 5:50 (17-2))
D2-144
Mitchell Younger (Watterson) 26-2 won by tech fall over Ezekiel Williams (New Philadelphia) 34-16 (TF-1.5 2:36 (17-1))
Bo Hertenstein (St. Marys Memorial) 23-10 won by fall over Nick Brunst (Buckeye) 35-15 (Fall 4:52)
Aidan Rush (Col. DeSales) 37-10 won by decision over Carter Mock (Howland) 34-12 (Dec 4-2)
Andrew Huck (Bid. River Valley) 46-5 won by decision over Junior Creager (Franklin) 29-15 (Dec 2-0)
Rylan Hurley (Akron Svsm) 30-13 won by fall over Julian McGinty (Ontario) 26-22 (Fall 5:40)
Nathan Kulbe (Batavia) 47-3 won by decision over Luke Kaiser (Athens) 43-10 (Dec 2-1)
Bryce Kohler (Graham Local) 35-8 won by fall over Quake Beatty (Indian Valley) 36-10 (Fall 1:26)
Lance Overmyer (Clyde) 54-1 won by tech fall over Brian Denamen (West Geauga) 37-10 (TF-1.5 4:22 (18-2))
D2-150
Dominic Hoffarth (Louisville) 34-4 won by fall over Blake Norman (West Holmes) 31-19 (Fall 2:25)
P.J. Murphy (Reading) 39-2 won by decision over James Simms (Fostoria) 18-3 (Dec 10-4)
Jack Hoskins (Butler) 37-10 won by decision over Owen Kyser (Vermilion) 32-11 (Dec 5-3)
C.J. Spencer (Indian Creek) 43-4 won by fall over Aiden Stecker (Salem) 37-9 (Fall 3:11)
Zack Lopez (Col. DeSales) 32-6 won by major decision over Ripley Szanati (Buckeye Valley) 28-4 (MD 15-6)
Tristan Craddock (Cloverleaf) 45-3 won by tech fall over Asher LeBeau (Miami Trace) 46-9 (TF-1.5 6:00 (15-0))
Savier Faulks (Steubenville) 42-9 won by fall over Cohen Klimak (Streetsboro) 29-8 (Fall 1:26)
Eli Jacks (Graham Local) 38-6 won by tech fall over Luke Conaway (Licking Valley) 35-14 (TF-1.5 5:53 (21-6))
D2-157
Luke James (Graham Local) 36-7 won by fall over Noah Blough (Madison) 26-7 (Fall 3:41)
Justin Stump (Bid. River Valley) 46-10 won by decision over Ayden Wilson (Rossford) 34-8 (Dec 6-2)
Remmington Myers (Indian Valley) 45-7 won by major decision over Corbin Mitchell (Wapakoneta) 47-6 (MD 10-2)
Kaden King (Buckeye) 41-4 won by fall over Wyatt Eppert (Batavia) 44-10 (Fall 3:44)
Owen Eagan (Col. DeSales) 29-6 won by tech fall over Thayne Mahaffey (Claymont) 31-16 (TF-1.5 3:04 (16-1))
Calvin Gwinn (Akron Svsm) 27-8 won by major decision over Hamde Bakaye (Whitehall-Yearling) 35-9 (MD 12-4)
Anthony Lahoski (Woodridge) 48-6 won by decision over Landen Weiss (Bellbrook) 37-11 (Dec 14-10)
Dominic Paterra (Indian Creek) 44-4 won by decision over Will Stanley (Clyde) 24-4 (Dec 5-1)
D2-165
Hunter Rose (New Lexington) 49-6 won by fall over Vincent Hummel (Bellbrook) 37-11 (Fall 0:41)
Luke Schlosser (Clear Fork) 47-6 won by decision over Phoenix Porter (Marlington) 41-17 (Dec 8-5)
Zaidan Kessler (Wauseon) 38-7 won by decision over Devin Shaw-Mason (Padua Franciscan) 40-10 (Dec 5-1)
Gunner Cramblett (Graham Local) 43-5 won by fall over Easton Cook (Indian Valley) 40-12 (Fall 1:32)
Andrew Barford (Col. DeSales) 37-8 won by decision over Hudson Brink (West Branch) 40-9 (Dec 8-4)
Mack Parsley (WCH Washington ) 35-13 won by decision over Gage Davis (Wilmington) 33-11 (Dec 3-1)
Oliver Byerly (Jonathan Alder) 39-4 won by major decision over Ethan Llewellyn (Indian Creek) 38-10 (MD 17-8)
Steven Duffy (Woodridge) 44-5 won by decision over Manny Aller (Columbian) 32-10 (Dec 10-8)
D2-175
Lincon Shulaw (Col. DeSales) 36-6 won by decision over Sam Longhenry (New Lexington) 46-10 (Dec 9-2)
Anthony Kroninger (Jonathan Alder) 41-9 won by major decision over Qwintin Hancox (Marlington) 41-17 (MD 12-2)
Dickie Engel (Reading) 37-6 won by fall over Dominic Pagan (Poland Seminary) 31-9 (Fall 4:29)
Gabe Morgan (Beaver Local) 37-7 won by decision over Chance Snow (Wauseon) 31-12 (Dec 7-3)
Dylan Newsome (Hartley) 40-3 won by tech fall over Zeke Lucas (Ash. Edgewood) 34-14 (TF-1.5 3:09 (17-2))
Leo Hess (Mansfield Senior) 37-5 won by decision over Hunter Dietrich (Minerva) 36-9 (Dec 5-3)
Aden Strahler (Warren) 42-6 won by decision over Landon Cook (Columbian) 31-8 (Dec 9-5)
Eddie Neitenbach (Buckeye) 41-3 won by fall over Zach Yordy (Badin) 26-13 (Fall 3:14)
D2-190
Collin Willet (Bloom-Carroll) 40-8 won by fall over Jace Knous (Wapakoneta) 43-10 (Fall 2:44)
Kaiden Haines (Minerva) 39-3 won by decision over Ben DiMarco (Kenston) 18-6 (Dec 9-4)
Trent Thomas (Bedford) 49-2 won by decision over Ben Zinda (Carrollton) 34-10 (Dec 11-4)
Max Ray (Columbian) 39-4 won by fall over Joshua Snell (Wilmington) 35-12 (Fall 2:15)
Kyle Snider (Cvca) 41-6 won by fall over Logan Niceswanger (Morgan) 38-10 (Fall 3:36)
Hunter Hutcheson (Mad. Comprehensive) 36-5 won by fall over Chett Mannier (Graham Local) 30-18 (Fall 1:29)
Austin Kovar (Wauseon) 39-14 won by decision over Eyan Jackson (Hartley) 31-14 (Dec 11-8)
Drew Lincicome (Philo) 50-1 won by major decision over Bryce Wheatley (Chardon Ndcl) 44-6 (MD 17-4)
D2-215
Champ. Round 1 -Aidan Mozden (Alliance) 31-3 won by major decision over Ethan Hill (McClain) 47-9 (MD 16-5)
Mekhi Bradley (Mansfield Senior) 35-4 won by decision over Carter Stack (Oakwood) 33-8 (Dec 8-6)
Marquis Lucas (Linden McKinley) 11-2 won by decision over Damon Hay (Jonathan Alder) 27-11 (Dec 9-3)
Elijah Llewellyn (Indian Creek) 35-5 won by major decision over Terrance Davis (Orange) 39-10 (MD 15-4)
Jimmy Bechter (Carroll) 41-2 won by major decision over Kyle Magyar (Perkins) 41-6 (MD 16-4)
Bryson Getz (Akron Svsm) 28-7 won by fall over Jaxon Burcher (Indian Valley) 38-9 (Fall 0:28)
Cruz Mobley (River View) 45-6 won by decision over Davian Greenlee (Buchtel) 39-6 (Dec 3-2)
Max Shulaw (Col. DeSales) 48-0 won by fall over Jaden Owens (Goshen) 19-14 (Fall 0:37)
D2-285
Isaac Asiedu (Hartley) 21-8 won by decision over Zain Bell (Bryan) 34-11 (Dec 2-1)
Wyatt Shaw (Claymont) 41-10 won by fall over Nick Bowser (Hubbard) 39-6 (Fall 1:16)
Zane Pletcher (New Lexington) 36-3 won by fall over Sean Doyle (Kenston) 43-6 (Fall 5:42)
Eric Hicks (Clear Fork) 36-18 won by decision over Jeffery Blair (Cham. Julienne) 37-2 (Dec 5-4)
Elisha Baldridge (West Holmes) 42-1 won by fall over Mason Pawlowski (Jefferson Area) 35-16 (Fall 0:34)
Alex Griffith (Galion) 40-8 won by fall over Billy Foster (New Richmond) 43-7 (Fall 1:51)
Dominick Burch (Bowling Green) 44-5 won by fall over Dom Kroninger (Jonathan Alder) 34-11 (Fall 3:58)
Trentt Fulgham (Circleville) 41-7 won by decision over Todd Allen (Buckeye) 36-4 (Dec 2-1)
D1-106
Ethan Timar (St. Edward) 40-4 won by fall over Colton Russell (Wester. North) 27-10 (Fall 3:32)
Emeric McBurney (Mass. Perry) 34-8 won by fall over Brody Palm (Harrison) 43-6 (Fall 5:59)
Luke Green (Aurora) 33-7 won by decision over Alijah Mohanna (LaSalle) 27-13 (Dec 4-3)
Huggy Williams (Olen. Liberty) 30-6 won by tech fall over Aidan Autullo (Fremont Ross) 33-16 (TF-1.5 2:55 (15-0))
Blake Frantz (Wadsworth) 29-20 won in sudden victory - 1 over Adam Gelman (Sycamore) 27-2 (SV-1 10-8)
Ayden Dodd (Perrysburg) 39-8 won by major decision over Kurt Mokros (Olentangy) 40-8 (MD 14-5)
Brock Blankenhorn (Mount Vernon) 34-5 won by decision over Brad Cerankosky (Westlake) 36-8 (Dec 5-1)
Rylan Seacrist (Brecksville) 38-6 won by fall over Jeremy Sibrel (Beavercreek) 33-19 (Fall 4:16)
D1-113
Kaiyon McKinney (Elyria) 32-5 won by tech fall over Gage Riley (Marysville) 33-14 (TF-1.5 3:39 (18-3))
Brett Stanley (Brecksville) 31-11 won by fall over Nathan Moser (Monroe) 34-9 (Fall 2:20)
Johnny Green (Aurora) 37-6 won by fall over Jake Lentz (Fairfield) 34-9 (Fall 1:38)
Jaxson Rosselli (Olen. Liberty) 40-3 won by major decision over Edward Skiba (Brunswick) 33-14 (MD 9-1)
Mason Rohr (Mass. Perry) 35-7 won by fall over Jordan Miller (Ross) 33-16 (Fall 0:48)
Garrison Weisner (Oregon Clay) 42-6 won by fall over Gunner Havens (Teays Valley) 31-8 (Fall 3:00)
Karson Brown (St. Edward) 39-6 won by fall over Carter Slubowski (Hil. Darby) 34-6 (Fall 2:48)
Konner Lambers (Elder) 48-6 won by decision over Kolten Mellon (Wadsworth) 24-22 (Dec 2-0)
D1-120
Adam Butler (St. Edward) 37-9 won by decision over Aiden Allen (LaSalle) 37-9 (Dec 9-5)
Jack Dinwiddie (Wadsworth) 37-14 won by decision over Prestyn Parks (Olen. Liberty) 32-12 (Dec 5-1)
Sal Palmisano (Mayfield) 43-6 won by decision over Rahul Raghuram (Dub. Coffman) 33-11 (Dec 6-1)
Marcus Blaze (Perrysburg) 49-1 won by fall over Marsel Sabirdjanov (Mason) 33-8 (Fall 2:27)
Jack DeBoe (Mentor) 49-5 won by decision over Andrew Myers (Upper Arlington) 39-3 (Dec 6-4)
Jaiden Sarabia (Whitmer) 39-7 won by decision over Joey Thamann (Elder) 37-12 (Dec 4-1)
Micah Medina (Oregon Clay) 21-4 won by decision over Gael Ramirez (West Clermont) 36-10 (Dec 4-3)
Liston Seibert (Mass. Perry) 41-3 won by decision over Toby Hutsler (Lancaster) 41-7 (Dec 3-2)
D1-126
Austin McBurney (Mass. Perry) 36-9 won by tech fall over Bryce Sears (Colerain) 39-8 (TF-1.5 5:37 (17-1))
Joseph Sanderfer (St. Edward) 27-9 won by fall over Jibreel Smith (Newark) 45-5 (Fall 5:29)
Phoenix Contos (Waite) 42-3 won by fall over David Backus (Marion Harding) 40-5 (Fall 3:39)
Jayden Cochran (Miamisburg) 38-1 won by decision over Jace Jett (Brecksville) 31-14 (Dec 3-2)
Ryan Avalos (Perrysburg) 37-2 won by fall over Jake Piontkowski (Olentangy) 40-11 (Fall 1:31)
Robert Davis (Stow-Munroe Falls) 37-5 won by decision over Eli Marengo (LaSalle) 24-13 (Dec 8-5)
Jonathan Campbell (Walsh Jesuit) 33-10 won in sudden victory - 1 over Marshall Morency (Anderson) 40-9 (SV-1 9-5)
Joseph Baumann (Dub. Coffman) 29-6 won by decision over Gage Ross (Fremont Ross) 29-12 (Dec 3-2)
D1-132
Holden Huhn (LaSalle) 35-6 won by fall over Austin Smith (Waite) 23-12 (Fall 5:25)
Vinnie D`Alessandro (Mayfield) 42-4 won by major decision over Slade Waller (Grove City) 48-7 (MD 14-0)
Kaden Jett (Brecksville) 32-8 won by major decision over Jace Edmonds (Lancaster) 33-18 (MD 13-3)
Kade Brown (St. Edward) 32-6 won by tech fall over Ryan Wissmar (Springboro) 38-16 (TF-1.5 5:51 (22-7))
Nick Blackburn (Mentor) 50-4 won by decision over Wyatt Moore (Hil. Davidson) 38-5 (Dec 8-6)
Bakari Scott (Fremont Ross) 33-12 won by decision over Ty Harter (Loveland) 42-9 (Dec 4-3)
Jack McCall (Lebanon) 32-6 won by decision over Cole Evans (Perrysburg) 29-7 (Dec 5-3)
Jaxon Joy (Wadsworth) 48-4 won by tech fall over Boston Burkardt (Marysville) 35-13 (TF-1.5 2:10 (22-7))
D1-138
Omar Ayoub (Dub. Coffman) 49-2 won by major decision over Tannar Beermann (Fairfield) 32-7 (MD 19-9)
Chase Pluhar (Brecksville) 36-9 won by decision over Diego Chavez (Perrysburg) 26-10 (Dec 5-0)
Mannix Wasco (No. Royalton) 40-5 won by decision over Antonio Shelley (Mentor) 43-9 (Dec 3-2)
Wyatt Brock (Harrison) 45-2 won by decision over Lincoln Gardner (Olen. Liberty) 34-17 (Dec 11-4)
Dy?Vaire VanDyke (Walsh Jesuit) 39-2 won by decision over Jayce Frymire (Fremont Ross) 34-11 (Dec 10-5)
Londen Murphy (Moeller) 25-6 won by fall over Andrew Kraft (Lancaster) 41-8 (Fall 1:47)
Micah Cottrell (Princeton) 48-4 won by decision over Scott Speakman (Watkins Memorial) 40-9 (Dec 7-3)
Ryan Bennett (St. Edward) 38-6 won by decision over Charles Curtis (Mass. Perry) 36-13 (Dec 3-1)
D1-144
Brock Herman (Brecksville) 43-1 won by fall over Evan Butcher (Wester. North) 33-10 (Fall 1:18)
Ethan Mitchell (Findlay) 35-8 won by decision over Cohl Wandsnider (Harrison) 33-5 (Dec 10-9)
Lucan O`Brien (St. Edward) 29-11 won by major decision over Stone Busler (Moeller) 34-12 (MD 9-1)
Ty Wilson (Dub. Scioto) 47-3 won by medical forfeit over Nick Humphrys (Wadsworth) 32-12 (M. For.)
Jeremy Ginter (Whitmer) 27-2 won by major decision over Jacob Castillo (Middletown) 36-4 (MD 15-3)
Marshall Geckler (Mass. Perry) 27-10 won by decision over Mavrik Gregory (Mount Vernon) 29-13 (Dec 7-6)
Israel Petite (Nordonia) 45-4 won by decision over Grayson Woodcock (Dub. Coffman) 37-9 (Dec 3-2)
A.J. Parish (Perrysburg) 26-6 won by decision over Matthew Szczepaniak (Lak. West) 39-7 (Dec 2-1)
D1-150
Wynton Denkins (Perrysburg) 48-2 won by major decision over David Zambounis (Brecksville) 26-16 (MD 15-5)
Eugene Harney (Sycamore) 37-5 won by decision over Jake Taylor (Mount Vernon) 34-12 (Dec 10-3)
Flint Guerra (Lebanon) 34-5 won by decision over Ian Cho (Dub. Jerome) 37-8 (Dec 5-0)
Christian Giltz (Mass. Perry) 24-8 won by fall over Hunter Anderson (Midview) 34-10 (Fall 5:40)
Conner Kleinberg (Springboro) 50-3 won by fall over Jamie Ramirez (Central Crossing) 38-9 (Fall 2:32)
Jake Keirn (Wadsworth) 40-11 won by decision over Connor Holm (Elyria) 31-11 (Dec 7-4)
Bradley Eaton (St. Edward) 24-9 won by fall over Braeden Beck (Mayfield) 42-8 (Fall 3:20)
Tyler Deericks (Olen. Liberty) 35-8 won in sudden victory - 1 over Hunter Martin (Beavercreek) 37-11 (SV-1 3-1)
D1-157
Chris Earnest (Wadsworth) 47-4 won by tech fall over Isaac DiVincenzo (Berea-Midpark) 28-13 (TF-1.5 5:43 (15-0))
Broc Fitzpatrick (Olen. Liberty) 29-10 won by decision over Jack Willen (LaSalle) 36-10 (Dec 2-1)
Logan Smalley (Reynoldsburg) 39-1 won by major decision over Liam Schram (Lebanon) 36-11 (MD 18-5)
Gino Perrine (Nordonia) 48-8 won by decision over Jake Wood (Perrysburg) 37-6 (Dec 5-4)
Maclain Morency (Anderson) 27-0 won by decision over Donavyn Watts (Pick. North) 42-11 (Dec 8-2)
Andrew Supers (Medina) 48-3 won by major decision over Jon Metzger (Ashland) 40-11 (MD 9-0)
Evan Rizzo (Brecksville) 31-13 won by decision over Aiden Peterson (St. Edward) 27-11 (Dec 6-5)
Ethan Birden (Dub. Coffman) 45-2 won by decision over Aydan George (Centerville) 34-9 (Dec 12-5)
D1-165
Carson Thomas (LaSalle) 40-8 won by major decision over Brian Horgan (Mentor) 43-9 (MD 12-2)
Tyrel Miller (St. Edward) 32-8 won by tech fall over Devin Halliday (Del. Hayes) 43-8 (TF-1.5 2:08 (15-0))
Jack Marconi (Avon Lake) 48-6 won by major decision over Andrew Palmer (Grove City) 41-11 (MD 12-4)
Brandon Batson (GlenOak) 40-3 won by decision over Fletcher Rose (Miamisburg) 34-10 (Dec 4-2)
Isaiah Schlegel (Whitmer) 33-12 won by decision over Carson Mize (Marysville) 39-11 (Dec 3-2)
Jack Hoffman (Springboro) 41-13 won by fall over Will Vucetic (Chardon) 38-10 (Fall 3:46)
Caleb Ridgley (Nordonia) 35-7 won by decision over Tyler Hicks (Beavercreek) 40-7 (Dec 6-4)
Joey Blaze (Perrysburg) 41-0 won by fall over Idell Ferguson (Olen. Orange) 25-11 (Fall 5:14)
D1-175
Luke Vanadia (Brecksville) 36-7 won by tech fall over Kam Harden (LaSalle) 27-14 (TF-1.5 5:59 (23-8))
Andrew Liber (Tol. St. Francis) 44-4 won by decision over Colton Powers (Marysville) 37-7 (Dec 4-0)
Jarrel Miller (St. Edward) 29-6 won by major decision over Javon Lewis (Gah. Lincoln) 38-8 (MD 12-3)
Matt Kowalski (Springboro) 46-8 won by major decision over Louis Schaefer (Wadsworth) 29-11 (MD 9-1)
Myles Takats (Perrysburg) 48-2 won by fall over Chris Karr (Reynoldsburg) 32-5 (Fall 3:36)
Blaine Chrisman (Medina) 42-5 won in sudden victory - 1 over Sam Libby (Mason) 41-7 (SV-1 6-4)
Jeremy Olszko (Nordonia) 42-4 won by decision over Ferman Mirzaev (Fairmont) 45-6 (Dec 10-7)
Kyle Sandborn (No. Royalton) 40-10 won by decision over Storm Beane (Dub. Coffman) 36-8 (Dec 9-4)
D1-190
Camden McDanel (Teays Valley) 39-2 won by fall over Riley McPherson (Brecksville) 29-14 (Fall 2:30)
Gunnar Pool (Centerville) 38-8 won by decision over Gavin Beasley (No. Olmsted) 39-4 (Dec 7-0)
Myles Johnson (Springboro) 49-3 won by decision over Gage Yackee (Tol. St. John`s Jesuit) 34-3 (Dec 12-5)
Coen Grimm (Wadsworth) 37-12 won by major decision over Brady Seger (Marysville) 34-15 (MD 16-3)
Jonny Slaper (St. Edward) 29-4 won by major decision over Nick Scally (Milford) 41-10 (MD 12-2)
JT Hill (Stow-Munroe Falls) 37-7 won by decision over Charlie Mitchell (Dub. Coffman) 29-14 (Dec 8-5)
Brady Quillin (Olen. Liberty) 42-8 won by decision over Lukas Stiles (Med Highland) 44-7 (Dec 11-4)
Wyatt Ferguson (Oak Hills) 43-1 won by fall over Luke Wymer (Anthony Wayne) 36-18 (Fall 3:51)
D1-215
Will Adkins (Moeller) 39-10 won by decision over Isaac Carter (Grove City) 47-10 (Dec 4-0)
Mark Stankorb (Austintown-Fitch) 24-8 won by decision over Eugene Gibbons (St. Ignatius) 23-7 (Dec 6-3)
Antonio Bottiggi (Paine. Riverside) 42-4 won by decision over Cayden Spotts (Ashland) 40-14 (Dec 8-3)
Dylan Russo (Olen. Liberty) 41-3 won by fall over Wyatt Walker (Tre. Edgewood) 40-4 (Fall 2:42)
Max Vanadia (Brecksville) 41-5 won by fall over Darion Thompson (Cle. Heights) 41-6 (Fall 1:10)
Brentan Simmerman (Little Miami) 47-3 won in the ultimate tie breaker over Cole Dickerson (Lancaster) 44-3 (UTB 5-4)
Aidan Weimer (Springboro) 46-11 won in the ultimate tie breaker over Alex Taylor (Mount Vernon) 37-8 (UTB 3-2)
Teddy Gregory (Stow-Munroe Falls) 39-3 won by decision over Behlen Waugh (St. Edward) 23-4 (Dec 5-4)
D1-285
Joey Thurston (Teays Valley) 35-7 won by decision over Anthony Miller (Uniont. Lake) 28-14 (Dec 4-1)
Lucas Stuerenberg (Moeller) 42-13 won by decision over Austin Dye (Midview) 33-6 (Dec 7-4)
Mustafa Woodi (Shaker Hts.) 35-4 won by decision over Richard Thornton (Springboro) 47-12 (Dec 3-2)
Aidan Fockler (Mass. Perry) 37-1 won by major decision over Robert Snyder (Hil. Bradley) 29-12 (MD 9-1)
Abel Ngoh (Miamisburg) 47-4 won by decision over Tommy Ling (Anthony Wayne) 45-10 (Dec 4-0)
Aaron Ries (Wadsworth) 42-6 won in sudden victory - 1 over Luke Fleet (Olen. Liberty) 37-11 (SV-1 3-1)
Roosevelt Andrews (Barberton) 42-2 won by fall over Connor Garren (Olen. Orange) 41-6 (Fall 1:52)
Nathan Gregory (St. Edward) 27-3 won by decision over Jibril Bradford (Cin. Northwest) 31-6 (Dec 6-4)
W100
Averi Wiley (Piqua(G)) 16-1 won by fall over Lorelai Megery (Mentor(G)) 19-14 (Fall 2:30)
Leah Willen (Harrison(G)) 37-6 won by decision over Justine Perez (Dub. Scioto(G)) 17-2 (Dec 3-1)
Vita Savage (Taylor(G)) 24-10 won by decision over Emily Leeseberg (Gah. Lincoln(G)) 27-11 (Dec 9-8)
Riley Banyas (Elyria(G)) 34-1 won by fall over Rylee Touhalisky (Findlay(G)) 21-15 (Fall 1:57)
Bri Graves (Oak Hills(G)) 31-2 won by major decision over Summer Batts (Reynoldsburg(G)) 27-11 (MD 12-1)
Lilly Zwiefel (Gibsonburg(G)) 30-8 won by fall over Melany Herrera (Harvey(G)) 16-5 (Fall 2:23)
Bella Graziani (Tinora(G)) 27-5 won by decision over Lyneyya Anthory (Brush(G)) 24-8 (Dec 8-5)
Makennah Craft (Jackson(G)) 30-0 won by fall over Haley Williams (Mason(G)) 13-10 (Fall 3:08)
W105
Ava Steffel (Tinora(G)) 26-7 won by fall over Ashlynn Pennington (Alliance(G)) 22-8 (Fall 3:19)
Ava Miller (Teays Valley(G)) 38-2 won by fall over Scotlyn Adams (West Union(G)) 32-9 (Fall 2:52)
Joy Steinmetz (West Clermont(G)) 27-6 won by fall over Lillian Leis (Wor. Kilbourne(G)) 9-6 (Fall 5:43)
Nikera Johnson (Sandusky(G)) 32-3 won by fall over Charlize Distel (Arcadia(G)) 21-11 (Fall 3:32)
Cecelia Cece Reitter (Col. Academy(G)) 23-4 won by fall over Caroline Kearns (Sycamore(G)) 18-8 (Fall 2:55)
Kenzie Miracle (Celina(G)) 34-8 won by major decision over Lauren Ficker (Vermilion(G)) 28-7 (MD 12-4)
Bridget Hilliard (Minerva(G)) 34-4 won by fall over Brianna Montgomery (Gibsonburg(G)) 16-13 (Fall 0:44)
Chloe Dearwester (Harrison(G)) 35-0 won by fall over Meagan Justice (Watkins Memorial(G)) 23-15 (Fall 1:20)
W110
Hayley Snyder (Warren(G)) 27-3 won by fall over Meadow Gomez (Hol. Springfield(G)) 26-14 (Fall 1:57)
Lexi Beadle (Boardman(G)) 33-2 won by fall over June Pyles-Treser (Carroll(G)) 32-11 (Fall 0:45)
Charley Jones (New Richmond(G)) 29-2 won by fall over Madelyn Begert (Cf Northwest(G)) 25-5 (Fall 3:24)
Makaya Crisenbery (Montpelier(G)) 30-6 won by major decision over Gia Weaver (Reynoldsburg(G)) 22-10 (MD 14-2)
Gabi Gartin (Chippewa(G)) 22-1 won by major decision over Leah Marine (Wch Washington(G)) 32-12 (MD 10-0)
Kasey Wells (Del. Hayes(G)) 26-7 won by decision over Melanie Toronto (Lancaster(G)) 12-4 (Dec 5-0)
Noel Reinhart (Rossford(G)) 23-10 won by major decision over Brooke Farmer (Shenandoah(G)) 18-6 (MD 13-2)
Molly Luebke (Brookville(G)) 20-2 won by fall over Sabrina Shaffer (Alliance(G)) 28-13 (Fall 1:10)
W115
Lexi Grant (Oak Hills(G)) 40-1 won by fall over Kayla Grooms (Adena(G)) 13-8 (Fall 5:32)
Morgan Leonhardt (Gibsonburg(G)) 30-5 won by fall over Avery Horning (Alliance(G)) 20-8 (Fall 1:24)
Molly Wells (Del. Hayes(G)) 29-10 won by fall over Kelsey Lasch (Coll Western Reserve(G)) 19-8 (Fall 1:10)
Emma Rinehart (Mount Vernon(G)) 32-8 won by fall over Alora Strauser (Alter(G) ) 17-9 (Fall 2:25)
Kira Cole (Miami East(G)) 36-0 won by fall over Sarah Sphon (Minerva(G)) 26-18 (Fall 2:28)
Mia Hotchkiss (Harrison(G)) 14-5 won by fall over Josie Nickoloff (Olen. Orange(G)) 34-5 (Fall 1:44)
Addison Rudolph (Central Crossing(G)) 31-7 won by fall over Mia Skinner (Hillsboro(G)) 29-10 (Fall 1:52)
Lydia Gould (Keystone(G)) 31-7 won by fall over Hallie Winslow (Elgin(G)) 13-7 (Fall 3:34)
W120
Cori Young (Olentangy(G)) 39-3 won by decision over Olivia Olive (Harrison(G)) 28-16 (Dec 7-1)
Ava Ater (Jonathan Alder(G)) 29-7 won by decision over Kai Gaetjens (Mogadore(G)) 23-13 (Dec 9-3)
Merrick Gibson (Rittman(G)) 18-4 won by decision over Jacee Altaffer (Montpelier(G)) 30-11 (Dec 9-7)
Lacie Knick (Northmont(G)) 33-1 won by fall over Chloe Tompkins (Olen. Berlin(G)) 29-14 (Fall 1:06)
Catherine Kerr (Luth. West(G)) 42-4 won by fall over Emily Caton (Findlay(G)) 20-21 (Fall 0:45)
Lyndyn Gibbs (Wch Washington(G)) 40-3 won by fall over Adison Justice (Licking Valley(G)) 24-4 (Fall 1:28)
Lauryn Davis (Hillsdale(G)) 17-4 won by decision over Kaylee Ramsey (Clinton-Massie(G)) 13-5 (Dec 5-1)
Cali Leng (Marysville(G)) 35-1 won by fall over Mollie Rozalski (Conneaut(G)) 9-4 (Fall 2:00)
W125
Raegan Briggs (Harrison(G)) 32-2 won by fall over Taryn Gamble (Heath(G)) 12-9 (Fall 3:40)
Layla Patterson (Avon Lake(G)) 22-8 won by decision over Marley Bulerin (Ada(G)) 30-6 (Dec 12-6)
Auston Brown (United(G)) 41-3 won by fall over Shayla Pappert (Cal. River Valley(G)) 26-12 (Fall 1:35)
Sienna Sanborn (Hamilton Township(G)) 39-4 won in sudden victory - 1 over Liberty Johnson (Clermont Ne(g)) 32-11 (SV-1 6-4)
Josie Davis (Sidney(G)) 17-0 won by fall over Campbell Splete (Mentor(G)) 19-14 (Fall 0:30)
Leena Blanton (West Union(G)) 33-11 won by decision over Erin Scully (Watterson(G)) 21-9 (Dec 12-6)
Andi Addis (Lebanon(G)) 27-16 won by fall over Emma Davis (Waverly(G)) 32-13 (Fall 5:11)
Anna Madi (Brecksville(G)) 25-2 won by fall over Malia Burkhardt (Marysville(G)) 38-13 (Fall 3:04)
W130
Cassia Zammit (Miamisburg(G)) 13-0 won by fall over Jada Shafer (Minerva(G)) 36-12 (Fall 1:24)
Emma Hanrahan (Tippecanoe(G)) 28-9 won by fall over Marie Nina Kim (Col. Academy(G)) 10-6 (Fall 2:20)
Kelcey Dew (Del. Hayes(G)) 28-6 won by fall over Nevaeh Rockhold (Warren(G)) 25-10 (Fall 2:53)
Abigail Mozden (Alliance(G)) 37-7 won by fall over Olivia Gilliand (Cin. Northwest(G)) 23-8 (Fall 0:29)
Cadence Wallace (Port Clinton(G)) 40-2 won by fall over Madelyn Thornton (Whetstone(G)) 23-9 (Fall 3:05)
Sophia Antonio (No. Royalton(G)) 17-4 won by decision over Janelle Donahue (Clermont Ne(g)) 26-12 (Dec 7-5)
Emily Flynn (Hubbard(G)) 32-6 won by decision over Rachel Nusky (Badin(G)) 17-3 (Dec 5-0)
Melania Szawranskyj (Wester. North(G)) 30-2 won by decision over Katie Palmer (Marysville(G)) 23-11 (Dec 9-2)
W135
Jaydyn McKinney (Ak. Manchester(G)) 16-0 won by tech fall over Kaylee Toner (Trimble(G)) 22-6 (TF-1.5 3:06 (16-0))
Gwen Matt (Greeneview(G)) 30-4 won by fall over Lilly Kinsel (Harrison(G)) 25-10 (Fall 3:08)
Alexus Shaneyfelt (Liberty Center(G)) 29-2 won by fall over Kelsey King (Lak. West(G)) 28-2 (Fall 4:44)
Alicia Coleman (Olen. Orange(G)) 36-3 won by fall over Olivia Fox (Brush(G)) 23-16 (Fall 1:14)
Rylee Gust (Springboro(G)) 9-0 won by fall over MaKenna Helmke (Tinora(G)) 25-8 (Fall 5:14)
Abby Green (Waverly(G)) 35-10 won in sudden victory - 1 over Sage O`Brien (Keystone(G)) 26-11 (SV-1 4-2)
Rejan Alhashash (Avon Lake(G)) 37-4 won by fall over Hailey Amador (Hil. Bradley(G)) 25-9 (Fall 4:25)
Lila Mencer (Cal. River Valley(G)) 32-7 won by fall over Savvy Jacobsen (Little Miami(G)) 18-6 (Fall 2:41)
W140
Sophia Taylor (Centerville(G)) 21-7 won by major decision over Ajiahna Triplett (Cle. Cent. Cath.(G)) 22-2 (MD 17-8)
Addi Lyon (Marysville(G)) 30-12 won by fall over Madi Hamilton (Teays Valley(G)) 17-15 (Fall 4:45)
Alahna Levasseur (Jonathan Alder(G)) 27-5 won by fall over Callie Farmer (Western(G)) 17-23 (Fall 0:53)
Sophia Rohrs (Lebanon(G)) 38-3 won by fall over Autumn Szucs (Parma(G)) 27-14 (Fall 2:28)
Razilee Wisseh (Canal Winchester(G)) 28-9 won by decision over Madeline Meyers (Start(G)) 21-13 (Dec 8-6)
Ariana Finn (Batavia(G)) 32-8 won by fall over Nathalia Rodriguez (Luth. West(G)) 22-11 (Fall 2:29)
Abigail Miller (Western Brown(G)) 32-5 won by fall over Olive Karam (War. Champion(G)) 31-4 (Fall 3:27)
Eve Matt (Greeneview(G)) 35-2 won by fall over Ava Kennedy (Watterson(G)) 13-12 (Fall 1:01)
W145
Surraiya Mahmud (Olen. Orange(G)) 32-3 won by fall over Gillian Coulson (Lakewood(G)) 16-7 (Fall 0:56)
Ariana Espinosa-Snowden (Fostoria(G)) 15-3 won by fall over Caroline Klawon (Eaton(G)) 15-5 (Fall 5:22)
Jesse Foebar (Clermont Ne(g)) 28-9 won by fall over Marlee Yoder (Bryan(G)) 24-9 (Fall 2:18)
Mia Gaetjens (Mogadore(G)) 26-5 won by fall over Emma Watkins (Watkins Memorial(G)) 12-12 (Fall 2:30)
Lexi Fornshell (Lebanon(G)) 36-7 won by decision over Josey Mendoza (Gibsonburg(G)) 20-17 (Dec 7-2)
Jordan Palmer (Hoover(G)) 26-9 won by fall over Alleana Brown (Logan(G)) 16-4 (Fall 4:19)
Lauren Carver (Southeast(G)) 6-1 won by fall over Kelsey Bryan (Maysville(G)) 3-2 (Fall 2:18)
Aubrey Reese (Marysville(G)) 27-5 won by fall over Spencer Page (Centerville(G)) 15-11 (Fall 1:33)
W155
Madison Jeffers (Tri-County North(G)) 5-0 won by fall over Vanessa Rechterman (Xenia(G)) 24-7 (Fall 3:23)
Savannah Holderby (Reynoldsburg(G)) 26-1 won by decision over Jayda Patrick (Alliance(G)) 32-10 (Dec 8-1)
Isabella Adams (Chippewa(G)) 32-4 won by decision over Lydia Heinrich (Olen. Orange(G)) 30-10 (Dec 7-5)
Mya Reeves (Port Clinton(G)) 18-7 won by fall over Janee Houston (Shroder(G)) 7-4 (Fall 0:21)
Kylee Tait (Warren(G)) 28-2 won by fall over Cailyn Demagall (Columbia(G)) 26-9 (Fall 1:41)
Natasha Knight (Hillsboro(G)) 28-11 won by decision over Evelyn Krauss (Del. Hayes(G)) 12-10 (Dec 8-5)
Katie Hammersmith (Marysville(G)) 29-14 won by fall over Rylee Miller (Ross(G)) 18-5 (Fall 2:44)
Makyah Newlun (East Liverpool(G)) 20-0 won by fall over Emma Bolyard (Hil. Darby(G)) 34-10 (Fall 1:16)
W170
Rebekah Oladokun (Col. DeSales(G)) 29-3 won by fall over Lori Grimes (Marysville(G)) 14-9 (Fall 0:43)
Molly Hudler (Harrison(G)) 25-12 won by fall over Sakeena Hudgins (Cle. Heights(G)) 5-2 (Fall 2:30)
Audrey Garcia (Ross(G)) 22-8 won by decision over Maddie Menchaca (Mentor(G)) 30-18 (Dec 8-6)
Kate Simmons (Findlay(G)) 34-5 won by fall over Cameron Sherman (Cardington-Lincoln(G)) 9-7 (Fall 5:08)
Chloe Vining (Bethel-Tate(G)) 32-10 won by decision over Paris Willis (Luth. West(G)) 39-6 (Dec 6-3)
Lily Grayem (Watterson(G)) 26-5 won by fall over Tia Leahy (Napoleon(G)) 19-14 (Fall 1:15)
Kascidy Garren (Olen. Orange(G)) 34-3 won by decision over Nya Miller (Ridgedale(G)) 21-5 (Dec 7-3)
Elizabeth Madison (Loveland(G)) 39-0 won by fall over Kathleen Ekleberry (Sandusky(G)) 24-13 (Fall 0:33)
W190
Savannah Isaac (Whitmer(G)) 25-0 won by tech fall over Chelsea Gipson (Cle. Heights(G)) 5-2 (TF-1.5 2:00 (18-1))
Jordan Mills (Gah. Lincoln(G)) 29-9 won by fall over Nikkiah Smith (McClain(G)) 15-7 (Fall 2:30)
Emma Bolton (Mar. Highland(G)) 18-9 won by fall over Elesia Guerra (Lebanon(G)) 20-18 (Fall 5:38)
Zayna Muntaser (Lakewood(G)) 23-2 won by fall over Gracie Rasberry (Del. Hayes(G)) 13-9 (Fall 2:16)
Talia Mitchell (Olen. Orange(G)) 34-4 won by fall over Shayne Manning (New Richmond(G)) 8-14 (Fall 0:49)
Emily Lorenzon (Firestone(G)) 17-7 won by fall over Xsaria Puente (Fremont Ross(G)) 21-18 (Fall 2:32)
Laney Oliver (Findlay(G)) 15-1 won by fall over Skylar Havens (Sandusky(G)) 27-9 (Fall 3:09)
Kiara Martin (Batavia(G)) 19-5 won by fall over Katelynn Heady (Meadowbrook(G)) 13-6 (Fall 3:01)
W235
Alaina Jackson (Minerva(G)) 23-0 won by fall over Alexis Cowan (West Union(G)) 30-9 (Fall 0:17)
Evie Parmelee (Liberty-Benton(G)) 12-11 won by decision over Serena Lewis (Port Clinton(G)) 15-9 (Dec 4-1)
Kristine Hockenberry (Evergreen(G)) 10-3 won by fall over Madalynn Morrison (Mar. Highland(G)) 4-11 (Fall 1:23)
Jessica Edwards (Harrison(G)) 27-7 won by fall over Le`Naysia Dickson (Brush(G)) 19-13 (Fall 0:59)
Karlie Harlow (Greeneview(G)) 32-1 won by fall over Ahleeah Abdullah (Warrensville Hts.(G)) 17-5 (Fall 3:54)
Kate Fenton (Lak. West(G)) 17-6 won by decision over Deionna Borders (Berea-Midpark(G)) 34-5 (Dec 7-4)
Brooklyn Wade (Wch Washington(G)) 17-4 won by decision over Dakota McCracken (United(G)) 30-5 (Dec 4-0)
Jennifer Huaracha-Arellanos (Olen. Orange(G)) 26-6 won by fall over Gabby Oregon (Archbold(G)) 20-11 (Fall 2:15)