2023 PIAA Individual State Wrestling Championship
2023 PIAA Wrestling Championships Results, Brackets
2023 PIAA Wrestling Championships Results, Brackets
The PIAA Individual Wrestling Championships are underway. Here are championship results with links to brackets and archives.
Mar 12, 2023
by David Bray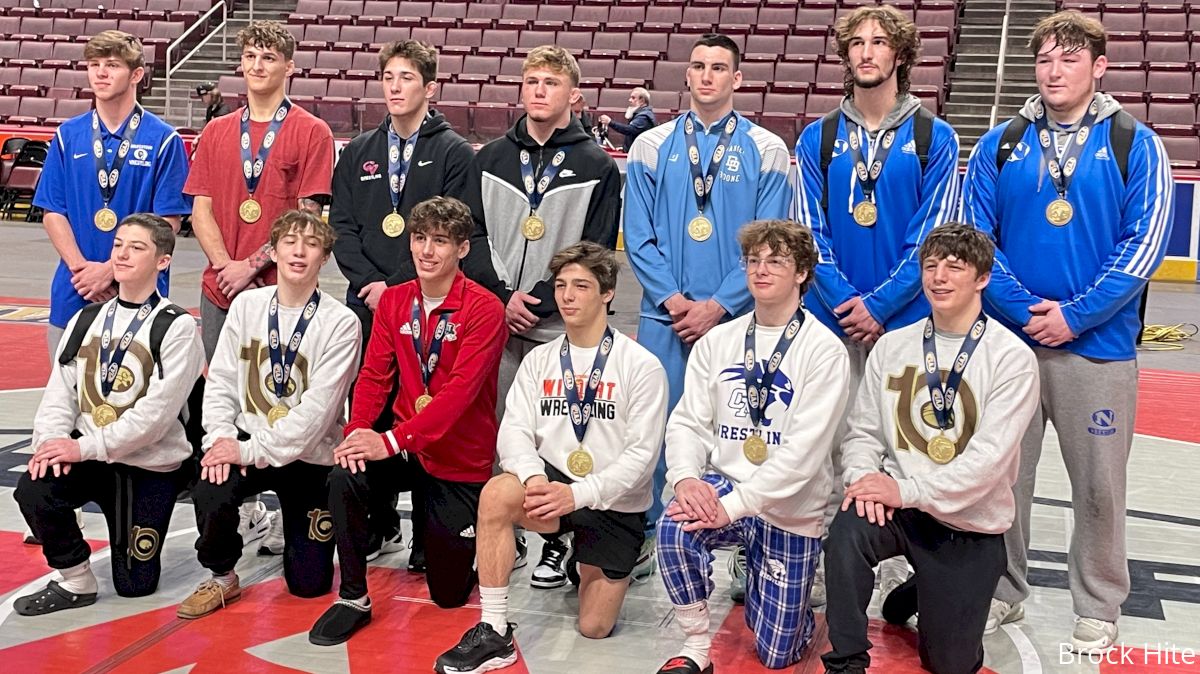 Keep up with the PIAA Wrestling Championships right here. We'll keep championship side results updated throughout the tournament.
Complete PIAA Brackets
Complete brackets with links to archives are available on FloArena.
AAA Final Top 10 Team Scores
1 Bethlehem Cath 139
2 Nazareth 102.5
3 Waynesburg 84
4 State College 75
5 West Allegheny 64
6 Central Mountain 60
6 Quakertown 60
8 Greater Latrobe 53
9 Canon-McMillan 50
10 Central Dauphin 49
AA Final Top 10 Team Scores
1 Faith Christian 151
2 Notre Dame-GP 101
3 Bishop McDevitt 71
4 Montgomery 64
5 Warrior Run 63
6 Saucon Valley 60
7 Muncy 52.5
7 Wyoming Area 52.5
9 Burrell 51
10 Grove City 46
AAA Finals Results
107 Keanu Dillard (Bethlehem Cath) DEC Luke Sirianni (Abington Heights), 7-1
114 Nathan Desmond (Bethlehem Cath) MD Carson Wagner (Northampton), 12-1
121 Cael Nasdeo (Williamsport) DEC Mason Ziegler (Quakertown), 4-0
127 Vinny Kilkeary (Greater Latrobe) DEC Andrew Binni (Canon-McMillan), 8-5
133 Luke Simcox (Central Mountain) DEC Maddox Shaw (Thomas Jefferson), 1-0
139 Kollin Rath (Bethlehem Cath) DEC Pierson Manville (State College), 4-2
145 Collin Gaj (Quakertown) DEC Mac Church (Waynesburg), 7-1
152 Ty Watters (West Allegheny) MD Ryan Garvick (Central Dauphin), 11-3
160 Dylan Evans (Chartiers Valley) DEC Shawn Taylor (West Allegheny), 3-2 UTB
172 Rocco Welsh (Waynesburg) DEC Matthew Furman (Canon-McMillan), 9-2
189 Tucker Hogan (Daniel Boone) DEC Cole Bartram (Northern), 4-0
215 Sonny Sasso (Nazareth) DEC Dillon Bechtold (Owen J. Roberts), 7-5
285 Sean Kinney (Nazareth) DEC Nicholas Pavlechko (State College), 7-0
AAA 3rd Place Results
107 Colby Martinelli (Pennridge) MD Santino Sloboda (Butler), 12-1
114 Logan Sallot (McDowell) F Kaedyn Williams (Manheim Township), 2:09
121 Hunter Johnson (Mifflin County) DEC Brady Joling (Chartiers Valley), 8-2
127 Eren Sement (Council Rock N) DEC Tahir Parkins (Nazareth), 4-2
133 Anthony Ferraro (Pine Richland) DEC Ethan Lebin (Hempfield Area), 3-2
139 Dalton Perry (Central Mountain) FOR Eli Carr (Hempfield Area)
145 Matt Repos (Central Dauphin) DEC Asher Cunningham (State College), 1-0
152 Dagen Condomitti (Northampton) MD Sam Gautreau (Owen J. Roberts), 15-4
160 Andrew Harmon (Bethlehem Cath) DEC Dominic Frontino (Shippensburg), 3-0
172 Dominic Wheatley (Nazareth) DEC Macon Myers (Central York), 7-3
189 Brody Evans (Waynesburg) DEC Haydn Packer (Jersey Shore), 3-1 SV
215 John Pardo (Kennett) DEC Eli Makel (Waynesburg), 3-1
285 Layton Schmick (Carlisle) DEC Joe Enick (Penn Trafford), 3-1 SV
AAA 5th Place Results
107 Braiden Weaver (Altoona) DEC Max Tancini (Perkiomen Valley), 2-0
114 Luke Willochell (Greater Latrobe) MD Chris Dennis (Central Bucks W), 14-1
121 Dean Houser (Daniel Boone) FOR Marco Tocci (Warwick), 0-0
127 Hayden Cunningham (State College) DEC Seamus Mack (Hempfield), 7-4
133 Cael Mcintyre (Bethlehem Cath) DEC Gunnar Myers (Wallenpaupack), 2-1
139 Blake Reihner (Trinity Area) DEC Connor Saylor (Hickory), 3-2
145 Griffin Walizer (Central Mountain) DEC Jake Doone (Nazareth), 3-2
152 Lucas Kapusta (Hempfield Area) DEC Jake Dailey (Bethlehem Cath), 3-0
160 Bekhruz Sadriddinov (Council Rock S) DEC Gavyn Beck (Franklin Regional), 7-2
172 Luke Thomas (Bethlehem Cath) DEC Talan Hogan (Pennridge), 9-4
189 Tyler Withers (Gettysburg) F Dean Bechtold (Owen J. Roberts), 1:28
215 Jose Garcia (J.P. McCaskey) DEC Magnus Bibla (Crestwood), 6-2
285 Joey Schneck (Pine Richland) DEC Ty Banco (Trinity Area), 2-1
AAA 7th Place Results
107 Nicholas Salamone (Easton) F Curtis Nelson (Ridley), 4:43
114 Tyler Kapusta (Franklin Regional) DEC Connor Smith (Seneca Valley), 3-2
121 Ryan Klingensmith (Kiski Area) F James Garcia (Wilson), 3:57
127 Michael Turi (West Scranton) F Benjamin Fanelli (Easton), 3:00
133 Gavin Sheridan (Boyertown) DEC Gabriel Ruggieri (Connellsville), 3-1
139 Nate Roth (Greater Latrobe) DEC Elias Long (Central York), 10-7
145 Nico Taddy (West Allegheny) F Aiden Swann (Cocalico), 0:59
152 Luke Sipes (Altoona) DEC Griffin Gonzalez (Lebanon), 3-1
160 Gavin Pascoe (Perkiomen Valley) DEC Brett Barbush (Manheim Central), 5-3 SV
172 Mark Gray (Kiski Area) F Kevin Olavarria (J.P. McCaskey), 2:50
189 Adrian Gacek (Parkland) DEC Caleb Marzolino (Abington Heights), 3-0
215 Connor Jacobs (Armstrong) DEC Owen Ott (Penn Trafford), 3-2
285 Michael Hershey (Spring Grove) DEF Bailey Shindle (Kennett), 4-2 4:46
AA Finals Results
107 Aaron Seidel (Northern Lebanon) DEC Dominic Deputy (Chestnut Ridge), 6-1
114 Ayden Smith (Notre Dame-GP) DEC Landon Bainey (West Branch), 5-4
121 Gauge Botero (Faith Christian) DEC Brandt Harer (Montgomery), 5-1
127 Cooper Hornack (Burrell) DEC Chris Vargo (Bentworth), 2-1
133 Jaden Pepe (Wyoming Area) DEC Conner Heckman (Midd-West), 5-3
139 Anthony Evanitsky (Wyoming Area) DEC Reagan Milheim (Warrior Run), 7-4
145 Vincent Bouzakis (Notre Dame-GP) DEC Cade Wirnsberger (Meadowbr Christian), 3-2
152 Conner Harer (Montgomery) DEC Cameron Milheim (Warrior Run), 3-2
160 Grant Mackay (Laurel) DEC Hunter Hohman (Grove City), 5-0
172 Adam Waters (Faith Christian) F Holden Garcia (Notre Dame-GP), 1:43
189 Rune Lawrence (Frazier) F Jackson Zimmerman (Brookville), 2:42
215 Austin Johnson (Muncy) DEC Brenan Morgan (Central Valley), 10-7
285 Riley Robell (Bishop McDevitt) MD Aiden Compton (Notre Dame-GP), 15-2
AA 3rd Place Results
107 Will Detar (Trinity) TF Cam Baker (Burrell), 17-0 4:44
114 Weston Pisarchick (Brockway) DEC Nico Fanella (Indiana), 3-1
121 Branden Wentzel (Montoursville) DEC Hudson Hohman (Grove City), 9-5
127 Hayden Yacoviello-andrus (Bermudian Spr) DEF Coen Bainey (Bald Eagle Area), 3-0 2:28
133 Scott Johnson (Muncy) DEC Charlie Robson (Conwell-Egan), 5-2
139 Chase Hontz (Faith Christian) DEC Brady Collins (Clearfield), 2-0
145 Kaden Milheim (Warrior Run) DEC Ryan Lawler (Bishop McDevitt), 5-3
152 Cael Weidemoyer (Faith Christian) DEC Max Bluhm (Lackawanna Trail), 5-1
160 Deegan Ross (Lackawanna Trail) MD Collin Hearn (Conneaut), 8-0
172 Waylon Wehler (St. Marys) DEC Braedon Welsh (Fort Cherry), 5-2
189 Jakob Gilfoil (Bishop McDevitt) F Rowan Holmes (Somerset), 2:46
215 Dan Church (Fort LeBoeuf) DEC Vitali Daniels (Bentworth), 3-0
285 Emmanuel Ulrich (Mifflinburg) DEC Carson Neely (Port Allegany), 7-2
AA 5th Place Results
107 Kole Davidheiser (Faith Christian) DEC Antonio Boni (Central Valley), 3-0
114 Cole Hubert (Saucon Valley) DEC Mason Mclendon (Susquenita), 6-2
121 Lucas Fye (Bald Eagle Area) DEC Aiden Grogg (Saucon Valley), 3-1
127 Hunter Gould (Conneaut) DEC Cyrus Hurd (North East), 4-0
133 Mason Wagner (Faith Christian) DEC Dylan Granahan (Benton), 2-1 TB2
139 Mason Barvitskie (Southern Columbia) DEC Tyler Morrison (West Perry), 4-0
145 Gage Wentzel (Montoursville) DEC Calan Bollman (Chestnut Ridge), 7-3
152 Liam Scrivanich (Saucon Valley) DEC Ty Watson (Penns Valley), 5-1 SV
160 Luke Sugalski (Faith Christian) DEC Jagger Gray (Trinity), 3-2
172 Caden Finck (Montgomery) FOR Jalen Wagner (Reynolds)
189 Jacob Jones (Saucon Valley) F Magnus Lloyd (General McLane), 0:54
215 Brody Kline (Berks Catholic) DEC Abe Keep (Girard), 3-1 SV
285 Gavin Thompson (Brockway) DEC Joseph Baronick (Burgettstown), 2-1
AA 7th Place Results
107 Dalton Wenner (Cranberry) DEC Gage Swank (Muncy), 4-1
114 Colton Wade (Sullivan County) DEC Josef Garshnick (United), 2-0 SV
121 Max Wirnsberger (Meadowbr Christian) DEC Elijah Brosius (Cranberry), 3-2 UTB
127 Arment Waltenbaugh (Faith Christian) DEC Marvin Armistead (Berks Catholic), 7-2
133 Noah Doi (Camp Hill) DEC Chase Bell (Reynolds), 3-2
139 Wyatt Lazzar (Commodore Perry) DEC Liam Cornetto (Marion Center), 3-1 SV
145 Chase Burke (Benton) DEC Cody Hamilton (Grove City), 3-1
152 Steffan Lynch (North East) DEC Caullin Summers (Sharpsville), 4-2
160 Justice Hockenberry-folk (West Perry) DEC Zeke Dubler (Glendale), 3-2
172 Caleb Close (Bald Eagle Area) DEC Lucas Lawler (Bishop McDevitt), 1-0
189 Jason Singer (Faith Christian) F Jake Scheib (Tri-Valley), 4:59
215 Brayden Mcfetridge (Cranberry) FOR Dante Burns (Conwell-Egan)
285 Wilson Spires (General McLane) F Owen Reber (Berks Catholic), 5:27
AAA Semifinal Results
107 Luke Sirianni (Abington Heights) DEC Colby Martinelli (Pennridge), 10-5
107 Keanu Dillard (Bethlehem Cath) DEC Santino Sloboda (Butler), 8-2
114 Nathan Desmond (Bethlehem Cath) F Logan Sallot (McDowell), 5:00
114 Carson Wagner (Northampton) DEC Kaedyn Williams (Manheim Township), 7-5
121 Cael Nasdeo (Williamsport) DEC Marco Tocci (Warwick), 7-1
121 Mason Ziegler (Quakertown) DEC Dean Houser (Daniel Boone), 5-3
127 Vinny Kilkeary (Greater Latrobe) DEC Hayden Cunningham (State College), 3-1
127 Andrew Binni (Canon-McMillan) DEC Seamus Mack (Hempfield), 6-4
133 Maddox Shaw (Thomas Jefferson) DEC Cael Mcintyre (Bethlehem Cath), 1-0
133 Luke Simcox (Central Mountain) DEC Anthony Ferraro (Pine Richland), 2-0
139 Pierson Manville (State College) DEC Blake Reihner (Trinity Area), 9-2
139 Kollin Rath (Bethlehem Cath) DEC Dalton Perry (Central Mountain), 3-1
145 Mac Church (Waynesburg) DEC Asher Cunningham (State College), 6-0
145 Collin Gaj (Quakertown) DEC Matt Repos (Central Dauphin), 5-3
152 Ty Watters (West Allegheny) F Dagen Condomitti (Northampton), 2:00
152 Ryan Garvick (Central Dauphin) DEC Lucas Kapusta (Hempfield Area), 1-0
160 Shawn Taylor (West Allegheny) DEC Bekhruz Sadriddinov (Council Rock S), 3-1
160 Dylan Evans (Chartiers Valley) DEC Dominic Frontino (Shippensburg), 2-1
172 Rocco Welsh (Waynesburg) MD Luke Thomas (Bethlehem Cath), 21-8
172 Matthew Furman (Canon-McMillan) F Talan Hogan (Pennridge), 0:51
189 Tucker Hogan (Daniel Boone) TF Dean Bechtold (Owen J. Roberts), 16-0 2:59
189 Cole Bartram (Northern) DEC Haydn Packer (Jersey Shore), 5-2
215 Sonny Sasso (Nazareth) F John Pardo (Kennett), 0:47
215 Dillon Bechtold (Owen J. Roberts) DEC Jose Garcia (J.P. McCaskey), 7-5
285 Sean Kinney (Nazareth) F Ty Banco (Trinity Area), 3:06
285 Nicholas Pavlechko (State College) MD Layton Schmick (Carlisle), 10-2
AA Semifinal Results
107 Aaron Seidel (Northern Lebanon) F Cam Baker (Burrell), 1:39
107 Dominic Deputy (Chestnut Ridge) DEC Will Detar (Trinity), 8-5
114 Ayden Smith (Notre Dame-GP) DEC Weston Pisarchick (Brockway), 3-2
114 Landon Bainey (West Branch) DEC Mason Mclendon (Susquenita), 2-0 SV
121 Gauge Botero (Faith Christian) F Hudson Hohman (Grove City), 1:09
121 Brandt Harer (Montgomery) MD Lucas Fye (Bald Eagle Area), 14-1
127 Chris Vargo (Bentworth) DEC Hunter Gould (Conneaut), 8-3 TB2
127 Cooper Hornack (Burrell) DEC Cyrus Hurd (North East), 7-4
133 Jaden Pepe (Wyoming Area) MD Mason Wagner (Faith Christian), 10-0
133 Conner Heckman (Midd-West) DEC Scott Johnson (Muncy), 7-3
139 Anthony Evanitsky (Wyoming Area) DEC Brady Collins (Clearfield), 10-7
139 Reagan Milheim (Warrior Run) DEC Chase Hontz (Faith Christian), 2-1
145 Vincent Bouzakis (Notre Dame-GP) DEC Kaden Milheim (Warrior Run), 1-0
145 Cade Wirnsberger (Meadowbr Christian) DEC Ryan Lawler (Bishop McDevitt), 7-1
152 Conner Harer (Montgomery) DEC Cael Weidemoyer (Faith Christian), 4-1
152 Cameron Milheim (Warrior Run) MD Max Bluhm (Lackawanna Trail), 11-3
160 Grant Mackay (Laurel) MD Collin Hearn (Conneaut), 9-1
160Hunter Hohman (Grove City) MD Deegan Ross (Lackawanna Trail), 12-4
172 Holden Garcia (Notre Dame-GP) DEC Jalen Wagner (Reynolds), 3-2
172 Adam Waters (Faith Christian) F Braedon Welsh (Fort Cherry), 3:17
189 Rune Lawrence (Frazier) F Magnus Lloyd (General McLane), 0:55
189 Jackson Zimmerman (Brookville) DEC Jakob Gilfoil (Bishop McDevitt), 4-1
215 Austin Johnson (Muncy) MD Dan Church (Fort LeBoeuf), 10-2
215 Brenan Morgan (Central Valley) DEC Abe Keep (Girard), 4-3
285 Riley Robell (Bishop McDevitt) F Carson Neely (Port Allegany), 0:32
285 Aiden Compton (Notre Dame-GP) DEC Emmanuel Ulrich (Mifflinburg), 3-2
AAA Quarterfinal Results
107 Luke Sirianni (Abington Heights) DEC Tanner Mizenko (Canon-McMillan), 4-3
107 Colby Martinelli (Pennridge) DEC Nicholas Salamone (Easton), 6-2
107 Santino Sloboda (Butler) DEC Braiden Weaver (Altoona), 4-2
107 Keanu Dillard (Bethlehem Cath) DEC Curtis Nelson (Ridley), 11-4
114 Nathan Desmond (Bethlehem Cath) DEC Tyler Kapusta (Franklin Regional), 6-0
114 Logan Sallot (McDowell) DEC Chris Dennis (Central Bucks W), 3-2
114 Carson Wagner (Northampton) DEC Luke Willochell (Greater Latrobe), 7-5
114 Kaedyn Williams (Manheim Township) MD Cole Mcfarland (Haverford), 8-0
121 Cael Nasdeo (Williamsport) MD James Garcia (Wilson), 13-1
121 Marco Tocci (Warwick) DEC Christian Horvath (Freedom), 9-7
121 Mason Ziegler (Quakertown) DEC Hunter Johnson (Mifflin County), 10-3
121 Dean Houser (Daniel Boone) DEC Trey Wagner (Northampton), 4-2
127 Vinny Kilkeary (Greater Latrobe) MD Benjamin Fanelli (Easton), 10-0
127 Hayden Cunningham (State College) DEC Tyler Chappell (Seneca Valley), 9-4
127 Andrew Binni (Canon-McMillan) DEC Tahir Parkins (Nazareth), 3-2
127 Seamus Mack (Hempfield) F Michael Turi (West Scranton), 0:30
133 Maddox Shaw (Thomas Jefferson) MD Keegan Demarest (Pocono Mt East), 14-0
133 Cael Mcintyre (Bethlehem Cath) DEC Gavin Sheridan (Boyertown), 3-2
133 Luke Simcox (Central Mountain) DEC Ethan Lebin (Hempfield Area), 2-1
133 Anthony Ferraro (Pine Richland) DEC Rocco Fratelli (Northern), 5-0
139 Pierson Manville (State College) F Nate Roth (Greater Latrobe), 1:16
139 Blake Reihner (Trinity Area) DEC Oliver Fairchild (Easton), 3-2
139 Dalton Perry (Central Mountain) DEC Eli Carr (Hempfield Area), 3-1
139 Kollin Rath (Bethlehem Cath) TF Gabriel Pecaitis (Gettysburg), 26-11 3:39
145 Mac Church (Waynesburg) TF Aiden Swann (Cocalico), 19-4 3:31
145 Asher Cunningham (State College) DEC Jake Doone (Nazareth), 8-2
145 Collin Gaj (Quakertown) MD Nico Taddy (West Allegheny), 11-2
145 Matt Repos (Central Dauphin) DEC Griffin Walizer (Central Mountain), 3-2
152 Ty Watters (West Allegheny) F Michael Duggan (Boiling Springs), 3:00
152 Dagen Condomitti (Northampton) DEC Sam Gautreau (Owen J. Roberts), 9-2
152 Lucas Kapusta (Hempfield Area) DEC Griffin Gonzalez (Lebanon), 7-0
152 Ryan Garvick (Central Dauphin) DEC Jake Dailey (Bethlehem Cath), 5-2
160 Shawn Taylor (West Allegheny) TF Brett Barbush (Manheim Central), 21-6 4:45
160 Bekhruz Sadriddinov (Council Rock S) MD Mike Beers (Central Dauphin), 15-5
160 Dylan Evans (Chartiers Valley) DEC Andrew Harmon (Bethlehem Cath), 8-3
160 Dominic Frontino (Shippensburg) MD Gavin Pascoe (Perkiomen Valley), 12-1
172 Rocco Welsh (Waynesburg) TF Macon Myers (Central York), 25-10 5:04
172 Luke Thomas (Bethlehem Cath) DEC Blaise Eidle (Wilson), 3-2
172 Matthew Furman (Canon-McMillan) DEC Dominic Wheatley (Nazareth), 2-0
172 Talan Hogan (Pennridge) MD Kevin Olavarria (J.P. McCaskey), 11-3
189 Tucker Hogan (Daniel Boone) TF Melquan Warren (Whitehall), 15-0 3:45
189 Dean Bechtold (Owen J. Roberts) DEF Vaughn Spencer (Pine Richland), 2-1 3:23
189 Cole Bartram (Northern) DEC Adrian Gacek (Parkland), 5-1
189 Haydn Packer (Jersey Shore) DEC Brody Evans (Waynesburg), 4-3
215 Sonny Sasso (Nazareth) DEC Calvin Lachman (Quakertown), 12-5
215 John Pardo (Kennett) DEC Eli Makel (Waynesburg), 3-1
215 Jose Garcia (J.P. McCaskey) F Magnus Bibla (Crestwood), 2:14
215 Dillon Bechtold (Owen J. Roberts) DEC Connor Jacobs (Armstrong), 5-0
285 Sean Kinney (Nazareth) F Nicholai Brotzman (Donegal), 0:53
285 Ty Banco (Trinity Area) F Michael Hershey (Spring Grove), 5:56
285 Layton Schmick (Carlisle) DEC Bailey Shindle (Kennett), 6-3
285 Nicholas Pavlechko (State College) F Joe Enick (Penn Trafford), 5:24
AA Quarterfinal Results
107 Aaron Seidel (Northern Lebanon) TF Antonio Boni (Central Valley), 15-0 4:29
107 Cam Baker (Burrell) F Gage Swank (Muncy), 2:48
107 Will Detar (Trinity) DEC Dalton Wenner (Cranberry), 6-0
107 Dominic Deputy (Chestnut Ridge) DEC Kole Davidheiser (Faith Christian), 5-0
114 Ayden Smith (Notre Dame-GP) DEC Josef Garshnick (United), 7-2
114 Weston Pisarchick (Brockway) DEC Nico Fanella (Indiana), 4-3
114 Mason Mclendon (Susquenita) DEC Colton Wade (Sullivan County), 5-4
114 Landon Bainey (West Branch) DEC Cole Hubert (Saucon Valley), 6-2
121 Gauge Botero (Faith Christian) DEC Branden Wentzel (Montoursville), 1-0
121 Hudson Hohman (Grove City) DEC Max Wirnsberger (Meadowbr Christian), 7-2
121 Brandt Harer (Montgomery) TF Elijah Brosius (Cranberry), 16-1 3:11
121 Lucas Fye (Bald Eagle Area) DEC Aiden Grogg (Saucon Valley), 6-0
127 Chris Vargo (Bentworth) DEC David Kennedy (Montoursville), 7-5
127 Hunter Gould (Conneaut) DEC Arment Waltenbaugh (Faith Christian), 3-2 TB2
127 Cooper Hornack (Burrell) DEC Marvin Armistead (Berks Catholic), 5-0
127 Cyrus Hurd (North East) DEC Coen Bainey (Bald Eagle Area), 6-4
133 Jaden Pepe (Wyoming Area) MD Brody Beck (Cambridge Springs), 15-2
133 Mason Wagner (Faith Christian) DEC Dylan Granahan (Benton), 5-2
133 Scott Johnson (Muncy) DEC Charlie Robson (Conwell-Egan), 5-2
133 Conner Heckman (Midd-West) MD Jojo Przybycien (Fort LeBoeuf), 8-0
139 Anthony Evanitsky (Wyoming Area) TF Jackson Albert (Saucon Valley), 16-0 4:40
139 Brady Collins (Clearfield) DEC Bryson Vaughn (Notre Dame-GP), 2-0
139 Reagan Milheim (Warrior Run) DEC Joey Sentipal (Burgettstown), 3-2
139 Chase Hontz (Faith Christian) DEC Mason Barvitskie (Southern Columbia), 2-1
145 Kaden Milheim (Warrior Run) MD Gage Heilbrun (Marion Center), 14-2
145 Vincent Bouzakis (Notre Dame-GP) DEC Calan Bollman (Chestnut Ridge), 7-4
145 Ryan Lawler (Bishop McDevitt) DEC Cody Hamilton (Grove City), 6-5 UTB
145 Cade Wirnsberger (Meadowbr Christian) DEC Trent Hoover (Penn Cambria), 3-1
152 Conner Harer (Montgomery) F Caullin Summers (Sharpsville), 0:29
152 Cael Weidemoyer (Faith Christian) DEC Ryan Celaschi (Frazier), 7-4
152 Cameron Milheim (Warrior Run) MD Steffan Lynch (North East), 18-7
152 Max Bluhm (Lackawanna Trail) DEC Ty Watson (Penns Valley), 3-1 SV
160 Grant Mackay (Laurel) F Chance Kimmy (General McLane), 2:50
160 Collin Hearn (Conneaut) DEC Jagger Gray (Trinity), 7-1
160 Deegan Ross (Lackawanna Trail) DEC Zeke Dubler (Glendale), 11-6
160 Hunter Hohman (Grove City) MD Luke Sugalski (Faith Christian), 16-3
172 Holden Garcia (Notre Dame-GP) DEC Caleb Close (Bald Eagle Area), 3-0
172 Jalen Wagner (Reynolds) DEC Caden Finck (Montgomery), 4-2
172 Adam Waters (Faith Christian) F Mason Higley (Towanda), 0:50
172 Braedon Welsh (Fort Cherry) DEC Conner Mcchesney (Fort LeBoeuf), 4-3
189 Rune Lawrence (Frazier) DEC Jacob Jones (Saucon Valley), 1-0
189 Magnus Lloyd (General McLane) DEC Lucas Miller (NWestern Lehigh), 7-0
189 Jakob Gilfoil (Bishop McDevitt) DEC Rowan Holmes (Somerset), 8-1
189 Jackson Zimmerman (Brookville) F Josh Ryan (Mount Union), 2:34
215 Austin Johnson (Muncy) MD Grant Mathias (Berlin Brothersvalley), 12-4
215 Dan Church (Fort LeBoeuf) DEC Vitali Daniels (Bentworth), 5-1
215 Brenan Morgan (Central Valley) MD Seth Ross (Lackawanna Trail), 16-8
215 Abe Keep (Girard) DEC Brody Kline (Berks Catholic), 3-1 SV
285 Riley Robell (Bishop McDevitt) F Braden Ewing (Tyrone), 0:50
285 Carson Neely (Port Allegany) DEC Daniel Williams (Glendale), 7-1
285 Aiden Compton (Notre Dame-GP) F Gunner Singleton (Huntingdon Area), 4:51
285 Emmanuel Ulrich (Mifflinburg) DEC Mike Mazurek (Sharon), 1-0
AAA Round of 16 Results
107 Tanner Mizenko (Canon-McMillan) F Ashton Kriss (Elco), 5:35
107 Luke Sirianni (Abington Heights) MD Brody Bishop (Hickory), 15-5
107 Nicholas Salamone (Easton) DEC Thunder Beard (Central Dauphin), 8-7 TB2
107 Colby Martinelli (Pennridge) F Ejiro Montoya (Mt. Lebanon), 1:00
107 Braiden Weaver (Altoona) DEC Dorian Hoffman (Wyoming Vly W), 3-2
107 Santino Sloboda (Butler) DEC Max Tancini (Perkiomen Valley), 3-0
107 Curtis Nelson (Ridley) DEC Mckaden Speece (Wilson), 10-5
107 Keanu Dillard (Bethlehem Cath) MD Connor Lenahan (Council Rock S), 14-4
114 Nathan Desmond (Bethlehem Cath) F Christopher Kelly (Easton), 1:16
114 Tyler Kapusta (Franklin Regional) DEC Braxton Keiffer (Manheim Central), 3-2
114 Chris Dennis (Central Bucks W) TF Drew Scherer (Boiling Springs), 16-0 2:43
114 Logan Sallot (McDowell) DEC Connor Smith (Seneca Valley), 4-2
114 Luke Willochell (Greater Latrobe) DEC Cole Coffin (Pennridge), 6-0
114 Carson Wagner (Northampton) MD Dysen Gould (Punxsutawney), 9-0
114 Cole Mcfarland (Haverford) F Alex Reed (Shikellamy), 3:06
114 Kaedyn Williams (Manheim Township) DEC Tyson Cook (West Scranton), 9-6
121 Cael Nasdeo (Williamsport) F Simon Zamudio (Hazleton Area), 0:37
121 James Garcia (Wilson) DEC Quinn Mcbride (Pennridge), 5-4
121 Marco Tocci (Warwick) DEC Ryan Klingensmith (Kiski Area), 8-3
121 Christian Horvath (Freedom) DEC Branden Rozanski (Upper Perkiomen), 7-0
121 Mason Ziegler (Quakertown) MD Jacob Layton (Connellsville), 8-0
121 Hunter Johnson (Mifflin County) DEC Scotty Raymond (Pocono Mt East), 6-0
121 Trey Wagner (Northampton) DEC Brady Joling (Chartiers Valley), 3-0
121 Dean Houser (Daniel Boone) F Andrij Szczesniuk (Coatesville), 2:00
127 Vinny Kilkeary (Greater Latrobe) F Liam Flanagan (Central Dauphin), 4:48
127 Benjamin Fanelli (Easton) DEC Blake Boyer (Kennett), 3-1 SV
127 Hayden Cunningham (State College) F Quinn Smith (Spring-Ford), 0:50
127 Tyler Chappell (Seneca Valley) DEC Tyler Adams (York Suburban), 3-1
127 Tahir Parkins (Nazareth) TF Hunter Delaney (Sun Valley), 19-4 5:22
127 Andrew Binni (Canon-McMillan) DEC Luke Mentzer (Chambersburg), 7-0
127 Seamus Mack (Hempfield) F Sammy Staab (Cathedral Prep), 1:07
127 Michael Turi (West Scranton) DEC Eren Sement (Council Rock N), 9-8
133 Maddox Shaw (Thomas Jefferson) F Jake Mitchell (Cumberland Valley), 0:35
133 Keegan Demarest (Pocono Mt East) DEC Brendan Orr (Dubois), 4-1
133 Cael Mcintyre (Bethlehem Cath) DEC Jared Fulton (Solanco), 5-0
133 Gavin Sheridan (Boyertown) DEC Gabriel Ruggieri (Connellsville), 5-3
133 Luke Simcox (Central Mountain) DEC Gunnar Myers (Wallenpaupack), 3-0
133 Ethan Lebin (Hempfield Area) DEC Kane Lengel (Kennett), 7-0
133 Rocco Fratelli (Northern) DEC Carmen Cortese (WC Henderson), 3-1 SV
133 Anthony Ferraro (Pine Richland) DEC Charlie Bunting (Nazareth), 3-1
139 Pierson Manville (State College) F Jake Neill (Central Bucks S), 1:01
139 Nate Roth (Greater Latrobe) DEC Jack Campbell (Nazareth), 4-2
139 Oliver Fairchild (Easton) DEC Sam Kuhns (Pennridge), 1-0
139 Blake Reihner (Trinity Area) DEC Elias Long (Central York), 4-3
139 Eli Carr (Hempfield Area) MD Gavin Carroll (Quakertown), 14-2
139 Dalton Perry (Central Mountain) F Gavin Reynolds (Central Dauphin), 0:41
139 Gabriel Pecaitis (Gettysburg) DEC Austin Mcmillan (Oxford Area), 4-2
139 Kollin Rath (Bethlehem Cath) DEC Connor Saylor (Hickory), 10-4
145 Mac Church (Waynesburg) F Dalton Monger (Pottsville), 2:44
145 Aiden Swann (Cocalico) DEC Brandon Carr (Sun Valley), 8-3
145 Jake Doone (Nazareth) DEC Ean Wilson (Boiling Springs), 10-8 SV
145 Asher Cunningham (State College) DEC Max Parnis (WC East), 7-0
145 Collin Gaj (Quakertown) DEC Charlie Scanlan (Bethlehem Cath), 5-1
145 Nico Taddy (West Allegheny) DEC Carter Weaver (Williamsport), 7-0
145 Griffin Walizer (Central Mountain) DEC Ryan Santiago (Liberty), 6-4
145 Matt Repos (Central Dauphin) MD Chris Cibrone (Peters Township), 10-2
152 Ty Watters (West Allegheny) TF James Geiger (Easton), 23-7 4:53
152 Michael Duggan (Boiling Springs) DEC Artis Simmons (McDowell), 9-7
152 Sam Gautreau (Owen J. Roberts) DEC Gabriel Belga (Cumberland Valley), 3-2
152 Dagen Condomitti (Northampton) DEC Parker Kearns (Mifflin County), 7-2
152 Griffin Gonzalez (Lebanon) DEC Luke Sipes (Altoona), 3-1
152 Lucas Kapusta (Hempfield Area) DEC Brian Heard (Abington Heights), 5-3 SV
152 Jake Dailey (Bethlehem Cath) DEC Zach Borzio (Quakertown), 8-6
152 Ryan Garvick (Central Dauphin) DEC Bode Marlow (Thomas Jefferson), 8-2
160 Shawn Taylor (West Allegheny) F Adam Rohan (North Allegheny), 5:26
160 Brett Barbush (Manheim Central) F Jimmy Spindler (Pittston Area), 5:46
160 Mike Beers (Central Dauphin) DEC Caleb Butterfield (McDowell), 4-2
160 Bekhruz Sadriddinov (Council Rock S) DEC Nolan Krazer (Easton), 5-2
160 Andrew Harmon (Bethlehem Cath) TF Connor Wetzel (Shikellamy), 15-0 5:33
160 Dylan Evans (Chartiers Valley) TF Josh Barlow (Kennett), 25-10 5:10
160 Gavin Pascoe (Perkiomen Valley) F Gino Serafini (Central Mountain), 2:39
160 Dominic Frontino (Shippensburg) MD Gavyn Beck (Franklin Regional), 15-2
172 Rocco Welsh (Waynesburg) F Tasso Whipple (Penn Trafford), 1:10
172 Macon Myers (Central York) F Terrell Mcfarland (Pottsville), 2:24
172 Blaise Eidle (Wilson) DEC Carter Weaverling (State College), 5-1
172 Luke Thomas (Bethlehem Cath) DEC Hayden Mclellan (Conestoga), 3-1
172 Dominic Wheatley (Nazareth) MD Anthony Deangelo (Carlisle), 9-0
172 Matthew Furman (Canon-McMillan) F Carson Pascoe (Perkiomen Valley), 3:33
172 Talan Hogan (Pennridge) DEC Avery Aurand (Mifflin County), 5-2
172 Kevin Olavarria (J.P. McCaskey) DEC Mark Gray (Kiski Area), 9-6
189 Tucker Hogan (Daniel Boone) TF Jake Conroy (Ringgold), 18-2 3:05
189 Melquan Warren (Whitehall) DEF Tucker Teats (Selinsgrove), 5-1 1:52
189 Dean Bechtold (Owen J. Roberts) DEC Rocco Serafini (Central Mountain), 11-6
189 Vaughn Spencer (Pine Richland) DEC Aiden Hight (Chambersburg), 7-1
189 Adrian Gacek (Parkland) TF Sam Milligan (Strath Haven), 16-1 4:37
189 Cole Bartram (Northern) DEC Juliano Marion (Franklin Regional), 6-1
189 Brody Evans (Waynesburg) DEC Jake Allred (Conestoga), 3-1
189 Haydn Packer (Jersey Shore) DEC Tyler Withers (Gettysburg), 6-3
215 Sonny Sasso (Nazareth) F Corey Boerio (Greater Latrobe), 3:02
215 Calvin Lachman (Quakertown) DEC Zach Evans (Chambersburg), 12-5
215 John Pardo (Kennett) DEC Mason Rebuck (Shikellamy), 5-3
215 Eli Makel (Waynesburg) DEC Diesel Koser (Shippensburg), 5-0
215 Jose Garcia (J.P. McCaskey) F Dominic Demeno (Pottsgrove), 1:30
215 Magnus Bibla (Crestwood) DEC Owen Ott (Penn Trafford), 5-4
215 Connor Jacobs (Armstrong) F Troy Peterson (McDowell), 4:07
215 Dillon Bechtold (Owen J. Roberts) MD Brandon Stiehler (Pocono Mt West), 11-0
285 Sean Kinney (Nazareth) F Jack Crider (Kiski Area), 0:34
285 Nicholai Brotzman (Donegal) DEC Peyton Kearns (Mifflin County), 3-1 TB2
285 Ty Banco (Trinity Area) F Zach Gallagher (Dubois), 0:57
285 Michael Hershey (Spring Grove) DEC Joe Collins (Central Bucks E), 3-0
285 Layton Schmick (Carlisle) DEC Joey Schneck (Pine Richland), 6-3
285 Bailey Shindle (Kennett) DEC Andrew Brennan (LaSalle), 7-2
285 Joe Enick (Penn Trafford) DEC Ben Farabaugh (Strath Haven), 6-3
285 Nicholas Pavlechko (State College) DEC Maxwell Roy (St. Joseph's Prep), 8-7
AA Round of 16 Results
107 Aaron Seidel (Northern Lebanon) TF Caleb Hummel (Philipsburg-Osceola), 18-3 4:54
107 Antonio Boni (Central Valley) DEC Sierra Chiesa (Northwestern), 6-5
107 Cam Baker (Burrell) F Steven Willis (Corry), 3:28
107 Gage Swank (Muncy) F Griffin Tinsman (Marion Center), 5:55
107 Dalton Wenner (Cranberry) DEC Jacob Sombronski (United), 7-0
107 Will Detar (Trinity) F Aristotelis Bobotas (Montoursville), 3:00
107 Kole Davidheiser (Faith Christian) F Seth Kolb (Benton), 2:59
107 Dominic Deputy (Chestnut Ridge) F Jeffrey Spofford (Conwell-Egan), 2:33
114 Ayden Smith (Notre Dame-GP) MD Parker Sentipal (Burgettstown), 10-2
114 Josef Garshnick (United) F Cole Patrick (Wyalusing), 2:52
114 Nico Fanella (Indiana) F Jace Gessner (Lewisburg), 2:56
114 Weston Pisarchick (Brockway) DEC Easton Mull (Chestnut Ridge), 7-1
114 Colton Wade (Sullivan County) DEC Jorden Willams (Chartiers-Houston), 5-1
114 Mason Mclendon (Susquenita) TF Aiden Beimel (St. Marys), 16-1 5:46
114 Cole Hubert (Saucon Valley) DEC Carter Beck (Saegertown), 1-0
114 Landon Bainey (West Branch) F Kevin Bagnell (Conwell-Egan), 1:58
121 Gauge Botero (Faith Christian) TF Sebastian Chiesa (Northwestern), 15-0 2:07
121 Branden Wentzel (Montoursville) F Jack Kazalas (Quaker Valley), 5:48
121 Max Wirnsberger (Meadowbr Christian) DEC Gideon Bracken (United), 6-3
121 Hudson Hohman (Grove City) DEC Gunnar Maciejewski (Berks Catholic), 10-3
121 Brandt Harer (Montgomery) TF Lucas Barr (McGuffey), 15-0 4:30
121 Elijah Brosius (Cranberry) DEC Jackson Rush (West Perry), 3-1
121 Aiden Grogg (Saucon Valley) DEC Jake Bennett (Fort LeBoeuf), 1-0
121 Lucas Fye (Bald Eagle Area) DEC Matthew Almedina (MId Valley), 6-1
127 Chris Vargo (Bentworth) F Collin Ramsay (Pen Argyl), 5:17
127 David Kennedy (Montoursville) DEC Cole Householder (Brookville), 7-5
127 Hunter Gould (Conneaut) MD Tyler Ulrich (Warrior Run), 9-0
127 Arment Waltenbaugh (Faith Christian) MD Kobi Burkett (Chestnut Ridge), 8-0
127 Marvin Armistead (Berks Catholic) DEC Matthew Smith (Midd-West), 8-4
127 Cooper Hornack (Burrell) DEC Hayden Yacoviello-andrus (Bermudian Spr), 6-1
127 Coen Bainey (Bald Eagle Area) DEC Steven Harris (Conwell-Egan), 5-4
127 Cyrus Hurd (North East) DEC Nolan Baumert (Line Mountain), 7-1
133 Jaden Pepe (Wyoming Area) DEC Gaven Suica (Burgettstown), 14-7
133 Brody Beck (Cambridge Springs) DEC Blain Puchalsky (West Perry), 3-2
133 Mason Wagner (Faith Christian) DEC Chase Bell (Reynolds), 5-3
133 Dylan Granahan (Benton) DEC Peter Chacon (Montour), 5-3 SV
133 Charlie Robson (Conwell-Egan) TF Colten Shunk (Penns Valley), 16-0 2:22
133 Scott Johnson (Muncy) TF Kross Cassidy (Bedford), 17-2 4:39
133 Conner Heckman (Midd-West) DEC Jamison Poklembo (Mt. Pleasant), 1-0
133 Jojo Przybycien (Fort LeBoeuf) DEC Mason Weyant (Chestnut Ridge), 8-2
139 Anthony Evanitsky (Wyoming Area) MD Cameron Mingee (Littlestown), 12-2
139 Jackson Albert (Saucon Valley) DEC Liam Cornetto (Marion Center), 7-5 SV
139 Bryson Vaughn (Notre Dame-GP) DEC Taylor Smith (Juniata), 6-1
139 Brady Collins (Clearfield) DEC Ethan Kolb (Benton), 4-1
139 Joey Sentipal (Burgettstown) DEC Tyler Morrison (West Perry), 4-3
139 Reagan Milheim (Warrior Run) MD Dane Wenner (Cranberry), 14-0
139 Mason Barvitskie (Southern Columbia) DEC Wyatt Lazzar (Commodore Perry), 7-0
139 Chase Hontz (Faith Christian) DEC Niko Ferra (Burrell), 5-0
145 Kaden Milheim (Warrior Run) F Travis Riefenstahl (Saucon Valley), 2:07
145 Gage Heilbrun (Marion Center) DEC Gunnar Gage (Cambridge Springs), 2-0
145 Calan Bollman (Chestnut Ridge) DEC Nik Fegert (Curwensville), 7-1
145 Vincent Bouzakis (Notre Dame-GP) DEC Gage Wentzel (Montoursville), 6-2
145 Cody Hamilton (Grove City) MD Logan Richey (Quaker Valley), 17-3
145 Ryan Lawler (Bishop McDevitt) DEC Chase Burke (Benton), 9-6
145 Cade Wirnsberger (Meadowbr Christian) DEC Max Stein (Faith Christian), 5-3
145 Trent Hoover (Penn Cambria) MD Joey Ney (Biglerville), 16-3
152 Conner Harer (Montgomery) MD Keegan Ramsay (Notre Dame-GP), 24-11
152 Caullin Summers (Sharpsville) DEC Isaiah Pisano (Hopewell), 6-4 SV
152 Ryan Celaschi (Frazier) DEC Story Buchanan (Girard), 6-3
152 Cael Weidemoyer (Faith Christian) F Ayden Hunsinger (Wyalusing), 2:23
152 Steffan Lynch (North East) DEC Tyler Berish (Beth-Center), 1-0
152 Cameron Milheim (Warrior Run) DEC Nolen Zeigler (West Perry), 4-2
152 Max Bluhm (Lackawanna Trail) DEC Liam Scrivanich (Saucon Valley), 3-2 TB2
152 Ty Watson (Penns Valley) F Reece Bechakas (Kane), 3:32
160 Grant Mackay (Laurel) MD Luke Fugazzotto (NWestern Lehigh), 15-7
160 Chance Kimmy (General McLane) DEC Alex Hoffman (Milton), 3-0
160 Collin Hearn (Conneaut) MD Chase Wenrich (Lewisburg), 13-3
160 Jagger Gray (Trinity) DEC Chase Brandebura (Carlynton), 8-3
160 Deegan Ross (Lackawanna Trail) F Vito Gentile (Reynolds), 4:50
160 Zeke Dubler (Glendale) F Justice Hockenberry-folk (West Perry), 4:07
160 Luke Sugalski (Faith Christian) DEC Andrew Mcmonagle (Huntingdon Area), 7-3
160 Hunter Hohman (Grove City) F Ezra Masood (Tussey Mountain), 1:09
172 Caleb Close (Bald Eagle Area) DEC Robbie Schneider (Lackawanna Trail), 5-2
172 Holden Garcia (Notre Dame-GP) F Waylon Wehler (St. Marys), 5:53
172 Jalen Wagner (Reynolds) DEC Lucas Lawler (Bishop McDevitt), 7-5
172 Caden Finck (Montgomery) DEC Daniel Haubert (Palisades), 3-2
172 Adam Waters (Faith Christian) TF Brock Covell (Titusville), 16-1 3:50
172 Mason Higley (Towanda) DEC Kyle Scott (Tyrone), 2-1
172 Braedon Welsh (Fort Cherry) F Cole Shupp (Warrior Run), 0:35
172 Conner Mcchesney (Fort LeBoeuf) DEC Isaac Lacinski (Burrell), 5-0
189 Rune Lawrence (Frazier) F Cale Bastian (Milton), 1:16
189 Jacob Jones (Saucon Valley) MD Carter Chamberlain (Clearfield), 9-0
189 Magnus Lloyd (General McLane) DEC Jake Scheib (Tri-Valley), 7-4
189 Lucas Miller (NWestern Lehigh) DEC Paul Renner (Honesdale), 7-6
189 Jakob Gilfoil (Bishop McDevitt) F Ryan Welka (Fort LeBoeuf), 1:02
189 Rowan Holmes (Somerset) F Kaden Rodarmel (Loyalsock), 5:14
189 Josh Ryan (Mount Union) DEC Jacob Bobersky (Benton), 7-3
189 Jackson Zimmerman (Brookville) F Jason Singer (Faith Christian), 5:17
215 Austin Johnson (Muncy) MD Tucker Paynter (Trinity), 14-2
215 Grant Mathias (Berlin Brothersvalley) F Dante Burns (Conwell-Egan), 5:49
215 Vitali Daniels (Bentworth) DEC Mark Effendian (Faith Christian), 7-3
215 Dan Church (Fort LeBoeuf) TF Christian Mcchesney (Greensburg Salem), 17-1 4:47
215 Brenan Morgan (Central Valley) F Kollin Brungart (Penns Valley), 0:46
215 Seth Ross (Lackawanna Trail) F Brayden Mcfetridge (Cranberry), 1:51
215 Abe Keep (Girard) F Cole Yonkin (Montoursville), 3:39
215 Brody Kline (Berks Catholic) DEC Dylan Pitzer (Mt. Pleasant), 7-1
285 Riley Robell (Bishop McDevitt) F Wilson Spires (General McLane), 0:52
285 Braden Ewing (Tyrone) F Andrew Wolfe (Benton), 3:25
285 Daniel Williams (Glendale) DEC Mason Nelson (Canton), 5-4
285 Carson Neely (Port Allegany) DEC Joseph Baronick (Burgettstown), 7-1
285 Emmanuel Ulrich (Mifflinburg) F Peyton Wentzel (Upper Dauphin), 1:10
285 Gunner Singleton (Huntingdon Area) F Bruce Hartman (Berwick), 3:32
285 Aiden Compton (Notre Dame-GP) DEC Gavin Thompson (Brockway), 3-0
285 Mike Mazurek (Sharon) DEC Owen Reber (Berks Catholic), 3-2 UTB