2023 NCAA Watch Party: Conference Weekend
Cyclone Insider: Big 12 A Numbers Game
Cyclone Insider: Big 12 A Numbers Game
Kevin Dresser hopes to see 10 Cyclones qualify for NCAAs this weekend at the Big 12 Championships, and he believes that's realistic for ISU.
Mar 2, 2023
by Roger Moore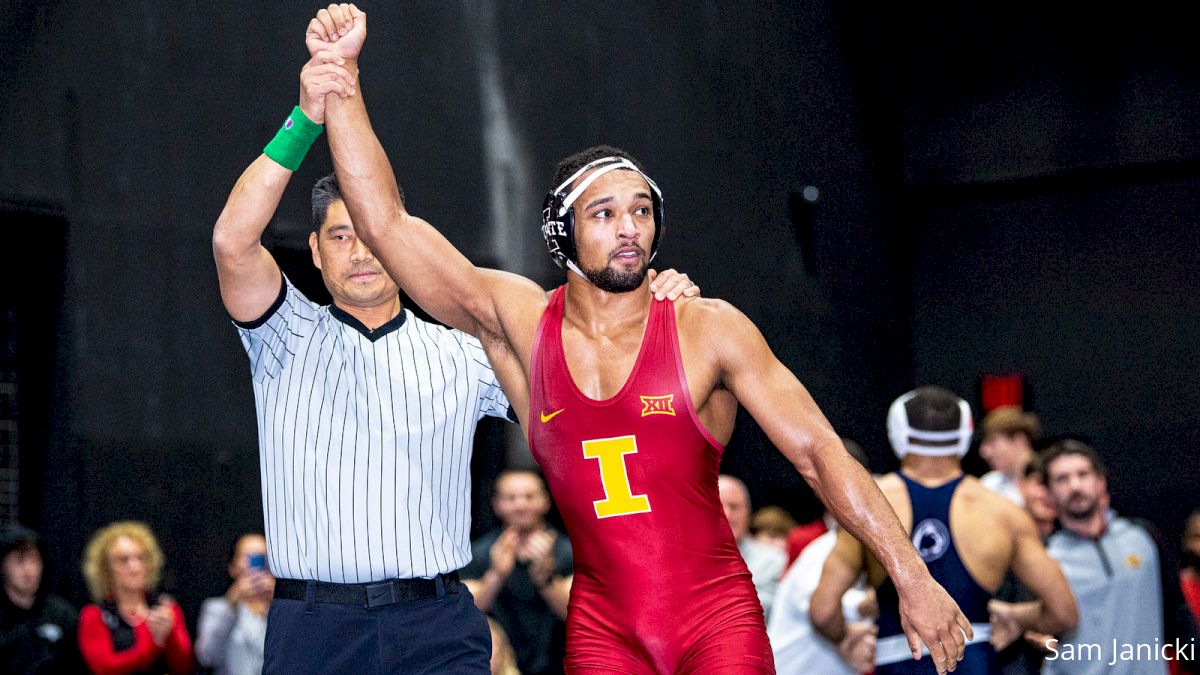 Unlock this article, live events, and more with a subscription!
Get Started
Already a subscriber? Log In
6 + 3 + 1 = 10.
Ten is the number every Big 12 Conference wrestling coach wants to hear Sunday evening when they leave Tulsa's BOK Center following two days of competition. Sure, Kevin Dresser and staff want to hoist a conference championship trophy – it would be Iowa State's first since 2010 – but at the end of the day it is about bringing 10 wrestlers back to Tulsa later this month for the 2023 NCAA Championships. The Big 12 received 65 automatic qualifiers.
For ISU, after a solid dual meet season that saw its only defeats to Penn State, Iowa, and Missouri, there are six wrestlers in that more-or-less safety zone. Their body of work during the regular season means a bad two days in Tulsa won't end their season. Three unseeded wrestlers have work to do, must pull a few "upsets" to steal a qualification spot. If they do not, the odds of earning one of those coveted NCAA Committee picks, are slim-to-none. The "1" is 157-pounder Jason Kraisser, who enters this weekend at 14-11, seeded seventh in a weight with seven allocations. The senior is among a long list of wrestlers, not just in Tulsa but nationwide and across all weight classes, who enter the postseason on that thing called the "bubble."
For the Cyclones to challenge for top honors in Tulsa and for a trophy two weeks later in the same venue, it will require an all-hands-on-deck approach from the "Big 5" of Paniro Johnson, David Carr, Marcus Coleman, Yonger Bastida, and Sam Schuyler and the supporting cast.
"The nice thing about the postseason is that it is really short and hopefully we've learned a lot from the regular season," Dresser said. "We have a group of guys who are excited, a group of guys who are healthy, and that is all you can ask for this time of year."
Certainly not on that bubble is Carr (20-0), who's coming off a solid 7-2 win over Missouri's Keegan O'Toole, the NCAA 165-pound king last March. A three-time league champion and NCAA champ two seasons ago, Carr has already surpassed his father's two league titles from the Big Eight era. The younger Carr is bringing a healthy attitude to Tulsa that he expects to rub off on his teammates.
"The adjustments I've seen, the focus, that's what you want at the end of the year," Carr said. "Very focused, very calm and I'm hoping that me and some of the older guys can show that being relaxed, being poised, being sharp, and that those guys can feed off that as well.
"We've stressed that a lot … we have to wrestle for everybody. Even though this is the individual part, everyone should still be thinking that if 'I can get bonus, extend that lead I'm going to do it.'"
Also firmly in the NCAA bracket is Coleman (17-2 at 184) and Bastida (14-4 at 197), each an All-American a year ago. After sprinting out of the gates, Johnson (14-4 at 149) has slowed but is still plenty formidable, while Schuyler (15-2 at 285) has provided some heroics in dual meets and gained confidence as the schedule has progressed. Zach Redding (13-9), seeded third, is among a large group battling behind three-time NCAA finalist and top-seeded Daton Fix at 133 pounds.
The three with their seasons on the line? 125-pounder Corey Cabanban (4-2), part of an injury-filled group of Cyclones at the weight all season; talented rookie 141-pounder Casey Swiderski (8-8), who has not been the same since injury in December; and 174-pounder Julien Broderson (14-10), who faces top-seeded Peyton Mocco in the opening round Saturday. Swiderski's weekend starts with veteran Clay Carlson of South Dakota State.
"Deep weight … going to be a lot of close matches," said Dresser of the 141-pound bracket where seven automatically qualify for the NCAAs. "His mindset going into it is going to be really important. He's trained really well, but he's always trained well. With freshmen, especially with true freshmen, nothing surprises me, good or bad, so we'll see what happens."
While talking about his heavyweight on Wednesday, Dresser made mention of perhaps the biggest key to the postseason: confidence. It applies, however, to all 10 Cyclones.
"Confidence is the most dangerous weapons in sports, especially when you've got it," Dresser said.
Since finishing seventh at the 2018 Big 12 Championships, ISU has gone 2-2-3-3 at the last four league meets. Missouri, slight favorites this weekend, won the 2022 title by 18.5 points over Oklahoma State, who tied with Oklahoma atop the 2021 standings. Surprisingly, since 2015, other than Carr, only five Cyclones have won conference titles – Gannon Gremmel (2021), Ian Parker (2020), Chase Straw (2019), Leland Weatherspoon (2016), and Kyven Gadson (2015).
Wrestling begins Saturday afternoon and concludes with Sunday night's finals.