The Complete New Jersey State Wrestling Championship Preview
The Complete New Jersey State Wrestling Championship Preview
Get ready for the New Jersey State Wrestling Championships with a thorough breakdown of all 14 weight classes.
Mar 2, 2023
by Brendan Scannell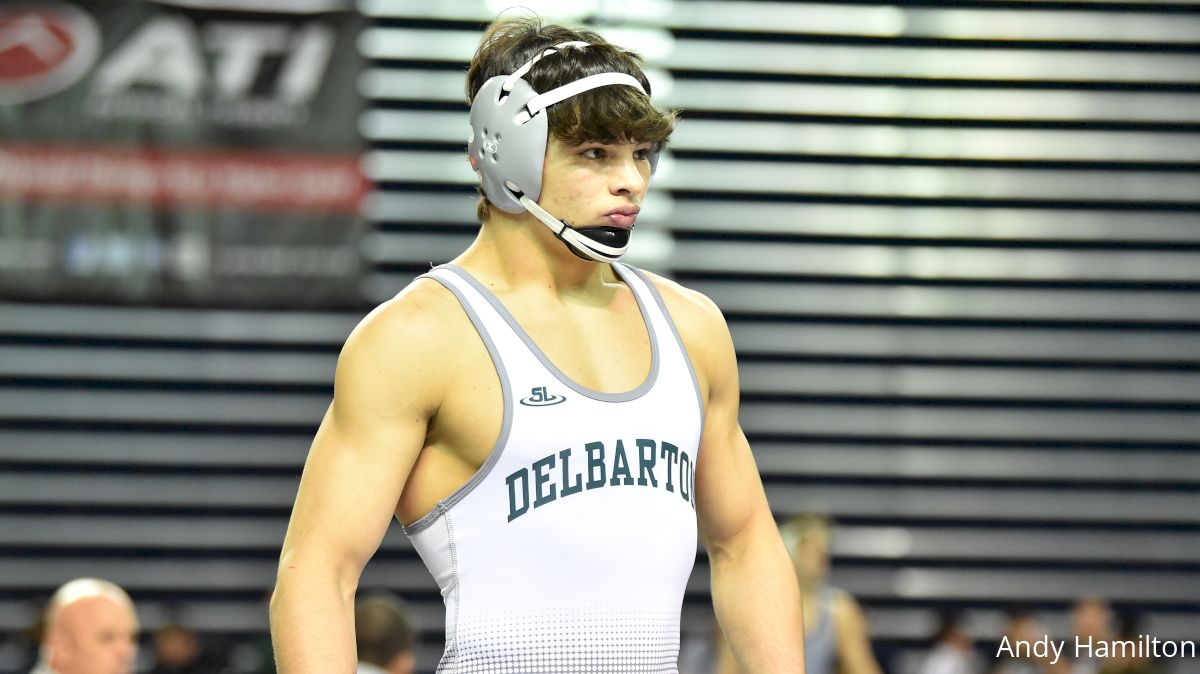 It's that time of year again. This weekend, Atlantic City plays host to the always incredible New Jersey State Wrestling Championships, where 14 young wrestlers will be crowned champions. This year's tournament has the makings to be the most exciting in years and we have the FULL bracket breakdown here for you!
You can also find brackets HERE on Trackwrestling.com.
106
You won't want to miss a single round at this weight class. The New Jersey State Championships are sure to start off with a bang on Day 1 with huge matches beginning in the Round of 32.
The weight is led by two upperclassmen, Logan Wadle and Aiden Carmody, who own the top two seeds but a path to the final for both will not be an easy one – and certainly not guaranteed. A group of stellar freshmen including Nathan Braun, Jonathon McGintey, Sal Borrometi, Anthony Mason, Anthony DiAndrea, and Colton Hagerty all look to have the goods to knock off an upperclassman and wrestle their way to the finals.
With a lot of talented freshmen lacking seeding criteria, most of these guys should be tested early. Another junior eyeing a solid draw is Aiden Scheeringa who dropped down to the weight class only weeks ago like Wadle.
Wadle has been knocking on the door of a state title for the past couple of years now and will hope to become the first senior to win at the lowest weight class in over 20 years since Patrick Dattalo did it back in 2002. His likely quarterfinal against St Joe's Jon McGinty is one to have circled.
First Round Match We Won't Miss: (13) Tyler Hildebrandt, Williamstown vs (20) Jack Bergmann, Lakeland
113
Delbarton freshman Jayden James has been #1 at this weight all season long after a fourth-place finish at Super 32 in the fall, but there are plenty of guys right on his tail. Kaden Naame was a third-place finisher in the state a year ago, and despite wrestling a shortened season due to some injuries, is back at 113 pounds and wrestling his best fresh off a Region 8 title.
It could be a battle of the freshmen in the bottom half semi with James lined up to face fellow freshman Bobby Duffy who should be enjoying his spot in the bracket at the 3-seed.
But first, Duffy will need to get through Old Bridge junior Logan Roman who threw his hat in the ring after knocking off Anthony Rossi in the Region 5 final last week.
The top-side semifinal between Naame and Tyler Hagensen could pit two returning state placewinners against each other. Hagensen was injured back in at Escape the Rock in a match with Jake Talarico. That injury default led to Talarico getting the seeding nod, so the pair will work things out in a likely quarterfinal.
This has easily been the most tumultuous weight class in the state when it comes to rankings and the state tournament always brings madness so don't expect it to slow down this weekend. Guys like Anthony Rossi, Logan Brzozowski, Dalton Webber, and Devin Ryan could certainly spoil any of the above plans.
First Round Match We Won't Miss: (7) Kurt Wehner, Donovan Catholic vs (26) Malik Asfour, Lodi
120
120 pounds is led by three former state champs — the most of any weight across the state.
Anthony Knox is the name you know best, and certainly enters as the favorite, but the super sophomore has his work cut out for him this weekend.
Dan Jones was a state champ in 2021 and fell to Knox on the topside at last year's tournament. This year, they sit on opposite sides of the bracket. Max Elton will have his say, though, too. Elton's potential quarterfinal against Camden Catholic freshman Sammy Spaulding should be a fun one.
Let's not forget about last season's 106-pound state champ Adrian DeJesus, who will need to win a rematch over freshman phenom Santino Rodriguez to reach the semifinal against Knox. Rodriguez's length and action from the neutral position poses a tough matchup for everyone in this weight class, which DeJesus learned a few weeks ago.
Three returning champs and plenty of freshman talent makes this a weight class you don't want to miss.
First Round Match We Won't Miss: (11) Giovanni Schinina, St Peter's Prep vs (22) Jackson Slotnick, St Augustine Prep
126
After coming off a weight with three state champs, it's hard to believe it can get better, but this crop at 126 is deep and talented. A total of seven returning state placewinners make up the top seven seeds. Still, whoever wins here will be winning it all for the first time.
Luke Stanich has held the #1 spot all year thanks to an undefeated season and an appearance in the Fargo finals this summer. He came devastatingly short of a state championship last year against Evan Tallmadge, but the Roxbury senior is wrestling like he's ready to climb the podium for the first time. Things will get going as early as the quarterfinals, though. Stanich will likely get three-time state placer Jack Zaleski first thing Friday morning. The two haven't met at states since way back when they were freshmen when Zaleski beat Stanich in the fifth-place match.
On the bottom half, Camden Catholic's Jackson Young is primed for a deep states run after besting two-time placewinner Conor Collins at last weekend's Region 7 final to win MOW. His quarterfinal against fellow South Jersey wrestler Nathan Taylor and Collins' quarter against sophomore and Beast of the East runner-up Caedyn Ricciardi will be two of the biggest at this weight.
Talk about a wide-open weight class. Take your pick.
First Round Match We Won't Miss: (23) Josh Lee, Warren Hills vs (10) Marco Alarcon, Don Bosco Prep
132
Anthony Santaniello comes in as one of the biggest favorites of the weekend, but you can be sure the Oklahoma commit will be ready to roll. Despite winning a state title in 2021 at Phillipsburg ("COVID" season), Santaniello has been a runner-up in two previous trips to Boardwalk Hall, so he'll be hungry to finish the job this weekend.
Expect to see plenty of points scored from Santaniello, whose dynamic offense on his feet and on the mat paired with some high-level scrambling ability will make him tough to knock off. Kage Jones and Wyatt Stout had one of the best finals matches of Region 7 and (if seeds hold) could meet again in the quarters for a chance at Santaniello.
Second-seeded Donovan Chavis has quietly put together a super impressive career that's earned him some appearances in the national rankings as one of St Peter's many standouts.
Joining him in the bottom quarter is Patrick O'Keefe, who is certainly one to watch after making a state final at 106 pounds a year ago. O'Keefe might be giving up some size but seems to be settling into the weight after winning Region 5. Can he channel some of that state tournament mojo from a year ago?
First Round Match We Won't Miss: (5) Kage Jones, Camden Catholic vs (28) Nicholas Balella, Hackettstown
138
What felt like a weight class that was dominated by returning state champion Tyler Vazquez got a lot more interesting in the last couple of weeks after Vazquez was upended by Mateo Sgambellone in the Non-Public A state final.
That loss had serious seeding implications with Vazquez falling to the #5 seed and will need to avenge that loss to a peaking Sgambellone to get a chance against the state's new #1 and returning fourth-place finisher Alex Nini in the semifinals. A win over Vazquez Friday night would likely be the biggest win so far in the CBA junior's already stellar career.
Zach Reilley earned the #2 seed with his Region 5 win over Giovanni Alejandro that really shook things up and gave the Raritan junior the best draw in the bracket.
This is another weight where those spots on the podium are wide open, as Vazquez and Nini are the only two that have placed before!
First Round Match We Won't Miss: (15) Justin Holly, Pope John XXIII vs (18) Jason Brown, Cherokee
144
The top 5 here is as good as you'll find in any state across the country. This weight could be wrestled 10 times and you might see a different result every time.
Who is the favorite? It's hard to say. Julian George is the #1 seed. George and the #2 seed Yannis Charles put on the most exciting bout of the regular season that Charles won 16-14. But Charles also split with Bergen Catholic's Ryan Ford. That bottom-half semi between Ford and Charles should be one of the weekend's best. Both guys are elite on their feet and aren't afraid to cut it loose.
Ford's been a stalwart in the BC lineup for three years and has placed twice. Charles has been one of the most pleasant surprises of the 2023 season after moving to New Jersey from South Carolina and climbing as high as #1 in the state rankings.
In the top half, returning placers Jamar Dixon and Richie Grungo will go at it once again after two recent meetings where Grungo won both – most recently in the Region 8 final. Delsea was the best team in South Jersey this year, but the Crusaders were overshadowed a bit at Region 8 by St Augustine team that crowned champions at five weight classes. Dixon and Delsea will be seeking to get one of those back on Friday night.
Don't miss these semis.
As for the rest of this weight, Brandon Dean won a Region 3 title over Davi who is a former state placewinner. Jonathan Fuller and Mayson Harms both placed at Beast while Jacob Zearfoss was Gloucester's first Region champion. These guys are headed to AC looking to bust up some brackets.
Whoever wins this one should have a serious case for MOW.
First Round Match We Won't Miss: (25) Renaldo King, Rancocas Valley vs (8) Jonathan Fuller, St Peter's Prep
150
This is another weight class where it's tough to pick a favorite amongst the top few.
Brady Conlin, who returned to New Jersey this season after a one-year hiatus at Lake Highland Prep looks to be South Jersey's best chance at a state champion in 2022. In the semis he should get Cross Wasilewski, a senior from Delbarton, who brings the pace and has been more than battle-tested on his road to AC. The two met in the consolation bracket of the state tournament back in 2021 where Conlin won.
Matt Henrich, the #1 seed from Southern took out Wasilewski a month ago to claim the #1 ranking and the top seed in Atlantic City. Southern proved itself to be the state's best public-school team this year and the Rutgers-bound Henrich was its star.
Another guy you've got to be at the lookout for is Delran's Drew Roskos who was named New Jersey Soccer Player of the year this fall and is one heck of a wrestler, as well. Roskos has the pace, speed, and athleticism to knock off anybody in this bracket and proved as much by taking Henrich to the brink before falling in ultimate tiebreakers in the Region 7 final. They'll likely meet again in the quarters.
Ben Garcia is one of nine qualifiers for a resurgent Don Bosco squad and is an immediate contender after beating returning fourth-place finisher Frank DiBella in the Region 1 final. Chris Bacchioni, John Quinonez and Donovan DiStefano will all have their say, as well.
First Round Match We Won't Miss: (11) Landon Kearns, St Thomas Aquinas vs (22) Cael Huxford, Jackson Memorial
157
This weight class is a lot like the previous one in that there are multiple guys who are capable of climbing atop the podium and all are very familiar with one another.
Zach Ballante got rewarded with a #1 seed, thanks to a Region final win over three-time placer Aidan Wallace. His reward is being placed topside with Alessio Perentin, a Delbarton sophomore who sat atop the rankings all year, winning a title at Beast of the East, and making the Powerade finals. Earlier this season, Perentin told FloWrestling, "I want to win everything" and States is next on his list.
Wallace, one of only eight three-time state placewinners in AC this weekend, still earned the 2-seed but is looking at a quarterfinal matchup with Jordan Chapman who despite never placing in the state tournament before is a fourth-place finisher at Fargo. That should be a good one.
Similarly, Zander Silva is another returning placewinner eyeing a tough draw against undefeated Thaylor Sibblies in the second round.
Navy-bound Tyler Sagi is hungry for his first finish on the state podium and is a tough draw for anyone in this bracket. If he can get past David Hussey in the second round, a matchup with the top-seeded Ballante awaits.
First Round Match We Won't Miss: (17) Ryan Datz, Pitman vs (16) Gustavo Alarcon, Don Bosco Prep
165
This weight feels like a battle between the top two guys after Louie Cerchio and Jasiah Queen have been dominating competition all season long. The pair met way back in the first week in the Beast of the East finals where Cerchio won 10-1. Cerchio is a 16U Fargo champ and Queen placed eighth in the Junior division this past summer. Both guys are still eyeing their first appearance in the state finals but are currently wrestling better than they ever have before.
But don't count out Mike Murphy, who placed seventh last year and has been rock solid so far this season. He got a topside draw, though and should see Cerchio in the semifinals.
Another name that sticks out in a crowded topside is Garrett Tettemer who got on the podium last year in Pennsylvania for Notre Dame Green Pond and has hopes to do the same in Atlantic City.
If you're looking for a double-digit seeded sleeper who could make a run to the finals, check out St Joe's Ryan Burton down at the 11. Burton's been a steady force in the middle of the lineup for the Non-Public A state champs and will be a tough out for anyone in this bracket.
First Round Match We Won't Miss: (21) Hunter Cleaver, Phillipsburg vs (12) Anothony Lawrence, Christian Brothers Academy
175
Simon Ruiz vs Harvey Ludington is the battle of returning state champs everyone is hoping for and though there's a lot of talent spread across this weight class, it's hard to imagine Ruiz and Ludington not clashing on Saturday night.
The three highest seeds on Ruiz' half of the bracket, he beat by a combined score of 34-3 this season. He's finished third, second and first in three trips to the state tournament and is clearly one of the state's best in the Class of 2023.
Still only a sophomore, Ludington went on a roll last year for the most exciting run of the tournament and he's going to need the same kind of Boardwalk Hall magic he and his Brick Memorial teammates are familiar with to beat the senior, Ruiz.
Other guys who could make some noise in attempt to dethrone the champs include North Carolina-bound Sabino Portella, St Joe's sophomore Rocco Dellagatta and returning state finalist Joshua Palacio.
First Round Match We Won't Miss: (21) Thomas Cleary, St John Vianney vs (12) Alexander Reyes, Holmdel
190
St Joe's senior captain and #14 in the nation, Michael Dellagatta comes in as the favorite to win his first state title. Dellagatta was a favorite to win it all last season before he fell short to the eventual champ Ludington. This year, Dellgatta's looked the part of a state champion from start to finish, occupying the #1 ranking all season long with ranked wins over Vincenzo Lavalle, Xavier Williams, Vincent Lee, and Brian Christie. He'll be pleased with his path to the finals up top.
The #2 seed LaValle, still only a sophomore, was one of last year's breakout freshmen but fell in the second round of states before going on to place third. Now, with a year under his belt he'll be hoping to make a deeper run in the winner's bracket. But this has been a competitive weight class all year long.
Absegami's George Rhodes is 3-0 this season against Lower Cape May's Brock Zurawski proving some serious mettle and grit — necessary traits for putting together a championship run at states. Both wrestlers will need to navigate a tough road to the semifinal for the chance to meet again, though. Rhodes is eyeing a quarterfinal matchup with St Peter's sophomore Anthony Harris who's notched a few ranked wins of his own this season.
Who comes out of the bottom bracket here is anyone's guess.
First Round Match We Won't Miss: (25) Danny Digiovacchino, Delsea vs (8) DJ Henry, Howell
215
In a season chalk full of parity, this might be the most-wide open, difficult to predict weight class of them all.
Six of the wrestlers at this weight have placed in the state previously, with AJ Fricchione's third-place finish last year being the highest.
Top-seeded Joseph Abill is undefeated this season against the preseason #1 Fricchione, but his draw is no cake walk either — likely facing the state's #5, Robert Canterino in the second round. Whoever wins that one should have a good path to the finals. Abill was a fifth-place finisher at heavyweight last year in a weight dominated by Jim Mullen. Now, down a weight class he's got the best chance of his career to capture that elusive state title.
Down on the bottom half, Beast of the East finalist Hudson Skove has been nothing but consistent all season long, not succumbing to some of the same slip-ups that have befallen some of his ranked counterparts and is currently ranked #1 in the state. Still, he's got the #7 seed and a tough quarterfinal against Aiden Schlett looming.
Good luck picking this one.
First Round Match We Won't Miss: (27) Cosmo Zaccaro, Central vs (6) Jarett Pantuso, Warren Hills
285
When it comes to heavyweight, all things go through Jim Mullen. The two-time state champ and Cadet World silver medalist heads to Boardwalk Hall as the #2 big guy in the nation and the biggest favorite of the weekend.
Max Acciardi has been the second-best guy at the weight all year long with wins over Lorenzo Portella, Benji Shue and Daniel Elyash. Now, he hasn't cracked the Mullen code yet after a few previous tries, but we all know anything can happen in Atlantic City if you're willing to take the gamble.
Other guys to keep your eye on as part of the podium fight include Lorenzo Portella, John Wargo and Scott Lynch.
First Round Match We Won't Miss: (19) Benjamin Shue, Bergen Catholic vs (14) Ike Sholders, Gateway/Woodbury