2023 NAIA Women's Wrestling Championship
Women's Weekly: Chasing College Wrestling History
Women's Weekly: Chasing College Wrestling History
The final list of NAIA qualifiers is here, as women's college wrestling is on the cusp of history.
Mar 1, 2023
by Kyle Klingman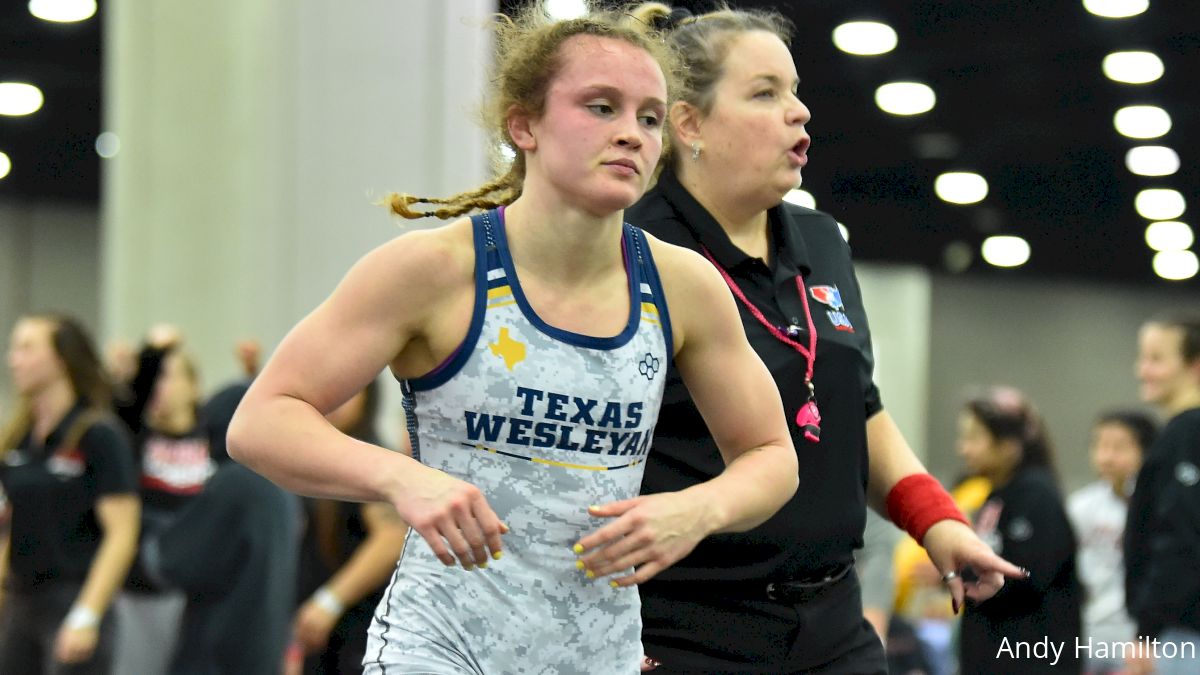 It's time to make history.
The NAIA Championships in Jamestown, North Dakota, on March 10-11 signifies a major moment for women's wrestling. It's the first sanctioned women's college wrestling championship after three years as an invitational.
The Women's Collegiate Wrestling Association (WCWA) hosted a tournament beginning in 2004, but it wasn't recognized by the NCAA or the NAIA. This adds a layer of importance since every title — team, and individual — will be considered the first.
Qualification spots were on the line over the weekend at five conference championship qualifiers. A maximum of 12 wrestlers from each team can qualify for the NAIA Championships and — unlike the NCWWC tournament — every wrestler can score team points at nationals. Bonus points cannot be earned if two wrestlers from the same team face each other at any point during the tournament.
Menlo won the inaugural NAIA Invitational in 2019, while Campbellsville won each of the past two (2021-22).
Each conference tournament awards automatic bids per weight class based on the final regular-season poll. Each conference is awarded automatic berths based on the number of wrestlers ranked in each weight class. Below is each team's full list of qualifiers, including at-large bids that were selected by a 10-member seeding committee.
Click here for the final list of qualifiers by school
Click here for the final list of qualifiers by weight
Click here for the final list of qualifiers by conference
Brackets will be released on Friday, March 3.
"We are excited to host the first-ever NAIA women's wrestling tournament," Jamestown coach Amy Golding said. "This shows how much the sport has grown. When I entered college in 2008, there were only eight programs, and now they are everywhere and growing every day.

"I've spoken with hundreds of girls across the US about their dreams of wrestling in college, of getting a degree in a fulfilling career, and ultimately making World teams. Bringing the NAIA women's nationals to our school and seeing the development across the years is every coach's dream.
"I am grateful to have such an experienced staff on campus from our AD Austin Hieb to Melissa Gleason and Steve Vogel who have both run the tournament years past. My assistant coach Eliah Golding and so many other coaches faculty staff and supporters need to be thanked, as well. This is a huge group effort and will be quite a show. I'm excited about the tournament, I'm excited for the girls Jamestown has qualified (four total) and I'm excited about what this means for women's wrestling in the future. Get your popcorn ready. I'm excited about the show."
Mid-South Conference: Bowling Green, Ohio
Life University entered the tournament ranked first and outpaced reigning champion Campbellsville by 22.5 points. The Running Eagles crowned four champions: Peyton Prussin (109), Olivia Motley (123), Sarah Savidge (130), and Latifah McBryde (155). Cumberlands finished in third but also had four champions.
"It's a testament to this team to have this level of success in a conference that is as tough as the Mid-South," Life University coach Ashley Flavin said. "I'll say it 100 more times: we are the Big Ten of women's wrestling.
"The best and worst part of being in a conference of this caliber is the same. With tough competition every week, you can never rest and you can never take anything for granted. Now we take all of the lessons and apply them as we get ready for our final test in Jamestown."
Team Standings
1 Life — 168.5
2 Campbellsville — 146.0
3 Cumberlands — 134.5
4 Indiana Tech — 108.0
5 Brewton Parker — 93.0
6 Siena Heights — 30.5
7 St. Andrews — 25.5
8 Lourdes — 24.5
9 Montreat — 22.5
10 Rochester — 0.0
Individual Champions
101: Elizabeth Dosado (Cumberlands)
109: Peyton Prussin (Life)
116: Alexis Medina (Cumberlands)
123: Olivia Motley (Life)
130: Sarah Savidge (Life)
136: Leidaly Rivera (Brewton Parker)
143: Emma Walker (Campbellsville)
155: Latifah McBryde (Life)
170: Dymond Guilford (Cumberlands)
191: Jesse Kirby (Cumberlands)
Heart of American Conference: Oskaloosa, Iowa
Grand View ran away with the team title by 43 points over in-state rival Iowa Wesleyan. The Vikings had four champions (Jasmine Alexander at 101, Catharine Campbell at 123, and Alexis Gomez at 143), while the Tigers and Central Methodist each had two.
Team Standings
1 Grand View — 191.5
2 Iowa Wesleyan — 148.5
3 Central Methodist — 136.0
4 Missouri Valley — 92.0
5 Baker — 86.5
6 Waldorf — 67.5
7 William Penn — 50.5
Individual Champions
101: Jasmine Alexander (Grand View)
109: Mia Palumbo (Iowa Wesleyan)
116: Caitlyn Thorne (Central Methodist)
123: Catharine Campbell (Grand View)
130: kye Realin (Central Methodist)
136: Adaugo Nwachukwu (Iowa Wesleyan)
143: Alexis Gomez (Grand View)
155: Kaylynn Albrecht (Baker)
170: Abby McIntyre (Grand View)
191: Kelani Corbett (Missouri Valley)
Kansas Collegiate Athletic Conference: York, Nebraska
Hastings won its first-ever conference championship by outdistancing Midland by 12 points. The Broncos had two champions (Tabitha Wood at 136 and Kaydince Turner at 143) as did runner-up Midland and Jamestown.
"I'm very proud of how this team came together and performed," Hastings coach. "We had a lot of positive takeaways from the tournament but most importantly we all just had a lot of fun and enjoyed supporting each other. I'm extremely excited to watch our 4 national qualifiers showcase their stuff next weekend."
Team Standings
1 Hastings — 156.5
2 Midland — 144.5
3 Ottawa — 136.0
4 Jamestown — 127.5
5 Saint Mary — 122.0
6 Doane — 102.0
7 Friends — 89.5
8 York — 85.5
9 Avila — 40.0
Individual Champions
101: Esther Walker (Midland)
109: Markayla Lottie (Avila)
116: Josie Bartishofski (Jamestown)
123: Arianna Marrufo (Jamestown)
130: Cristelle Rodriguez (Doane)
136: Tabitha Wood (Hastings)
143: Kaydince Turner (Hastings)
155: Randie Scoon (Ottawa)
170: Kacey Lee Pua (Midland)
191: Gracie Goldsmith-Ding (York College)
Sooner Athletic Conference: Fort Worth, Texas
Texas Wesleyan won the tightest team race of all the conference championships with a 5.5-point win over Missouri Baptist. Lexie Basham (130) and Mea Mohler (136) won titles for the Rams, while the Spartans had four champions.
"These ladies continue to impress the coaching staff," Texas Wesleyan coach Jose Lazo said. "They have dealt with adversity all year long and season long and continue to get stronger from it. These ladies are focused on the task at hand, and we cannot wait to compete at nationals."
Team Standings
1 Texas Wesleyan — 108.5
2 Missouri Baptist — 103.0
3 Oklahoma City — 101.0
4 Wayland Baptist — 98.0
5 Jarvis Christian — 29.0
6 Central Christian — 28.0
7 Lyon — 25.0
Individual Champions
101: Alyssa Quezaire (Missouri Baptist)
109: Jasmine Sands (Texas Wesleyan)
116: Juliana Diaz (Missouri Baptist)
123: Karoline Ortiz (Missouri Baptist)
130: Lexie Basham (Texas Wesleyan)
136: Mea Mohler (Texas Wesleyan)
143: Josette Partney (Missouri Baptist)
155: Alexandria Hernandez (Wayland Baptist)
170: Morgan Senior (Wayland Baptist)
191: Samyra Thomas (Jarvis Christian)
Cascade Collegiate Conference: La Grande, Oregon
Southern Oregon won its first conference championship in a tight three-way contest between Menlo and Providence. The Raiders had four individual champions: Natalie Reyna-Rodriguez (109), Carolina Moreno (123), Emily Se (143), and Joye Levendusky (170). Menlo (2nd) had one champion and Providence (3rd) had four.
"I'm proud of the girls for their accomplishment as conference champs, but we cannot glorify it for more than it is because we still have unfinished business," Southern Oregon coach Gabby Weyhrich said. "Even though we qualified everyone for nationals, it was not our best performance. It's reassuring that we can get the job done even when we are not at our best.
"It's inevitable that we are going to have bad days but that is why we train to wrestle through those types of feelings. I think that was obvious this weekend. I'm confident my girls are going to show up in two weeks and it's going to be a lot of fun."
Team Standings
1 Southern Oregon — 158
2 Menlo — 148
3 Providence — 138.5
4 Eastern Oregon — 99.5
5 Vanguard — 73
6 Simpson — 6.5
Individual Champions
101: Ira Navarro (Providence)
109: Natalie Reyna-Rodriguez (Southern Oregon)
116: Ashley Gooman (Providence)
123: Carolina Moreno (Southern Oregon)
130: Waipuilani Estrella-Beauchamp (Providence)
136: Erin Redford (Eastern Oregon)
143: Emily Se (Southern Oregon)
155: Sadie Antoque (Providence)
170: Joye Levendusky (Southern Oregon)
191: Tavia Heidelberg-Tillotson (Menlo College)