HS State Championship Hub 2023
High School Insider: State Title Talk
High School Insider: State Title Talk
Showdowns between nationally-ranked stars and freshmen phenoms grabbed the spotlight last weekend during a busy week of state tournament action.
Feb 23, 2023
by Brendan Scannell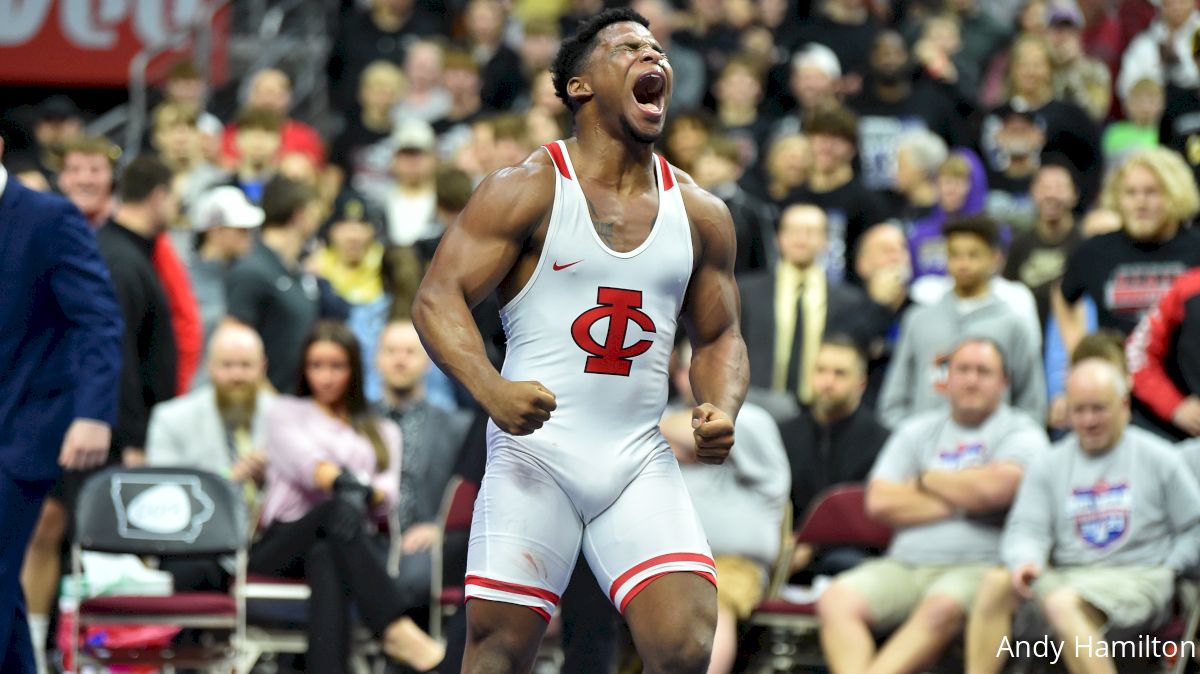 Unlock this article, live events, and more with a subscription!
Get Started
Already a subscriber? Log In
This week we're reporting on the state championship results from three states that all begin with the letter "I". If there's anything you missed, you can watch all these matches on Flo!
Iowa
We're starting in the American wrestling homeland of Iowa, where the state championship tournament brought the usual thrills.
The one every Iowa wrestling fan had circled was the 3A 182-pound final between #4 Gabe Arnold and #6 Tate Naaktgeboren who clashed for the fourth time this year and Arnold remained unbeaten against his top 10 rival. After two periods with little action, things really turned up late as each wrestler knew whoever got the next takedown would likely win. As it was noted before, this match gets closer every time these two do battle and this time it was no different. In the end, it wasn't a takedown that decided things, but Arnold reigned as the champ with the victory in tiebreakers.
Of course, we can't talk about this year's tournament without mentioning #1 Ben Kueter who was the third Iowa City wrestler to take home a title last Saturday night. Kueter also became the seventh Iowa wrestler in history to complete an undefeated high school career. Hawkeye fans across the country have their fingers crossed they'll see Kueter competing in an Iowa singlet next season as he also has plans to play football in the fall.
#3 Ryder Block, another one of the Hawkeyes' prized recruits in the Class of 2023, also capped an illustrious high school career with his third title in four finals appearances. If you're looking for someone to take the baton from guys like Kueter and Block, Jace Hedeman secured his place in the next wave of young Iowa talent by winning his second straight 2A title.
In the 113-pound finals in Class 3A, #14 Jake Knight had to mount a gutsy comeback for the win after #15 Dru Ayala struck first in the rubber match between two more nationally ranked guys.
At 195 pounds, no matter the result, someone would be making history as the first freshman 3A state champ at a weight class above 160 pounds and it was Fort Dodge's Dreshaun Ross who knocked off fellow freshman Danarii Mickel with a commanding 8-1 victory in the finals. It'll be interesting to see how Ross' wrestling career continues to develop, especially since, like Kueter, Ross is an exceptional football player, having already received offers from programs like Iowa and Purdue.
When it comes to team titles, the three teams crowned champions at Iowa State Duals just a couple weeks ago also prevailed when it came to the individual tournament with Don Bosco, Osage and Waverly-Shell Rock all taking home team titles.
Illinois
Let's take a moment to acknowledge what is quite an elite group of youngsters from Illinois that continues racking up titles. To provide some context, 10 Illinois wrestlers are ranked inside the top 10 of Flo's latest high school wrestling rankings behind only power states Pennsylvania, New Jersey, and Ohio.
It's never been an easy road at the state tournament for #2 Sergio Lemley, who was going for his third Illinois state title to go along with one in Indiana (2021). This year, Lemley had to run a gauntlet of high-caliber competitors beginning with a rematch of last year's state final against #6 Vincent Robinson. He knocked off Robinson again, this time with a 2-1 victory in ultimate tiebreakers before facing Will Baysinger in the final and the marquee matchup of the session. It was another tight one for Lemley, who showed true wrestling savvy with a 3-2 win to take home gold.
Lemley flaunts a resume that includes four state titles, an Ironman title, a Super 32 title, and a victory at Who's #1 as he heads off to the University of Michigan, where the staff in Ann Arbor anxiously awaits his arrival. Lemley's Mount Carmel teammate, Seth Mendoza continued his winning ways in the State Farm Center, as well, teching his way through the bracket for the sophomore's second state title.
Kannon Webster won title #3 with an 18-8 major decision in the 2A final, tying a knot on an incredible four years and will continue his wrestling career in his home state. To keep the titles coming for nationally ranked wrestlers from the Illinois, #4 Dom Munaretto bonused through to go back-to-back and #1 Ben Davino got a big five points to win 6-1 in sudden victory of a ranked finals matchup over #13 Jameson Garcia for his third title.
Nasir Bailey was another standout to go back-to-back in 3A and certainly looks like Little Rock's most exciting recruit since joining Division I.
Indiana
The first of the single-class states to do battle this postseason is Indiana. California and New Jersey states are coming soon, but right now it's about the Hoosier State.
Jake Hockaday is officially two for two at the state tournament and he did it with a win over returning champ Ashton Jackson at 120 pounds.
Freshman Tylin Thrine completed an undefeated season at 126 pounds to really put the nation on notice. Thrine beat a returning state champ in Crown Point's Logan Frazier in the semifinal and finished things off with a 5-3 championship victory over Hyatt Yeager. Thrine had opponents on their heels all weekend with his swift shot fakes. Keep an eye on him.
Chesterton Senior Aidan Torres also finished off an undefeated season by tearing through the 145-pound bracket.
Cole Solomey, who was part of current Ohio State Buckeye Jesse Mendez's historic state tournament last season, had a lot more to celebrate this time around. Solomey got a chance to etch his own name into history, rolling to the 138-pound title that eluded him last year. Bryce Lowery, another member of Mendez's loaded weight class, climbed multiple steps up the podium for the 152-pound title after finishing fifth last season.
National Preps This Weekend
Led by the nation's top two programs Blair and Wyoming Seminary as well as other premier programs like Malvern and Lake Highland Prep, many of the nation's best are slated to go at it this weekend at National Preps and you can watch it all LIVE on Flo!
Blair held the nation's top spot all season long and will look to put the finishing touches on another fine season.
Other exciting state tournaments in action include California, New York, and Missouri among many others!
Check out our State Championship Hub and you won't miss a single takedown!