2022-23 Oklahoma State Wrestling
Cowboy Insider: Smith Wants To See Offense Rewarded More
Cowboy Insider: Smith Wants To See Offense Rewarded More
John Smith wants to see more scoring in college wrestling and he thinks the rules need to be adjusted to reward those who attack.
Feb 23, 2023
by Adam Engel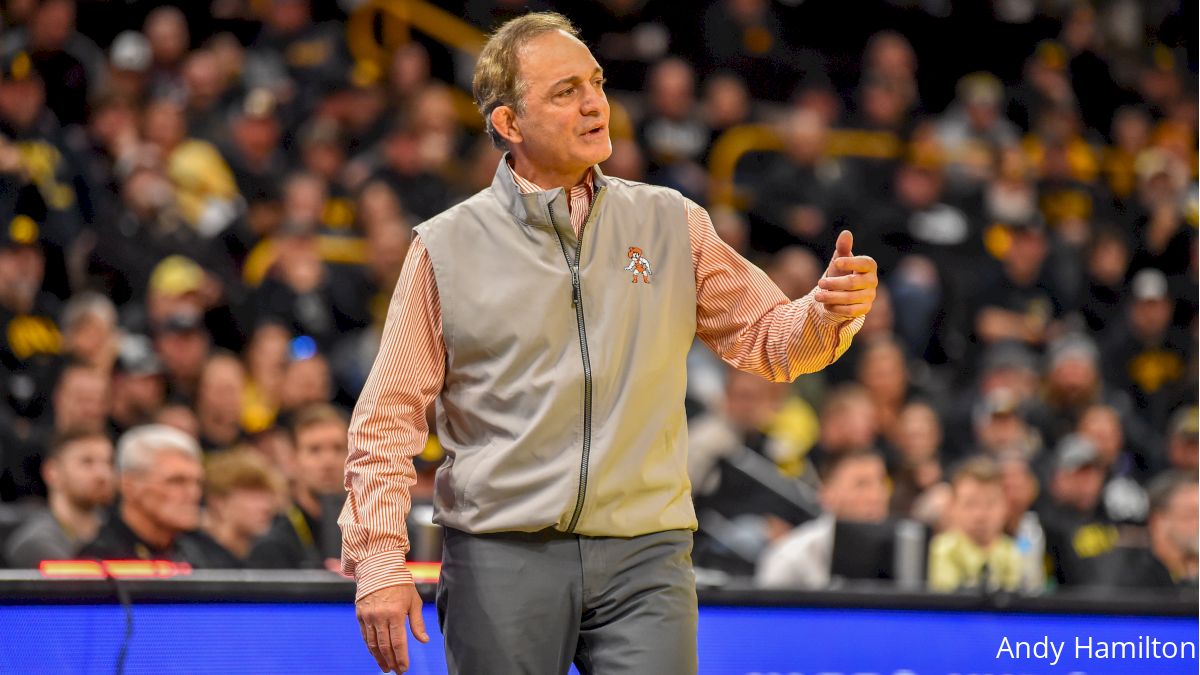 Unlock this article, live events, and more with a subscription!
Get Started
Already a subscriber? Log In
John Smith wants his guys to wrestle. Not stalemate out and restart.
College wrestling rapidly evolves. Smith knows that well and as a former member of the NCAA Rules Committee, he tracks the sport's latest development.
Scrambles are becoming prevalent and a lot of matches can be won in those positions.
"People are getting in on legs and your baseline defense seems to be somewhere else," he said. "People are jumping over the top out scrambling and doing some things. I really don't think we've stayed up with that and have awarded points. Instead, we're ending up in stalemates and guys have one leg and I'm behind two arms, and we're not given points very easy, you know.
"What people want to see is they want to see points on the board, so our rules committee really needs to focus on creating the rules where we can put more points on the board. We don't want to see 3-2. We don't want to see 2-1. Some of our guys across this country, we've noted there's less shooting, less penetration, and a lot of that's due to the scrambles. If we can create an environment where we're scoring those points a little bit easier — especially for the offensive guy who's actually taking the shot."
Here are some other notes during the #12 Cowboys' off week before the Big 12 Championships.
Confusing Case Of Carter Young
To characterize Carter Young's season, look at his matches last week.
Bedlam last Thursday.
He's aggressive from the start. Patient offense led to two second-period takedowns and a 5-3 ranked win over Oklahoma's Mosha Schwartz. A highlight in OSU's 26-6 stomping over the Sooners.
Revenge from Young's 8-6 loss in December. A loss in which Smith called Young "braindead."
"I thought for the most part it was one of his complete matches," Smith said.
Weeks ago, Smith teased Young about his losing record. He often takes light-hearted shots at his sophomore 141-pounder in media availabilities.
Despite the win, Smith said he hasn't seen a different attitude from Young.
"He's just kinda la la," Smith said. "Just get angry with me. Maybe even push me. He's a good kid. I just think to get the best out of yourself, I want him to feel pain when he loses. I want him to feel disappointment. I want him to be driven off of those losses. I think he does it in a quiet way a little bit but not as much as I want."
But then Sunday happened. An 11-0 loss to Iowa's Real Woods. One match is not like the other.
"That may have been the worst I've ever seen Carter get beat," Smith said on his weekly radio show. "I've seen him get beat a lot."
Young's success could be crucial to OSU's postseason success. At #13, he will be the fifth-highest-ranked Big 12 141-pounder at the conference tournament.
Gfeller Chasing Third Big 12 Title At Third Weight
Kaden Gfeller, OSU's 157-pounder, keeps opponents close with deep underhooks and strength in the tie-ups.
He's a scrapper, a fifth-year with tape on his right wrist and left knee. A symbol of physical wear but a career not without its struggles.
He won a Big 12 championship as a freshman but bumped into obstacles. Gfeller overcame various injuries and off-the-mat issues that hindered his performance.
"I was winning," Gfeller said in December 2021. "So, off the top of my head, I thought I could get away with it. You know, I thought I could get away with drinking, partying, like you know, things that you can't be doing if you want to be a successful wrestler."
He won a 2022 conference title at 149 pounds and could win at a third weight class on March 5.
Gfeller hasn't lost since Feb. 3, a 3-2 tiebreaker to Michigan's Will Lewan. Gfeller enters the Big 12 Championships with four ranked wins since. On Sunday, he outlasted Iowa's Cobe Siebrecht in the first tiebreaker, 3-2.
"He does some crazy stuff, too," Gfeller said before the Iowa dual. "He (Siebrecht) is a wrestler who will go out there and try to throw you. Exciting wrestler. I like wrestling those type of guys."
Second-ranked Jared Franek of North Dakota State will be the highest-ranked 157-pounder in Tulsa.