2022-23 Virginia Tech Wrestling
Hokie Insider: VT Gearing Up For Highly Contested ACC Tournament
Hokie Insider: VT Gearing Up For Highly Contested ACC Tournament
Virginia Tech is chasing the conference tournament crown with a squad featuring six wrestlers ranked in the top 10.
Feb 22, 2023
by Jim Carlson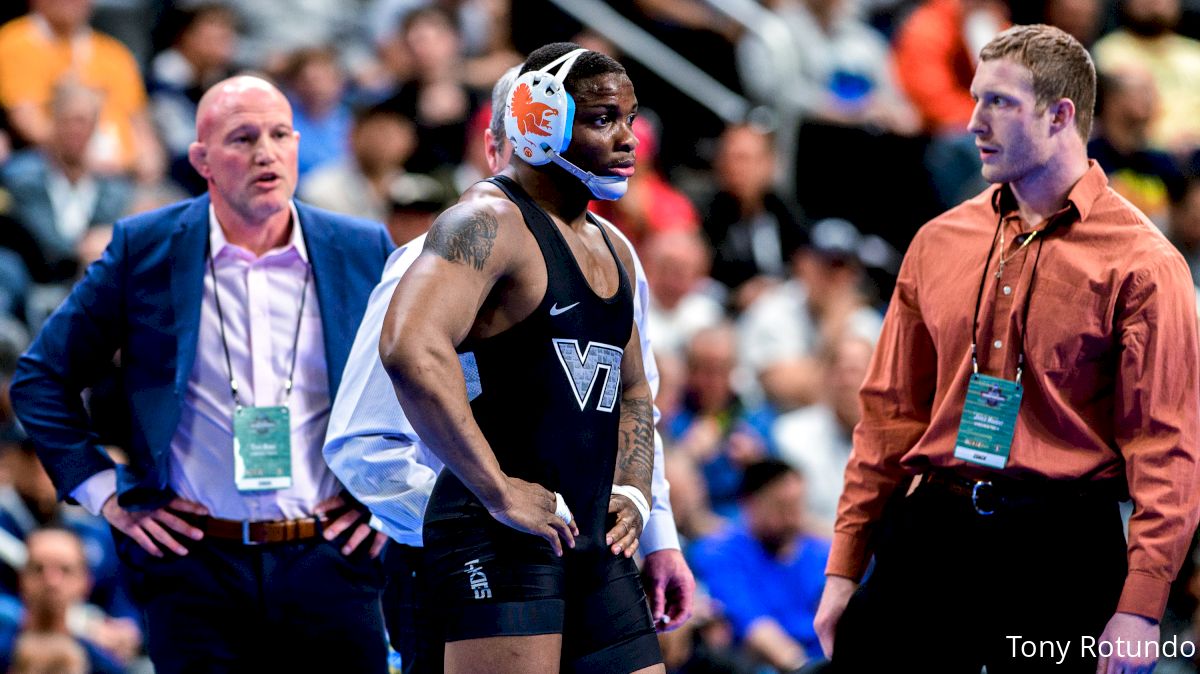 Unlock this article, live events, and more with a subscription!
Get Started
Already a subscriber? Log In
A college wrestling season flies by so quickly that coaches don't have time to look back or ahead — they are forced to live in the moment. But Virginia Tech coach Tony Robie took a few minutes to look both ways, and he liked what he saw.
The Hokies finished 10-3 and will take a #6 team tournament ranking along with five wrestlers ranked among the top 10 to the ACC Championships March 5 in Raleigh, North Carolina. Four of those five highly ranked wrestlers, as well as VT's five other current starters, are eligible to return next season.
Robie had little reason not to be pleased.
"Yeah, I think I am," he said. "I think if you look back at our schedule, going into the season, we knew we were going to be challenged. Our out-of-conference schedule included Ohio State and Missouri and Cornell and Las Vegas, so we knew there would be some tough events for us to compete in and some challenges for our guys and we were gonna see some great competition.
"Factor that in with how strong the conference is, particularly with N.C. State and Pitt, I feel good about it," Robie added. "We were really not healthy for a lot of the season as well, or at least not 100-percent healthy, so despite the match against Pitt where I don't feel like we wrestled our best, I feel like it was a good year and I feel like we had a lot of guys who progressed throughout the course of the season."
Virginia Tech celebrated its Senior Day with a 33-3 victory over rival Virginia — a win that clinched a share of the ACC regular-season title — and NCAA champion Mehki Lewis (174) and Hunter Bolen (184) were the only starters among six seniors honored. But Robie said Lewis has another year of eligibility remaining, as does All-America Bryce Andonian (157).
"Mehki has another year left. He kind of went through Senior Day, and that doesn't mean a whole lot; we're obviously going to try to get him to come back for his last year," Robie said. "If everybody comes back, Bolen would be the only guy that we lose."
With this year's lineup mostly intact for next season and a top-10 recruiting class en route to Blacksburg, optimism is spiking.
"I feel good about it," said Robie, whose contract was recently extended through Dec. 31, 2028. "And I feel good about the class we have coming in next year with Sonny Sasso (197), Jimmy Mullen (285), Rafael Hipolito (174), Mac Church (141), Hunter Mason (141) and Logan Frazier (133). We have a good class coming in, we have T.J. Stewart coming off redshirt, a super-talented guy who's probably going to get down to 184 next year, and we just have to keep developing in some other places.
"I think it's good, I think the future's bright, I feel great about our staff and the people that we have in our program right now."
From Raleigh To Tulsa
The Hokies first must head south before heading west. The ACC will be a six-team event with 14 top-10 wrestlers and another 10 ranked among the top 20. It's possible that the weight-class allocations this year might not reach the 39 that the ACC had last season, so a ticket to Tulsa for the NCAAs might take a little blood, a little sweat and, what most teams would hope for, a shortage on tears.
That makes a conference team title even more coveted.
"Yeah, but we want to win," Robie said. "So that's definitely important. The tournament is sometimes strange the way it plays out a little bit with a tournament that small. You never know what's going to happen, and one match one way or another makes a difference.
"It's funny that a lot of times getting a 3-seed is actually a good place to be as opposed to the 2-seed because you have an opportunity for bonus points in that first round where the 2-seed doesn't (because of a bye). And those are big points, potentially big points, in determining the outcome of the team race."
The conference is top-heavy with Tech at #6, N.C. State at #9 and Pitt at #12, as opposed to #23 North Carolina, #44 Virginia and unranked Duke. It's the individual talent that will carry a team in the postseason.
Tech is expected to take #22 Eddie Ventresca (125), #6 Sam Latona (133), #10 Tom Crook (141), #7 Caleb Henson (149), #5 Andonian (157), HM Connor Brady (165), #3 Lewis (174), #7 Bolen (184), #22 Andy Smith (197) and #16 Hunter Catka (285).
"There are a lot of great individuals in the conference. I think that's probably the biggest thing is you've got three or four guys who can win titles," Robie said. "Maybe they will or they won't but certainly are capable of, and I think it's been that way for the last several years, at least, with that kind of top-end talent in the conference."
Reset And Reboot
The hard training regimen is complete, Robie said.
"I don't know that you're gonna get in tremendously better shape at this point in the season. We emphasized a little bit of rest coming off the heels of our last dual meet," he said.
"We'll hit one decent training cycle between now and the ACCs … try to keep things short and sweet and really be focused on the areas that we're trying to continue to emphasize for our guys from a strategic and a technical standpoint. Some of that is individual and some of that is just kind of areas that we feel like we need to continue to improve to win. Just make sure the guys are feeling good, they're excited and obviously continue to train hard but to not overtrain."