2023 NCAA Watch Party: Conference Weekend
Seeding 165 At The 2023 Big Ten Championships
Seeding 165 At The 2023 Big Ten Championships
Projecting the 165-pound seeds for the 2023 Big Ten Wrestling Championships.
Feb 21, 2023
by Jon Kozak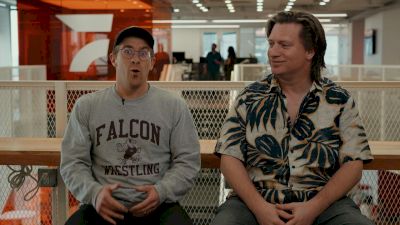 The 2023 Big Ten Wrestling Championships are set to go down on March 4-5 in Ann Arbor, Michigan. That gives us plenty of time to speculate about the best matchups, potential champs, and of course - SEEDS. We'll be releasing our predictions for all of the seeds at the Big 10 soon but we wanted to start with the most unpredictable and interesting weight - 165. This weight has 10 wrestlers ranked in the top 33 and 4 wrestlers who have a legitimate case for the top seed. Take a look below at how we think these seeds will shake out and an explanation of how we came to that order.
Projected Big 10 Seeds At 165
Cam Amine, Michigan
Dean Hamiti, Wisconsin
Patrick Kennedy, Iowa
Alex Facundo, Penn State
Carson Kharchla, Ohio State
Caleb Fish, Michigan State
Maxx Mayfield, Northwestern
Danny Braunagel, Illinois
Andrew Sparks, Minnesota
Bubba Wilson, Nebraska
Nicholas South, Indiana
Robert Kanniard, Rutgers
John Martin Best, Maryland
Cooper Noehre, Purdue
As mentioned, any of the top 4 seeds have a claim to the #1 spot - Amine beat Hamiti, Hamiti beat Kennedy, Kennedy beat Facundo, and Facundo beat Amine. I gave Amine the top spot because of his wins over Hamiti and Kharchla. Beyond that, Amine is the most proven of the bunch as a two-time All-American.
Hamiti, also an All-American, has the win over Kennedy along with a win over Julian Ramirez. Coaches might look at his overall resume and give Hamiti the top spot. After that, the order falls in line with head-to-head results. If Amine and Hamiti take the top 2 spots, then Kennedy and Facundo will fall in line as the #3 and #4 seeds respectively.
There are two things that could keep Amine from getting the top seed. First, Amine has a loss on the year to Ohio State's Bryce Hepner (who's redshirting this season). While Hepner is solid, that loss is likely the "worst" of any of the top 4. Also, Amine wrestled a shortened Big 10 schedule because of an injury and missed potential matches against Patrick Kennedy, John Martin Best, and Nicholas South. Missing those matches, especially the match against Kennedy, might cause enough coaches to vote against Amine and for a wrestler who competed in a full schedule.
After the top 4, Kharchla is the clear #5 seed with losses to Amine and Facundo and wins over Mayfield, Fish, and Best. Caleb Fish and Maxx Mayfield both have an argument for the #6 seed. Both have wins over Braunagel and Sparks but Mayfield split with Braunagel so I gave Fish the #6 spot. The rest of the seeds fall in line with head-to-head results and should be fairly simple from 8-14.
Amine's win over Hamiti at last year's NCAA Tournament: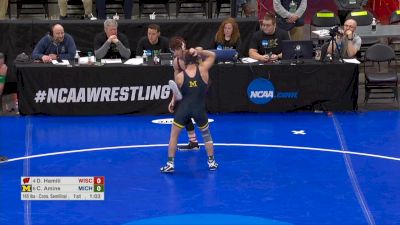 Unlock this video, live events, and more with a subscription!
Get Started
Already a subscriber? Log In
Again, these are simply hypothetical seeds on how we THINK they will shake out. The real seeds will be decided by a vote from the Big 10 coaches. As always, we're open to hearing your feedback - I'd love to hear what you think the seeds should be at 165 - you can let me know by emailing me at jonathan.kozak@flosports.tv or sending me a dm on Twitter @KozakJon.