FloWrestling Radio Live
Play The Weekly FRL Pick 'Em Contest
Play The Weekly FRL Pick 'Em Contest
Pick against the point spread in some of this weekend's best matches and see if you know more than the FRL team.
Feb 17, 2023
by JD Rader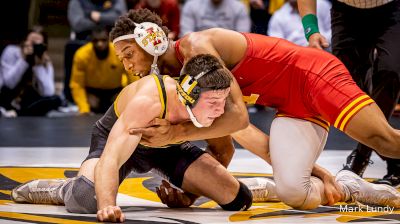 Unlock this video, live events, and more with a subscription!
Get Started
Already a subscriber? Log In
Play the weekly FRL pick 'em contest HERE. While you can't wager actual money through this contest, there's nothing stopping you from using these betting lines and gambling with your friends! Every Thursday Ben Askren, Christian Pyles, and JD Rader will make their picks live on FRL and compete against the public with both a weekly and running total win percentage throughout the course of the college season. Watch the show and decide who you want to pick. Make sure to get your picks in by the time the first included match starts as the contest will close once it does.
Once again, here's the link to play, and don't forget, the picks are against the point spread. Enjoy and good luck!
All times listed below are Eastern.
This week's matches and lines
Friday
NC State at North Carolina, 7:00 PM
141 - #6 Ryan Jack, NC State vs #9 Lachlan McNeil, North Carolina, Jack -1.5
157 - #3 Austin O'Connor, North Carolina vs #6 Ed Scott, NC State, O'Connor -8.5
Saturday
Cornell vs Ohio State, 1:00 PM
133 - #3 Vito Arujau, Cornell vs #7 Jesse Mendez, Ohio State, Arujau -2.5
149 - #1 Yianni Diakomihalis, Cornell vs #3 Sammy Sasso, Ohio State, Diakomihalis -2.5
165 - #7 Julian Ramirez, Cornell vs #11 Carson Kharchla, Ohio State, Kharchla -1.5
174 - #4 Chris Foca, Cornell vs #5 Ethan Smith, Ohio State, Foca -1.5
Sunday
Arizona State at Nebraska, 2:30 PM
125 - #3 Liam Cronin, Nebraska vs #7 Brandon Courtney, Arizona State, pick em
Oklahoma State at Iowa, 4:30 PM
157 - #10 Cobe Siebrecht, Iowa vs #13 Kaden Gfeller, OK State, pick em
174 - #9 Dustin Plott, OK State vs #15 Nelson Brands, Iowa, Plott -1.5