Women's Weekly
Women's Weekly: Raiders Ready To Roll
Women's Weekly: Raiders Ready To Roll
Southern Oregon finished the dual season undefeated, Life University completed Slay Week, and women's wrestling history will happen in Jamestown.
Feb 13, 2023
by Kyle Klingman
Southern Oregon coach Gabby Weyhrich has had quite a rookie campaign.
Her team finished 8-0 following a victory over #8 Providence on Sunday, February 12. The Raiders won six of 10 matches for a 26-18 victory, which completed the first undefeated season in program history.
That perfect record includes a memorable run at the NWCA Multidivisional National Duals in early January. Weyhrich became the second woman to lead a team to a national wrestling championship following Life's Ashley Flavin's memorable moment in 2022.
"It's different being in this head role," Weyhrich said immediately following her team's National Duals title. "This gives me a little confidence that I know what I'm doing and that I'm leading this team in the right way.
"They already had a good foundation. Joel Gibson and Tucker did a great job building this team so all I had to do was create a good atmosphere and make them believe in themselves. I think I did a good job with that."
Weyhrich was an essential piece of the championship culture that built McKendree into a powerhouse program. Not only did she compete for the Bearcats, but she was an assistant during the team's three-year national collegiate championship (NCAA schools) run (2020-22).
Three former McKendree wrestlers — Natalie Reyna, Grace Kristoff, and Joye Levendusky — left for Ashland after Weyhrich took the Southern Oregon job. The trio combined for nine All-American honors and are key members of the lineup.
"This season has been one to remember," Levendusky said. "Ending up at SOU for my final collegiate year of competition has been such a blessing. By defeating Providence this weekend we secured our undefeated dual season. I was super blessed to have a senior night after graduating last year without one at my previous school.
"The love from SOU, my teammates, and my coaches were truly amazing. Winning my match is always extra fun when it's for my team. With an undefeated dual record, a national dual championship title, and several national title contenders — we are ready to begin our post-season."
The NAIA Championships will also be one to remember. This is the first collegiate sanctioned women's wrestling championship, so every team is vying for a piece of history.
Each team can qualify up to 12 wrestlers for the tournament but the qualification procedures will be different than in years past. Each conference is allotted a certain number of automatic qualifiers based on performance throughout the season, while every conference is guaranteed a spot per weight to the champion.
So, the best way to get to nationals is simple: win your conference tournament. The historic NAIA National Championships are March 10-11 in Jamestown, North Dakota.
Joye Levendusky used this takedown for a 10-0 tech, which gave Southern Oregon a 26-18 win over Providence and a perfect dual season. pic.twitter.com/XItB3QZw8j

— FloWrestling (@FloWrestling) February 13, 2023
Slay Week Is Savage!
Life University is also in contention for the inaugural NAIA title, and the team is going through hell to make it happen. The Running Eagles just completed Slay Week — a series of excruciating challenges meant to break the varsity team down and build them up in advance of conference and nationals.
Here's what junior Riley Dalrymple said about Slay Week:
"Almost everyone dreads Slay Week, but it's also a week we've been working for all season. You did the right thing if you make it because you're going to nationals and conference. So, it might be something we dread but it's also a privilege because it is only for the 12 who made it.
"Essentially, the coaches and other girls on the team try to break you. They use your weaknesses against you and you have to fight through it — not by yourself — but with the love and encouragement of your teammates. There are roughly three, 12-minute rounds of what the coaches think is best for you. They alter each round to our weaknesses, but they cater it to any injuries we have to keep us safe.
"You really have no control of your body and you go through a wide range of emotions. No matter what, your teammates stick by your side and are screaming your name. It provides love for your teammates because you are in such a vulnerable state with them. It also takes a lot of love for your teammates to willingly push someone to distress for three or more rounds — all for their own good. It's really something you have to do or witness to understand."
Two-time national champion Peyton Prussin (109 pounds) receives support from her teammates (top), while Devyn Gomez (101 pounds) powers through on a stationary bike (bottom)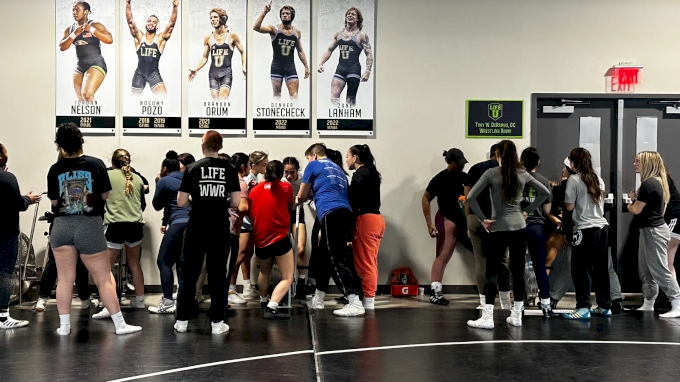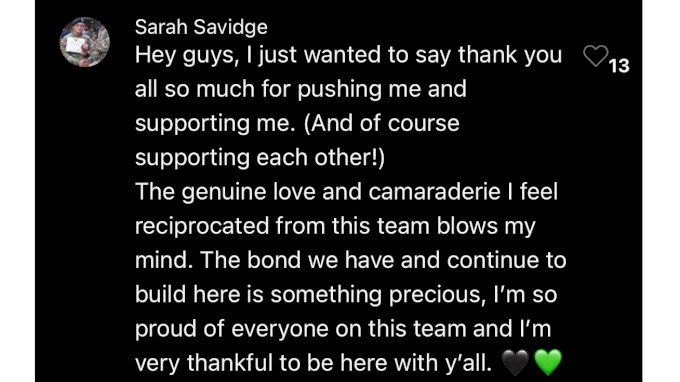 Sarah Savidge, a 130-pound freshman for Life University, sent this message in a group text to her teammates and coaches following Slay Week
D1 Women's Wrestling
Two women's exhibition matches were held at halftime of the Lehigh-Princeton dual on Saturday, February 11. The event was hosted by Wrestle Like a Girl and D1 Women's Wrestling in an effort to promote adding more Division I women's wrestling programs.
Sheila Cortez (Rider) over Annika Futch (Lehigh), 7-4
Chloe Ayres (Princeton) over Leela Elliot (NYU), 10-0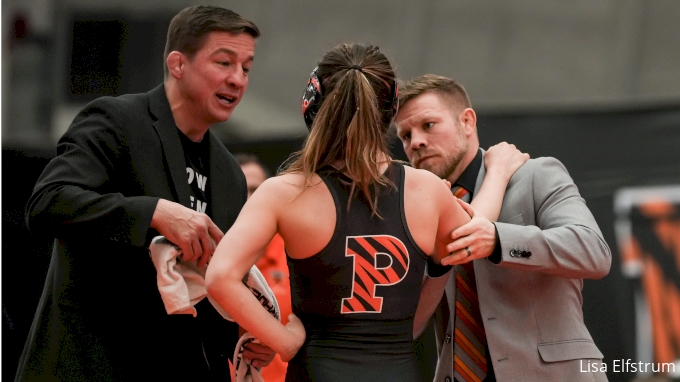 Princeton coach Chris Ayres (left) coaches his daughter during the women's exhibition matches
Two For Two
Even though the regular season is winding down, two college tournaments took place over the weekend. The Warrior Open and the Menlo Open were held on February 12, and both featured several of the top wrestlers in the country. Below are champions from each tournament along with links to full results.
Warrior Open
101: Esther Walker (Midland)
109: Emma Cochran (Grand View)
116: Josie Bartishofski (Jamestown)
123: Larissa Kaz (Hastings)
130: Sophia Smith (Oklahoma City)
136: Tabitha Wood (Hastings)
143: Kaydince Turner (Hastings)
155: Kaylynn Albrecht (Baker)
170: Taylor Rickley (Hastings)
191: Kelani Corbett (Missouri Valley)

Click here for full Warrior Open results

Menlo Open
101: Kayla Mckinley-Johnson (Menlo)
109: Maddie Mackenzie (Simon Fraser)
116: Victoria Seal (Simon Fraser)
123: Ella Jauregui (Unattached)
130: Stephanie Chavez (Menlo)
136: Jade Trolland (Simon Fraser)
143: Aine Drury (Cerritos)
155: Shannon Workinger (Menlo)
170: Emily Cue (Simon Fraser)
191: Tavia Heidelberg-Tillotson (Menlo College)

Click here for full Menlo Open results
Klippan Lady Open
Team USA is sending 13 wrestlers to compete in the prestigious Klippan Lady Open in Klippan, Sweden, February 17-19. Three Americans will compete in the U17 division, while 10 additional wrestlers will compete in the senior division. The full list of U.S. participants is below.
U.S. U17 women's freestyle wrestlers
49 kg - Ava Ward
65 kg - Sydney Perry
65 kg - Skylar Little Soldier
U.S. Senior women's freestyle wrestlers
50 kg - Genesis Cejudo
53 kg - Elena Ivaldi
53 kg - Estrella Dorado Marin
55 kg - Shelby Moore
62 kg - Skylar Hattendorf
62 kg - Ella Schmit
65 kg - Elleni Johnson
68 kg - Chloe Ogden
72 kg - Rose Cassioppi
76 kg - Tristan Kelly
Women's Spotlight: Ashlynn Ortega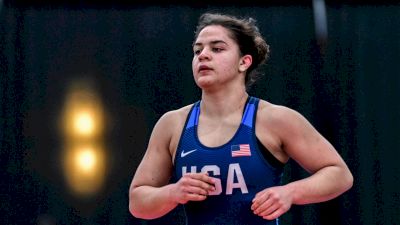 King national champion Ashlynn Ortega builds self-confidence by making promises to herself, and she'll use motivation from Rocky to get her there.