2022-23 Iowa State Wrestling
Cyclone Insider: Schuyler Getting Accustomed To Pressure
Cyclone Insider: Schuyler Getting Accustomed To Pressure
Iowa State heavyweight Sam Schuyler has had several duals riding on the outcome of his match during the past year and most of the time he's delivered.
Feb 10, 2023
by Roger Moore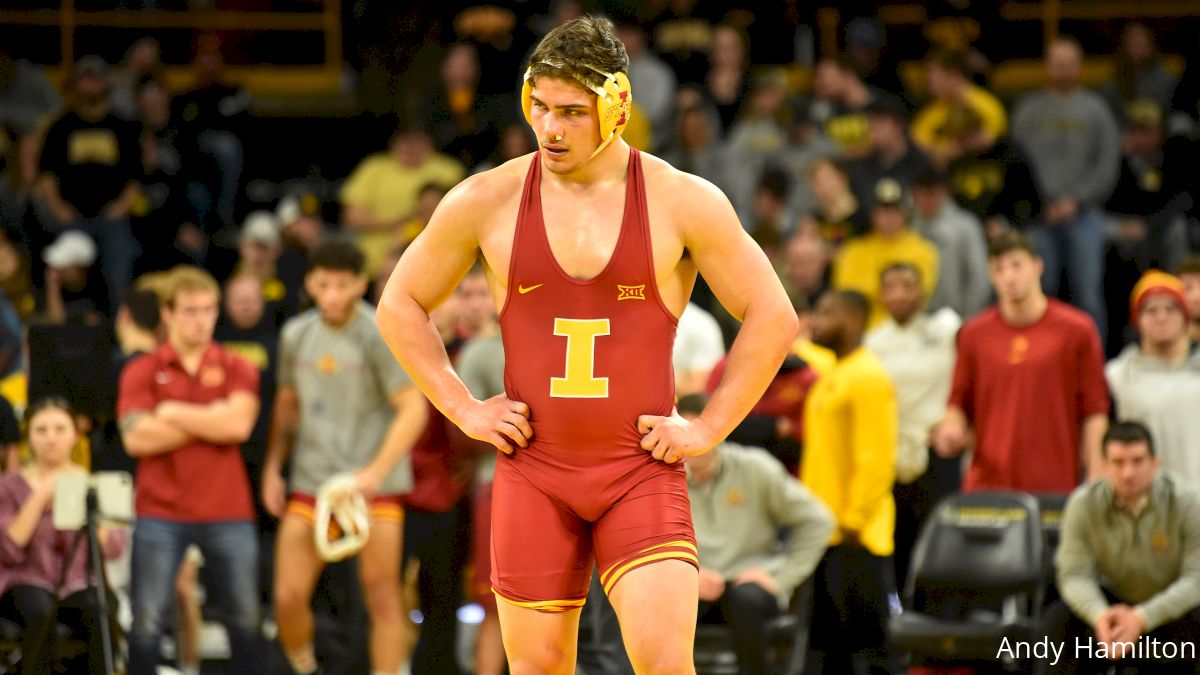 Unlock this article, live events, and more with a subscription!
Get Started
Already a subscriber? Log In
Last February in Cedar Falls, Northern Iowa led Iowa State, 15-9, with two bouts to wrestle. But Yonger Bastida provided the set-up with a major decision and Sam Schuyler proved the closer with a dramatic takedown in the final 12 seconds to give the visiting Cyclones a 16-15 victory.
Coming down to the final bout, for Schuyler, has become a common theme.
Back in December, the New York native took the mat against Iowa with the dual on the line. All-American Tony Cassioppi clinched things for the Hawkeyes. Since that dual, Schuyler (12-2) has won 7-of-8 matches including two dual-clinchers last weekend. ISU needed a win from Schuyler to hold off West Virginia — the Mountaineers needed a major to tie — and against Pittsburgh, a takedown in the final 25 seconds gave the Buffalo transfer a 4-3 victory over Dayton Pitzer and a narrow 16-15 road win for this squad.
With duals at #15 Northern Iowa on Friday and a visit to Hilton Coliseum by #20 Illinois on Sunday, plus a regular season-ending match at #13 Missouri, a rare Wednesday dual on Feb. 15, might Schuyler be in position to provide more theatrics?
"I'm ready for that," said the eighth-ranked Schuyler, whose only losses this season are to Cassioppi and Arizona State's Cohlton Schultz. "It's my sixth year. I'm seasoned and there are no more moral victories. I need to win; my job is to win. I transferred here to win those matches, not have close losses.
"I'm kind of starting to enjoy that opportunity to win for my team. Being heavyweight that is just a part of what it is."
"Confidence is such a wonderful thing in this sport," said ISU coach Kevin Dresser of his heavyweight. "He works really hard and that translates into everything he does. He's figured out that he belongs. He can go with anybody this year."
Teammate Jason Kraisser, a Campbell transfer, has seen Schuyler's work in the room translate into wins. The ISU 157-pounder also likes duals coming down to heavyweights.
"I like what it does for the sport, the environment created by duals coming down to that last match," he said.
The reason so many duals are decided by heavyweights and are so close? Parity. After top-ranked Penn State, Dresser correctly points out that an injury or two means the second-ranked squad will face a battle with #25. Second-ranked Iowa's narrow wins over Wisconsin and Minnesota back up Dresser's claims. Duals are decided in part by unranked wrestlers versus low-ranked opponents. Kraisser (14-8) won two important bouts last weekend and his meeting with Northern Iowa's Derek Holschlag, among many toss-ups, will be big. The chaos of a Kraisser match might also define Friday night's atmosphere. You can bet Schuyler will be watching and waiting.
Serious But Not Serious
Often, less-than-comedic wrestling coaches take things a little too seriously. Yes, it is a tough sport. But anyone who knows Northern Iowa coach Doug Schwab knows sometimes friendly banter is a good promotional tool. It doesn't hurt, perhaps, that those not in-the-know might think there's a real hatred, a lack-of-respect among rivals. The Iowa State-Northern Iowa relationship might be more civil than quotes in the paper portray.
"Last year he said he was going to break my hip so that is why I brought a cop," joked Dresser, speaking about his fellow Iowa alum. "There's a lot of respect, a lot of fun … when we get there we have to be ready to take their heads off."
"It's cool that there's a lot of friendly banter, WWE-type stuff," Schuyler said. "I obviously think we are the better team and I think we are going to show that and it will be a really fun match."
Maybe, instead of the usual dual-deciding tiebreakers, Schwab and Dresser could do rock-paper-scissors or even go first-takedown wins.
Watch List
Iowa State senior 184-pounder Marcus Coleman (15-1) took a big step last season, earning All-America status. Earlier this season, the Ames product took out Penn State's two-time NCAA champ Aaron Brooks and is now ranked fourth. On Friday, Coleman is expected to square off with second-ranked and two-time All-American Parker Keckeisen, who is 16-1 this season and 48-3 for his career; two of those losses are at the NCAA Championships. It was Keckeisen's 8-2 win over the Cyclone last year that gave UNI its 15-9 lead before Bastida and Schuyler's save for the Cyclones.
— 141-pounder Casey Swiderski (7-6) has lost five straight matches, four of them by a combined seven points, along with an 11-3 loss at West Virginia.
— David Carr moved his win streak to 23 straight last weekend. The senior 165-pounder is now 83-2 for his career.
— ISU leads the series with UNI, 60-20, with the two programs splitting the last six. The meeting with Illinois is only the 10th all-time between the programs and first since 2010.
— ISU's 17-16 win in Columbia last February broke a six-match losing streak to Missouri. Next Wednesday's dual will provide a nice preview of the parity-packed Big 12 Conference tournament race the first weekend in March.
To watch live or archived matches from any of these events and unlock access to FloWrestling's massive live event and content offering, subscribe right here.