2022-23 Michigan Wrestling
Wolverine Insider: Healthy Parris Chasing First Big Ten, NCAA titles
Wolverine Insider: Healthy Parris Chasing First Big Ten, NCAA titles
Michigan heavyweight Mason Parris is dominating this season with a 22-0 record, including 11 pins but is still chasing his first NCAA and Big Ten titles.
Feb 9, 2023
by Mark Spezia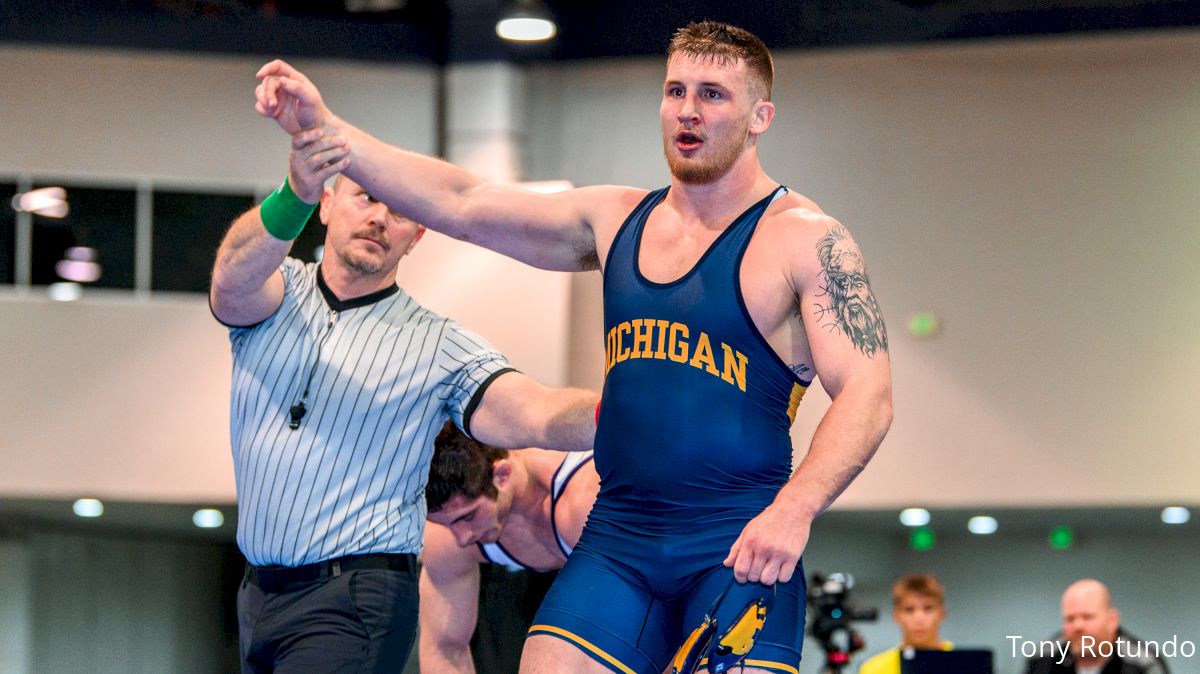 Unlock this article, live events, and more with a subscription!
Get Started
Already a subscriber? Log In
Before he could dominate, Mason Parris first had to heal.
Forgoing offseason competition and instead spending that time dedicated to fully recovering from a herniated disc in his neck suffered at the 2021 World Team Trials was the only way Parris could ensure his final season at Michigan would be his finest.
Too much was at stake. The two-time All-American heavyweight had only one more shot at attaining prizes that have eluded him -- Big Ten and NCAA championships.
"I immediately started working with a trainer after last season, doing a lot of corrective and strengthening exercises to improve muscle functionality in that area to lessen the chances of an injury like that happening again," Parris said.
That's not all.
"I also put in plenty of weightlifting sessions, doing some extra stuff, to become stronger and started working with a sports psychologist," he added. "I was determined to do everything right to be completely healed and ready to have a great season. The disc is not bothering me at all now."
Saying all of Parris' hard work has paid off or that he has bounced backed better than ever understates the kind of season he is having.
The Lawrenceburg, Indiana native's college wrestling farewell tour has been a must-see event.
Parris is 22-0 with 11 pins and secured the #1 ranking at 285 pounds with last month's methodical, 3-1 decision over previous #1 Greg Kerkvliet after losing to the two-time All-American from Penn State three times last season by a combined 19-9 score.
Parris, who boasts 15 bonus-point wins, has also risen to #18 in the pound-for-pound rankings.
His other significant wins this season include victories over All-Americans Lucas Davison of Northwestern and Trent Hillger of Wisconsin as well as sixth-ranked Wyatt Hendrickson of Air Force and #11 Owen Trephan of North Carolina State.
Parris has won 23 straight matches dating back to last season. Only Iowa's Spencer Lee (50), Penn State's Roman Bravo-Young (48) and Carter Starocci (41) and Missouri's Keegan O'Toole (41) have longer active winning streaks.
"Physically, this is the best I've felt in some time and my confidence is really high after putting in all that offseason work and getting off to a strong start this season," Parris said. "There is plenty of work left because I wouldn't say I'm where I want to be yet."
Though he placed fifth at the NCAA Championships, fourth in the Big Ten and went 20-6, Parris was far from where he wanted to be last season.
Parris had been eager to build on the momentum of NCAA and Big Ten runner-up finishes in 2021, but that excitement was tempered when he sustained the neck injury while finishing a takedown during an 8-4 win over Hayden Zillmer in the World Team Trials semifinals less than seven weeks prior to the start of the season.
He was swept by Nick Gwiazdowski in the final before trying desperately to recover in time for the Wolverines' Nov. 6 opener. That didn't happen and Parris was still hurting when he finally made his season dual debut on Jan. 9.
Parris could have taken more recovery time, but the allure of contributing to a Michigan team that eventually captured the program's first Big Ten Championship in 49 years and placed second in the NCAA Championships was too strong to resist.
While Parris was not literally wrestling with one arm tied behind his back, there were times when he felt like it because the injury's lingering effects weakened his left arm. In fact, the entire left side of Parris' body above the waist was not as strong.
"I decided to wrestle even though I knew my left arm was not working as well as it should," he said. "I had to help my team finally win another Big Ten title and then see how we could finish at the NCAA Championships. I'm happy I fought through the pain well enough to be a part of the success we had and celebrate with the guys."
Parris summed up last season in an Instagram post six days after the NCAA Championships concluded in Detroit.
"This year I was faced with a lot of adversity (and) could barely use my left arm, but decided not to undergo surgery and fight to get back to where I was," he wrote. "I still believe it was a great decision...This season was a lot of fun and I learned a lot about myself on and off the mat. I'm coming next year!"
Parris began working with renowned Ann Arbor-based personal trainer, strength coach and bodybuilder Amir Rad. Both men posted several videos of their sessions on social media.
They depict Parris pumping iron, immersing himself in cardio workouts, doing agility drills and strength training exercises like pulling a sled loaded with weights and Rad with a rope.
"The progress you have made and the work you've put in is incredible, and I can't wait to watch you dominate on the mats this season," Rad posted to Instagram on Aug. 21, along with a photo of the two flexing. "The best is yet to come, Mason!"
Parris' offseason also included spending time at the United States Olympic Training Center in Colorado Springs with teammates Will Lewan and Max Maylor, working with youth wrestlers at camps and hanging out with several WWE legends at WrestleMania 38.
Parris began the season ranked #3 nationally, but soon moved to #2 as he continued on a collision course with Kerkvliet.
Both found offense hard to come by with they finally met on Jan. 20. With just over a minute remaining, the match knotted at 1-1 when Kerkvliet went low, attempting a double-leg takedown.
He managed to place both hands on the outside of Parris' knees before, in what seemed like an instant, Parris got behind him for a takedown. Parris kept Kerkvliet under wraps the rest of the way for a 3-1 decision. That is only the second time Kerkvliet has been held to fewer than two points in a match that went the distance during his college career.
"That was a match I'd been looking forward to for a long time," said Parris, who also beat Kerkvliet at the 2021 Big Ten Championships. "I'd say I've become good at studying the competition and focusing on good, fundamentally sound wrestling. I spent plenty of time watching video of him and correcting the flaws he exposed on me last year. I felt my defense and hand fighting were good, but I was hoping to get my offense going more. Hopefully, next time."
Parris boasts a number of significant victories since joining the Wolverines in the fall of 2018 and, as a true freshman, filling the massive lineup hole left by three-time All-American and future World Championships silver medalist Adam Coon.
Parris, a three-time Indiana state champion, quickly quieted any concerns he was up to the task by knocking off top-ranked, three-time All-American and future Canadian Olympian Amarveer Dhesi (Oregon State) in his collegiate dual debut.
The four-time NCAA qualifier has also defeated Iowa's Tony Cassioppi, a two-time All-American who is ranked #3, three times and two-time All-American Youssif Hemida (Maryland). Overall, Parris has gone 27-13 against All-Americans.
He boasts arguably even more impressive offseason wins since arriving in Ann Arbor, including wins over future World champion and Olympic bronze medalist Amir Hossein Zare of Iran in the 2019 Junior World finals.
Parris placed third at the 2021 Olympic Trials. He also bested Gwiazdowski, a two-time NCAA champion and two-time World bronze medalist, two-time NCAA champion and four-time All-American Tony Nelson and two-time All-Americans Jordan Wood and Dom Bradley.
Parris' career record is 113-18 heading into Friday's matchup at Iowa and another meeting with Cassioppi. With 45 career pins, he is tied with Scott Rechsteiner for third on Michigan's all-time list. Ahead of him are Jeremiah Tobias (56) and Jeff Catrabone (55).
"The key against Tony will just be wrestling my own match and not getting caught up in the environment and atmosphere at Carver-Hawkeye (Arena)," Parris said. "I'll just focus on continuing fundamentally solid wrestling and all the things I've been doing well this season."
After facing the Hawkeyes, the Wolverines (9-3, 4-2 Big Ten) host Indiana Sunday before finishing their dual slate by hosting Central Michigan on Feb. 19. Michigan hosts the Big Ten Championships on March 4-5 where another clash with Kerkvliet seems likely.
"Winning Big Ten and national titles has been a dream of mine for years," Parris said. "It's something I think about every single day and would obviously mean everything to me and those who have supported me throughout my journey from my teammates to my family and people in the community. It would be an unreal feeling, but I have to keep working hard to continue improving and peak at the right time."
Parris plans to remain in Ann Arbor after graduating this spring and shift his focus to making the 2024 Olympic team while wrestling for the Cliff Keen Wrestling Club.
Among his workout partners will be Coon, who recently returned to the club after pursuing a professional football career. There is also Derek White, an Oklahoma State All-American, who is #9 in the latest 125-kilogram domestic freestyle rankings.
Parris has not faced White in competition, but has beaten seven of the top eight wrestlers in those rankings, including the top three (Zillmer, Gwiazdowski and Bradley).
"There is no better place to pursue making the Olympic team than Cliff Keen," he said. "You can't beat the quality of big guys in the room and the freestyle coaching (led by two-time Olympic gold medalist Sergei Beloglazov) is amazing."