2022-23 Virginia Tech Wrestling
Hokie Insider: Henson Dialed In On Chase Of His 'Big, Ultimate Goal'
Hokie Insider: Henson Dialed In On Chase Of His 'Big, Ultimate Goal'
Virginia Tech's Caleb Henson has been tested and the freshman and has responded by posting a 17-3 record that's pushed him to #7 in the rankings.
Feb 8, 2023
by Jim Carlson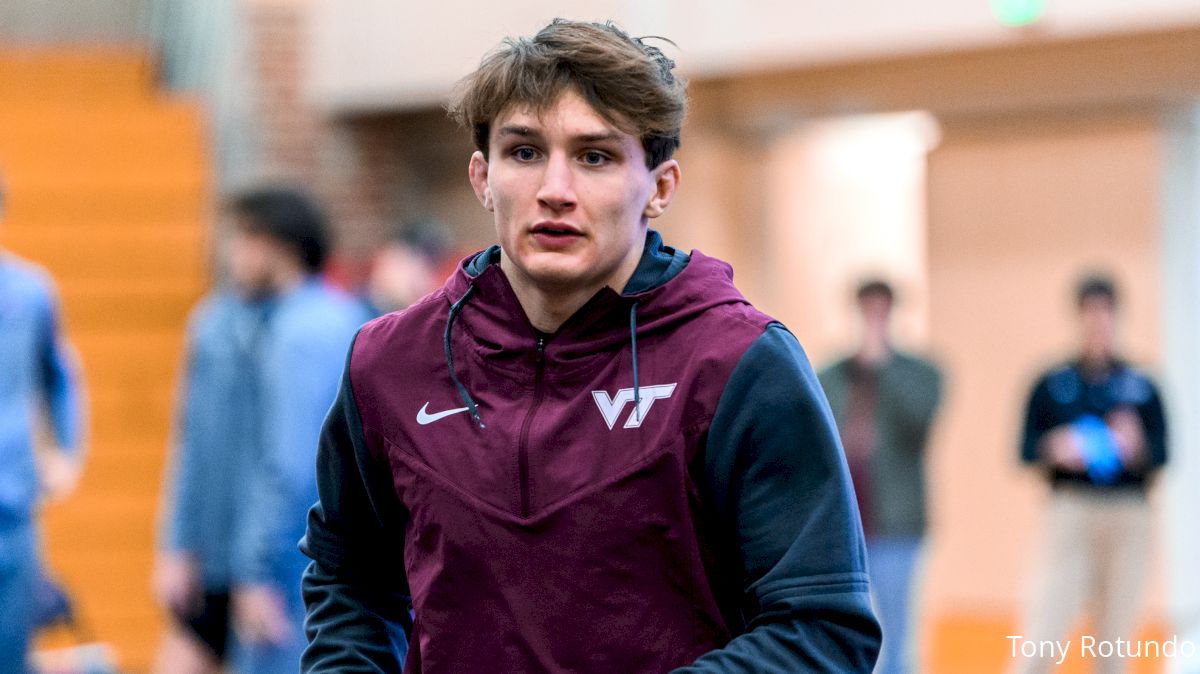 Unlock this article, live events, and more with a subscription!
Get Started
Already a subscriber? Log In
What makes Virginia Tech wrestler Caleb Henson tick isn't much different than anyone else in his sport. He likes wrestling's one-on-one aspect; he knows there can be no excuses for anything that might go wrong.
"Being able to use yourself and your body to show all the work, sacrifice and dedication you put in is awesome and you can't blame anyone out there. It's just you and the other guy," he said.
What is different about this Hokie freshman is that in 20 matches thus far this season it's been all him 17 times with his arm raised after the bout — not the other guy. That 17-3 record has led to a #7 ranking at 149 pounds, and he's one of just two first-year guys in the top 10 in arguably the NCAA's deepest, strongest weight class.
Four bouts that stand out thus far this season for Henson are wins over returning All-Americans Sammy Sasso of Ohio State and Jon Millner of Appalachian State as well as losses to three-time NCAA champion Yianni Diakomihalis of Cornell and Missouri's Brock Mauller. All high-quality foes, all high-quality bouts.
"It's been awesome just to get your hands on guys like that and take wins and losses to grow and build on; it's something you're gonna see in March, so it's good to see it early in the season," Henson said.
From state titles in Georgia to national titles in Fargo, Henson hasn't lost a lot. But he's aware those losses can be valuable.
"I mean, it stinks, but you need to take a lot from those losses because you either did something wrong or didn't capitalize on a position, so you go back and let it sting and use it as drive and motivation to wake up the next day and outwork yourself from the previous week," Henson said. "It's using it as fuel and film to look back on and learn from the past what you did or what you didn't do to change that in your next match."
Henson was introduced to the sport in third grade by his father in Cartersville, Georgia. He committed fully to wrestling, he said, in seventh or eighth grade when he gave up football and baseball.
Placing at the Super 32 as a freshman gave him the confidence he needed to pursue his goals and stick with the sport, he said. He wrestled in clubs with various coaches to concentrate on different styles.
"I would train everywhere just to get the best partners I could," he said.
When it came time to choose a Division I collegiate program, it was Tech the whole time.
"It was just the feeling I had when I got on campus here," he said. "It felt like home and the coaches saw a lot in me and I felt that, and our partners here were great. I couldn't ask for anything more and I was excited to be here and to compete under that VT."
As far as Virginia Tech coach Tony Robie is concerned, Henson just keeps getting better.
"So, obviously, that weight class (149) is really deep with a lot of good guys. Caleb, he's a gamer," Robie said. "I think, when the stakes are high, he's probably going to wrestle his best.
"So I think that bodes well for his potential at the end of the year. He just keeps elevating himself and keeps getting better. And he's a good guy at making adjustments, both in-match and out-of-match adjustments throughout the course of the season. That's part of his progression as well."
While academics and athletics are time-consuming, Henson tries to make time for recreation.
"I love to fish. That's what's awesome here, we have the New River, which is a beautiful river 10 or 15 minutes away from campus, and Claytor Lake, about 20 minutes away from campus," he said.
"I do a number of things. I like to play video games … that's a big thing I do. I love to be outside. We also hang out as a team a lot here. That's one thing I like a lot, like when there's a game on or something or even if someone wants to have a fire, it'll be five … eight guys at a house all just chilling out and talking … not even about wrestling but being boys and hanging out."
Henson said he's grateful for the opportunity to compete for the Hokies as a true freshman and would like to reel in a national title.
"Yeah, I mean, winning this weight class is a huge goal of mine and you'd kind of stamp yourself as one of the top dogs across all the weights in college," he said. "It's an opportunity that I've taken as a good thing with how deep it is and it's just gonna be even cooler when I win it."
His wrestling room partners range from All-America Bryce Andonian to assistant coach Jared Freyer and many more in between.
"And the coaches are so focused on your style," Henson said. "They'll see something that they think will work best for you and you'll get a text message and it's a video breaking it down, and then we're in the room messing with it the next day. So just the connection and the ability to ask questions with all these guys is key."
With dual meets remaining against North Carolina and Virginia, Henson said the sixth-ranked Hokies (8-3) are a good dual team.
"But I think we're even a better tournament team. So when March comes around, I think all these wins and losses are gonna build us up to be something special," he said.
"It's growing in your offense and your defense and portraying that out on that mat and then peaking for March. So, yeah, getting mentally ready knowing all this stuff is for the big, ultimate goal."