2022-23 Penn State Wrestling
Nittany Lion Insider: Kerkvliet Adding Muscle To Back End Of PSU Lineup
Nittany Lion Insider: Kerkvliet Adding Muscle To Back End Of PSU Lineup
Second-ranked Penn State heavyweight Greg Kerkvliet has been flexing his muscles in the last couple weeks with a series of dominating wins.
Feb 8, 2023
by Travis Johnson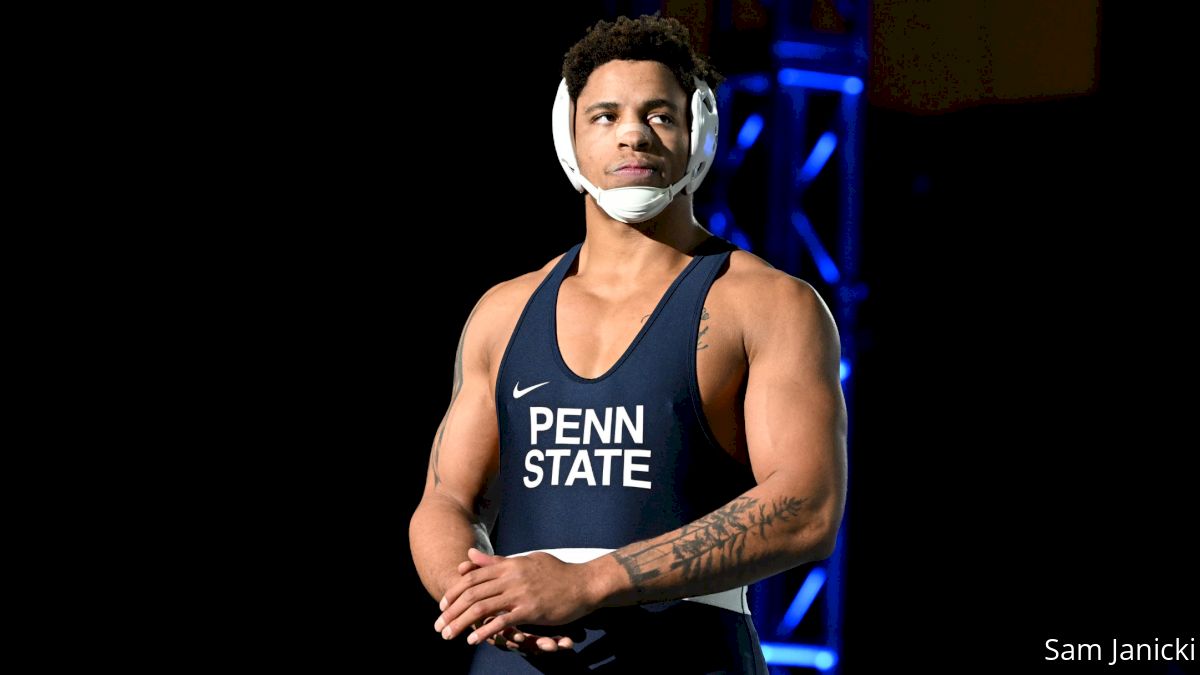 Unlock this article, live events, and more with a subscription!
Get Started
Already a subscriber? Log In
Greg Kerkvliet is a man of few words, at least to those outside of Penn State's wrestling room.
Inside it, the muscle-bound heavyweight will often chat up his teammates about chess while stupifying them with ridiculous feats of strength like doing a full set up pull-ups with 125-pounder Gary Steen hanging on his back.
Sometimes, Cael Sanderson can only chalk Kerkvliet's abilities up to biology.
"He works hard and is very committed in the weight room, but I think a lot of strength you thank your mom and dad for," Penn State's coach said. "Just great genetics. He's got great technique, but he is off-the-charts kind of strong."
Kerkvliet's strength has been on display for much of the year but was apparent this past weekend when he dusted a pair of Big Ten heavyweights to improve to 11-1 on the season. He beat Ohio State's Tate Orndorff 9-0 on Friday before hammering Indiana's Jacob Bullock 16-0 in just 3:59 on Sunday.
The way Kerkvliet is winning matches has stood out to his coaches and teammates.
Since a 3-1 loss to Michigan's Mason Parris on Jan. 20, Kerkvliet has outscored opponents 48-5. In that span, Kerkvliet hasn't surrendered a takedown and has been a monster on top. Against Orndorff and Bullock, Kerkvliet racked up nearly seven minutes in riding time.
Kerkvliet brought his teammates to their feet as he lifted Orndorff off his and returned the big Buckeye to the mat in Columbus.
It's a feature of the back end of Penn State's lineup that the Nittany Lions believe will pay dividends come March.
"I look over sometimes in the weight room and he's freaking barbell pulling more than I weigh," Steen said. "He was doing 150s and I'm only 135."
WWE Future?
Kerkvliet has another year of eligibility with the Nittany Lions, but his future outside of folkstyle wrestling is already shaping up.
Along with Nittany Lion football player Nick Dawkins, Kerkvliet is one of 46 collegiate athletes who have signed with the WWE's "Next In Line" program — a name, image, likeness initiative that will provide sponsorship and a career path to professional wrestling.
"If that's the route he decides to take I think he'll obviously do super well," Sanderson said. "To us, it's about our guys being able to do what they want to do for the rest of their lives. That's something we want them to take away from being in our program is that you can kind of do and be whatever you wanted.
Sanderson called it a "natural step" for Kerkvliet who "has everything [WWE] would want in a superstar."
But for a guy as quiet as Kerkvliet, what would his character be? Teammate Alex Facundo had to think a minute before agreeing with a suggestion.
"He's a man of few words," Facundo said. "Silent assassin is good."
Steen's Confidence
It hasn't been easy this season for Gary Steen.
The redshirt freshman 125-pounder hasn't done a lot of winning, but he certainly has learned a lot as he's found out what so many high school stars do when they get to this level.
College wrestling is savage.
Steen lost just four matches during his career at Reynolds High before joining Penn State as a true freshman last season. The two-time Pennsylvania high school state champion went 5-5 during his redshirt year and is 5-10 this season.
"There's been a lot of time this past year, my head's been down, I've been kind of down," Steen said. "But it's just a process. It's just more of keep going, building faith and having fun with the process."
Sanderson committed to Steen being Penn State's guy at 125 on Tuesday and said he believes Steen can turn the corner with a bit more confidence. He's seen it grow as Steen has battled with former Penn State All-American Jordan Conaway and World champion Thomas Gilman in the practice room.
Conaway, known for his mat IQ and swift duckunders when he went at 133 for the Nittany Lions, has pulled Steen aside to drill with him more and more. Gilman, meanwhile, is the measuring stick against which all Penn State lightweights gauge themselves.
Steen likened the early part of this year to two summers ago, when he was trying to find his way in the room as a rookie.
"I probably didn't get a takedown for five months," Steen said. "I can hang in the hand fights now with Gilman. He still beats me up a lot, always will because he has more experience. But I can hang in with him. I score on him sometimes. But it's just trying to grow and push myself."
Comparison Game
Alex Facundo had never met the wrestler he gets compared to most often until a few weeks ago.
Then, Penn State welcomed former All-American and national champion Quentin Wright into the room and he and Facundo hit it off.
"I got to talk to him and he said how I reminded him of himself," Facundo said.
Facundo has heard it his whole career, even though he only recently started watching the former Nittany Lion legend on tape. He understands why people say what they say, the wide bases, long arms looking for throws, deep gas tanks, most of the similarities check out.
Can Facundo pin someone with leg scissors as Wright was known to do?
"I'll have to work on that," Facundo said.
Body Maintenance
Facundo has been working on one aspect of his wrestling that he believes will pay off a month from now.
Staying out of dangerous positions. Facundo entered the season mindful of an offseason knee ailment. He's been careful with it most of the year, wrestling with a heavy wrap and not putting himself in position to get tweaked.
It hasn't been easy as Facundo is used to just going for it, no matter the cost.
"I didn't really care about my body [in high school]," Facundo said. "I'd just go out there and try to win. But now, looking down the road, I've got to try to be the healthiest I can be for the nationals."
Stars Rest
Stars Roman Bravo-Young and Aaron Brooks were off on Sunday and it gave Sanderson and his staff a chance to see a pair of little-used juniors in action.
Baylor Shunk filled in at 133 where he fell 9-7 in sudden victory to Henry Porter and Donovan Ball wrestled and beat Clayton Fielden at 184. It was Shunk's first match since offseason surgery while Ball improved to 11-3.