2022-23 Iowa Wrestling
Hawkeye Insider: Iowa Reaping Rewards Of Third Attempt To Reel In Real
Hawkeye Insider: Iowa Reaping Rewards Of Third Attempt To Reel In Real
Iowa was unsuccessful in its previous efforts to land Real Woods, but the Stanford transfer is making a big impact now.
Feb 7, 2023
by Darren Miller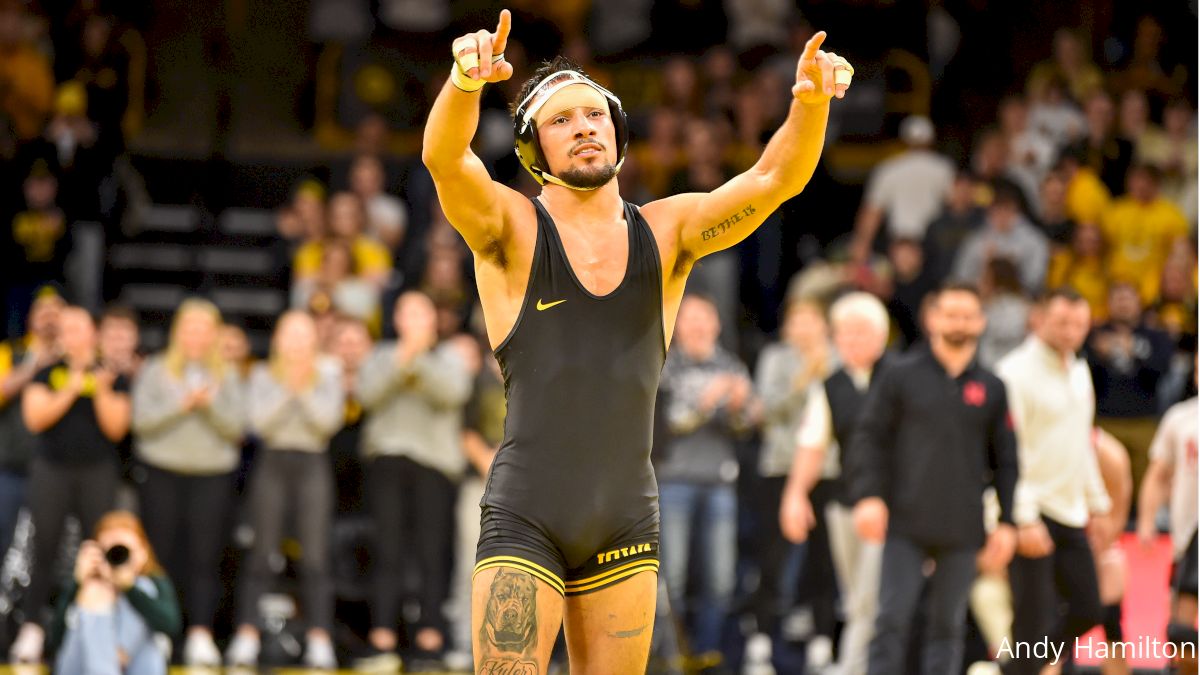 Unlock this article, live events, and more with a subscription!
Get Started
Already a subscriber? Log In
The third time's a charm when it comes to the relationship between Real Woods and the University of Iowa wrestling program.
Woods, a Hawkeye 141-pounder who is undefeated in 11 matches this season, was on Iowa's recruiting radar as far back as his high school days at Montini Catholic High School in Lombard, Illinois. But getting Woods into the Dan Gable Wrestling Complex took a while.
Fulfilling a lifelong dream, Woods committed to Stanford, where he went 42-8 in three seasons and won two Pac-12 championships. During his third season at Stanford, the school announced it was eliminating its wrestling program. Since the Hawkeyes had returning NCAA finalist Jaydin Eierman on their roster, they weren't in the market for another 141-pounder. So, when Stanford reinstated its program, Woods stayed put and advanced to the 2022 NCAA Championships, where he reached the semifinals and placed sixth. After the season, Woods was once again ready to relocate.
Iowa coach Tom Brands said the conversation with Woods was "very natural" after Woods began searching for graduate schools.
"[We said] Iowa City, Iowa has the best fans on the planet and they shower guys like you with affection and praise because you know how to get it done on the mat," Brands said.
One of two undefeated wrestlers for second-ranked Iowa, Woods has been getting it done as a Hawkeye, with six of his 11 victories coming with bonus points.
"I want to win on the wrestling mat. It's as simple as that," Woods said.
Brands says Woods is quiet, confident, and funny. On the mat, Brands refers to Woods as a phenom with his ability, athleticism, and mindset.
"(It is how) he walked and talked," Brands said. "He would back it up, and when he didn't back it up (with) results, he would back it up with his effort. When he got beat, he would bruise and batter you."
For Woods, his brief time at Iowa has already made a positive impact on his wrestling from a technical and mental standpoint.
"I would say pushing me to open myself up and maybe even to be more open-minded to different ideas in my wrestling," Woods said.
Kennedy Surging In First Full Season As Starter
Like Woods, it took Patrick Kennedy time to embrace the Hawkeyes. Also like Woods, he now thrives in a black and gold singlet.
A native Minnesotan, Kennedy grew up rooting for his home-state Gophers. During the 2014 Big Ten Championships — and primarily to agitate a family friend and Hawkeye fan — he cheered for Ohio State's Nathan Tomasello against Iowa's Thomas Gilman.
"My first memory was, I don't like Tigerhawks," Kennedy said. "As I got older and matured maybe, I fricking love Tigerhawks."
Kennedy is rated #8 nationally at 165 pounds and improved to 14-2 on the season when he returned to his home state Feb. 3 and defeated Minnesota's Cael Carlson, 13-8.
How did Kennedy become attached to the Hawkeyes? First, his high school coach was Iowa All-American Jamie Heidt. Second, while in high school he could use Iowa's Dan Gable Wrestling Complex as a Regional Training Center.
"I didn't come (to Iowa City) for a couple days, a couple times, a couple weekends," Kennedy said. "I was here a lot. For the amount of time I was here, a person couldn't be fake for that long. You can go on a weekend visit and people can put a persona on, but I was down here for days, weeks at a time. What I saw out of (head coach Tom) Brands and what I saw out of (assistant coach Ryan) Morningstar, people around the program, is how I was raised. It was an easy transition for me.
"I was raised that way by my parents, my high school coach was a Hawk, and that's how we trained and the philosophy wasn't really different. The philosophy of out-train the world and have fun while you're doing it was basically the same thing, and it was easy and it was probably one of the best decisions I have made in my life so far."
In return, Hawkeye fans are enjoying Kennedy. After waiting in the wings behind four-time Big Ten champion Alex Marinelli, this is Kennedy's first season as a full-time starter. His only losses are to #2 David Carr of Iowa State (10-4) and # 6 Dean Hamiti of Wisconsin (4-3).
Kennedy laughs about his initial thought of the Hawkeyes, which seems like eons ago. The University of Iowa is where he was meant to be.
"I jumped on board and I'm not getting off board," he said.