Big Ten
Iowa Women Have Impressive Showing At Bearcat Open
Iowa Women Have Impressive Showing At Bearcat Open
The Iowa women's wrestling team sent five wrestlers to the Bearcat Open, and, once again, the Hawkeyes impressed.
Feb 5, 2023
by Kyle Klingman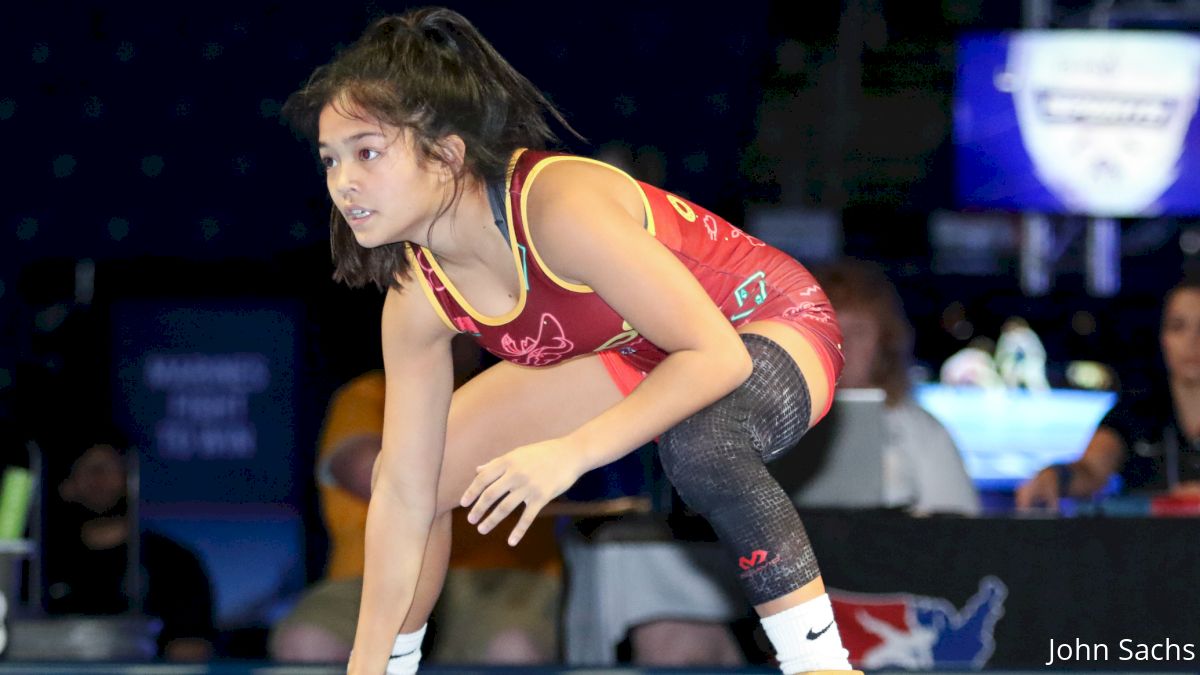 Iowa didn't send a full line-up to the Bearcat Open, but the Hawkeye women's wrestling team had an impressive showing this weekend.
Sterling Dias (101), Emilie Gonzalez (101), Ava Bayless (109), Ella Schmit (143), and Bella Mir (155) entered unattached in one of the best end-of-season tournaments in the country. The unattached Hawks went 19-2 on the day with three titles and two third-place finishes.
Dias picked up a 4-1 win over Gonzalez in the semifinals, then won 11-0 over second-ranked Lizette Rodriguez of McKendree. Gonzalez defeated high school phenom, Rianne Murphy, 12-12, to finish third.
Bayless had three straight techs before pulling out a 5-4 win over North Central's Kendra Ryan in the finals. Ella Schmit was exceptional on her way to the 143-pound title by securing three techs and a fall.
Mir had two techs and two falls but was pinned in the semifinals by Sacred Heart's Maddie Sandquist before wrestling back for third.
There are currently four Division I teams that offer women's college wrestling and three had representation at the Bearcat Open. Iowa, Lindenwood, and Sacred Heart sent wrestlers to Lebanon, Illinois, on Sunday.
Unattached-Iowa Results
Sterling Dias (101), First
Quarterfinals: Sterling Dias won by fall over Kristy Travis (Tiffin University), 0:21
Semifinal: Sterling Dias won by decision over Emilie Gonzalez, Dec 4-1
1st Place Match: Sterling Dias won by tech over Lizette Rodriguez (McKendree University), 11-0
Emilie Gonzalez (101), Third
Round 1: Emilie Gonzalez won by tech over Odelia Lopez (Schreiner University), 10-0
Quarterfinal: Emilie Gonzalez won by fall over Aaliyah Payne-Parris (Sacred Heart), 3:26
Semifinal: Sterling Dias won by decision over Emilie Gonzalez, 4-1
Cons. Semi: Emilie Gonzalez won by tech fall over Isabella Morales (Colorado Mesa), 10-0
3rd Place Match: Emilie Gonzalez won by decision over Rianne Murphy, 12-12
Ava Bayless (109), First
Round 1: Ava Bayless won by tech over Elizah Leonard (North Central College), 11-0
Quarterfinal: Ava Bayless won by tech over Samantha Kruize (McKendree University), 10-0
Semifinal: Ava Bayless won by tech over Angelina Graff (North Central College), 10-0
1st Place Match: Ava Bayless won by decision over Kendra Ryan (North Central College), 5-4
Ella Schmit (143), First
Round 1: Ella Schmit won by tech over Erika Novak (Hiram College), 10-0
Quarterfinal: Ella Schmit won by tech over Serena Cervantes (Schreiner University), 10-0
Semifinal: Ella Schmit won by fall over London Houston (North Central College), 1:02
1st Place Match: Ella Schmit won by tech fall over Riley Aamold (North Central College), 14-2
Bella Mir (155), Third
Round 1: Bella Mir won by fall over Megan Vondrasek (Adrian College), 1:39
Quarterfinal: Bella Mir won by tech fall over Sierra Pienkowski (Carthage College), 10-0
Semifinal: Maddie Sandquist (Sacred Heart) won by fall over Isabella Mir, 1:40
Cons. Semi: Isabella Mir won by fall over Jordan Johnston (Schreiner University), 1:48
3rd Place Match - Isabella Mir won by tech over Shelby Ottum (North Central College), 10-0