2023 NWCA National Duals - Men`s Divisions
D3 Insider: Lackman's Chase Of Second Title Could Include Brother Battle
D3 Insider: Lackman's Chase Of Second Title Could Include Brother Battle
Returning D3 champ Nathan Lackman of Rhode Island is ranked #1 at 165. His brother, Matt, of Alvernia is ranked second.
Feb 2, 2023
by James Nelson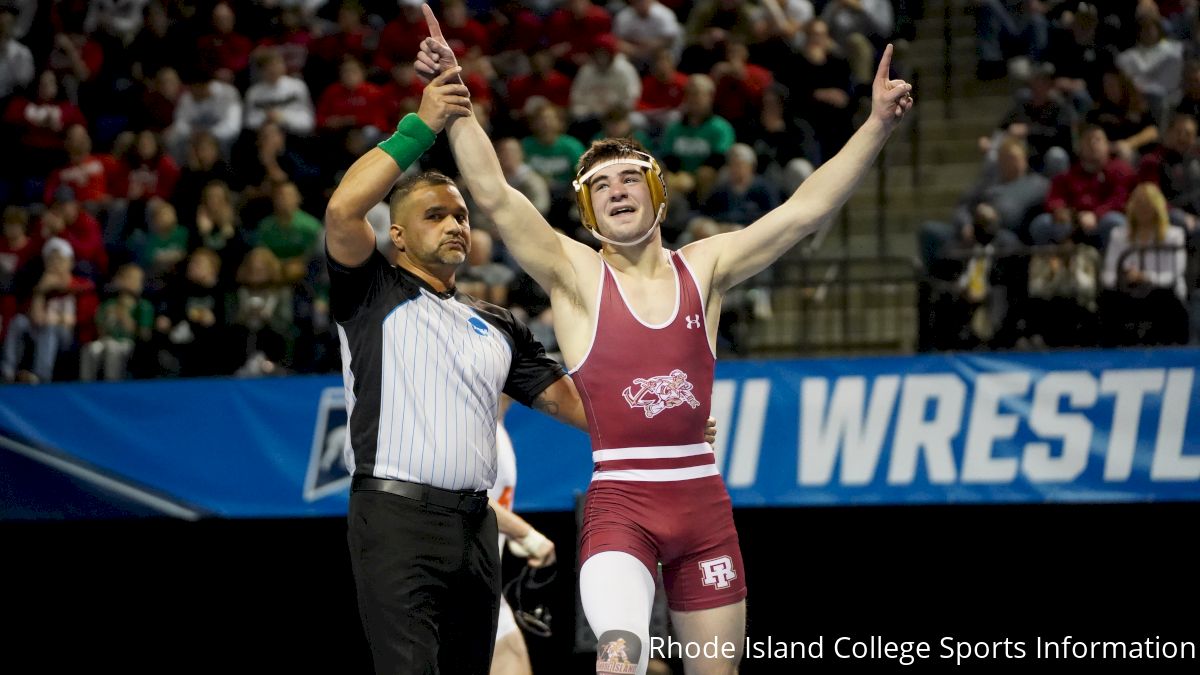 Three weeks ago, Rhode Island College national champion Nathan Lackman was in the same building at the same tournament as the perceived second-best guy at his weight class.
The two individuals did not face each other, but Lackman didn't take advantage of the opportunity to build a scouting report, either.
Honestly, Lackman says, he knows all he needs to know about the guy — his brother, Alvernia University junior All-American, Matt.
For most of the season, Nathan Lackman, who beat RIT's Kaidon Winters last March in Cedar Rapids to win the 157-pound crown, has been ranked #1 at 165, and Matt, fifth in Cedar Rapids at 165, has been ranked second.
"I know him pretty good," Lackman laughs. "We are very close. We talk to each other every single day, sometimes it is about wrestling, a lot of the time it is not."
Lackman says he and Matt can't help but acknowledge the rankings, but at the same time both know there is a lot between now and until the NCAA championships in Roanoke, Va. on March 11-12 that can happen or has to happen for potentially historic national final pitting siblings.
They won't face each other in the regular season and Alvernia and Rhode Island are both in different qualifiers — Alvernia will compete at the Southeast Regional at a site yet to be determined, and Rhode Island will head to the Northeast Regional in Gorham, Maine.
"A lot…a lot has to happen. We both have to qualify for nationals," Nathan said. "To us, rankings are just rankings. Whether it really happens or not, right now it is awesome we are 1 and 2."
The plan was never really for either brother to be at the same weight in college and it was never an issue when the two were at Bethlehem Catholic in Wernersville, Pa.
Nathan was still wrestling at 106 as a junior and 120 as a senior, while Matt filled in between 138 and 152.
But in college, a concentrated effort on getting stronger and a growth spurt has pushed Nathan from a 141-pound freshmen wrestler to a 165-pound senior.
"I've grown at least four inches, I'm close to 5-foot-11 now," said Lackman, who took fifth in his regional as a freshman. "When I first got here I was still filling into the weight class. And, now, it is weird to think about, but I'm closer to a heavyweight than I am to the lightweights.
"I've had to adjust to the different styles, the speed is different, hand fighting is different."
A change of mindset after that freshmen season also helped.
"I've always believed wrestling was as much mental as physical and part of it was really believing you belong here," Lackman said.
Lackman had options coming out of high school, and it was a stroke of luck that Anchorman coach Jay Jones landed him.
Nathan was visiting his sister, Briana, at college in Providence, where she attended Johnson & Wales. Looking for a place to get a workout in he found the Blackstone Wrestling Club and met the owner, Colin Smith, who just happens to be a Rhode Island alumnus.
"I liked the area here a lot so that was a plus," Lackman said. "But I met Colin, we stayed in touch and he put me in contact with coach Jones and it worked out."
Jones says his program and the college are lucky to have Nathan.
"First off, he is a model kid on and off the mat," Jones said. "He just does it the right way. As a wrestler, he has some lists and challenges he wants to meet and it has been fun to watch him go to the next level."
His victory last March wasn't a fluke come out of nowhere story. Up until he won, Lackman had been spectacular not giving up a single takedown while earning the #3 seed. He finished perfect in record (35-0) and perfect in not allowing a takedown as he joined Billy Cotter (1994) and Mike Bonora (2008) as the third national champion in program history.
He has yet to give up a takedown to a Division III opponent this winter (49 takedowns to 0 for opponents) as he is 26-3 with all three of his losses coming at the Midlands where he took sixth at 165 going 5-3 overall.
"It was a challenge," Lackman said of the Midlands. "I hadn't seen that high level of competition yet, the best of the best, and I wanted to see that level, maybe get exposed a little bit, get taken down.
"It is kind of the mindset of not running away from good competition, but running toward it. I felt I did a good job of adjusting throughout the tournament focusing on what I needed to do to get better."
As the Division III season races to finish, Regionals are in three weeks, Lackman doesn't see himself chasing a second title.
"This is a new year — 2022 is 2022," Lackman said. "Yes, two-time national champion sounds better, but I don't see myself as defending anything. There is always something better, something greater.
"If we can do something twice it is even better."
Win or not, face his brother or not, Lackman, a senior, does have an additional year of eligibility left should he choose to come back. He's keeping that decision close to the vest.
Jones says there are many factors to consider and he is not going to try to influence Lackman one way or the other.
"It has to fit for him…it has got to be right for his life," Jones said. "He has accomplished so much in wrestling. We are prepared for both options (for Lackman to take advantage of his extra year or graduate and move on."
Lackman and the Anchorman are back in action Friday against Worcester Polytechnic Institute and again on Saturday against Roger Williams and New England College.