2022-23 Arizona State Wrestling
Sun Devil Insider: Past Adversity Fueling Parco's Title Chase
Sun Devil Insider: Past Adversity Fueling Parco's Title Chase
Kyle Parco's college career has been lined with challenges, but Arizona State's 149-pounder is chasing All-America honors for the third time.
Feb 1, 2023
by Jim Carlson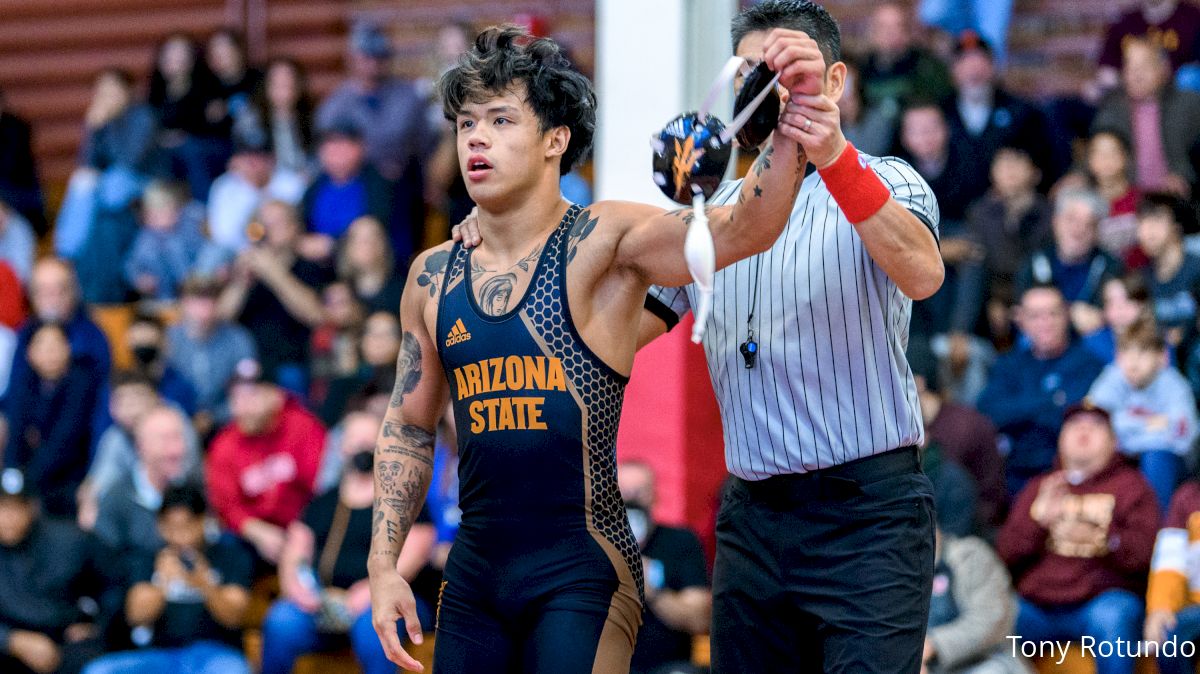 Unlock this article, live events, and more with a subscription!
Get Started
Already a subscriber? Log In
With two and a half seasons completed and two and a half yet to go, Arizona State's Kyle Parco has done a lot, won a lot and learned a lot about himself.
Parco's 149-pound class this year is arguably the deepest and strongest out of the NCAA's 10 weights. Already a two-time All-America — with one medal at Fresno State and the other last year at ASU — Parco can't wait to get back on the postseason trail.
"I think it's a really good opportunity because a lot of these other weight classes aren't as stacked, and one of the things Coach (Zeke) Jones has ingrained in my mindset is that the harder it is and the more obstacles and difficulties there are, the better the victory is," Parco said. "That's how I've been looking at it.
"Any of the top five, top six guys are in the race to win it, and really at the end of the year I just have to be that guy to win it. I like that challenge, I like having those people there; like I said, it will just make the victory even better."
Look at his bio and one will see that Parco has competed for three seasons at 149. But in 2021, he was a true 141-pound wrestler in a 149-pound bracket.
That was Parco's first year at Fresno State. More importantly, it was the last year for wrestling at Fresno State as the Bulldogs learned that the sport was being dropped by the university.
"That year was really difficult and really unique for me because the team had just gotten cut," he explained. "Most of my teammates had transferred out or left.
"So on that team that year it was me and barely a team of 10. Every dual meet we'd be winning one or two matches and forfeiting one or two weights. Every tournament we'd go to would be just me and a couple of other guys. I was at 141 the whole year and was wrestling off for the 141 spot and I beat him, but the coach at Fresno State decided after that that he was going to bump me up to 149."
Parco said a week or two prior to the Big 12 tournament, he became the 149-pound starter and showed up to weigh-ins five or six pounds under.
"Really the goal there was to make a name for myself and shock people," he said. "I had known I had been working so hard that year and I was in a position to All-America at 141.
"The circumstances changed the situation but my goals were still the same. So I was there to shock people and show the world that I'm not someone who's just gonna go in there and wrestle and go 1-and-2. My coaches and my club coaches believed in me and they put that mindset in my head, so I was ready to All-America; it wasn't really a shock to me."
Seeded 17th at 149 in 2021, Parco won Round 1 in sudden victory and drew top-seeded Sammy Sasso of Ohio State. The eventual runner-up, Sasso just got by Parco 11-10 and Parco was relegated to the consolation bracket where he won four straight, dispatching of talented foes such as Virginia Tech's Bryce Andonian and Appalachian State's Jon Millner along the way.
Parco placed sixth and immediately transferred to Arizona State.
"Zeke Jones, I admired him as a technician and Frank Molinaro, I admired him as a competitor, so their coaching staff was really impressive to me," Parco said. "When that call came on my phone, it was really exciting to me; it was one of the schools that really stood out from the others."
Now 60-11 overall with two All-American medals and a current #5 ranking in hand, Parco has become one of the leaders of the 11th-ranked Sun Devils, and it's a role he enjoys.
"I think it came along naturally here, just working hard every day and then people slowly gravitating toward that work ethic," he said. "And there's a few other people here on the team who kind of share those values — Jesse Vasquez is one of them — but having those same values kind of builds up my own training and my own mindset.
"I think it makes the college wrestling experience all the better. Because it makes it more than just wrestling, it makes it about inspiring people and improving every single day and inspiring others to be better than they are now."
That inner strength and confidence was necessary just over a year ago. Parco had just been to his California home to visit family and was preparing for ASU's match against Iowa State when he was told his father had died from a heart attack related to COVID-19.
"I'm still working through it, but a year has passed now and I'm in a better place and I'm focused on wrestling for the right reasons," Parco said. "That was a really tough time for myself and my family. My dad was always a big part of my wrestling and my little brother, E.J.; he brought us up by himself basically.
"He didn't wrestle as a kid and none of his family wrestled, but he was responsible for my brother's and my success. He hit everything right on the head as a first-timer (as a wrestling parent); I always think about that. He's one of the reasons why I'm so good today."
When his ASU career ends after two more seasons, Parco will have to decide on which style of wrestling to pursue post-college.
"I want to make a World team and get a World medal in Greco or freestyle," he said. "When that time comes, I'll have to decide between one or the other. My Greco background is very solid and I kind of had a natural inclination for that."
Parco noted that MMA/UFC is a post-college option as well. He is signed with an agency that has hundreds of guys on a UFC roster. After that, his criminology major could come into play.
"A lot of my coaches and people around me were in law enforcement, so I naturally gravitated toward that," he said. "After college, I'm definitely looking to stay in the law enforcement community, I'm just not certain exactly what yet."
Whatever the choice, he'll have wrestling to thank for it, he said.
"I think one of the biggest takeaways I'll have from wrestling is just working through obstacles and working through hard times," Parco said. "The college wrestling season is hard, and it's grueling and to make it through a whole wrestling season and to be successful at the end, you have to have some determination and perseverance.
"I think the other thing is just learning and being a student of everything … having a white-belt mindset, and just being a student of everything and working as hard as you can to improve every single day.
"I think that will translate really well into post-athletic life and going into professional careers. Being a student, always improving and having to be the best at everything — not having to be perfect but having that need to improve every single day. I think that will really help me."