Big Ten
Iowa wrestling coach Tom Brands: "Supporting Scoring Is The Solution"
Iowa wrestling coach Tom Brands: "Supporting Scoring Is The Solution"
Iowa coach Tom Brands has a simple solution to the lack of scoring in college wrestling, and it doesn't involve freestyle.
Feb 1, 2023
by Kyle Klingman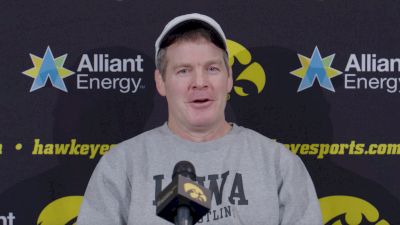 A quick glance through Tom Brands's 1991 NCAA tournament bracket and you'll understand what type of wrestler he was. The former Hawkeye star put up 98 points over five matches against the best college wrestlers in the country.
His title run was as such:

Round 1: 23-8 over Jason Dewland (Boston University)
Round 2: 25-10 over Shannyn Gillespie (Lock Haven)
Quarterfinals: 12-6 over David Zuniga (Minnesota)
Semifinals: 33-19 over Joey Gilbert (Michigan)
Finals: 5-3 over Alan Fried (Oklahoma State)
That, as Tom Brands might put it, is staggering. Brands has one regret, though. He only scored 33 points against Gilbert when he should have scored 34. He would sleep better knowing he got a technical fall instead of a 14-point major decision.
Scoring is the objective. It always has been and it always will be — especially if you ask Brands.
Brands, of course, is the head coach at Iowa now, and he wants his wrestlers to be more like him — even though he hasn't said it outright. The former Iowa star had plenty to say about scoring, riding, folkstyle, and freestyle during his latest press conference.
"I'm not ok with a little bit of scoring ever," Brands said. "Wrestling is a tough sport. I don't think promoting action is the solution. I think promoting scoring is the solution. I think it starts right here with the philosophy of the program."
Seven of 10 matches during the recent Iowa-Penn State dual had five total points or less. Or, to put it another way, 14 wrestlers combined for 28 points during the dual, which is 70 points less than Brands (one man) scored over five matches at the 1991 NCAA tournament.
A question came up about changing collegiate folkstyle rules to freestyle as a way to incentivize scoring — and Brands was having none of it.
The NCAA Championships — a folkstyle event — draws 20,000 people.
The U.S. Open in Las Vegas — a freestyle event with the best wrestlers in America — draws 3000.
Case closed.
"Tough situations sometimes get really sticky as far as points being scored," Brands said. "That's the job of a coach or an athlete to blow the doors open. To react and go to freestyle is a silly, silly solution.
"You'll get a strong opinion from me that riding time needs to stay, and seven-minute matches need to stay. College wrestling is strong as evidenced by the television (numbers). I think our guys need to do a better job of going out with the idea that it doesn't have to be close. You have a choice. Go perform. Go put on a show — a spectacular display."
A question about ankle rides also came up as a reason for the anemic scoring output. Brands pointed to the cyclical nature of wrestling and that every coach in America is working on that position.
His philosophical take on the situation was as simple as it is true: An ounce of prevention is worth a pound of cure.
"I would start with prevention," Brands said. "Don't get your ankle caught. It's that simple.
"Make it exciting. Don't let a guy ride you."