2023 NCAA Watch Party: Penn State vs Ohio State & Iowa vs Minnesota
#1 Penn State At #5 Ohio State 2023 NCAA Wrestling Dual Meet Preview
#1 Penn State At #5 Ohio State 2023 NCAA Wrestling Dual Meet Preview
Previewing and predicting the NCAA wrestling dual meet between #1 Penn State and #2 Ohio State taking place in Columbus on Friday, February 3rd.
Feb 1, 2023
by Andrew Spey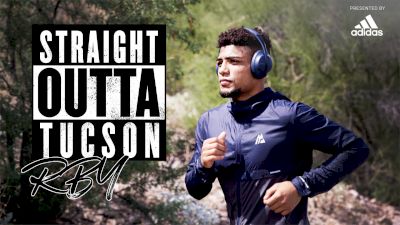 How do you follow an NCAA dual meet that set record attendance and viewership? That is a question for the #5 Ohio State Buckeyes as they host the #1 Penn State Nittany Lions Friday, February 3 and broadcast on the Big Ten Network at 7:00PM ET.
While a sell-out is all but guaranteed, TV ratings will be a secondary concern for Buckeye head coach Tom Ryan, as he will be focused on trying to give the nearly 4,000 expected Ohio State fans in the Covelli Center something to cheer about.
A quick glance at the probably starting lineups suggests that Penn State will be strong favorites in five weight classes (having four returning NCAA champs in the lineup helps in that regard), while Ohio State is only heavily favored in one, or arguably two, bouts.
Below is a weight-by-weight breakdown with predictions.
125 Pounds: #10 Malik Heinselman, OSU vs Gary Steen, PSU
Malik Heinselman is a four-time NCAA qualifier taking advantage of his extra year of eligibility due to the covid affected 2021 season to make one last push for the podium in March. He's off to a great start, having won 18 of his first 20 bouts this season.
The fifth-year Buckeye will be heavily favored over Gary Steen, a very capable native Pennsylvanian who is 5-9 on the season as a redshirt freshman. If both teams are at full strength, Ohio State is going to need bonus points from Malik to have a chance at winning this dual.
Prediction: Heindselman by major.
133 Pounds: #10 Jesse Mendez, OSU vs #1 Roman Bravo-Young, PSU
One of the most anticipated bouts of the dual. True freshmen usually aren't given much of a shot against two-time defending NCAA champs who haven't lost since before Rudy Gobert participated in his infamous press conference of March 2020, but Jesse Mendez isn't your typical true freshman.
Does Mendez have enough grit and gumption to overcome Roman Bravo-Young's Herculean speed and endurance? I'm not ready to predict an upset yet, but the fact that we're discussing it as a possibility should be an indication of the hype around this matchup.
Prediction: RBY by decision.
141 Pounds: HM Dylan D'Emilio, OSU vs #3 Beau Bartlett, PSU
Beau Bartlett would probably appreciate it if Flo stopped bringing up the fact that Dylan D'Emilio beat him in the finals of the 2018 Super 32 Challenge, but it happened and we have the archive of it so I have to embed the video now. Sorry, Beau! Nothing personal!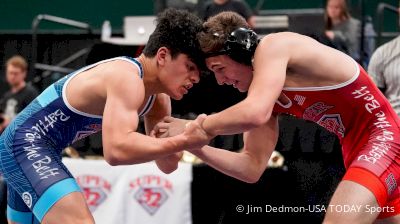 Unlock this video, live events, and more with a subscription!
Get Started
Already a subscriber? Log In
Blasts from the recent past aside, Bartlett has earned his status as the favorite. The Wyoming Sem grad qualified for the NCAA tournament last season as a true sophomore up at 149. Now down at his more natural weight of 141 (thanks to the graduation of two-time NCAA champ and four-time All-American Nick Lee), Bartlett has peeled off 14 wins in a row to start the season, dropping his first match only to #2 Real Woods in last week's epic dual vs Iowa.
D'Emilio has spent his collegiate career at 141, where he is a two-time NCAA qualifier. He's got six losses on the season, although one of them was an injury default in the first week of the season and all the subsequent losses have been to ranked or honorably mentioned opponents.
D'Demilio also beat Bartlett in the quarterfinals of the 2022 U23 World Team Trials which I had forgotten about until I remembered this tweet which was after I had written this entire preview but that's okay I'm sticking with my prediction anyway.
D'Emilio over Bartlett in the 65kg U23 quarters thanks to this monster 2nd period firemans. pic.twitter.com/aY6VXbrI7B

— Andrew Spey (@SpeyWrestle) June 5, 2022
Despite the rankings discrepancy, a win by D'Emilio is not out of the question, and Ohio State will need it too, as they'll want a healthy cushion going into the upperweights. I'm not predicting it, I think Bartlett's defense is too stingy and I think he'll do enough to get the dub, but it's definitely not guaranteed.
Prediction: Bartlett by decision.
149 Pounds: #3 Samy Sasso, OSU vs #12 Shayne Van Ness, PSU
Another must-win for Ohio State. Luckily for the Buckeye faithful they'll have two-time All-American Sammy Sasso manning the weight. Sasso was also the #3 seed at the canceled 2020 NCAA tournament. Sasso lost two nailbiters this season but has otherwise comported himself in typical manner, racking up 17 wins in 19 matches in his fourth varsity season.
Injuries hampered Shayne Van Ness' 2022 redshirt campaign. He's been healthy this season, however, and amassed an 11-3 record, slowly climbing his way up the rankings. The Blair grad and New Jersey native has dropped three of his last five bouts, though all to wrestlers in the top 10.
This is for sure an opportunity for Van Ness to prove he is a contender, however, Sasso's experience and craftiness are likely too much for the young Nittany Lion.
Prediction: Sasso by decision.
157 Pounds: #24 Paddy Gallagher, OSU vs #10 Levi Haines, PSU
Levi Haines just had his redshirt officially torn off last weekend (it gets a little confusing keeping track with the new rule that allows true freshman to keep their redshirt status and also compete attached in up to five varsity events), so its a fairly safe bet that the Pennsylvanian native who spent his high school senior year training in State College takes the mat on Friday. Haines is 13-1 in his inchoate collegiate career with five of those wins coming against ranked opponents.
Ohio State will answer with a redshirt freshman and St. Edwards grad, Paddy Gallagher, who is 8-4 in his first varsity campaign. The native Ohioan will be looking to bounce back after dropping his last two bouts to #14 Chase Saldate and #8 Will Lewan.
Given that these two young wrestlers have a recent common opponent in Will Lewan, and Haines just defeated the All-American Wolverine in sudden victory, I'm predicting another ranked win for the Penn Stater.
Prediction: Haines by decision.
165 Pounds: #10 Carson Kharchla, OSU vs #9 Alex Facundo, PSU
The marquee matchup of the meet (depending on who you ask). Carson Kharchla returned to the mat recently off of an injury he suffered at the Cliff Keen Las Vegas Invitational back in early December. Last week lost a bout with fellow All-American Cam Amine in overtime, getting caught and pinned in the ninth minute of the match!
Speaking of bouts with Cam Amine (the fact that both Ohio State and Penn State wrestled Michigan recently is a boon to this preview), Alex Facundo defeated Amine in tiebreakers two Fridays ago. Therefore, according to the transitive property, we can assume that this will probably be a close bout.
The difference could come down to one move in neutral. Perhaps if Kharchla gets his firemans or tricep control dumps working. Or maybe Facundo hits one of his slide-bys or duck-unders. Basically a coin flip, though, so take this prediction for what it's worth (i.e. not much!)
Prediction: Kharchla by decision.
174 Pounds: #6 Ethan Smith, OSU vs #1 Carter Starocci, PSU
All-American and four-time NCAA qualifier Ethan Smith is having an excellent season, sporting a 14-3 record. Unfortunately for Ohio State, this is where the heavy hitters of Penn State's lineup start coming up to bat, and Carter Starocci is having a better than excellent season, he's having a flawless season.
Now in his fourth year in Happy Valley, the two-time defending NCAA champ Starocci is working on 38 straight D1 victories, a streak that dates back to the 2021 Big Ten Championship. Starocci also defeated Mekhi Lewis in the NWCA All-Star Classic last November in a rematch of his second NCAA title bout.
Smith has been battling injuries this season, so fingers crossed he's healthy enough to start Friday. If Smith does start, he'll do well to limit the damage to a regular decision.
Prediction: Starocci by major.
184 Pounds: #5 Kaleb Romero, OSU vs #1 Aaron Brooks, PSU
Kaleb Romero is in a similar situation to his teammate, Smith. Aaron Brooks may not have an unblemished record this season like Starocci, he is, however, also coming off two back-to-back NCAA title-winning seasons. The Nittany Lion by way of Maryland also has an unofficial 12-8 victory over #2 Parker Keckeisen at the NWCA All-Star Classic.
It's without a shred of disrespect that your humble blogger suggests that Romero, an All-American in 2022 who is currently sporting an 18-3 record with losses only to the 3rd & 8th-ranked wrestlers in the nation, should merely try and hold this bout to a regular decision. Romero also has by the way wins over the #8 (two-times), #9 (also two-time), #13, #16 & #19-ranked wrestlers in the nation. It's more just that Aaron Brooks is really, really good and also majored Romero at the 2022 NCAA Championships.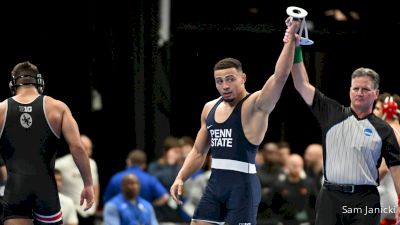 Unlock this video, live events, and more with a subscription!
Get Started
Already a subscriber? Log In
An upset is not impossible -- Brooks does have a loss to Marcus Coleman this season -- however, Brooks will still toe the line as the odds-on favorite.
Prediction: Brooks by decision.
197 Pounds: #15 Gavin Hoffman, OSU vs #1 Max Dean, PSU
Pennsylvania native Gavin Hoffman finally had his breakout season last year, advancing to the medal round of the NCAAs and ultimately placing sixth after three seasons in Columbus at three different weight classes and zero trips to the NCAA tournament. This season, 197-pounds is as robust as it's ever been and Hoffman will very likely qualify again, though a return trip to the podium is no sure thing.
He'll have a familiar foe Friday, when he faces defending NCAA champ Max Dean, a 2019 NCAA finalist at Cornell who transferred to State College and promptly won the whole dang thing in 2022.
Dean and Hoffman wrestled twice last season, with Dean winning both, first in sudden victory in the regular season and then by the score of 9-3 in the semifinals. Dean does have two losses on the season, but is undefeated in the last eight bouts and lately looks as good as ever. Dean's defense and riding ability may be pound-for-pound the best in the NCAA. Dean also still has a back-breaking bow-and-arrow for when he needs to score nearfall.
Prediction: Dean by major.
285 Pounds: #15 Tate Orndorff, OSU vs #2 Greg Kerkvliet, PSU
If the dual isn't locked up for Penn State by this point in the dual, Tate Orndorff will be tasked with figuring out a solution to Greg Kerkvliet, an opponent that has majored Orndorff the three times they've met on a collegiate mat. Two of those victories came at each of the last two NCAA Championships.
Orndorff, a 2021 All-American transfer from Utah Valley, made the round of 12 last season. He also has a Greco-Roman background that just may be the ace in the hole he needs if he's going to figure out a way to reverse recent history.
Kerkvliet has some Olympic-style chops of his own, however, having won gold and silver at U17 World Championships in freestyle and placing fifth at the 2019 U23 World Championship.
Prediction: Kerkvliet by major.
Final Score Prediction: Penn State 24, Ohio State 9
Ohio State is going to need a couple of upsets or something else to happen off-script to find a way to end Penn State's 39 dual meet win streak. But even if they don't look at all those ranked matchups! Worth tuning in to and enjoying in this blogger's humble opinion.