U.S. Wrestler Michaela Beck Takes Life-Changing Trip To Ukraine
U.S. Wrestler Michaela Beck Takes Life-Changing Trip To Ukraine
An on-the-mat opponent was no match for what American wrestler Michaela Beck experienced in Ukraine — or with herself.
Jan 31, 2023
by Kyle Klingman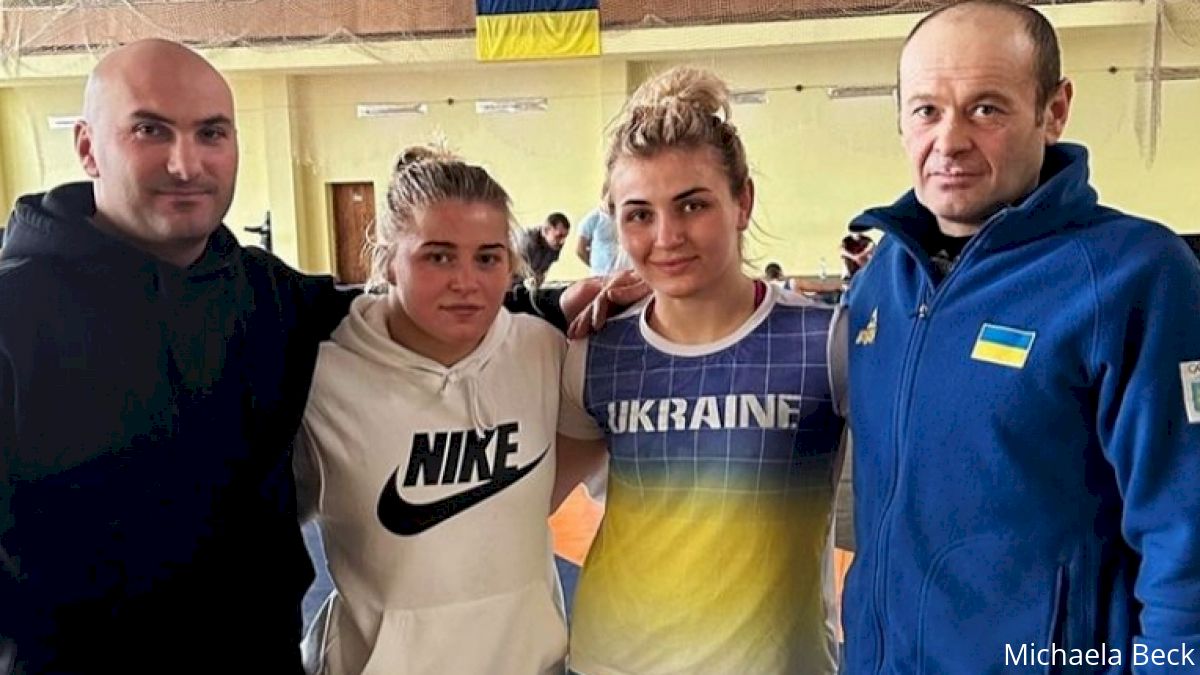 Michaela Beck doesn't care if your internet works. She doesn't care how many likes your Instagram post gets, either. And she definitely doesn't care how you feel.
Beck recently returned from a life-altering trip to Ukraine that changed her perspective on, well, everything.
The inevitable question is this: Why would a 22-year-old wrestler from New York City knowingly travel to a war zone? She is currently on the U.S. National Team and trains at the Olympic Training Center in Colorado Springs. There's no need to travel to a political hot box.
Answer: She had no choice.
"I think I'm a little crazy," Beck said. "I think there's something a little bit off about me. Since I was young, I've always felt a little different. I always had friends but I've always been a loner and I always wanted to do stuff a little bit differently than the usual way. I don't know if it's good. I don't know if I'd recommend it, but that's always how I've done things.
"If I feel called in my art to do something, if I feel pulled, and I don't always feel that, but if I do, I'm going to go and do that. Some people call it spontaneous, but when I have this intuitive feeling I go after it. I'm really glad I did because the was life-changing, and I knew it was going to be."
The next inevitable question is this: How?
Wouldn't our government put a stop to this? Isn't there a special visa to cross the border?
Surprisingly, no.
Beck has a magical way of forming bonds with people throughout the world, which is how this all began. She built a relationship with Alina Akobia — a 2022 Senior World bronze medalist and 2021 U23 World champion from Ukraine — and the two were inseparable during a training camp in Colorado Springs prior to the World Cup in Coralville, Iowa.
The two were at a Beat the Streets-Los Angeles event together and Akobia basically invited her to train in Ukraine. Beck subtly invited herself on the trip, too. She asked questions about logistics and if it was even possible.
Conversations started happening and, before long, Beck was on a plane with the Ukrainian national team for a month-long excursion. Flights to Ukraine are impossible because of the war, so the group flew into Warsaw, Poland, and drove to the border.
"It was easy for me," Beck said. "I just hopped in their van. They have 10 Ukrainian girls and one American passport so I just blended in. It was pretty simple. Once we got past the border I was in shock. I couldn't believe how easy it was, actually.
"They asked for my passport. They looked. They analyzed it. He looked down at my American passport and looked up at me like, 'What the hell are you doing here?' Stamped it, closed it, and handed it back. It was funny and it was simple. It was that fast."
It seems funny and simple in hindsight, but there were moments of panic as Beck neared the border. What would she do if they didn't let her into the country? Where would she go? How would she survive?
The group joked that she would walk back to the airport and live with stray dogs along the highway. Seriously, though, what would they do? They drove hours to get there — and Beck didn't speak the language.
"I was so nervous," Beck said. "We're in a van going into Ukraine. They all have Ukrainian passports. It's kind of like those moments before a match. You feel really nervous — like sick to your stomach nervous, but if it was so bad then you would just quit wrestling. Why do we always go back?
"Something in us likes this feeling. It was such anticipation but to another level. That was probably one of the most intense feelings I've ever had in my life. It was the seriousness of the moment but I vividly remember that it was probably the most serious moment in my life and we were making jokes and having humor the whole time."
Beck's experience was stranger than an ambitious movie script. She attended the Ukrainian national team banquet on December 23 and then celebrated Christmas. They baked her a cake, made huge dinners, and showered her with gifts. Beck called it the warmest welcome imaginable.
Then they trained.
Life moves normally but electricity is an issue so it's often pitch black — inside and outside. The internet rarely worked so conversations were difficult since Google translate wasn't an option.
It's also constantly cold, which means there's no heat and there's no hot water when there's no electricity. Everything shuts down when there's a siren indicating a missile is in the sky or imminent danger.
"It's very comfortable here," Beck said. "It's all about feelings. There, they took so much care of me — I've never been cared for like that — but you still don't have light. That's uncomfortable. If we had a blackout here, people would freak out. They live in a blackout. They live in the cold. They live with their phones not working. Things that you take for granted.
"You can charge your phone any time you want here. There, you get a couple of hours a day when you can charge your phone. The water worked in our apartment and they were very grateful for that. In some apartments, the water wouldn't work when the electricity went out. I don't think I realized how comfortable everything was here."
Entering Ukraine may have been easy but leaving was no picnic. She went 24 hours without food, water, or a bathroom since the stops were only three minutes and Beck was scared to get off the bus. Using a restroom costs money — and she didn't have any local currency. Getting left behind wasn't an option.
And this isn't a luxurious charter bus, either. This was a small school bus with no amenities. Beck had to find ways to survive.
"Humans are really resilient and really strong — stronger than we think," Beck said. "These little things that happen day to day would never break me or bother me now because I've seen what's really a problem in life, and that's war."
Will Beck make a return trip to Ukraine? Of course, she will. She has no choice.
Only next time she will stay longer and she will be stronger because of everything she just experienced. You may beat her on the mat but Beck refuses to lose at life.