2022-23 Penn State Wrestling
Nittany Lion Insider: Penn State Looking For More Offense
Nittany Lion Insider: Penn State Looking For More Offense
After prevailing in a dual in which offense was at a premium, Penn State is looking for more points following its 23-14 win against Iowa.
Jan 31, 2023
by Travis Johnson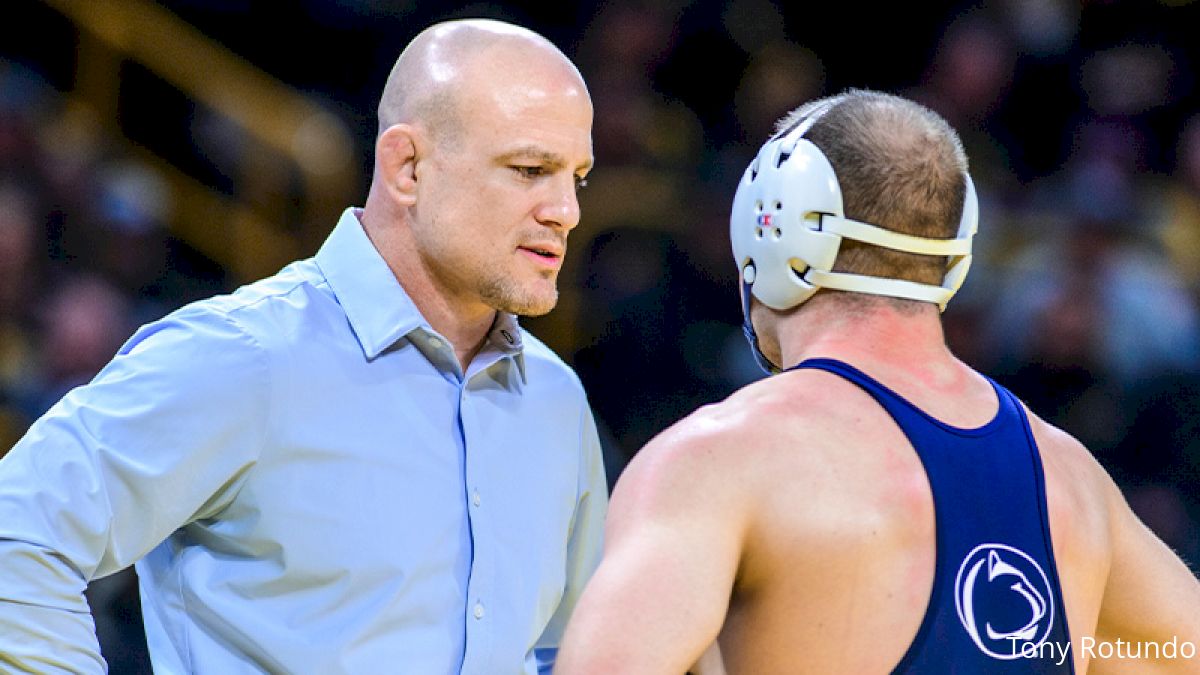 Unlock this article, live events, and more with a subscription!
Get Started
Already a subscriber? Log In
STATE COLLEGE, Pa. — Cael Sanderson has seen more entertaining duals before.
That's not to say the recent battle between Sanderson's Nittany Lions and the rival Iowa Hawkeyes in front of the largest indoor crowd in the sport's history wasn't exciting. Penn State's coach, though, found himself wishing his team showed a bit more.
"It was kind of a slow match," Sanderson said. "A match like that gets great ratings and a lot of people are hyped about it, unfortunately, sometimes they're not the most exciting if people aren't flying around as much."
The Nittany Lions won six of 10 bouts and overtook their counterparts with 16 takedowns to just two for the Hawkeyes in another low-scoring dual between the two teams.
The 18 combined takedowns tied the 18 combined attacks the two teams landed on one another last year. They combined for 25 takedowns in 2020 and 27 in the 2018 dual.
More than half of Penn State's takedowns on Friday night came from one Nittany Lion. Reigning 184-pound champ Aaron Brooks had nine against Drake Rhodes, a wrestler listed at 157/165 on Iowa's roster.
Move Forward
The lack of action wasn't due to lack of trying, and Penn State's younger wrestlers learned a valuable lesson on their feet.
Beau Barlett, Shayne Van Ness and Alex Facundo struggled to move their offense out of the handfighting stage as their opponents — Real Woods, Max Murin and Patrick Kennedy — battled back, closed down their angles and controlled the pace with well-timed counters, strong sprawls or brutal rides.
Murin kept Van Ness on the mat for the majority of their second period and won the 149-pound bout 4-1 with 1:48 in riding time. Before that, Woods rode Bartlett for 1:35 and posted a 4-1 win at 141.
"Yeah, we've got to go back and look at some of those matches," Sanderson said. "I think we've got some young guys in some tough situations against some experienced wrestlers there and some good wrestlers. Iowa's good and their coaches are very good, they're very technical and they come in with strong game plans."
Number 100
Sanderson won his 100th Big Ten dual. In typical Sanderson fashion, he was mum about the accolade.
"It just means I've been here a long time is what it means," Sanderson said. "But I don't do a whole lot of work. I'm sitting there watching like you all. I didn't know it was anywhere near that. It's not really a goal of mine or something that we really focus on, just go out, compete well and focus on the next one."
Big Crowd
Penn State tied its own attendance record by packing 15,998 into the Bryce Jordan Center for the match. The same number showed up the last time the Hawkeyes visited the BJC in Feb. 2018.
Almost Shocked
Primarily used by Penn State's men's and women's basketball teams, the cavernous arena is rarely filled even to half capacity for those games. The athletic department has even draped curtains over the upper bowl seats to hide the mass vacancies in the past.
Not for wrestling. Complete with flame cannons, fog machines and neon laser lights, the big building shook when sophomore Marco Vespa charged to the mat for the opener at 125 against Spencer Lee.
Lee, a Pennsylvania high school wrestling legend, drew boos from his home state fans as he stepped on the mat. Those boos quickly turned to deafening, frenetic screams as Vespa cradled the unbeaten Lee up in the early seconds of their match.
"(Vespa) brought a little excitement there for a second," Sanderson said.
The Hawkeye veteran wriggled free and tore into Vespa the rest of the way. A quick reversal led to a tilt-fest and Lee walked off with an 18-2 technical fall in just 2:14.
Those who'd watched Vespa closely over the years may not have been as surprised as the uninitiated fan. The former Monroe-Woodbury (New York) star won more than 200 bouts in high school, with more than 120 via the same cradle he nearly locked up on Lee.
Saving Steen
Vespa's entry may only be temporary.
Sanderson said Gary Steen, who notched his first Big Ten win against Michigan State's Tristan Lujan last week, was dinged up a bit and okay with yielding his 125-pound spot to Vespa.
While Steen hasn't won the matches this season, he's been close at times. Save for two technical fall losses to Michigan's Jack Medley and Wisconsin's Eric Barnett, Steen has been in nearly every match.
A third of the redshirt freshman's nine losses have come by two points or less.
Penn State's staff believes Steen's confidence has grown and they want it to keep rising. Keeping him away from the animalistic Lee is a good idea to ensure that happens.
Haines Is A Go
Baring injury, Levi Haines will be Penn State's representative at 157 pounds after the Nittany Lions opted to burn his redshirt and send him out in his sixth event on Friday.
They really had no choice. Haines is just that good. Need evidence? He wasn't shaken up despite nearly getting put on his back by Cobe Siebrecht in the opening minute.
But Haines scrambled out and eventually turned a third-period high-double into the bout's lone takedown and emerged with a 3-2 win — his 11th straight.
"It's been exciting," Brooks said. "It's like he's anointed, just how young he is, how calm he is. I was talking about those matches, his composure, he was put to his back early, he's chillin'. He smiles about it. The more he wrestles, the better he gets, so it's been exciting."
You Hate Losing, Remember?
Greg Kerkvliet had been cruising along nicely, feeling great at the 255ish pounds he's been weighing in at.
Everything was going according to plan until he ran into Michigan's Mason Parris two weeks ago. Parris handed Kerkvliet his first loss of the season, 3-1 in the BJC.
Since then, Penn State's quiet, low-key big man has found his second wind. He followed up his lone loss with a 19-4 tech over Michigan State's Ryan Vasbinder before pulling away from NCAA title contender Tony Cassioppi 4-1 on Friday.
It was Kerkvliet's first official win over the Iowa heavyweight in four tries. Cassioppi had 9-0, 7-2 and 6-4 wins in the series before Kerkvliet won their unofficial bout at the NWCA All-Star Classic 8-5.
"I guess I probably just had to re-learn that I hate losing," Kerkvliet said. "So if I have to do something mentally, whether it's change my mentality a little bit, well that's the thing I have to do. Hate losing, but Mason Parris showed me what I needed to do for March."