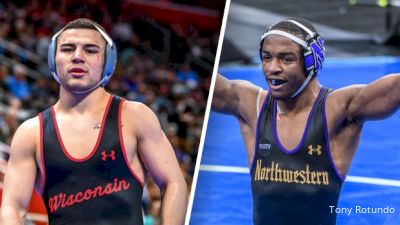 Unlock this video, live events, and more with a subscription!
Get Started
Already a subscriber? Log In
While you can't wager actual money through this contest, there's nothing stopping you from using these betting lines and gambling with your friends! Every Thursday Ben Askren, Christian Pyles, and JD Rader will make their picks live on FRL and compete against the public with both a weekly and running total win percentage throughout the course of the college season. Watch the show and decide who you want to pick. Make sure to get your picks in by the time the first included match starts as the contest will close once it does.
Once again, here's the link to play, and don't forget, the picks are against the point spread. Enjoy and good luck!
All times listed below are Eastern.
This week's matches and lines
Friday
Ohio State at Michigan, 6:00 PM
133 - #10 Dylan Ragusin, Michigan vs #13 Jesse Mendez, Ohio State, pick em
165 - #6 Cameron Amine, Michigan vs #8 Carson Kharchla, Ohio State, pick em
Pittsburgh at Virginia Tech, 7:00 PM
133 - #5 Sam Latona, Virginia Tech vs #7 Micky Phillippi, Pittsburgh, Latona -1.5
141 - #6 Cole Matthews, Pittsburgh vs #9 Tom Crook, Virginia Tech, Matthews -2.5
Wisconsin at Northwestern, 8:00 PM
125 - #6 Michael DeAugustino, Northwestern vs #9 Eric Barnett, Wisconsin, pick em
149 - #2 Austin Gomez, Wisconsin vs #4 Yahya Thomas, Northwestern, Gomez -2.5
Iowa at Penn State, 8:30 PM
125 - #1 Spencer Lee, Iowa vs Gary Steen, Penn State, Spencer pin
141 - #2 Real Woods, Iowa vs #3 Beau Bartlett, Penn State, Woods -1.5
149 - #10 Max Murin, Iowa vs #12 Shayne Van Ness, Penn State, Murin -1.5
165 - #5 Alex Facundo, Penn State vs #11 Patrick Kennedy, Iowa, Facundo -1.5
285 - #2 Greg Kerkvliet, Penn State vs #3 Tony Cassioppi, Iowa, Kerkvliet -1.5
Saturday
Arizona State at Lehigh, 6:00 PM
133 - #4 Michael McGee, Arizona State vs #6 Connor McGonagle, Lehigh, McGee -2.5
Sunday
Michigan State at Ohio State, 1:00 PM
133 - #13 Jesse Mendez, Ohio State vs #17 RayVon Foley, Michigan State, Mendez -3.5
Wisconsin at Nebraska, 3:00 PM
125 - #3 Liam Cronin, Nebraska vs #9 Eric Barnett, Wisconsin, Cronin -2.5
133 - Taylor LaMont, Wisconsin vs Kyle Burwick, Nebraska, pick em
Northwestern at Rutgers, 4:00 PM
125 - #6 Michael DeAugustino, Northwestern vs #12 Dean Peterson, Rutgers, DeAugustino -1.5