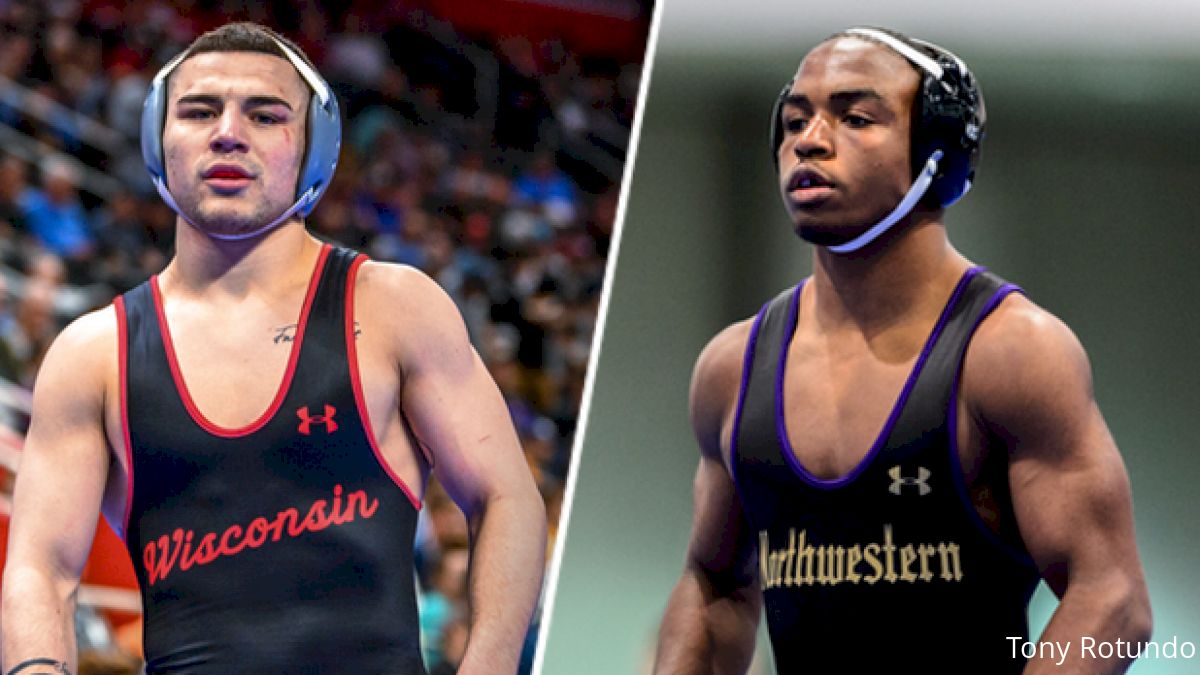 Hello friends, and welcome to the first ever Weekend Warrior's Wrestling Watchguide, aka Spey's Special Guide to Week 13 of the 2022-23 NCAA D1 qrestling season.
I was already prepping for the awesome weekend of wrestling on tap and figured I'd share my findings with you, the coolest and smartest D1 wrestling fans in the USA. Who knows if this blog becomes a regular thing, though, so better enjoy it while you can!
Friday, January 27 (all times Eastern)
Make sure you leave work in time to beat rush hour traffic. Or better yet, flex in a work-for-home day if you can. Then, stock up on provisions and settle in for a long weekend of entertainment!
#7 Ohio State at #6 Michigan, 6:00 PM on BTN
The Big Ten Network is broadcasting two incredible duals this Friday so make sure your cable bill is paid and you set your DVR for one of college sports' most intense rivalries. I'm particularly interested in these three ranked matchups:
133: #10 Dylan Ragusin vs #13 Jesse Mendez
165: #6 Cam Amine vs #8 Carson Kharchla
184: #9 Matt Finesilver vs #5 Kaleb Romero
I'll be watching in the Flo Studio with JD Rader. Click here to start your second screen experience and party it up with me and JD and some special friends who may drop by. You can interact with the chat function in the FloSports app, or potentially in YouTube or Facebook or whereever else we get working in time for dual. I will also bring punch and pie.
This song still slaps btw.
Partying partying yeah! Fun fun fun fun.
Maryland at Michigan State, 6:30 PM on B1G+
Click this link (I think, don't get mad at me if it doesn't work) to watch Sparty and the Terps on BTN Plus B1G+. Of course I'm going to keep an eye on my beloved Terps but also the 197 bout is between an All-American and a 2022 U23 freestyle world teamer so I think that should appeal to all of us.
197: #14 Jaxon Smith vs #19 Cam Caffey
Pittsburgh at Virginia Tech, 7:00 PM on ACCN
You thought last week's ACC Friday Night Dual on cable TV between Virginia Tech and NC State was rad? Well you're right, it was. But this Friday's dual will also rock. Check out the ranked matchups I'm excited for:
133: #7 Mickey Phillippi vs #5 Sam Latona
141: #6 Cole Matthews vs #9 Tom Crook
157: HM Dazjon Casto vs #5 Bryce Andonian
197: #4 Nino Bonaccorsi vs #20 Andy Smith
Two top 10 matchups, then the Hokie heroes of last Friday. This dual will start an hour after Ohio State vs Michigan so you'll need two screens going, or three if you also plan on watch-partying.
South Dakota State at Northern Colorado, 8:00 PM LIVE on Flo (link)
I know you will probably be focused on the Big Ten duals but this Big 12 dual will be cool and also live on Flo so we can show it during the watch party. And also Alirez may be num 1 at 141 but Carlson has been on the podium in March and Alirez has not so that could be a pretty dece bout as well!

#12 Wisconsin at #13 Northwestern, 8:00 PM on B1G+
17 ranked wrestlers! It would be the main event of the evening if it weren't for that other Big Ten dual that's sucking up all the oxygen in the discourse at the moment.
125: #9 Eric Barnett vs #6 Michael DeAugustino
149: #2 Austin Gomez vs #4 Yahya Thomas
285: #4 Lucas Davison vs #10 Trent Hillger
These are all epic matchups, especially at 149, which could be the match of the week! If our good friend Shane Sparks doesn't feature it on next week's edition of Tough Wrestling I will be very upset.
#2 Iowa at #1 Penn State, 8:30 PM on BTN
You can't possibly need any more hype for this dual. It's #1 vs #2, DUH.
All the matchups are fire. And no, Spencer will not bump up to wrestle RBY. Yes, it would be cool if he did. It won't happen tomorrow, but maybe someday soon!
Anyway, at the end of this dual it will probably be nearly 11pm on the East coast so all the young people can continue to rage on, I will retire for the evening and prepare for two more full days of watching wrestling.
Saturday, January 28
Cornell at Army West Point, 2:00 PM LIVE on Flo (link)
Enjoy a leisurely breakfast, followed by a speedy brunch, then gobble down a quick lunch as fast as possible and get your three squares out of the way early so you can skip all your other meals and focus on wrestling.
And why not start your viewing experience with our own United States Military Academy and the Big Red of Cornell, live on www FloWrestling dot org? There will be two ranked matchups to enjoy, plus Vito and Yianni!
125: #16 Ethan Berginc vs #14 Brett Ungar
174: #23 Ben Pasiuk vs #4 Chris Foca
Illinois at Minnesota, 2:00 PM on BTN
This is another dual that you'll need a cable TV subscription for, and another screen to watch this and Army vs Cornell. If you still have an intact cable cord, here are two matchups I'd make sure to catch!
157: #13 Mikey Carr vs #17 Brayton Lee
174: #7 Edmond Ruth vs #14 Bailee O'Reilly
Arizona State at Lehigh, 6:00 PM Live on Flo (link)
Okay so maybe you'll have a break between 4:00 and 6:00pm to eat an early supper. Or go for a run or something healthy like that. Or just watch replays and archives of matches you missed and then prepare for another spectacular dual on FloWrestling.
The Sun Devils and Mountain Hawks both have two-word mascots and they match up nicely at four weight classes of ranked bouts!
133: #4 Michael McGee vs #6 Connor McGonagle
141: #14 Jesse Vasquez vs #22 Malyke Hines - Osceola
149: #5 Kyle Parco vs #24 Manzona Bryant
184: #20 Anthony Montalvo vs #18 Tate Samuelson
I very much would like to see New England's own Connor McGonagle take on an established All-American like Michael McGee. Hopefully we get to see it!
#15 Oklahoma State at #11 Northern Iowa, 8:00 PM Live on Flo (link)
Flo is just silly with great duals on Saturday. UNI has beaten the Cowboys twice in the last three years. Can they do it again? They'll be favored at 141, 149, 165, 184 & 285. The dual is no gimmie, that's for sure, but Oklahoma State is going to have to be at the top of their game to avoid another Big 12 loss.
Ranked matchups are below:
133: #2 Daton Fix vs #18 Kyle Biscoglia
141: #16 Carter Young vs #7 Cael Happel
174: #5 Dustin Plott vs #12 Lance Runyon
184: #2 Parker Keckeisen vs #12 Travis Wittlake
285: #17 Konner Doucet vs #12 Tyrell Gordon
That dual will put us at bedtime again. Please ensure you get some rest so you can most effectively enjoy yet another day of wrestling action.
Sunday, January 29
Maryland at Michigan, 12:00 PM on B1G+
It's literally the first D1 dual of the day so I had to get another plug in for my beloved Terps. Link to watch (I hope) here.
Michigan State at Ohio State, 1:00 PM on B1G+
An hour after the two UMs lock horns will see the Buckeyes and Sparty go at it. Here's a link to watch.
I am keying in on All-American Foley vs superfrosh Mendez at 133.
San Francisco vs Philadelphia, 3:00 PM on FOX
Oh yeah there's some football on TV too. My team was eliminated last week so who cares? But I guess I'll watch anyway and keep up with one of the few truly unifying cultural institutions left in America. Hooray.
South Dakota State at Air Force, 3:00 PM LIVE on Flo (link)
But what I'll REALLY be watching is the Jackrabbits and the Falcons live on my favorite purveyor of wrestling content. We've got two ranked matchups on tap, including a big-time big-man bout.
174: #15 Cade DeVos vs #21 Sam Wolf
285: #13 AJ Nevills vs #6 Wyatt Hendrickson
#15 Oklahoma State at #3 Iowa State, 3:00 PM on ESPN+
This bout could easily decide the unofficial dual champ of the Big 12. Both squads are loaded with talent, however, no top ten matchups are possible. Still, at 141, two young talents could collide with #15 Casey Swiderski of ISU and #16 Carter Young of OSU.
This link should work if you have an ESPN Plus subscription. The tab wasn't labeled as 'wrestling' on ESPN Plus but it's the right teams in the right time slot so I think it's a safe bet.
#10 Wisconsin at #12 Nebraska, 3:00 PM BTN+
17 wrestlers in the rankings between them but only one top-ten matchup at 125 between #9 Eric Barnett vs #3 Liam Cronin. I'll be honest it's getting late on Thursday so I'm just whipping through the preview at this point.
Oklahoma at Northern Iowa, 3:00 PM LIVE on Flo (link)
More great wrestling live on Flo! Hard to believe but it's true! Ignore the dumb football game and the dumb Eagles (sorry, that one just slipped out) and watch these ranked matchups instead!
141: #21 Mosha Schwartz vs #7 Cael Happel
149: #23 Mitch Moore vs #13 Colin Realbuto
165: #18 Gerrit Nijenhuis vs #16 Austin Yant
285: #19 Josh Heindselman vs #12 Tyrell Gordan
Northwestern at Rutgers, 4:00 PM on BTN
The final televised dual of the evening features some great lowerweight bouts. Michael DeAugustino vs Dean Peterson at 125, Chis Cannon vs Joe Heilmann at 133, and Frankie Tal-Shahar vs Joey Olivieri at 141.
Cincinnati vs Kansas City, 6:30 PM on CBS
The last D1 dual of any kind starts at 4 PM so your NCAA wrestling experience will likely end by the time this game comes on so no need to ignore it. You can watch in good conscious.
Okay, that's it. Was this useful to you? Do you want me to do more of them? Let me know via twitter or email (andrew.spey@flosports.tv)!