2022-23 Iowa State Wrestling
Cyclone Insider: ISU Prepping For Clash With Historic Conference Rivals
Cyclone Insider: ISU Prepping For Clash With Historic Conference Rivals
Iowa State will tangle this weekend with two of its most-storied conference rivals when Oklahoma and Oklahoma State come to Ames for a pair of Big 12 duals.
Jan 26, 2023
by Roger Moore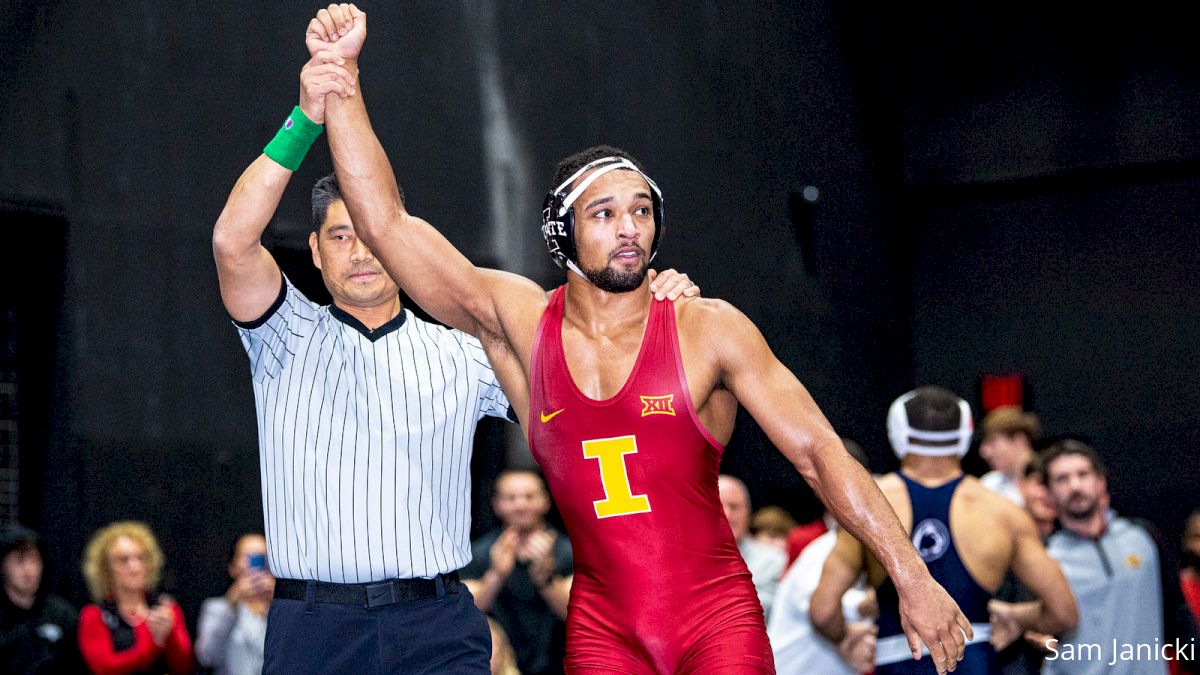 Unlock this article, live events, and more with a subscription!
Get Started
Already a subscriber? Log In
There was a time when the Oklahoma State-Iowa State dual held much more weight than Penn State-Iowa. This weekend, all eyes will be on the battle of #1 versus #2 inside a packed Bryce Jordan Center in Pennsylvania.
Meanwhile, in Ames, the third-ranked Cyclones (10-2), trying to get back into the NCAA trophy hunt, host No. 15 Oklahoma State (8-1) for a Sunday matinee. Saturday night, the Cowboys visit Cedar Falls for a test against #11 Northern Iowa. ISU welcomes Oklahoma on Friday night. So, as there has been for a century, there will be some good collegiate wrestling in the state of Iowa in January.
"Anytime you can get Oklahoma and Oklahoma State coming to town the same weekend, it's a big weekend," said Iowa State coach Kevin Dresser, whose club last competed Jan. 14 at Utah Valley. "The history and success of those programs means it's always a super formidable opponent."
Oklahoma State (34), ISU (8), and Oklahoma (7) have combined for 49 NCAA team titles. However, Oklahoma State's last championship was in 2006, Iowa State's was in 1987, and the Sooners' in 1974. John Smith's Cowboys have been close in the last decade; the Cyclones have been in rebuilding mode since Cael Sanderson headed to Penn State, while OU has battled to remain nationally relevant. Missouri, once a Big Eight and Big 12 doormat, won the 2022 Big 12 title.
Still, tradition does not die and it brings transfers and top recruits to wrestling-serious places like Ames and Stillwater.
"It's been way better than I could have imagined," said Iowa State heavyweight Sam Schuyler, a native of Kings Park, New York, who transferred from Buffalo after the 2020-21 season. "My partners are world-class. I didn't even know Yonger (Bastida) existed when I was transferring. Getting to wrestle a guy like that's awesome. I'm coached by guys like Brent Metcalf and (Derek) St. John, guys you grew up watching. Going to Hilton, all these fans, it's great.
"Ames is an athletic town, everything that I wanted; I didn't even know I wanted it, but it hit all the boxes on my checklist."
The Cyclones have checked many boxes this season. The mix of young and old, while battling through a handful of injuries, has produced a team ranked third heading into late January. Among the "old" is 184-pounder Marcus Coleman (11-1), who is expected to battle two-time All-American Travis Wittlake on Sunday.
"He's going to hold a special place for this staff," said Dresser of his senior 184-pounder. "When I got here there was a class kind of on the ropes and I remember calling Marcus Coleman, probably trying to talk him into staying and he cut me right off and said 'Coach, I'm not going anywhere.'
"Being an Ames kid probably had something to do with that. But he was committed to this program. Fun thing about Marcus is to see the progress."
It hasn't been without challenges for Coleman, who was just 9-7 two seasons ago. Current 197-pounder Yonger Bastida, a Junior World silver medalist in 2019, forced Coleman to make some changes and cut to 184 pounds. The Cuban takedown machine simply forced Coleman to get better with the daily challenges of the room.
"There was a time when we thought we might get that call, saying 'Coach I'm done,'" Dresser admitted. "But we didn't. The challenge of Bastida may have been best thing for him."
Coleman agrees.
"Early in my college career I struggled quite a bit with troubles on the mat and off the mat, so just progressing, coming in every day and working as hard as I can," said Coleman, an All-American for the first time in 2022. "Having (Bastida) has been a blessing in my career. It was hard at first, having a guy come in at your weight that's a World medalist; you're like I gotta get ready to go. It was hard. We were rivals at first, but now we are really good friends and training partners."
History Lesson
The Oklahoma State-Iowa State rivalry dates to legendary coaches Edward Gallagher and Charles Mayser, who founded their respective programs in 1916. The two programs squared off for the first time in 1921 in Ames with Iowa State winning, 37-9. The schools met four times (1921, 1926, 1927, 1928) before the first NCAA Championships, hosted in Ames, thanks to legendary coach Hugo Otopalik, who compiled a 159-65-6 record from 1924-53. Sunday will mark the 85th meeting (Oklahoma State leads 62-21-3). A year ago in Stillwater, Dresser's club ended a 14-match losing streak to the Cowboys with a 20-12 victory. Sunday's meeting shows the Cyclones as solid favorites. ISU and Oklahoma first met in 1921, in Des Moines, a 43-3 Cyclone victory. OU leads the series 54-42-3, but ISU has won four straight and will again be the betting favorite.
More ISU Royalty
The Glen Brand Wrestling Hall of Fame in Waterloo announced its 2023 Hall of Fame Class on Tuesday. The list included former ISU stars Jon Reader and Nate Gallick, national champions in 2011 and 2006, respectively. The duo combined to win 230 matches with Gallick's 106 tied for 29th all-time at ISU. The next member of the 100-win club could be current 165-pounder David Carr, who improved to 79-2 for his career with a victory against Utah Valley two weekends ago. Getting to 100, however, will require one more year of collegiate wrestling for the former Junior World champion in freestyle.