NCAA
D2 Insider: UW-Parkside Putting Itself In Title Conversation
D2 Insider: UW-Parkside Putting Itself In Title Conversation
UW-Parkside is thinking big after going on the road and knocking off St. Cloud State, and the Midwest Duals shined more light on the D2 race.
Jan 26, 2023
by Ed Matthews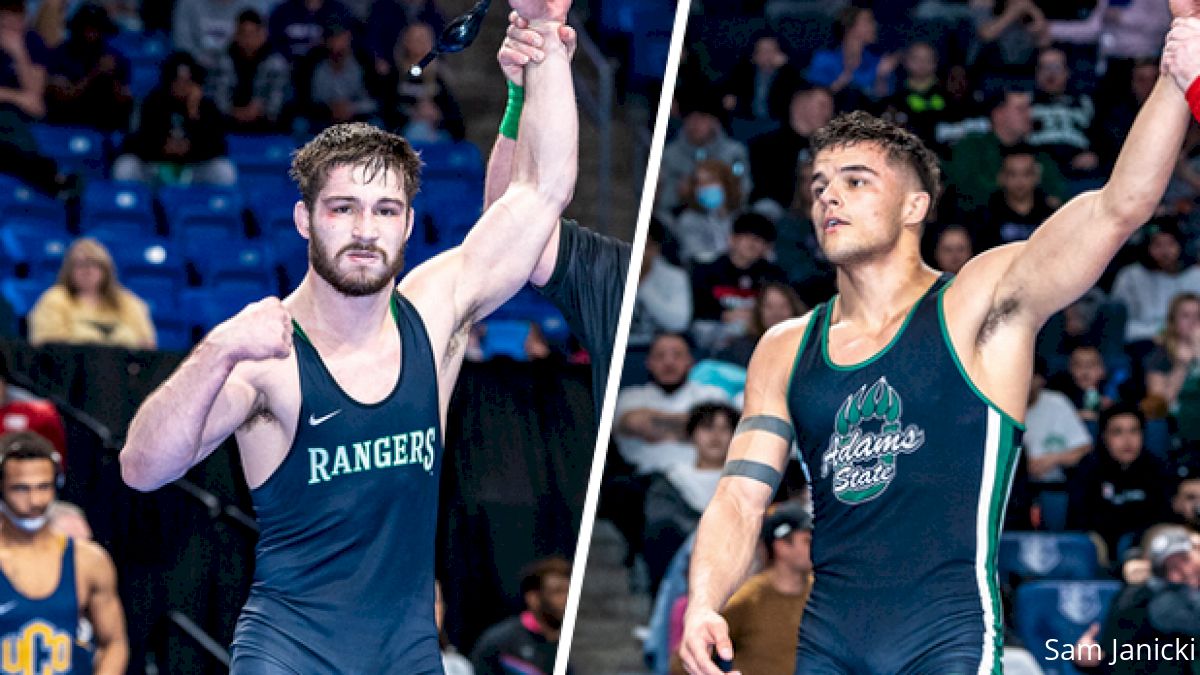 St. Cloud State was fresh off a title at the NWCA National Duals when UW-Parkside went on the road and handed the Huskies their first loss of the season and first conference dual defeat in more than a decade.
Freshman Shane Corrigan registered a major decision win against then-#3 Paxton Creese at 125, Jalen Spuhler knocked off three-time All-American Joey Bianchini and the Rangers pulled out a pair of overtime wins to topple St. Cloud State 20-19 on Jan. 12. It was the first dual loss of the season for the Huskies and their first conference loss in 88 duals.
UW-Parkside followed that up with a win against Augustana, pushing its dual record to 6-0 on the season.
"We've made some changes, pulled some redshirts along the way, so we're young, we're hungry, we've got five freshmen in our starting lineup right now and four sophomores," UW-Parkside coach Nick Becker said.
For these young wrestlers, there is no better model for success than top-ranked 165-pounder Shane Gantz. A returning national runner-up, Gantz is looking to take home a title in 2023.
"He's been a team captain for three years," Becker said. "The lifestyle he lives is like a professional, whether it is his sleep, his diet, his training, he's the type of guy to always get extra work. He really guides the team along with him. When he's wrestling in the room or in a match all eyes are on him."
Becker is hopeful his young team can bring home a national title in March.
"Our goal all year long has been to win a team national title, something we have never done here at Parkside," he said. "I know we have the firepower to win a title, we have the capability of getting seven or eight All-Americans and that puts us right in contention to bring home a team trophy."
Nebraska-Kearney On Quest For Consistency
For the second time this month, several of Division II wrestling's top teams convened in a dual setting.
And for the second time, Nebraska-Kearney was left in a search for the consistent results the Lopers have been accustomed to in recent seasons.
Nebraska-Kearney entered the Midwest Duals hoping to re-establish itself among the D2 elite after an eighth-place finish at the NWCA National Duals. But the Lopers went 1-2 on the day, beating Western Colorado (27-16) and suffering losses to Northern State (22-20) and Adams State (21-18).
Nebraska-Kearney has been dealing with injuries in recent weeks, but that's only been part of the equation for the Lopers.
"We saw inconsistency throughout the lineup, inconsistency from one dual to the next, and inconsistency in how much effort was being put out," Nebraska-Kearney coach Dalton Jensen said. "To put ourselves in good position for the postseason, there has to be consistency from top to bottom in the lineup."
Northern State at Full Strength
Northern State is finally putting together the lineup that the Wolves were hoping to assemble to start the season. Coach Rocky Burkett attributes the Wolves' success at the Midwest Duals to getting healthy to start the second semester.
"We had everybody in the lineup and clicking on all cylinders," Burkett said. "We didn't have everybody in the lineup first semester."
At the Midwest Duals, the Wolves knocked off three top-25 opponents in #22 Central Missouri, #2 Nebraska-Kearney, and shutting out #14 Fort Hayes State.
Fourth-ranked 149-pounder Wyatt Turnquist and #3 197-pounder Cole Huss are the backbone of the Northern State team that has hopes of cracking the top six at the NCAA Tournament in March.
"Wyatt (Turnquist) is the guy that lives and breathes this (sport). Every day he just lives wresting," Burkett says, "Cole (Huss) has just been the guy that has been super consistent the last two years. He is one of the last guys in our lineup, so he is one of our closers."
Burkett loves that Huss has a flair for the big moments,
"You are always confident when he steps out on the mat," he said. "He is a big-time wrestler when it comes to big-time moments."
Huss showed that in his match against #3 Tereus Henry from Fort Hayes State, notching a 2-1 victory in overtime.
Adams State Remains Perfect in Dual Meets
Adams State ran its dual record to 8-0 on the season with three victories at the Midwest Duals, where the Grizzlies defeated Central Missouri, Newman and Nebraska-Kearney. It's a vast improvement over Adams State's 5-5 dual meet record last season.
Adams State coach Jason Ramstetter attributes the Grizzlies' dual success to a team-oriented atmosphere where each wrestler plays a role in the team's success.
"We've got a really good group of guys that rely on each other they hold each other accountable," he said.
"In the past, we've had some good individuals, but (on this team) I feel like everyone is looking out for each other, the whole way down the lineup from starters to backup."
That depth has contributed to a solid dual team that will be tested in the coming weeks as the Grizzlies take on Colorado Mesa and #1 Central Oklahoma.
One wrestler that has made an impact for Adams State is the 125-pound Wyoming transfer Brendon Garcia, who's up to #3 in the national rankings. Garcia has taken the weight class by storm, defeating a number of ranked wrestlers including #11 Christian Mejia (McKendree) and #9 Studd Morris (Central Oklahoma).
"We picked him up as a transfer, and he was honestly already pretty good," Ramstetter said. "I think he is just enjoying the atmosphere and enjoying practice."
Garcia is one of three ranked wrestlers for Adams State, joining returning national champions Josiah Rider and Noah Hermosillo.