2023 NCAA Watch Party: Iowa vs Penn State & Ohio State vs Michigan
Buckeye Insider: Romero Hopes Comeback Pays Off
Buckeye Insider: Romero Hopes Comeback Pays Off
Kaleb Romero contemplated whether to return for a sixth year at Ohio State. He's out to make the most of it for a Buckeye team chasing an NCAA team trophy.
Jan 26, 2023
by Travis Johnson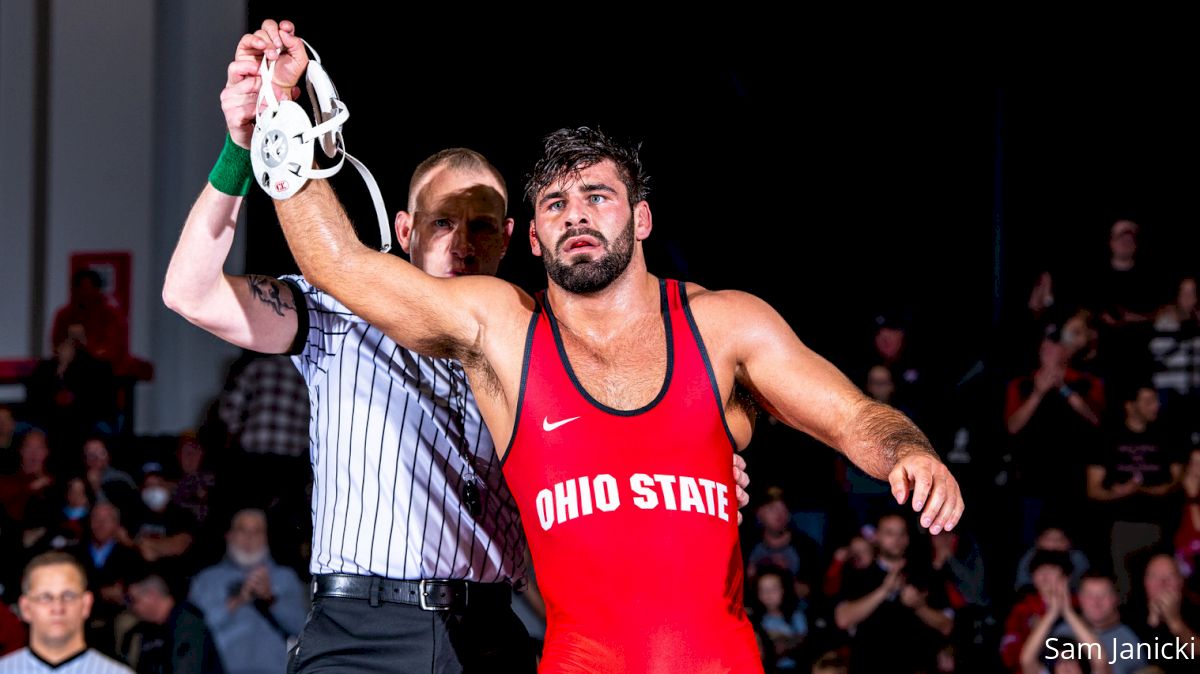 Unlock this article, live events, and more with a subscription!
Get Started
Already a subscriber? Log In
As a kid growing up just 35 minutes outside of Columbus, Ohio, Kaleb Romero knew his home colors from an early age.
His bedroom was painted scarlet and gray and bordered by Ohio State logos. Be it football or wrestling, Romero was determined, and eventually destined to attend his favorite school.
He never thought he'd be there this long. As the Buckeye 184-pounder prepares for what will be his final stretch run, Romero is looking forward with clarity after coming to a realization as soon as last season ended.
The sixth-year wrestler is healthy and content and believes the recovering Buckeyes can make noise in March, especially if he and the team's other veterans take the lead.
"I'm what, six years in this year? Sometimes you see those older guys kind of take this last year for granted a little bit and you start to see them fizzle out," Romero said. "The start of this year, I had a lot of big goals in mind and I didn't want to be the person that did that, so, I really trained hard in the summer and this offseason. I really wanted to come out with a bang."
So far, so good.
Romero leads the Buckeyes with 17 wins and is 5-3 against Top 25 opponents. He and teammate Gavin Hoffman are neck-and-neck in the race to be the squad's highest-scoring wrestler.
"Obviously, the goal is to become a national champion," Romero said. "That's my goal and that's what I'm working toward this year. I'd say just as importantly, I want to bring a trophy back to Columbus as a team. We haven't done that in a few years and I think we definitely have the team to do it this year."
Planning A Comeback
The Buckeyes won team trophies as runners-up to Penn State in each of Romero's first two seasons. They've come home empty-handed since.
The 2020 tournament was wiped out due to the COVID-19 pandemic, and Ohio State finished ninth and 13th in 2021 and 2022, respectively.
Like his classmates — which included best friend Ethan Smith — Romero had to decide after last season ended whether or not to return for the free year of eligibility provided in the wake of the pandemic.
At first, and especially after a hard-fought campaign that ended with All-American honors, Romero's decision wasn't easy. One of the Buckeyes' brightest students, Romero already had a business marketing degree. Thanks to some good networking skills, he was confident he'd be able to secure a job in his preferred field of medical supply sales.
"I would say it definitely was in the back of my mind," Romero said. "After nationals last year, I was still kind of up in the air. I wasn't sure I wanted to come back yet or not. Obviously, I've been doing this for almost 22 years now. Fortunately, knock on wood, I've had a healthy year so far which I'm very grateful for. In recent years, I was struggling with little injuries here and there, my body was getting banged up — the culmination of what wrestling brings."
A few weeks after the team had split up, Romero and the rest of the upperclassmen got together to determine their future.
Even despite all the years of wrestling, sixth-year wrestlers Romero and Smith didn't have to convince one another they had another year in them. They just took a look at the potential lineup with fifth-year goers like Tate Orndorff, Sammy Sasso and Gavin Hoffman sprinkled in.
Then there was that incoming recruiting class. Romero calls it "the best, maybe, ever."
Coach Tom Ryan and his staff were able to wrangle the nation's top class in 2022 and for the first time in history, one program would welcome the top three overall recruits — Jesse Mendez, Nic Bouzakis and Nick Feldman — in one class.
Romero was in for the sixth year.
"Especially with the younger guys we were bringing in, (Ethan) and Tate and some of these other All-Americans on our team that we're bringing back, I knew this team could do something special," Romero said. "We felt that we owed it to especially our coaches, the program and ourselves to give it one more try and try to bring back a trophy for the Buckeyes. I think that would be huge for us older guys and these younger guys coming off, the start of their little dynasty as well."
Just A Taste
So far, however, Ohio State hasn't had a chance to enjoy a full lineup.
An 18-13 win over Virginia Tech on Nov. 11 is as close as the Buckeyes have come to being at full strength. Then, they were forced to deploy Mendez at 133 and bump Bouzakis up with 141-pound starter Dylan D'Emilio out.
"That was just a glimpse of what we're able to do," Romero said. "Fortunately, right now we're getting a lot of our guys back. I would say we're starting to come together right when we need to most."
Paddy Gallagher, Carson Kharchla and Orndorff have all worked their way back and Ohio State hammered Maryland 38-6 last weekend. Though they didn't have Smith available, the Buckeyes expect he'll be able to resume against Michigan on Friday.
Triple Crown
Isaac Wilcox filled in for Smith at 174 pounds and beat Dominic Solis 3-1 in sudden victory. Wilcox is the only Buckeye with wins at three different weight classes this season.
The junior began the year at 157 where he went 8-4 before wrestling three bouts at 165 where his lone loss came to Lehigh's vaunted Josh Humphreys 5-3.
Depth Tested
Romero has long trained with Orndorff and Hoffman, but earlier injuries to both of them have forced Romero to seek out an old partner in the room.
Enter Bo Jordan, or BoJo. Ohio State's former four-time All-American has kept his reputation sharp.
"It's been a little hard at times, but luckily I have Bo in the room," Romero said. "He's a huge part in my success and my training."
Key word: Huge. Jordan has worked behind the scenes to add bulk to his own frame to be a bigger test for the team's bigger wrestlers. Romero said Jordan is walking around at 200 pounds. Romero believes his buddy has specifically been packing on mass to punish him in the room.
"He's still the machine that he was in college," Romero said. "I know Bo is about to take me into deep waters because he can still wrestle with the best of them. Every time we're out on the mat, he just scraps hard and gives me the best look possible so I have to come ready to compete every day. He's a stud. He comes after you. You would think he's still training in college or training for a national title. He doesn't hold anything back."