WHO'S #1 THE SHOW
High School Insider: Recapping Blair vs. Sem, The Big One And More
High School Insider: Recapping Blair vs. Sem, The Big One And More
The top two high school teams in the country tangled last week, a pair of California powers battled and the title season has arrived in Georgia.
Jan 25, 2023
by Brendan Scannell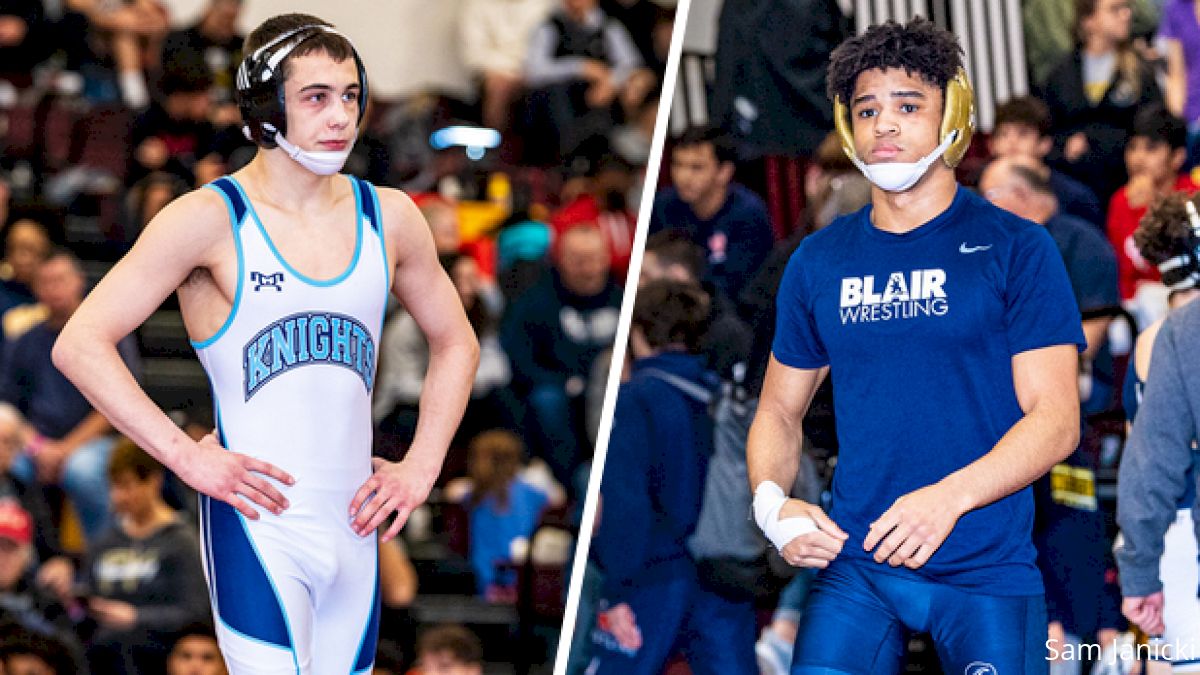 Unlock this article, live events, and more with a subscription!
Get Started
Already a subscriber? Log In
There was no love lost between #1 Blair Academy and #2 Wyoming Seminary last Friday night in Blairstown.
It was a back-and-forth affair as it usually is, but the ending wasn't quite as satisfying as the rest of the contest.
Last year, it was Wyoming Seminary that prevailed in the dual meet, so the Blair Bucs came into this one with a chip on their shoulder and eyeing revenge.
In the premiere bout of the night at 126 pounds, two Cadet World champions squared off in Blair's Marc Anthony McGowan and Sem's Luke Lilledahl. McGowan struck first with a lighting-quick low single and a swift finish to take a 2-1 lead in the second. It was Lilledahl, though, who turned it on late, as he tends to do, scoring the match clincher in the final 30 seconds to give Sem a 9-5 dual lead.
But it was a stretch of four straight wins through the middleweights for Blair that gave the Bucs command of the match. First, Matty Lopes and Billy Dekraker earned hard-fought decisions. Then, Logan Rozynski – formerly of Wyoming Seminary, now at Blair – sent shockwaves through the gym when he turned a reversal into a second-period fall to knock off Smokey McClure and extend the Bucs' lead to 17-9.
After Sem got some much-needed bonus points from Cadet World champ Joe Sealey at 165 pounds came Blair's second gym-rattling win of the night. Blair freshman Peter Snyder was unfazed by the weight of the moment and earned a hard-fought upset win with a go-behind takedown in sudden victory over #17 Dom Federici.
That was when things got really interesting. Sem quickly stormed right back in it with pins at 190 and 215 from nationally-ranked wrestlers Josh Cordio and Jude Correa tying the team score at 26, but the excitement and anticipation wouldn't last long. Blair heavyweight Carter Neves took the mat fresh off defeating the nation's top-ranked heavyweight Jim Mullen but in this one, he was awarded the victory by forfeit, despite Wyoming Seminary weighing in and introducing junior Edwin Lora at heavyweight.
The forfeit victory gave Blair the 32-26 victory and the home crowd began partying on the mat.
Despite the ending, it was an incredible dual meet between the nation's two best high school teams. Blair won just enough toss-ups to put it out of reach for the other side.
This weekend, things don't slow down much for Blair, when it takes on two of New Jersey's powerhouse programs in Delbarton and Bergen Catholic. Still, the Bucs will be heavily favored despite some serious star power in both lineups.
Buchanan Makes It Seven Straight At The Big One
In what is easily the most electric atmosphere for a high school match every year, the six-time defending California state champs Buchanan defeated their rival Clovis once again, this time with a 38-18 victory.
As always, these two teams put on a show — and not just on the mat.
In addition to an elevated mat and fans waving glowsticks all night long, the show included a performance by the school choir, smoke and fire for wrestler entrances, and cheerleader routines following each win. For team introductions, Buchanan entered looking extra fly in bomber jackets to go along with this year's "Top Gun" theme in celebration of last year's hit film.
They say, "when you look good, you wrestle good" and it was another dominant performance from the home team. Buchanan came out firing with three straight winning efforts from returning state placewinners Leo Contino, Mason Espinosa, and Sloan Swan to open the match.
At 106 pounds, Rocklin Zinkin – who was a champ at Doc Buchanan – took out Thunder Lewis, the third-place finisher in that same bracket.
Another big win for Buchanan came from #17 in the nation Joseph Toscano, who majored returning state qualifier Eli Granada at 126 after Toscano spent much of the season wrestling up at 138. The freshman looks to have all the makings of a state title contender in his new weight class.
Clovis' Nikade Zinkin had one of the prettiest pins of the night when he transitioned from a duck under attempt to a mean headlock while trailing Ray Ray Harris. It was a qualifier for dirty Flo takedown of the week, but it was one of only four victories for the visiting team.
Lookout for Buchanan to win its seventh straight state title in 2023.
Chasing Team Titles in Georgia
It was Team State weekend in Georgia, and it was a fun one.
Jefferson continued to make its mark on record books across the state when it defeated Cass 37-33 to win 5A and the program's 20th state duals title. It also made Jefferson the first to win it across five different classifications. It's worth noting, Cass finished ahead of Jefferson in two tournaments this season, but as we all know, duals are a whole different animal.
In 7A, Camden County continued to show it's the class of the state with a ninth straight state duals title by taking out Buford.
Columbus beat Gilmer County 34-33 in a matchup between 3A's top two teams that was decided by Jonathan McDaniel's 5-4 victory in the last bout.
Meanwhile, the 4A final was another thriller when Central Carroll upset Lovett 34-33. In a major swing match, Ty Murray used two takedowns followed by two really tough rides to propel him to victory over defending state champ Cael Kusky for the biggest win of the night.
Both crowds brought the noise all match long and it all came down to the final bout where Central Carroll needed a pin from Dylan McKnight to win the dual and the senior delivered for the title. This was also the third state final across all classifications that was decided by only one point, making it an exciting weekend of Peach State wrestling!
Other results across the state included:
6A: South Effingham over North Forsyth 36-28
2A: Rockmart over Fannin County 47-22
1A: Mt. Pisgah Christian School over Trion 33-32
More News And Notes
— In another age-old rivalry between storied programs, Phillipsburg reigned over Easton 33-23 for the seventh victory in the last nine matchups between these two teams.
— Notre Dame - Green Pond took out Saucon Valley 40-20 in a rematch of last year's PIAA AA state final that was won by Saucon Valley.
— New Jersey's Adrian DeJesus made his first appearance this season with his new team DePaul after transferring from St Peter's Prep. The defending state champ and former Super 32 placer is off to a hot start with pins in every match so far. He enters a loaded 120-pound weight class in-state that includes Anthony Knox, state champ Dan Jones and Max Elton.