2022-23 Michigan Wrestling
Wolverine Insider: Medley Intends To Finally Wrestle In NCAA Championships
Wolverine Insider: Medley Intends To Finally Wrestle In NCAA Championships
After shaking off a slow start, Michigan 125-pounder Jack Medley determined to take advantage of his final opportunity to compete in the NCAA Championships
Jan 25, 2023
by Mark Spezia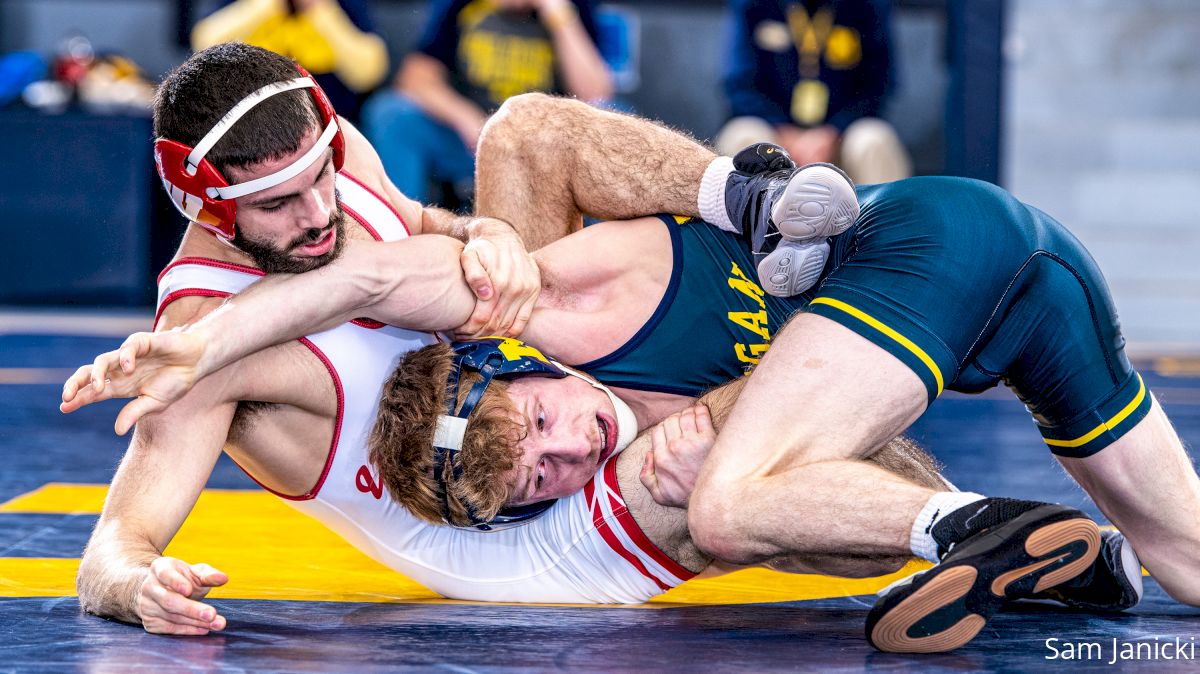 Unlock this article, live events, and more with a subscription!
Get Started
Already a subscriber? Log In
Driven by a desire to conclude his college career by wrestling in the NCAA Championships for the first time, Jack Medley's anticipation grew stronger as this season approached.
After watching a contingent of his Michigan teammates take second place at last year's tournament less than 45 miles from campus at Detroit's Little Caesars Arena, Medley's path to finally join them seemed clear after various circumstances had denied him the opportunity the three previous seasons.
The 125-pounder qualified for the 2020 NCAA Championships during his first season as a starter after going 19-12 and finishing fourth at the Big Ten Tournament. Barely 24 hours after Medley learned he was the #14 seed, however, the growing worldwide coronavirus pandemic forced the cancellation of the event.
The next season, freshman Dylan Ragusin became the Wolverines' starter at 125, bumping Medley to 133. He remained in the starting the lineup, but the higher weight class did not suit Medley as well. He went 7-6, falling well short of an NCAA berth.
Medley was back starting at 125 to begin last season after Ragusin moved to 133, but when it was announced NCAA champion Nick Suriano was transferring to Michigan and would become eligible in January, Medley's days in the starting lineup were numbered. Suriano took over at 125 and finished his career with another NCAA title.
Still, Medley built momentum by going 12-4 last season and began preparing in earnest for 2022-23.
"One of the things me and Dylan (Ragusin) worked on with (assistant) coach Kevin Jackson this summer was our short offense and re-attacking right away after your opponent scores instead of chewing up clock," he said. "In a few of my matches last season, I knew I should have tried to make something happen sooner. I've had challenges, had to fight for everything throughout my college career, but was going to be ready for this season."
Medley's importance to this season's squad was underscored by the fact he was named one of Michigan's captains, along with All-Americans Mason Parris, Cam Amine and Will Lewan.
Medley, however, then stumbled to the first 0-3 start of his career, losing the matches by a combined four points to wrestlers not currently ranked, including teammate Kurt McHenry, who wound up starting two of the Wolverines' first three duals at 125.
Shaken, but far from shattered, Medley began methodically working through his issues. He was not about to let anything derail his NCAA Championships dream. Not now, after six seasons in Ann Arbor.
"Yeah, I did get off to a bit of a rocky start, but kept telling myself it's a long season and to keep working on becoming more consistent," he said. "I've had ups and downs during my whole time here and have learned to how deal with them. I've learned a lot about myself the past couple of years after being tested in various ways."
Since the 0-3 start, Medley has gone 15-3, including seven bonus-point victories.
He captured a title at the Cleveland State Open and placed fifth at Midlands before starting Michigan's last six duals, going 5-1 in the those matches. Medley went from unranked to #23 before slipping to back to #24 after splitting with last weekend's foes.
Still, only one of Medley's losses has been by more than two points, a 10-6 setback to #12 Dean Peterson (Rutgers) at Midlands before he closed the gap to a 3-1 loss when the two met again during Sunday's dual which ended his seven-match winning streak.
"I'd say I've been wrestling pretty good as of late and always have high expectations for myself," Medley said. "The coaches have a lot of faith in me which is a great feeling. The biggest thing, overall, was my attitude toward what was happening and not getting too down on myself. I just took the things that were still positive about my wrestling and focused on improving."
The strongest evidence of Medley's improvement thus far came against then-#5 Eric Barnett (Wisconsin) during Michigan's dual win on Jan. 15.
Medley trailed the two-time All-American, 3-2, after two periods and chose the down position to begin the third. He did more than simply escape to tie the score, however.
Roughly 15 seconds into the period, Medley reversed Barnett to his back, taking the lead for good, before keeping him under wraps and adding a four-point nearfall all in a span of 35 seconds on his way to a 12-6 win.
"I have to give a ton of credit to (assistant) coach Dave Bolyard because he's the man as far as helping me improve my leverage on top and bottom, but especially the bottom which led to me getting that big reversal in the third," said Medley, who also decisioned Barnett in 2020. "I have drilled that move with him tons of times, really, and to have it come into play at such a pivotal moment in a match that was huge for our team score was pretty cool."
That was easily Medley's biggest win of this season. He also boasts victories over #6 Micheal DeAugustino (Northwestern) and #11 Brandon Kaylor (Oregon State), a pair of All-Americans.
Medley, whose career record is now 66-36, has knocked off four-time NCAA qualifiers Christian Moody (Oklahoma) and Elijah Oliver (Indiana) and three-time qualifier Jakob Camacho (North Carolina State) as well.
A brutal stretch of competition awaits Medley during the remainder of Michigan's dual slate, starting Friday with #10 Malik Heinselman (Ohio State), a four-time NCAA qualifier. He will likely face #22 Braxton Brown (Maryland), who is 17-2 this season, on Sunday.
Next month, should bring matchups against top-ranked, three-time NCAA champion Spencer Lee (Iowa) and #15 Trevor Mastrogiovanni (Oklahoma State), a two-time qualifier.
"Competing in the NCAA Championships and getting on the podium would mean the world to me after all the hard work I've put in and challenges I've faced, but only Ohio State is my focus right now," Medley said. "I'm concentrating on improving in technical areas that, fortunately, I have some time to work on before the Big Ten Championships. Another area of focus is enforcing my will on opponents, making them feel that's happening."
In April, Medley, a four-time Michigan state medalist at New Baltimore Anchor Bay High School, will add a Master's degree in business management to the undergraduate degree in sports management he received last year.
Among his future aspirations is joining an NCAA Division I coaching staff.
Maylor Trending Upward
With a 14-4 record, 174-pounder Max Maylor has already surpassed his previous season-best win total set last year when he went 10-4.
Maylor has started six of Michigan's nine duals, including the last five, going 4-2 in those matches after posing just a 6-13 duals mark the past three seasons. He has six bonus-point wins, including two pins, a technical fall and three major decisions after entering this season with just eight career bonus-point victories in 41 matches.
Maylor edged 2021 All-American Jackson Turley, 5-4, during Sunday's win over Rutgers.
Maylor started last season's first three duals before three-time All-American Logan Massa rejoined the lineup for his final season. He also backed up Massa during the 2020-21 season, going 2-2.
The Wisconsin state champion, in his fifth season with the Wolverines, is faring far better than the last time he started the majority of Michigan's duals in 2019-20 when Massa took an Olympic redshirt. Maylor was just 5-18 that season.