2022-23 Nebraska Wrestling
Husker Insider: Nebraska Looking For Breakthroughs After Loss At Iowa
Husker Insider: Nebraska Looking For Breakthroughs After Loss At Iowa
A trip to Iowa City last weekend turned out to be an educational experience for Nebraska in its quest to reach college wrestling's top echelon.
Jan 25, 2023
by Dylan Guenther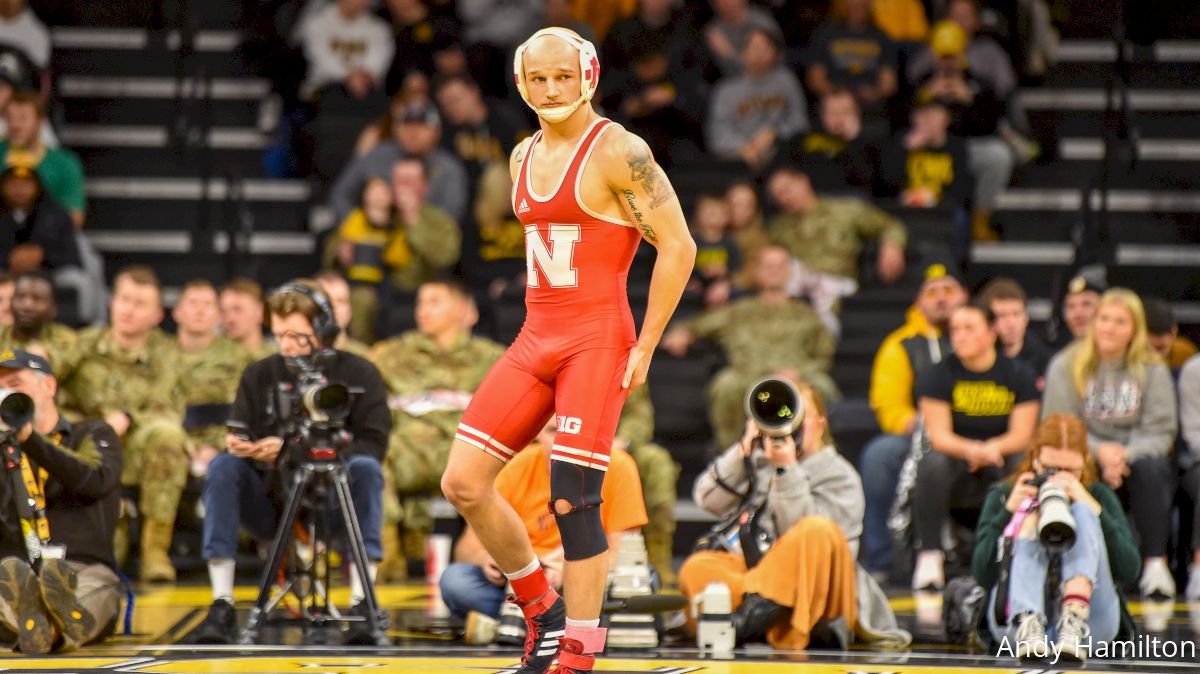 Unlock this article, live events, and more with a subscription!
Get Started
Already a subscriber? Log In
Nebraska has been a resilient bunch all season. The Huskers bounced back from an opening-dual loss to North Dakota State by capturing their third-straight CKLV title. And after a tough loss this past Friday night, the Huskers will need to pick themselves up again.
After returning from the holiday break, the #11-ranked Huskers won four straight duals, including victories over #13 Minnesota (21-9) and #14 Northwestern (22-15) to start conference action. Then they ran into a red-hot Iowa team. The #2-ranked Hawkeyes poured it on the Huskers as they built an 18-0 lead before winning the dual 34-6.
To be fair, the end tally isn't totally indicative of how the dual went. The Hawkeyes used three pins to blow the score open, but there were a handful of matches that really were close and could have gone either way.
At 141 pounds, #4 Brock Hardy had #2 Real Woods locked in a cradle in the first period but got reversed when he attempted to roll it over. Then there was #15 Lenny Pinto and #13 Silas Allred for the Huskers who lost tight one-point matches. Pinto fell to #8 Abe Assad 6-5, while Allred lost to #10 Jacob Warner 3-2. According to Nebraska coach Mark Manning, those are experiences to learn from for those young guys.
"Out of 10 matches, four of them were really tight and we lost all four of those. That's where we can learn and make strides is just the small details," Manning said. "Especially a guy like Brock Hardy, who had the guy in a cradle and a couple other positions where it looked like he was going to come out on top or have Woods on his back. Lenny Pinto and Silas Allred just got out-experienced, they were a little more savvy. They lost tight matches, and I think you learn a lot about yourself. You learn that you probably had a little bit more in you. You have to finish your opportunities when you have them."
The one thing that all three of those guys have in common for the Huskers is that they're redshirt freshmen in their first year in the starting lineup. They haven't wrestled in Carver-Hawkeye Arena before.
"To beat Iowa in Iowa, it's tough to do, especially with a young team and some guys who have never had experience like that, but we're going to do it," Manning said. "It just takes belief. It takes one or two guys to do it and then the other guys see it."
Robb and Labriola Stay Undefeated
The two Huskers to record wins against the Hawkeyes were the same two that have led this team all season. Peyton Robb (#1 at 157) and Mikey Labriola (#2 at 174) are each undefeated at 18-0 on the year with a bunch of ranked wins under their belts.
Robb beat #13 Cobe Siebrecht 7-2 in their dual, while Labriola downed #17 Nelson Brands 3-2. According to Manning, Labriola has been dinged up and wasn't able to completely exert himself while gutting out the win over Brands.
When asked whether the Huskers needed more bonus points out of that duo, Manning said it's not absolutely necessary, but it's something they're definitely chasing.
"We're more interested in those guys developing. Peyton maybe could have gotten to a major the other night but we didn't hustle to it," Manning said. "We want those guys to max out each time, and obviously for them to get bonus points is just the whipped cream on top of the pie. We want our guys to max out — if you can take the guy down again, go do it. We're looking to score points."
So How Can Nebraska Catch Penn State and Iowa?
For the Huskers, who finished fifth at last year's NCAA tournament, the real question after a loss like that against Iowa is how do they narrow the gap? How does a team like Nebraska catch up to the Penn States and Iowas of the world?
According to Manning, it's something he thinks about every day. He absolutely believes this team can do it and has the potential to make some noise at nationals this year and for years to come. Especially with rapidly improving guys like Hardy, Pinto and Allred who are already showing signs of All-American contention in their near futures.
"In order to catch Penn State and Iowa – I think about it every day – in order to catch those guys, we gotta get just little breakthroughs, meaning we gotta get guys like Brock and Lenny and Silas to win in those situations," Manning said. "We're close, but our guys just need to jump the next level this next month and a half, then you got something special. We're not far off."
All 4 Huskers Medal at Henri Deglane
The Nebraska Wrestling Training Center sent four wrestlers to the Henri Deglane in Nice, France this past weekend.
The Husker contingency consisted of Ridge Lovett at 65kg, Collin Purinton at 74kg, Eric Schultz at 92kg and Christian Lance at 125kg.
While Purinton, Schultz and Lance are former Huskers, Lovett is currently a junior who is using a redshirt year. A 2022 NCAA finalist at 149 pounds, Lovett impressed in his first real foray into international Senior-level freestyle wrestling. Lovett won his first match 15-4 via tech fall before falling to fellow NCAA finalist Kizhan Clarke 4-1. Clark was a finalist at 141 pounds in 2022 for North Carolina and was wrestling last weekend for Germany. Lovett then won a pair of decisions in repechage before coming from behind to beat Team USA's Matt Kolodzik. Lovett trailed 12-6 with 39 seconds left and was able to take down Kolodzik twice and put him on his back both times on the way to a wild 15-12 win.
One thing that Lovett is focusing on this season while he redshirts is his leg attacks and offense on his feet. According to Manning, he's getting better but still has plenty room for improvement.
"I think he's still a work in progress. For him, it's just a matter of continuing to work on little things that are going to make him elite on his feet," Manning said. "It gets him out of his comfort zone and into an area where it's going to continue to develop him into a complete wrestler rather than just being defensive or a scramble specialist."
Schultz led the Nebraska squad as he won gold in a round-robin format. He started with an 8-1 win over Jay Aiello, a former Virginia standout and 2022 National Team member. He followed that with a pair of techs.
"Eric Schultz beat Aiello from Virginia who was a National Team guy last year, he was third on the ladder, so that's a pretty good win," Manning said. "That's good progress in his development as a freestyle guy."
Lance went 3-1 and finished with a silver medal after falling to Georgia's Nika Berulava 6-4 in the final. Purinton also went 3-1 and took bronze with his only loss a 16-6 tech fall to Vincenzo Joseph.
"Those guys are just devoted to the sport," Manning said. "Eric, Christian, Ridge and Collin all medaling, that just shows their competitive side and their commitment to the sport – they love it."