2022-23 Virginia Tech Wrestling
Hokie Insider: Andonian's Return Ignites VT In Win Over NC State
Hokie Insider: Andonian's Return Ignites VT In Win Over NC State
All-American Bryce Andonian's return to the Virginia Tech lineup sparked the Hokies' dual win against NC State in front of a big crowd in Blacksburg.
Jan 25, 2023
by Jim Carlson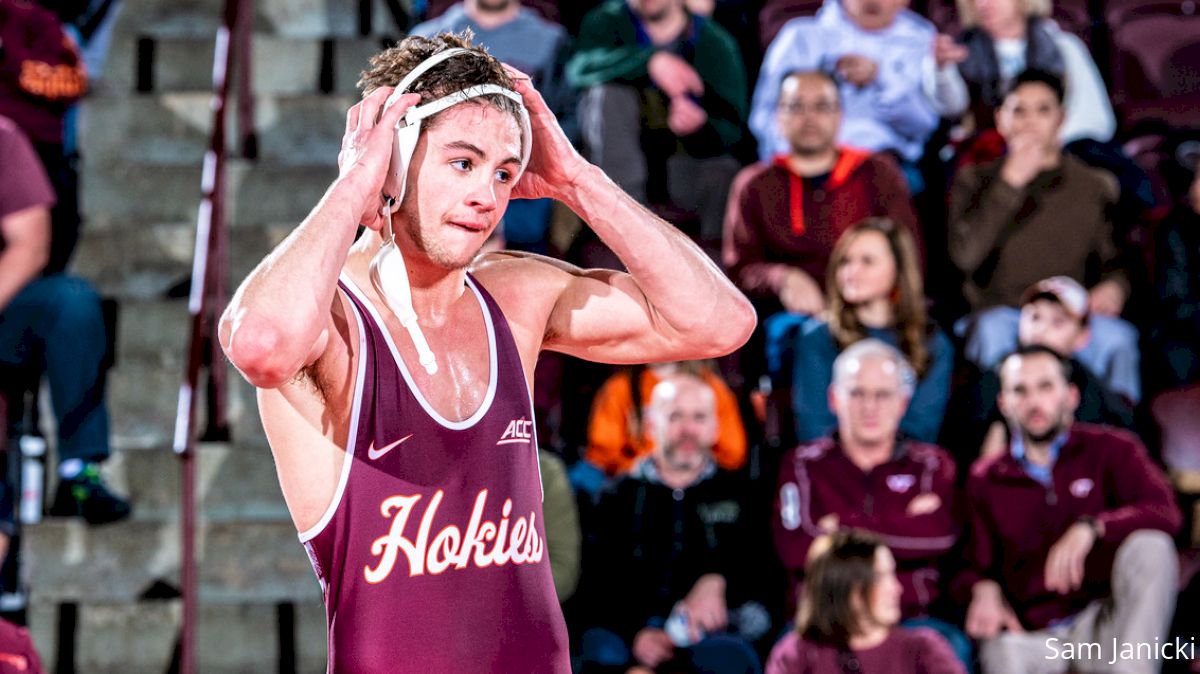 Unlock this article, live events, and more with a subscription!
Get Started
Already a subscriber? Log In
Not many dual meets end up with four overtime bouts in the summary, not many teams lose those four in the sudden victory period and still win the overall match — and not many teams are Virginia Tech.
How close was Tech's 16-14 Atlantic Coast Conference victory over North Carolina State? Seven bouts were decided by one or two points, the three that weren't went in Tech's direction, and N.C. State was docked a team point for an innocent — but still illegal — headgear toss.
The two-hour thriller was in Blacksburg and the atmosphere was stoked by a school-record crowd of 5,943. Tech coach Tony Robie, who said he had never coached in a match in which his team lost four OT bouts and still won, was thrilled with the Cassell Coliseum climate.
"Yeah, it was a pretty cool environment ... the biggest crowd we've ever had so, obviously, our fans did a great job; they showed they were excited, they were loud," Robie said. "It was as good an atmosphere as I can remember for any wrestling match that we've had at Virginia Tech.
"A great dual meet, exciting and there were several matches that kind of came down to the wire or overtime. Unfortunately, we lost all four of those overtimes, so I wasn't happy about that. But, overall, I think the fans enjoyed the experience."
It marked the fourth straight season that Tech (7-2) and N.C. State (10-1) waged a top-10 battle, and Tech went ahead in the series record of home matches against the Wolfpack, 16-15-1. N.C. State leads the overall series, 37-29. Only the Wolfpack and Hokies have won the ACC crown during the past 18 seasons. Tech emerged from the weekend with a Flo tournament ranking of #7; the Wolfpack check in at #9 this week.
Tech Welcomed Back Bryce
Tech's night — and victory — was spurred by the return of All-America senior Bryce Andonian, now ranked #5 at 157 pounds. A preseason injury had sidelined him but he came back with a flurry — of points, actually — as he led eighth-ranked Ed Scott 16-6 after just three minutes en route to a 24-10 major decision.
"We made the decision Friday morning, or Bryce made the decision Friday morning, that he was gonna go and we didn't know what to expect," Robie said. "You never really know what to expect when Bryce takes the mat. But it's gonna be exciting, you know that.
"Bryce hasn't wrestled very much this year. That was definitely a little bit of a concern. But I think when he steps out there and there's 6,000 people in the stands and his teammates are behind him, his coaches are behind him and he gets in that atmosphere, that's when he's at his best. I'm not overly surprised that he wrestled the way he did."
Henson Stays On A Roll
Eighth-ranked freshman Caleb Henson continues to make his mark in the deeply talented 149-pound weight class. He controlled fellow freshman Jackson Arrington for a 6-1 win.
"Man, he just keeps getting better," Robie said. "I thought Caleb really dominated the positions, at least, and the scoring and was never really threatened. So it was a pretty impressive win against another young, quality opponent.
"That weight class is really deep with a lot of good guys. Caleb, he's a gamer. When the stakes are high, he's probably going to wrestle his best, so I think that bodes well for his potential at the end of the year."
Friday Night Fights
It's all Fridays all the time for Tech as the Hokies face #24 Pitt, Duke, North Carolina and Virginia on the next four ACC Friday nights.
"We've got to get ready for Pitt on Friday. When they're full strength, they've got a good lineup and they present some challenges," Robie said. "We've got to make sure that our focus gets back to where it needs to be, that we move on from Friday night and the excitement around that and get focused on coming back and making sure we're at our best against Pitt, because if we're not, we're going to be vulnerable."
Robie assured that there will be no looking ahead and that it's all business from here on in. He said he has seen improvement in some places throughout season but noted that there is work to do in other spots.
"When you lose four overtime matches, it's hard to feel good about that," Robie said. "When you look at the matches, in a couple of cases we were in on the leg and we couldn't finish takedowns, and we got scored on in three of those four matches off of our own attacks. So that's a problem. We've got to get that figured out individually for our guys.
"But I felt like Bryce coming in added a huge boost to our team, just the excitement of having him back and what he brings wrestling-wise to our team is important. He gets things ignited for us."
A Lot Of Eyes On Blacksburg
Robie said the program entertained a few recruits at the N.C. State match, and he hoped that a lot of people tuned in on the ACC Network.
"I think if you're if you're a recruit, one of the top kids in the country, and you're looking at places to go to school and you're questioning whether you can get that kind of atmosphere in the ACC or at a place like Virginia Tech, I think that question has been answered," Robie said.
"Obviously, there's some programs that have consistently huge crowds — the traditional powers — but outside of those few places, I'll put up what we had Friday night and what we have on a lot of nights against just about anybody," Robie said.
"It was electric; 6,000 people is a lot of people watching a wrestling match," he added, crediting Tech's support staff, marketing and social media people for helping to create the atmosphere. "Wrestling's a big deal in Blacksburg, so that's pretty cool."