2022-23 Iowa Wrestling
Hawkeye Insider: Lee Continues Piling Up Pins Against Ranked Opponents
Hawkeye Insider: Lee Continues Piling Up Pins Against Ranked Opponents
Spencer Lee has pinned six consecutive opponents, including four ranked in the top 11 nationally at 125 pounds.
Jan 24, 2023
by Darren Miller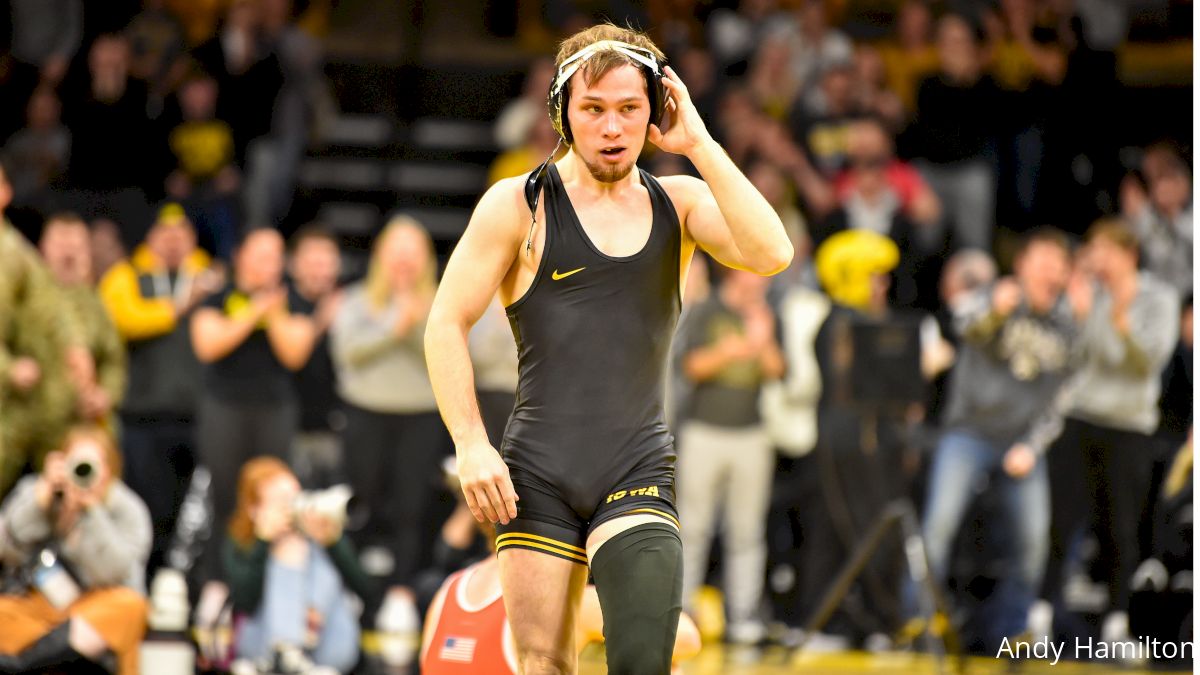 Unlock this article, live events, and more with a subscription!
Get Started
Already a subscriber? Log In
Three-time NCAA 125-pound champion Spencer Lee seemed perplexed. He shrugged his shoulders and flashed a curious eye roll as a University of Iowa sports information staffer announced that his 38-second pin against Liam Cronin of Nebraska on Jan. 19 was his 27th career first-period fall and the third-fastest of his career.
"I don't keep track," said Lee, who heads into Friday's showdown at Penn State with a record of 10-0 and seven pins. "Doesn't matter, because when it's over, it's over. On to the next."
"The Next" is what the college wrestling universe is talking about this week as second-ranked Iowa (12-0, 5-0) travels to #1 Penn State (10-0, 3-0) with an 8:30 p.m. (ET) start. It is a homecoming for Lee (who is from Murrysville, Pennsylvania) and Hawkeye 149-pounder Max Murin (who is from Ebensburg, Pennsylvania). Iowa is riding a 15-dual winning streak that was extended after edging Wisconsin, 19-18, on criteria Jan. 22.
Lee, ranked #1 in the NCAA pound-for-pound rankings, continues to pound opponents. At Wisconsin, he decked #8 Eric Barnett in 4:38 (a rare Lee match that went to the second period) after building a 16-3 lead. Lee has pinned his last six opponents, the last four were ranked #11, #4, #3, and #8 in the country.
"Once you get a guy in position to put him away, you have to put him away," Lee said. "That's what we preach and that's the plan."
Iowa head coach Tom Brands loves Lee's pizzazz, energy, and ferociousness.
"How is Spencer Lee different in that he can convert and then pin?" Brands said. "The answer is because it is Spencer Lee, but if you dummy it down to basics, it's because he chain-wrestles. It is one thing to the next to the next. He chain-wrestles and as he chain-wrestles, you're finding yourself in deeper, deeper, deeper water."
Lee (88-5 with 33 falls for his career) takes a 48-match winning streak into State College.
Siebrecht Has The Write Stuff
The University of Iowa is ranked #2 in the country for writing according to U.S. News & World Report. Iowa is ranked #2 in the country for wrestling.
Coincidence? Not in the case of Hawkeye 157-pound junior Cobe Siebrecht, who after going 1-1 last weekend has a record of 8-2.
One factor assisting Siebrecht's breakout season is his dedication to putting daily thoughts and observations to paper. He began journaling prior to the U23 World Team Trials last June and he has continued since.
"I write a lot in my book after practices, evaluating where I am in everything," Siebrecht said. "I feel that helps a lot, too. How my practices went, how my day goes, basically what I need to work on, what I did well in practice."
Siebrecht isn't alone. Several Hawkeyes keep a journal on the encouragement of associate head coach Terry Brands. The main context includes goals as well as an evaluation of wrestling and lifestyle.
For Siebrecht, there is a consistent journal entry, whether it is before a competition or practice.
"Every single day I write 2023 NCAA National Champ," he said.
Nelson Brands Continues To Climb
Aside from being ultra-competitive, Iowa senior 174-pounder Nelson Brands enjoys being uncomfortable. Nothing takes the nephew of Iowa head coach Tom Brands out of his comfort zone more than scaling 14,000-foot mountains.
Brands has attempted to climb 23 "14ers" and has made it to the summit in his last 22 excursions. In July, Brands and his girlfriend, Olivia Stearns, climbed Mount of the Holy Cross outside Vail, Colorado, where Brands proposed marriage. (They will be united July 29).
Looking for a diversion from playing video games, Brands started his mountain-climbing hobby in 2019 in Telluride, Colorado. He discovered there are 96 14ers in the United States and 58 in Colorado and he continues to check them off his list.
"If there is a list of things to do, then I want to do them, especially things that are not considered easy," Brands said.
Brands won't allow mountain climbing to get in the way of climbing the national wrestling rankings. He sets a boundary between hobby and obsession.
"Wrestling is my #1 investment," Brands said. "That's what I pour my body into, it's what I pour my time into. It is what I love the most."
Still, there is something to be said about the view on top of a mountain that might even trump being on top of a podium.
"I'm a God-fearing person and I absolutely love that God created this work for us," Brands said. "Especially when it's in its raw, natural form."