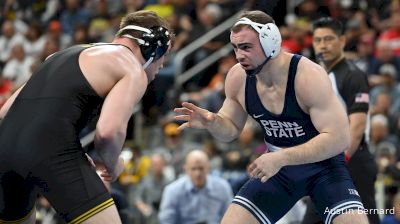 Unlock this video, live events, and more with a subscription!
Get Started
Already a subscriber? Log In
Max Dean vs Jacob Warner! An NCAA Finals rematch that's set to go down Friday night, January 27 when the #2 Iowa Hawkeyes travel to State College to take on the #1 Penn State Nittany Lions. The dual starts at 8:30 pm (ET) and will be live-streamed on the Big Ten Network but be sure to join the Flo crew during our watch party for an unmatched second-screen experience. Check out the below article for a recap of the Dean-Warner rivalry and the significance of their match for the outcome of the dual.
Dean Owns The Rivalry
Max Dean and Jacob Warner met twice last season with Max Dean coming out on top in both matches. Their first meeting was during Penn State's 19-13 win over Iowa in the dual. In that match, Warner took an early lead off a lightning-quick go-behind just two minutes into the match. Warner was able to ride out the remainder of the first period and take a 2-0 lead into the second.
After a quick escape by Warner in the second, and a lot of hand-fighting, Warner held a 3-0 lead heading into the third period. However, Dean turned it on in the third when he earned an escape, a stall point, and a takedown to take a 4-3 lead with 40 seconds remaining in the match. Once on top, Dean transitioned to his bow-and-arrow turn to add 4 back points - earning the 8-3 win and locking up the dual for the Nittany Lions. Check out that match below:
The two next met on the biggest stage in college wrestling - Saturday night, March 19 in the 2022 197-pound NCAA Finals! After a scoreless first period, Warner went down to start the second and took the 1-0 lead with a quick escape and carried that lead into the third. In the final frame, Dean escaped in about 15 seconds to tie the match at 1. Then, with only 40 seconds left, Warner took an errant shot and Dean capitalized with a go-behind to take a 3-1 lead. Warner was able to escape with just 11 seconds left in the match but was unable to penetrate Dean's defense. The match ended 3-2, leaving Max Dean the winner and National Champ.
NCAA Finals Match:
If you don't want to watch the full match, here are the scoring highlights for the NCAA Finals bout: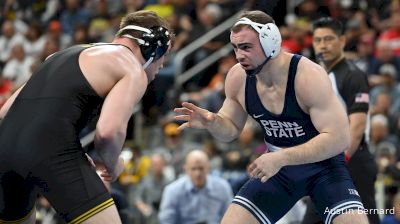 Unlock this video, live events, and more with a subscription!
Get Started
Already a subscriber? Log In
Could The Dual Come Down To 197?
The entirety of the Iowa - Penn State dual will be incredible. Penn State is a slight favorite to win, but Iowa is favored at three weights (125, 141, 149) with toss-up matches at 157, 165, 197, and 285. With so many toss-ups, every point of every match will be crucial for each team. That means, like last year, the winner of the Dean vs Warner match could ultimately clinch the dual for either Iowa or Penn State.
What's Iowa's path to victory? JD breaks it all down here: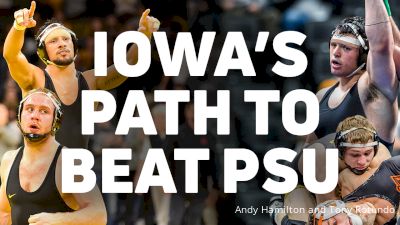 Who Wins Friday Night?
Both Dean and Warner have had their highs and lows this year. Max Dean suffered 2 losses the first weekend in December against #7 Ethan Laird and #5 Michael Beard. However, Dean has since responded with 7 straight wins including ranked victories over #16 Braxton Amos, #19 Cam Caffey, #18 Tanner Harvey, and #3 Yonger Bastida. Jacob Warner has losses this year to #1 Rocky Elam, #9 Zac Braunagel, and #3 Yonger Bastida but is coming off a win over #12 Silas Allred. Despite, their early losses, Both Dean and Warner are title contenders this year and are sure to bring their "A-game" this Friday.
In each bout against Dean, Jacob Warner has shown he's capable of winning the match. In the first match, he built a lead but was unable to close it out at the end. In their NCAA finals match, Warner again let the match "slip away" at the end. What does that mean for Friday night? It might sound cliche, but if Warner hopes to win, he'll have to wrestle a "complete match" for the entire 7 minutes. Dean has proven to have the advantage both in his top game and conditioning. Because of the outcome of the last two matches, Dean is the favorite going into Friday night, but we should expect a battle in what should be an ultra-competitive match. Regardless of how the bout turns out, this will be a match you don't want to miss!
Jacob Warner walks us through his NCAA finals match against Max Dean: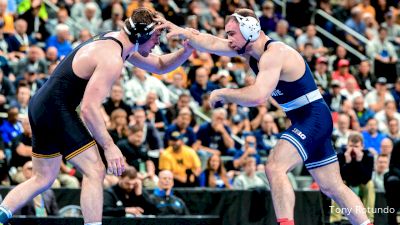 Max Dean talks about his mindset going into his final college season: