2023 NCAA Watch Party: Penn State vs Michigan & Iowa vs Nebraska
6 Big Penn State vs Michigan Storylines To Watch
6 Big Penn State vs Michigan Storylines To Watch
Penn State hosts Michigan in a massive Big Ten showdown on Friday night in State College. This is one of Wrestling's most highly anticipated duals.
Jan 20, 2023
by David Bray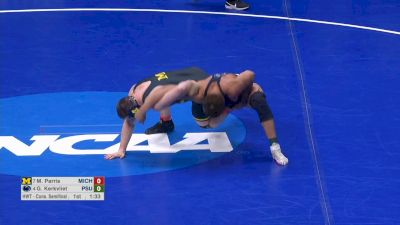 Unlock this video, live events, and more with a subscription!
Get Started
Already a subscriber? Log In
Last year's Big Ten champion Michigan Wolverines travel to State College to take on the 2022 NCAA champion Nittany Lions. Penn State is heavily favored, but Michigan has a path, albeit a difficult one, to victory. Here are six big storylines to follow.
Projected Lineups
125 - Gary Steen, Penn State vs #23 Jack Medley, Michigan
133 - #1 Roman Bravo-Young, Penn State vs #10 Dylan Ragusin, Michigan
141 - #3 Beau Bartlett, Penn State vs #22 Cole Mattin, Michigan
149 - #12 Shayne Van Ness, Penn State vs #16 Chance Lamer, Michigan
157 - #21 Levi Haines, Penn State vs #6 Will Lewan, Michigan
165 - #18 Alex Facundo, Penn State vs #5 Cameron Amine, Michigan
174 - #1 Carter Starocci, Penn State vs Max Maylor, Michigan
184 - #1 Aaron Brooks, Penn State vs #10 Matt Finesilver, Michigan
197 - #2 Max Dean, Penn State vs Brendin Yatooma
285 - #1 Greg Kerkvliet, Penn State vs #2 Mason Parris, Michigan
Penn State Is Heavily Favored
On paper, this dual is all Penn State. They are ranked ahead of their Wolverine opponents in seven of the ten weight classes. The only exceptions are at 125 lbs where Michigan's #23 Medley takes on Penn State's Gary Steen, at 157 lbs where Levi Haines is ranked 21st compared to Will Lewan's 6th, and at 165 lbs where #5 Cam Amine squares off against Penn State's #18 Alex Facundo.
Penn State fans may be quick to point out that true freshman Levi Haines and redshirt freshman Alex Facundo only have one loss apiece and are quite capable in their matches. Haines seems to have improved throughout the season while Lewan is coming off a weekend in which he lost to Michigan State's Chase Saldate. Facundo enters the match with Amine with a lower ranking but with familiarity against the fellow Michigan native that may give him the confidence to pull the upset. All of this adds up to an uphill battle for Michigan against the mighty Nittany Lions.
Can #2 Mason Parris Return To Form Against #1 Greg Kerkvliet?
The Parris vs Kerkvliet rivalry has been a tale of two seasons. In 2022, Kerkvliet got the better of Parris three times in 8-5, 5-3, and 6-1 decisions, and appeared to have the Wolverine's number.
In 2021, however, Parris majored Kerkvliet 11-3. Both of these outstanding heavyweights have struggled with injuries throughout their careers, and both appear to have performance variance based on their health. By all accounts, Parris was not healthy and not himself a season ago. Can he return to form and find victory against the nation's top big man? If he can, he'll take over the #1 spot and give his team a much better chance of pulling the upset.
High School Rivalry Renewed Between Amine & Facundo
The current NCAA rankings show a large gap between #3 Cam Amine, and #18 Alex Facundo, but these two have a history that suggests tonight's bout could be razor-thin.
In 2018, high school freshman Facundo knocked off Amine in the Michigan state finals, preventing Amine from winning his third state crown. A year later, the two met again at the DCC Invitational in a wild match that ended in controversy. If history is any indicator, this one could go either way.
Cam Amine vs Alex Facundo met in 2019 at the DCC Invite
Standout Freshmen Meet In Swing Match At 149 lbs
Shayne Van Ness and Chance Lamer entered college with a lot of expectations after finishing stellar high school careers. Van Ness was victorious at Who's Number One in 2019 and generally excellent.
Part of Lamer's lofty reputation came from a match during his senior year in which he took out Van Ness, a surprising result at the time. Tonight, the #12 and #16 ranked freshmen meet in a contest that many wrestling fans believe could go either way.
Lamer and Van Ness' 2021 Freestyle match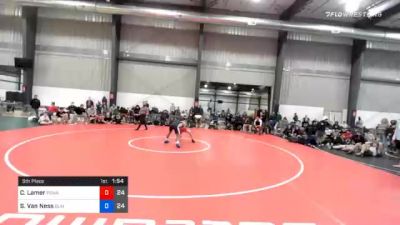 Unlock this video, live events, and more with a subscription!
Get Started
Already a subscriber? Log In
Can Cole Mattin Add To The Chaos At 141 lbs?
Michigan's 141-pounder Cole Mattin currently sits at #22 in the rankings. He lost to #3 Beau Bartlett 8-4 in 2021. Mattin's lower ranking and past results make Bartlett the safe pick in this bout, but the weekly upsets at the 141-pound weight class should have wrestling fans keeping an eye on this match.
It's also worth noting that Bartlett, through no fault of his own, hasn't faced significant tests since descending to 141 for the 2022-23 season. In fact, his best win this year was a 5-3 decision against #18 Cleveland Belton. Couple that with Mattin's ranked victories this season against #24 Mosha Schwartz, #23 Lachlan McNeil, and HM Joey Zargo, and Michigan fans will be holding out hope for an upset.
Michigan Has An Uphill Path To Victory
Even though Penn State is the well-established favorite in this dual, Michigan has a chance to beat the odds and pull the upset. To do so they'll need at least five victories and possibly a sixth.
The Wolverines are favored at 125 lbs, 157 lbs, and 165 lbs. They'll likely need to hold serve at those three weights and get some help from the rest of the lineup. As we already established above, both Mason Parris and Chance Lamer have had victories over their opponents in the past. If they can replicate those results, Michigan is very much in this dual. The strength of Penn State's lineup suggests Michigan would also probably need bonus points or another upset along the way. While those are difficult to predict, crazier things have happened. The bottom line is that Penn State is heavily favored, but this is a must-watch dual in which Michigan has a shot.