2022-23 Penn State Wrestling
Nittany Lion Insider: Haines Wants To Wrestle As Decision Looms For PSU
Nittany Lion Insider: Haines Wants To Wrestle As Decision Looms For PSU
Cael Sanderson will soon need to make the call on whether to use true freshman Levi Haines or keep the 157-pounder in redshirt.
Jan 17, 2023
by Travis Johnson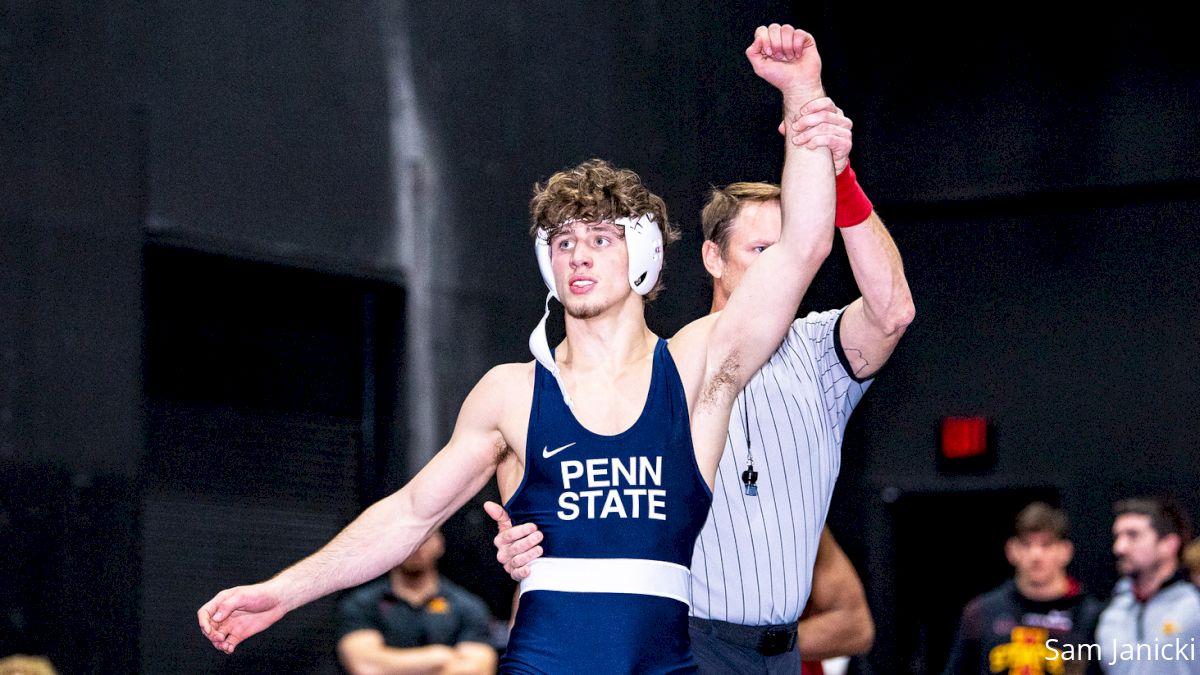 Unlock this article, live events, and more with a subscription!
Get Started
Already a subscriber? Log In
Levi Haines emerged from Penn State's wrestling room earlier this week soaking wet, beads of sweat falling off curly strands of hair down onto the sweatshirt he'd just pulled on.
The Nittany Lion freshman leaned against the wall after his workout, quickly caught his breath and rated the session an 8 on a 1-to-10 scale.
So far Haines' work has paid off. How long the Nittany Lions benefit from his efforts is up in the air, however as coach Cael Sanderson will soon have to choose soon whether or not to burn the 157-pounder's redshirt to use Haines in the postseason.
"Obviously the next little stretch is big for the whole team, 157 is no exception," Sanderson said. "A lot of really good competition coming up so that should give us a little more perspective there."
The Nittany Lions host Michigan on Friday where the Wolverines will bring talented middleweight Will Lewan at 157. The All-American Lewan would be a step up in quality for Haines, who's battered handfuls of lesser opponents so far.
Haines is 13-1 but hasn't wrestled anyone ranked in the Top 20. His lone loss was in sudden victory to Northern Colorado's Vincent Zerban on Nov. 13.
"I don't know a whole lot about him," Haines said. "I'm just looking forward to being myself out there, going out and competing hard."
Penn State hosts Michigan State on Sunday and could divvy up the 157-pound battles with Haines getting one and Terrell Barraclough getting the other. Barraclough hasn't wrestled since Dec. 11.
"I think it'd be interesting to see both of them in there," Sanderson said. "Levi's doing great. I also think Terrell's made a lot of progress and seeing him get somebody like that would be good."
Year Off
Haines' path to Penn State was not ordinary.
After winning a state title as a junior, he opted to forgo his senior season at Biglerville High School to instead sharpen his skills in an advanced room. That included driving the two-and-a-half hours to central Pennsylvania to work out at former Penn State great David Taylor's M2 facility.
Working with the World and Olympic champion gave Haines an early boost. He entered — and won — the Edinboro and Franklin and Marshall Open tournaments as a high school senior.
"It was a tough decision," Haines said of skipping his senior season at Biglerville. "But ultimately, what it came down to is I wanted to challenge myself and I knew I was going to get much better by coming in here and getting better partners, and the best coaching in the world. It was a hard decision, but it was the right decision."
Now, with an opportunity in front of him, Haines doesn't mince words. He wants to keep wrestling this season.
"Absolutely," Haines said. "It's just about getting better. My time will come."
Dad's A Big Dude
The current predicament at 157 has implications for the future.
Sanderson's not sure how much longer Haines and Barraclough will be able to make 157 comfortably.
Barraclough is the taller of the two wrestlers and initially started his career at 149. Haines said he's cutting to make the weight as he walks around at 165.
Notably, Haines' father Ken ended his collegiate career at 197 pounds for Lock Haven.
Rec Hall Is Home
Although Penn State will fill the Bryce Jordan Center to the brim on Friday for the Michigan dual, the Nittany Lions aren't about to leave their old home behind.
Rec Hall's cramped interior provides a much more intimate venue than the cavernous all-purpose arena across campus. Rec Hall also houses the wrestling program's facilities including newish hot and cold tubs and an improved weight room off the wrestling wing.
The BJC can accommodate nearly three times the fans as Rec Hall, but it's not an ideal setup year-round and Penn State's athletic department is still tinkering with setups for how to best maximize the fan experience.
"That's something we discuss every year," Sanderson said. "And go back and forth. The Jordan Center is not designed obviously for a wrestling match, the fans are further away than you'd like them to be. So you put (the mat) up on a stage and that limits some of the view that a lot of the seats have. So we'll keep playing with it going forward."
Eyeing The Portal
Sanderson snagged transfer Drew Hildebrandt in December a year ago to try and fortify the lineup at 125 pounds. No such option exists this year.
Penn State coaches kept an eye on the transfer portal last month as well.
"It's kind of come and gone," Sanderson said. "We like our team and we're going to keep getting better. We're set with our team and lineup this year. We're ready to roll."