RBY: Straight Outta Tucson
Can RBY Win The Hodge? Why It Might Be Closer Than You Think
Can RBY Win The Hodge? Why It Might Be Closer Than You Think
Many people have already handed Spencer Lee the Hodge Trophy, but here's why you might want to consider RBY for at least a co-Hodge.
Jan 17, 2023
by JD Rader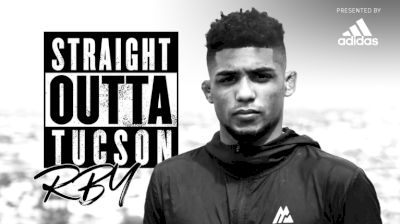 Can anyone stop Spencer Lee from becoming the first 3X Dan Hodge Trophy Award winner since Cael Sanderson? This will be a running storyline for the remainder of the wrestling season. While the Hawkeye is no doubt the odds-on-favorite to get it done, there are several threats to his three-peat at this point in the season. Chief among them is Roman Bravo-Young.
Tech, major, major, pin, tech, major, major. That's what RBY has done so far this season. Seven matches. Seven bonus point victories. Bravo-Young and Lee are the only two undefeated Div I wrestlers with 100% bonus rates this season. They will likely be #1 and #2 in the upcoming Hodge Trophy Award rankings that will be released for the first time this season in several days.
Remainder, according to WIN Magazine, here are the criteria for the award:
1 – Record
2 – Dominance/Bonus-Point Percentage
3 – Quality of Competition
4 – Sportsmanship
RBY vs Spencer Lee
1 - Currently at 8-0 and 7-0, the two will finish with a very similar number of matches.
2 - This is the criteria Lee will have the advantage in. He will no doubt have a higher dominance score as he gets more techfalls and pins while Bravo-Young gets more majors. Plus with RBY likely meeting Vito Arujau and/or Daton Fix at the NCAA Championships, it is more likely that Lee finishes with a higher bonus-point percentage.
3 - While the opportunity to see Arujau/Fix hurts RBY's bonus-point percentage, it helps him in the quality of competition criteria. Lee's biggest adversary at 125 will be Patrick Glory.
4 - Completely even.
As you can see, while I'm not picking it to happen and the odds are still not in his favor, the chance that Roman Bravo-Young wins the Hodge might be higher than you first thought. Whether you disagree or agree, WIN Magazine set a precedent when they awarded the award to both Lee and Gable Steveson in 2021. Yianni Diakomiahlis is likely no longer in the running after losing to Austin Gomez. Could RBY take his place as a 3X NCAA champion with an equal to or maybe even slightly higher bonus-point percentage than Lee?
Roman Bravo-Young's Remaining Matches
Jan 20 - Dylan Ragusin
Jan 22 - Rayvon Foley
Jan 27 - Brody Teske / Cullan Schriever
Feb 3 - Jesse Mendez
Feb 5 - Henry Porter
Feb 10 - Joe Heilmann
Feb 12 - Conner Quinn
Feb 19 - Koen Kish
Mar 4,5 - Big Ten Championships
Mar 16, 17, 18 - NCAA Championships
Get an inside look to into Roman Bravo-Young's upbringing and what made him the Dan Hodge Trophy Award contender he is today in FloWrestling's upcoming film "RBY: Straight Outta Tucson" which will be released January 31st.
RBY: Straight Outta Tucson teaser: