2022-23 Iowa State Wrestling
Cyclone Insider: Challenges And Changes Ahead For Swiderski
Cyclone Insider: Challenges And Changes Ahead For Swiderski
Iowa State star freshman Casey Swiderski is learning to adapt and take on a different approach after missing more than a month of competition.
Jan 13, 2023
by Roger Moore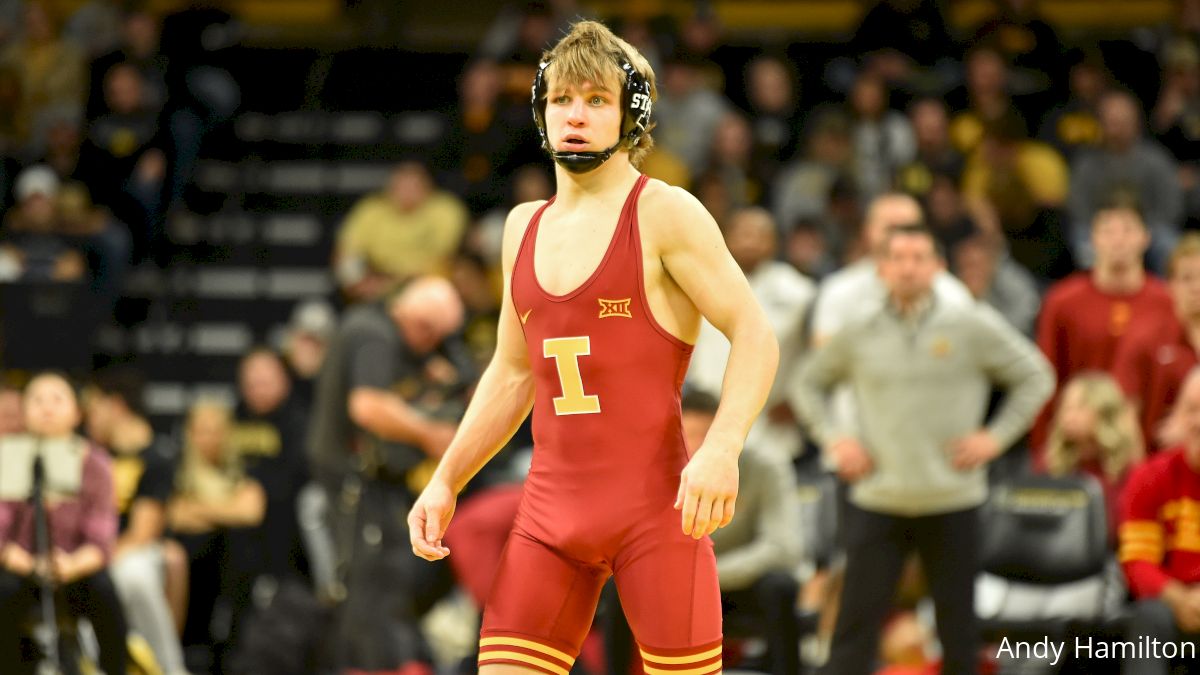 Unlock this article, live events, and more with a subscription!
Get Started
Already a subscriber? Log In
Rarely do freshmen make it through their first Division-I athletic season unscathed, negotiating that rookie year without any significant forks in the road.
The first two months of a wrestling season often include a stop-and-start schedule, a few Open tournaments with a handful of duals, but no consistent weekly routine. By January, the weekly grind begins.
For Iowa State 141-pounder Casey Swiderski, November and December backed up his high school credentials — four Michigan state titles and three losses in 169 bouts — and a hard-fought 4-2 loss to Iowa veteran Real Woods served notice of an All-American in the making. Enter injury, a month off the mat, and an overtime loss to Arizona State's Jesse Vasquez last weekend, and that first freshman fork in the road presents itself.
"I told everybody, don't want to say I told you so, but I said we were going to see some freshmen stuff," said ISU coach Kevin Dresser, whose squad faces Utah Valley this weekend. "We saw some freshmen stuff (against Arizona State). Same thing with Casey (Swiderski). A lot of things we can fix in that (Swiderski) match. He's a hardhead. I really figured it might take a loss to wake him up. What makes him good is he's ornery and what makes him bad is he's ornery."
Entering the match with Woods the first week of December, Swiderski admitted to firing on all cylinders. Confidence was high and the battle with the scales was under control. But for the rest of 2022 it was machines and everything but live wrestling due to injury. After a month on the sidelines, he returned Jan. 7 with a 7-2 win against Wyoming's Darren Green before the loss to Vasquez a day later. Swiderski made no excuses on Wednesday.
"Day-to-day, continuing to build," said Swiderski, who has lost two of his last three bouts. "Got a couple of months left and the thing is to have the hand raised at the end of the season, continue to do things correctly, keep myself safe and make good decisions when I'm wrestling in the room. Maybe I have to change my style a little bit. Need to figure it out, it's going to be alright."
The adjustments required for a change in style is never easy. Going from an openly-aggressive attack to a more pick-your-spot strategy is the approach Swiderski, and his coaches, might incorporate the next two-plus months.
"If keeping things tight and toning things back and being more methodical right now then that is what I have to do," he said. "I have to be able to accept it, be coachable, be able to trust these guys because they are the best. The coaching staff here is the best and they know what they are talking about."
At the center of the challenge ahead is discipline, doing whatever is required to get the hand raised and not jeopardizing what could be a promising mat career. If it means less smash-and-grab versus more conservative tactics so be it.
"Discipline is going to take you far more than what motivation is going to take you," Swiderski said. "Motivation is a hoax; I don't want to hear that motivation stuff."
What lies ahead over the next month for ISU's 141-pounder includes possible matches with Cole Matthews (Pittsburgh), Cael Happel (Northern Iowa), Allan Hart (Missouri), and Carter Young (Oklahoma State). The Big 12 Conference Championships, far down the road in March, will have a 141-pound bracket with four of the current top 10 in the rankings. Northern Colorado's Andrew Alirez sits at #1.
Looking Back
ISU (9-2) opened 2023 with a 37-7 whipping of Wyoming. Julien Broderson (11-5) had a 22-second pin. David Carr (12-0) and Ramon Attasauov (11-5) also had pins. ISU scored bonus in six of its eight victories. Bonus points played a big role a day later in a 19-15 win over a top-five Arizona State squad. Carr (technical fall) and major decisions by Broderson and Bastida, coupled with decisions by Jason Kraisser and Marcus Coleman put the Cyclones up 19-0 after five bouts. The surprise of the ASU dual was an overtime loss by 149-pounder Paniro Johnson, ISU's fifth straight after building the 19-point lead.
"Sometimes you get ugly W's. (ASU) was an ugly W," Dresser said.
A Partial Scuffle
Iowa State left its top stars home the Southern Scuffle and finished 11th in a tournament won by 15th-ranked Oklahoma State. Zach Redding (133) was ISU's top finisher at fifth with Joel Devine sixth at 184. Only two starters made the trip – Attasauov (seventh at 133) and Broderson (eighth at 184).
Speaking Of Veterans
After facing Utah Valley on Saturday, the Cyclones are off until Jan. 27 when they host Oklahoma and Jan. 29 when Oklahoma State visits Ames. It will be UVU's first dual action since an 0-3 day at the Purdue Duals on Dec. 20. Among the Wolverines' starters is Demetrius Romero, a senior 174-pounder. The Idaho product had his 2021-22 season cut short due to injury after just two matches. He was sixth at the 2021 NCAAs, took a medical redshirt in 2019-20, went 28-5 and was UVU's first Big12 champion in 2018-19, and was 26-9 and an NCAA qualifier in 2018. From 2015 through 2017 Romero competed at Boise State.