2023 NWCA National Duals - Men`s Divisions
D3 Insider: What We Learned From The National Duals
D3 Insider: What We Learned From The National Duals
Augsburg's dominant showing and Johnson & Wales' run to the finals of the National Duals shined a light on the D3 title chase.
Jan 13, 2023
by James Nelson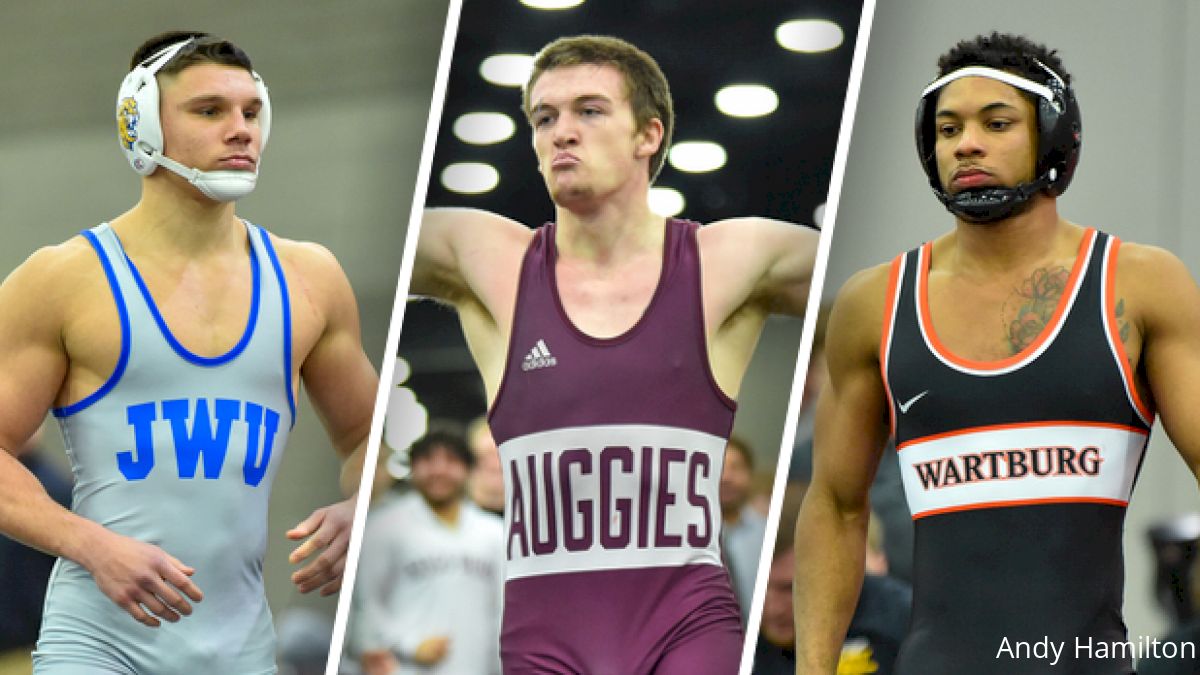 How about a trivia question to open up this week's Division III Insider Column?
Name the last Division III program to win two consecutive duals against Wartburg College.
If your answer was Augsburg University, you're wrong.
When Johnson & Wales knocked off top-ranked Wartburg College Saturday, 21-19, in the semifinals of the NWCA National Duals it was the second consecutive victory by the Wildcats over the Knights.
Johnson & Wales is 2-5 all-time against Wartburg but has won the last two meetings between the schools including, an 18-17 victory over the Knights in the 2019 NWCA Dual semifinals.
Interesting fun fact from 2019, one of the Knights' five victories in that match came from Michael Ross.
Ross, last year's 174 national runner-up for the Wildcats after transferring from Wartburg, scored a big 6-2 win over Zane Mulder in the most recent match between #1 and # 2 wrestlers at that weight.
"It was a really amazing weekend," Wildcat coach Lonnie Morris said. "We didn't finish the way we wanted, but we got great performances from some individuals…everyone that took the mat over the weekend played a huge role in our success.
"Will Hughes…suffered a broken foot early last year and missed the season…didn't know if he is going to make it back and he pins (David) Hollingsworth, the top-ranked guy. Great moment. It was just a lot of that."
Johnson & Wales ran out of juice in the finals as Augsburg won its eighth NWCA National Duals title, first since 2019, with a 35-8 win.
Despite that loss, Morris believes his Wildcats learned or more likely reaffirmed they belong in the Division III elite.
Johnson & Wales was fourth at the NCAA Championships in 2017 and third in 2019.
"You have to believe it to achieve it, right," Morris said. "We've built this program…we've been right there with the Division III giants.
"We are right there again…and I think this time instead of talking about it our guys saw it. We are going to be right there in March."
Here's a look at what we learned from the National Duals:
Johnson & Wales has some firepower
The Wildcats have the potential to put multiple guys in the national finals.
Top-ranked Joziah Fry (125) registered two majors and two technical falls at the duals and none of those matches were close. Ross was in the finals a year ago, and then Hayden Brown announced his presence over the weekend.
Brown knocked off returning 149-pound All-American Kris Rumph in the semifinals and then bumped up to 157 to beat second-ranked Tyler Shilson in the championship dual. That was on top of beating national qualifier Javen Estrada of North Central on day one.
Augsburg Announces Its Presence
The Auggies ran their all-time record at the National Duals to 70-25 with their title-winning performance in Louisville.
The big takeaway for Augsburg is a lineup that is more than 50 percent first- and second-year college wrestlers came together and came together in four consecutive duals.
"We are just so proud of our guys and the energy that it brought to our program," Augsburg coach Tony Valek said. "It has carried over to this week in practice.
"I think the thing we take from our success is there is so much room for improvement. Our lineup is dominated by sophomores, 19-20-year-old kids…that is the exciting part is the improvement we can make before regionals in February and nationals in March."
Valek added that he and his staff made a conscious effort to test their young team early in the season.
"We committed to doing more," Valek said. "We have a lot of guys who have 25, 30 matches already so a lot of them had to figure out how to compete sooner."
Among the standout performances for Augsburg, among several, was that from sophomore Parker Venz at 197. The younger brother of Nebraska All-American, Taylor Venz, went 4-0 with four pins over the weekend.
"He brings a different type of intensity to the mat and the other guy (his opponent) has to match it," Valek said.
Where Does Wartburg Stand?:
You can't shake a stick at taking third against the Division III best, but that is not the standard for the Knights.
Wartburg coach Eric Keller put it bluntly on how the program feels about third — he and the Knights are mad.
"The biggest takeaway is we are still a work in progress," Keller said. "We got work to do. We knew that going in and we definitely know it coming out of it.
"We didn't wrestle how we are capable of wrestling. When you go to a national tournament like that you have to wrestle your best and we didn't. We had a few individuals that did, but it has to be everybody.
"Like I said, each and every one of our guys have something they got to get better at."
Keller added getting better will be the only focus for the next two weeks as Wartburg prepares for the American Rivers Conference duals (Jan. 21) and then the Battle of the Burgs against Augsburg on Jan. 26 at home.